Diet Mindset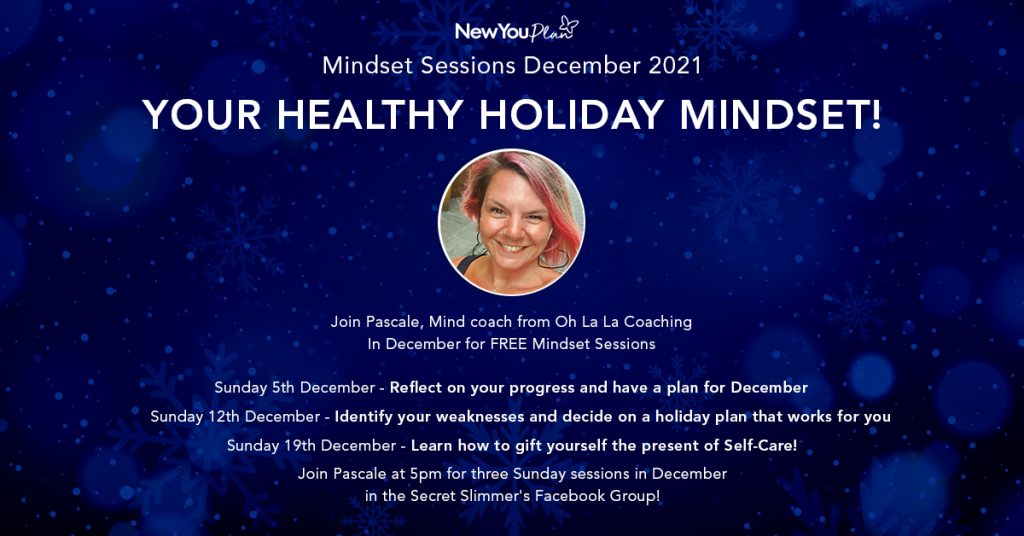 Let's Work on Your Healthy Holiday Mindset
Well done, you made it to December! This time of year can feel so magical! Do you remember when you were a kid, how easy it was to believe in Santa? And not just him but fairies and the elves? Well, our mind coach Pascale remembers and she thinks it's now time to believe in yourself. 
Whether you've been on your health journey for the past few weeks or the past few months, December can be a tricky time for two different reasons. Firstly it's now the moment where you will know if you will reach your 2021 or not. Secondly, with all the festivities and frivolities you might find yourself scrapping December in favour of starting it all again in January. 
Of course, you can 100% decide to cancel your health plans for December, but what if you believed in yourself a little bit more? What if you enjoyed this end of year with a healthier mindset? What if you continued to aim to make 2021 your amazing year? 
With those questions in mind, this December, Pascale is going to help you cultivate a healthier holiday mindset. The holiday season can be a really joyful time or a stressful time which can make it so easy to fall out of the good habits you started for yourself. But it's up to you to decide what you want to do and whether you will have a plan and still enjoy this time of year. 
Before Christmas, you have 3 weeks with Pascale. In week one you will: 
Reflect on this past year. 

Understand your achievements and the things that didn't go that well. 

Have an overall plan for December. 
Reflect on this year's achievements and remind yourself of the progress you have made this year (and during a pandemic!). It's time to acknowledge your awesomeness! You can do this by looking at your before and or after pic, writing down how much weight you've lost and how many inches you've lost. Record how your results make you feel and how proud you are. Don't forget to reminisce on your non-scale victories and all the little wins you've had.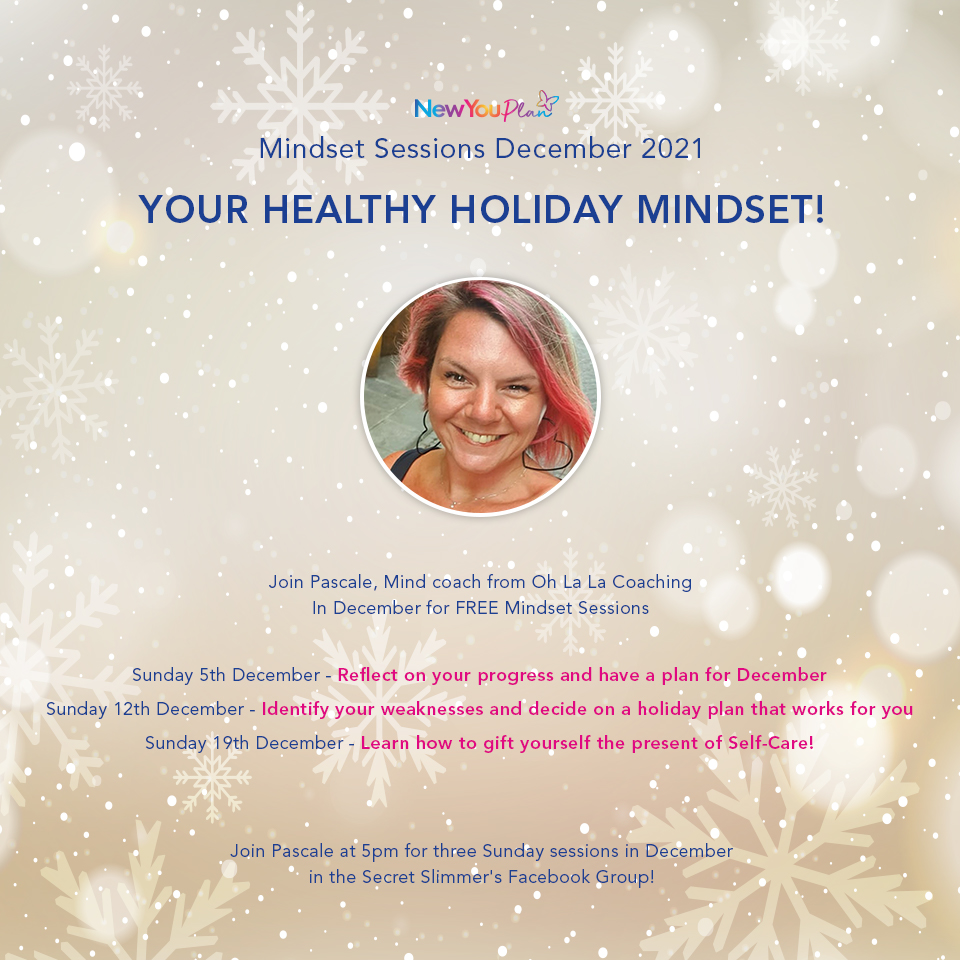 It's also important to highlight what you felt didn't go so well and take them as learning opportunities to make changes for further success.
December is the perfect time to review your goals and adapt your plan to continue having a successful transformation and get to your big goal. The better you plan, the better you will feel and the better decisions you will make.
Consider:
If you're sticking to the New You plan this month and holiday season.
If you're going off-plan, what dates will that cover?
What is your end of year goal?
What are your potential obstacles?
What social events do you have coming up?
What is your overall plan?
In the second session, Pascale will help you to identify your festival weaknesses and decide on a holiday plan that works for you and makes you feel good about your choice.
And in the final session of December, Pascale will help you with the most important element at this time of year, self-care. She will encourage you to give yourself this gift, one that you wholeheartedly deserve.
So if you're ready to make the best of this holiday season and stay on track with your personal health goals, join Pascale live every Sunday at 5 pm UK time from Sunday 5th December. It's completely free to New You customers and takes place within the Secret Slimmers Facebook group. The coaching call is around an hour and you can follow along with the workbook which is also within the Facebook group. And don't forget that if you make Pascale's session live, you could be the lucky winner of £25 New You credit.
It's your time to become who you always wanted to be, so let's go! Pascale is looking forward to seeing you soon!