Before & Afters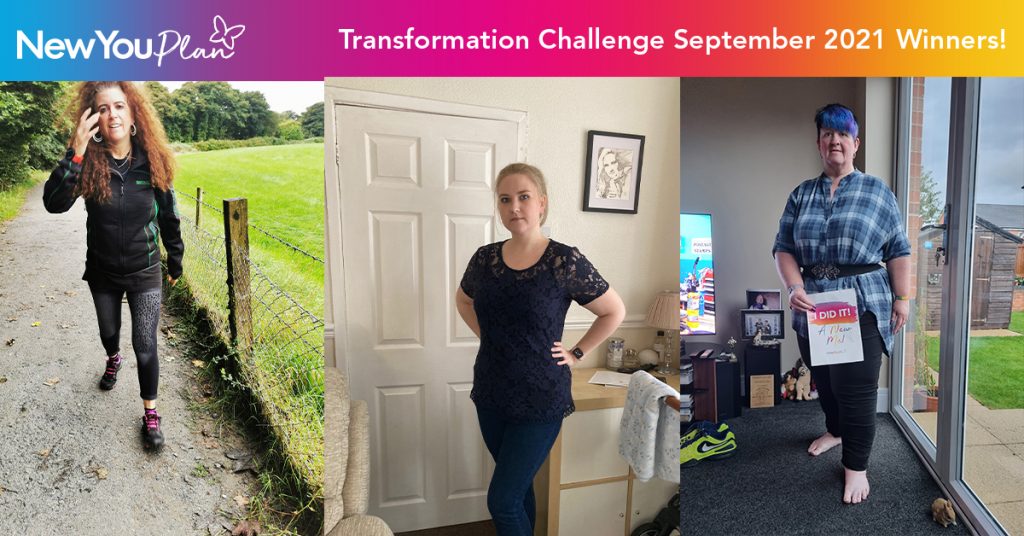 September 2021 Transformation Challenge Winners!
Here at New You HQ we have been blown away by your Transformation entries each month and September has been no exception!
Every entry we receive is incredible, and it is so lovely to hear our customers full journey, sometimes there is a mixture of triumphs and fears, and it makes it all the more relatable and real!
Thank you to everyone who entered you have all done amazing and should be so proud!
We are delighted to reveal the WINNERS of our September 2021 Transformation Challenge! Find out who has won our £1,000 CASH First Prize…!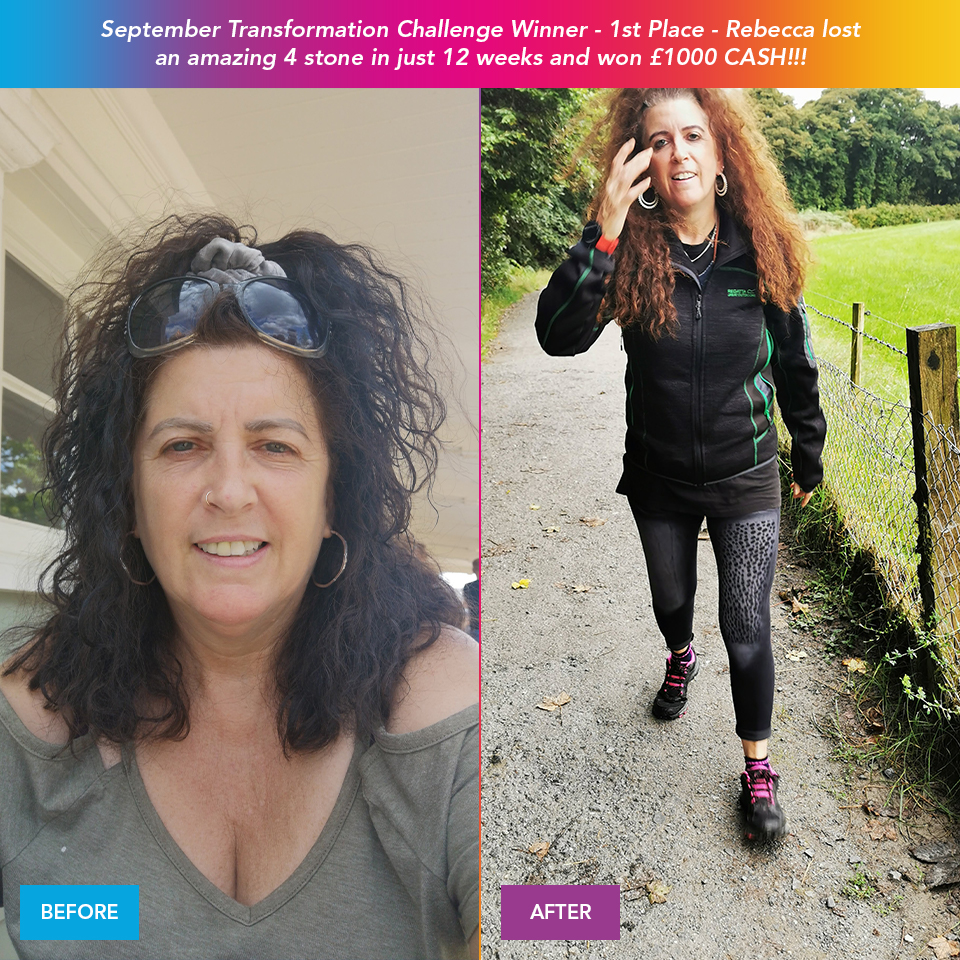 Rebecca Takes September's First prize of £1000 along with losing 4 stone in just 12 weeks!
Rebecca entered our September Transformation Challenge and we were so inspired by both her journey and transformation that we awarded her with the £1000 cash prize.
Just like many of you, she had struggled with her weight for many years but knew she needed to change her life around as health problems started to arise.
"Before I started the New You Plan I had struggled on and off with my weight for years. I desperately wanted to be the thin woman round the swimming pool on holidays instead of struggling to find a bikini that even began to hide my big belly. "
"The plan has changed my life and my mindset I find that I am able to make better decisions when choosing food and eating healthier. I am able to run and walk regularly without difficulty and wear lovely clothes that complement my new figure.
To anyone that is thinking about starting the New You plan go for it you've got this and we've got you!"
How amazing does Rebecca Look!!!!!!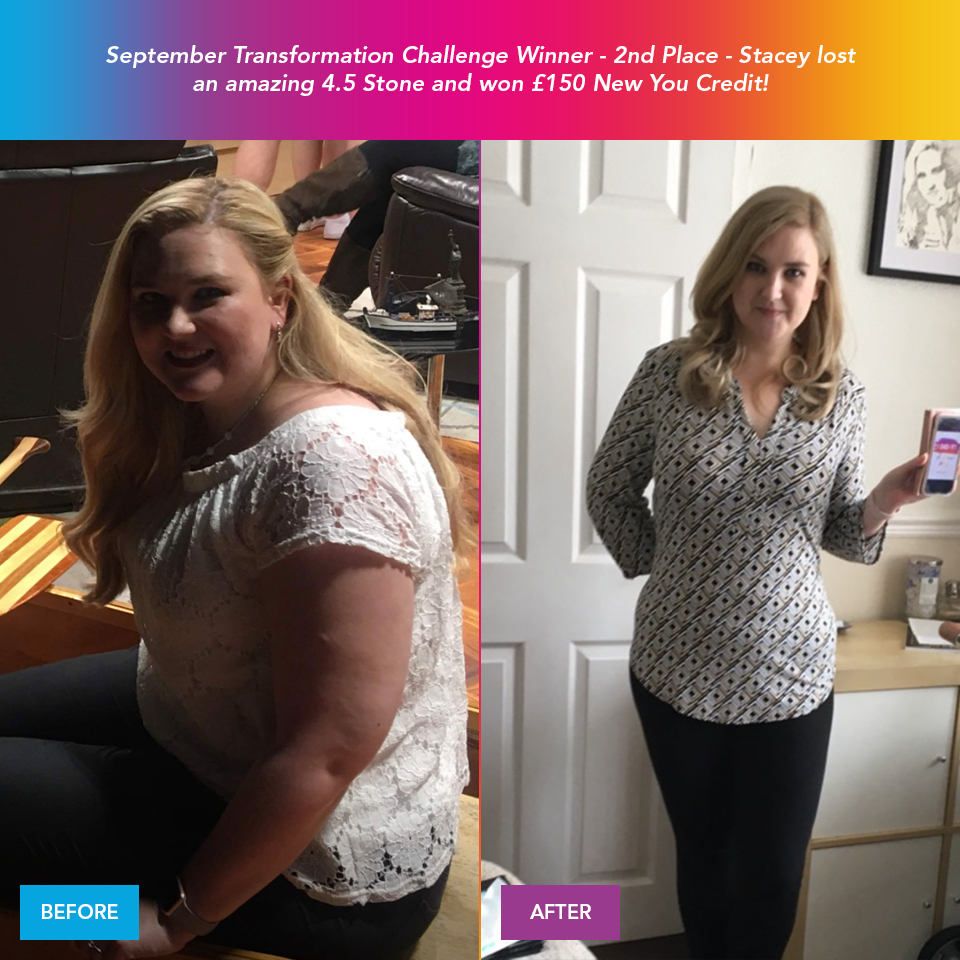 Stacey takes 2nd Place losing 4 1/2 stone and winning £150 New You Credit!
Stacey lost an incredible 13lbs in her first week. She broke a vicious dieting cycle to secure her future happiness.
"I knew at 35 I only had limited amount of time to be eligible for IVF, but had a significant amount of weight to lose before I could do that. I knew about VLCD's and in fact had previously worked for a well known one as a consultant, but the NYP was not only cheaper, but offered a much wider range of flavours and meals. I decided to give it a whirl, hoping the packs were going to be not only palatable but enjoyable."
"I have now lost a total of 4 stone and 7 lbs, I hit my IVF weight requirement, and am continuing to lose weight whilst I am in a good head space, and it has also led me to book my wedding in December. I am hoping to get another 14-18lbs off before that."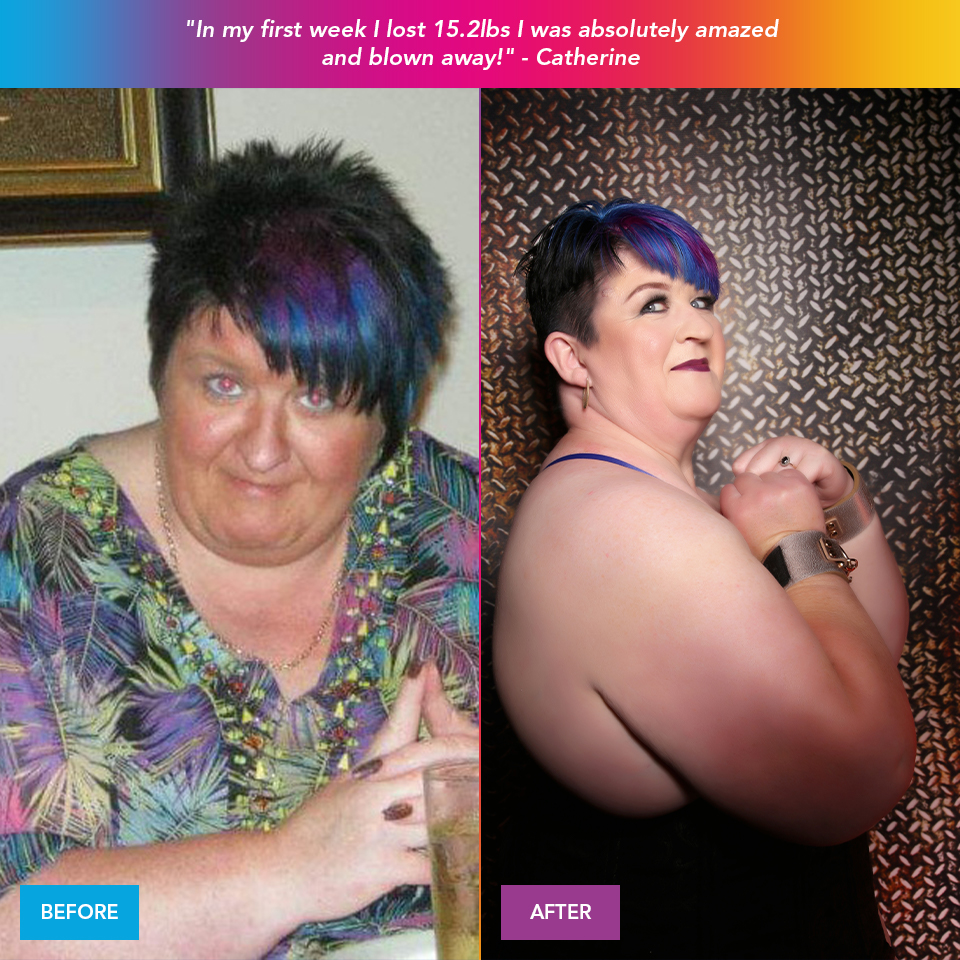 Catherine Takes 3rd Place losing over 11 stone and winning £150 New You Credit!
Catherine's transformation journey continues to blow our mind's each month! She has lost a whopping 11 and a half stone in 13 months and is planning to lose even more!
Catherine has also an incredible New found confidence doing a 50 shades of grey photo shoot! She looks amazing!!!
"Today I have completed 13 months on the plan and I have lost 11st 7.5lbs, I'm comfortably in a size 18 top trousers etc are a bit different as I have a fat arse and thighs so something that fits on the thighs/hips is too big on the waist but eventually that will change.


I know I still have a way to go but it is certainly going the right way, my hips are now measuring in at 53″ and I'm m over half way through my journey."
Thanks so much to each and every one of you who entered. Remember, you are all winners. Be proud of every pound that you have lost, look at how far you have come and celebrate those non-scale victories along the way.
You could be one of our next winners! One lucky slimmer will win £1000 Cash EVERY MONTH! 2 Runner up prizes of £150 New You Credit also to be won!