Challenges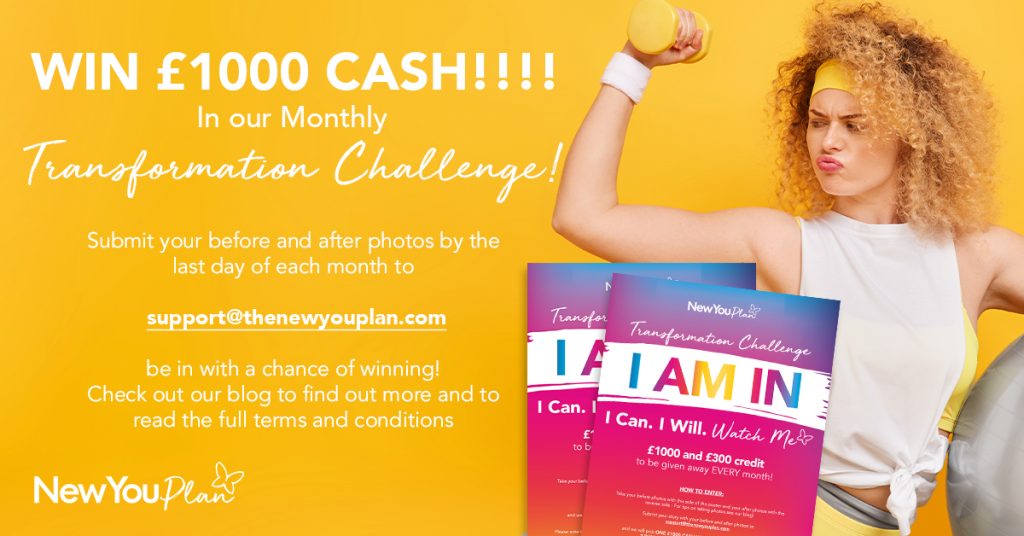 WIN £1000 CASH EVERY MONTH!!!!
We're so proud that you are investing in your health by losing weight with us that we want you to have the chance to treat yourself to that reward you've had your eye on.
So, every month-yes EVERY MONTH, one of you lovely lot will win yourself £1000 CASH!
Not only that but there will also be 2 Runner up prizes of £150 New You Credit!
All you have to do is to guess how many New You Plan meal replacement bars it would take to fill up our office…
…Not really! (We have no idea ourselves!) We've made it super easy for you to be in with a chance of winning that cash.
All you need to do is:
Take a full-length clear photo with our new rolling transformation I AM IN Poster. No filters necessary! If you already have a photo of you holding a previous poster send that in instead.

Take your after photo with the I DID IT side of the new rolling poster.

Send in your amazing story with both photos to

[email protected]

by the last day of each month, We want to hear about the highs and the lows of your journey and how you have lost your weight or maintained it on the New You Plan.

If you have been on the plan for a while or are maintaining, any before photo with any I AM IN poster will be fine, just take your after photo with the new I DID IT side of the poster!
Await the winners being announced, and you can enter as many times as you wish!
All entries will be considered, whether you are just starting out on your journey or are a New You Plan veteran who's maintaining like a boss. We want to see those pictures and read those stories!
Please read the bottom of this blog for Terms and Conditions*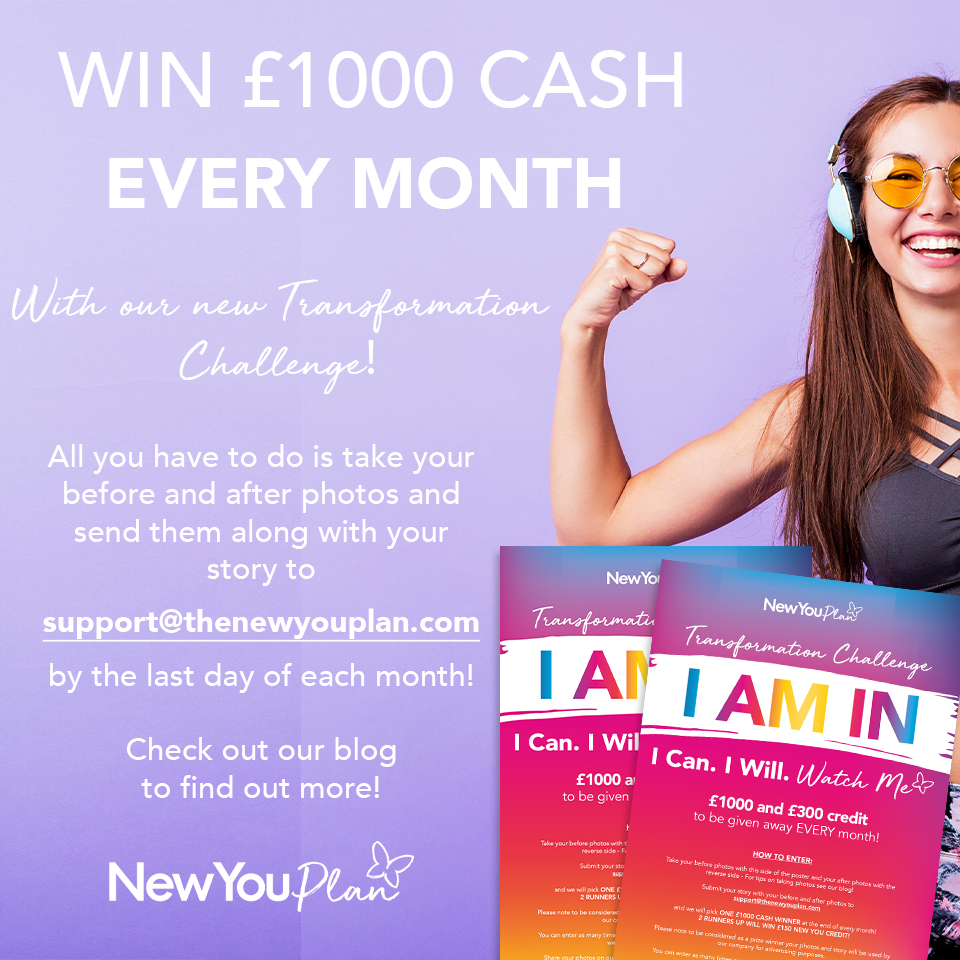 WAIT! Before you submit anything, here are our TOP TIPS for your competition entry:
What Are You Wearing?
We know you're probably going to hate this but we need to see as much of your body as possible. Not the flesh-put that back on, you'll make us blush! We mean ditch the joggers and baggy t-shirt and dig out those leggings or shorts and vest top.
Obviously, it's important that you feel comfortable in what you wear for your before picture, but we do need to see as much of your body shape as possible so we can have a great comparison with your after picture.
To really make an impact, try and wear the same outfit for your before and after picture. Obviously, if it's way too big, then you can't, but let us know that in your story.
It's All or Nothing…
This is no place for mug-shots or fish face selfies! For our competition entry, we need full length, head to toe pictures of you. Trust us, if the scales haven't moved as you have liked, full length before and after pictures will show you exactly where your weight has disappeared from.
We Need More Than Your Best Side!
Take plenty of pictures from all sides and every angle, get a friend or family member to help. Have some fun, pretend you're at a photo shoot, especially with your after pictures-you will be feeling super confident. Strike a pose…there's nothing to it!
It's Behind You!
Yes, we can see that pile of folded laundry, haven't put that away yet?
Seriously, we don't care what you do with your laundry, because there is more to life than housework-are we right?! However, if the background of your before or after picture is really cluttered, it can distract the eyes away from the real feature of the photo-you! So try and make the background of whatever location you choose for your pictures as clear or plan as possible.
Just For You
To be entered into our monthly competitions, all we need are the before and after pictures as outlined above, however, we feel it's important to take photos during your journey too. Looking at these photos are a great motivator when you're struggling or when the scales are against you. You can look at your pictures with pride.
An Example of a Perfect before and after photo: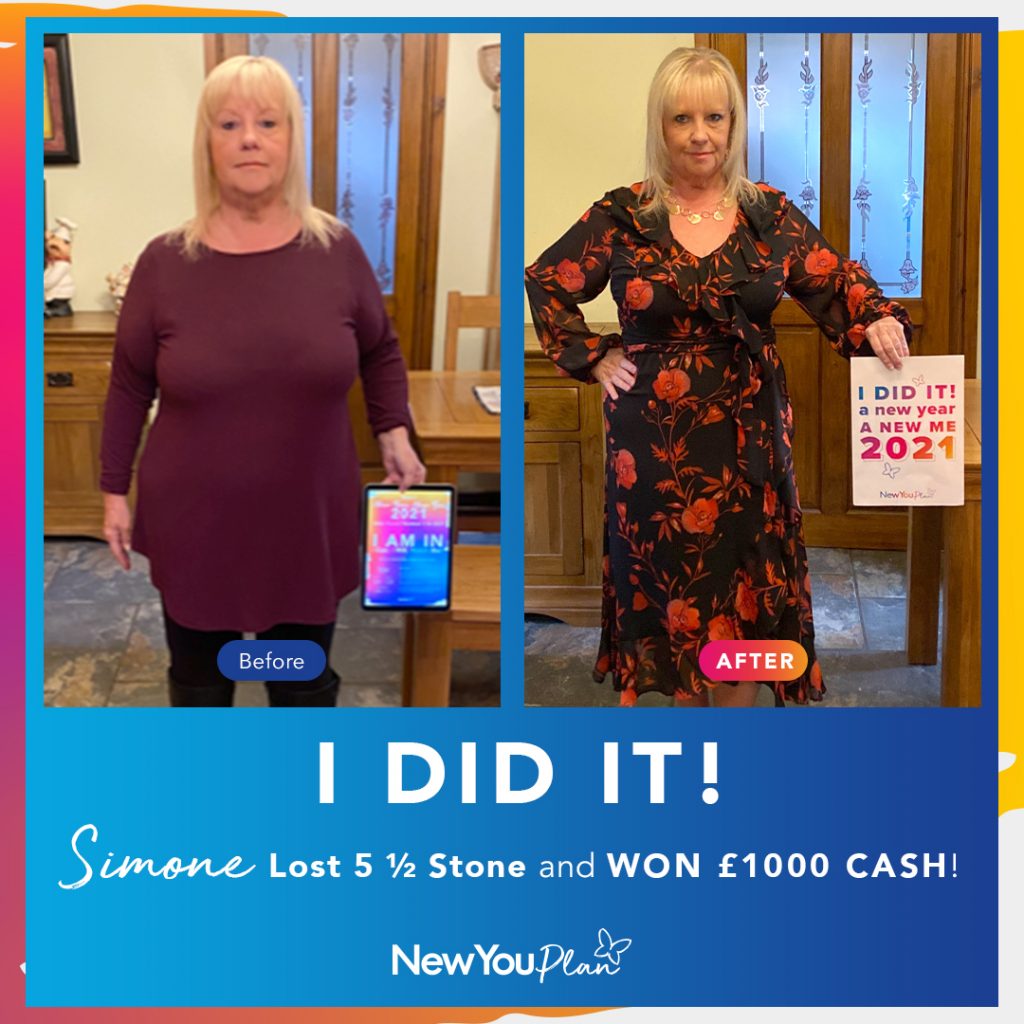 *Terms and Conditions of the Challenge:
You must be over 18 years of age
The Challenge will run from the first of July 2021 and finish on the 31st July 2021, thereafter this challenge will roll from the first day of the calendar month until the last day of the calendar month.
You must be holding the I AM IN poster in your before photo (or any previous I AM IN Poster) to be considered, If you photoshop the poster on unfortunately it will not be accepted.
You must be holding this new I DID IT poster in your after photo to be considered, If you photoshop the poster on unfortunately it will not be accepted.
You must submit your transformation story along with your photos to [email protected] by the date of closing.
The winners of the challenges will be announced within 7-10 days of the monthly challenge ending.
You can enter as many times as you wish with the same story, you can use updated photos with the poster if your transformation has continued.
The winners of the challenge will be chosen by our expert New You Plan panel including an independent adjudicator to ensure the fairness of the challenges. (more details available on request)
In the unlikely event that we do not have any entries for the month, we have the right to forfeit the prizes for the month.
If you are chosen as a challenge winner you must agree to a second set of terms and conditions that will allow The New You Plan to use your written content and images for promotion purposes.