Before & Afters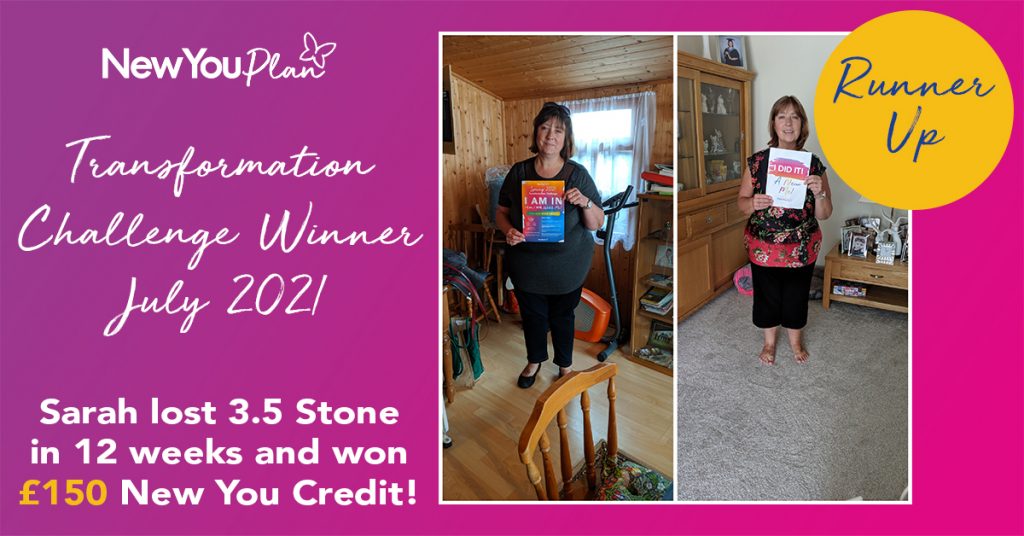 Read How Sarah Lost Over 4 Stone!
Growing up Sarah was an active child and kept fit well into her early 20's. Sadly, her life took some unpredictable turns which had a knock-on effect on her weight. At one point she found herself weighing over 21 stone.
Struggling with everyday tasks like doing up her laces, she knew things had to change.
A colleague recommended the New You Plan and impressed by the support and extras offered, Sarah placed her first order.
We interviewed Sarah to find out about her journey and why she decided to take up our Monthly Transformation Challenge and of course to find out if she had any tips and tricks to share with us.
"I am a 48 Year old mum of one, nanny of one, daughter, sister, auntie, friend and mum in law. Growing up, I had the best childhood and kept active. I swam for swimming clubs, ran and did sea cadets and kept my weight down. At 17, I joined the royal air force, fast forward 5 wonderful years of keeping fit, working hard and playing hard. I then got married and had my son Josh. After my marriage broke down, I became a single mum. My weight piled on and continued over the next 27 years.
Over these years, I have tried every diet going, and lost lots of weight by various means but have always managed to put the weight back on and more. For my son's wedding I lost 5 stone, that was 2 years ago, this managed to gradually creep back on. At my heaviest I was 21 stone 10 lbs.
So in May this year, someone at work was doing the New You Plan. I was feeling so low about my weight. Walking was an issue as I was getting sad, none of my clothes would fit and I could barely bend down to pick up my baby granddaughter, it was such a struggle I nearly fell over whilst trying to lift her.
I then thought this had to stop, even tying my shoelaces was hard. My mentality at the time was that I could not see an end to the cycle of eating too much, feeling low and therefore eating more to console myself. After talking to my friend at work about New You and hearing how her and her family had been successful on the plan, I thought I would give it a go. I did some research and was so impressed by all of the support offered, and all of the extras available such as the 7 day kickstart online video coach program, the Secret Slimmer's support group, weight loss challenges and motivation.
I loved that there was a motivational wristband available, candle and weigh in chart. I will be honest, when I received my first delivery, O was excited but also a bit sceptical as to whether I would be able to manage 12 weeks. I started the plan and I lost 12lb in my first week and I felt absolutely delighted. As the weight carried on coming off and I started feeling so much better, getting so many compliments and thought yes I can do this.
Fast forward 12 weeks and altogether I lost an amazing 3 stone, 11 lbs and 6 ounces. I then did 2 weeks of re-feed and I was worried that I may turn back to my old ways, I didn't and I was feeling so delighted with my results and managed to lose a further 3lb and 10 ounces. I have now started my 2nd 12 week stint and in my first week have lost 6lb 4 ounces. So altogether since 3rd May 2021, I have lost a whopping and jaw dropping 4 and a half stone!
I decided to take part in the transformation challenge to show what can be achieved and to motivate people. I am no different to anyone else so if I can do it then others can also, I am so proud of myself! My favourite products would be chocolate porridge, hazelnut shake, chicken noodle curry soup, Mexican tacos, spicy noodle nosh, vegetable chilli, pasta carbonara, vegetable risotto, chocolate brownie, chocolate caramel muesli, BBQ crisps, salt and vinegar crisps, peach drainers, pineapple boosts and the muesli bar.
The times that I have found the plan challenging was at family gatherings where there were lots of tempting blips, and at work sometimes again when there are tasty blips on show, normally also when meeting friends I would have had a catch up chat over blips.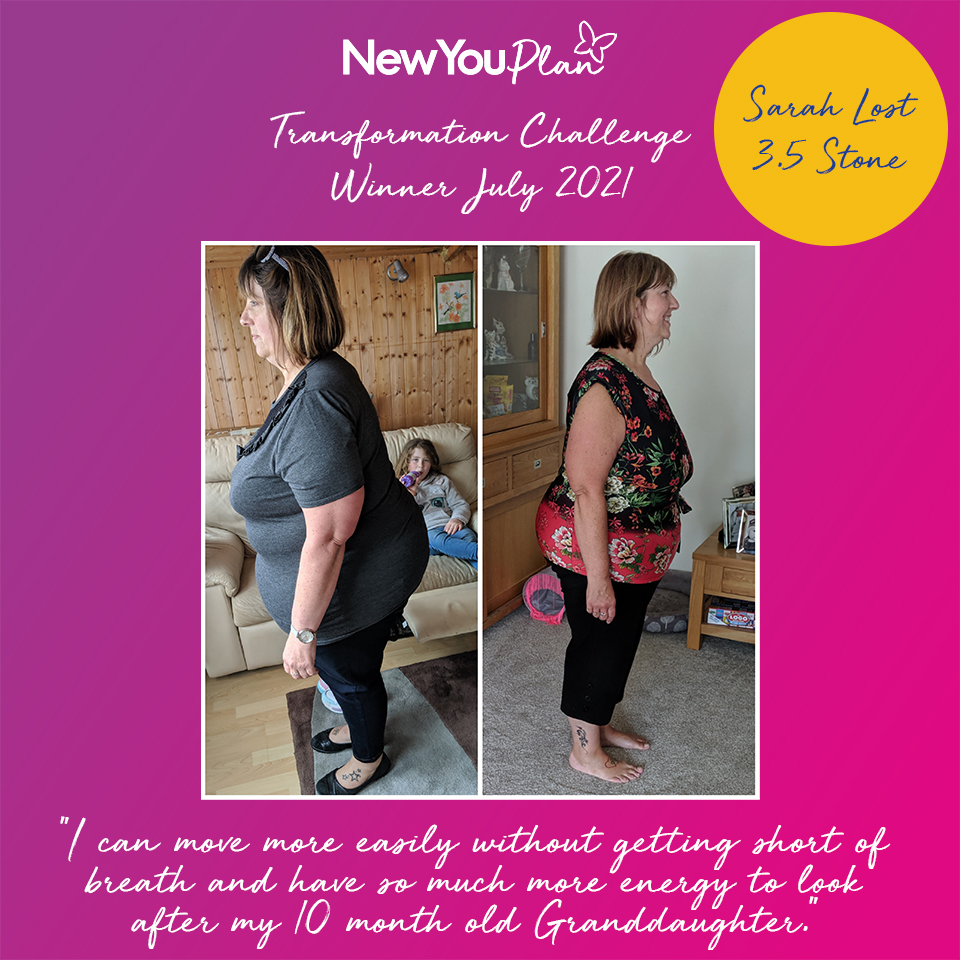 I always plan my meals around events and I take my crisps with me, they have been my lifesavers, also thinking how far I have come and showing others photos helps and also removes myself from temptations while all of the blips are on show.
The New You Secret Slimmer's group has been a great help as I have loved seeing everyone's questions, answers, photos, inspirational stories and advice. My biggest motivator for keeping on track was my family, especially my granddaughter. I need to be able to keep up with her and also the fact that I am turning 50 next year.
My biggest Non- Scale victory was my niece telling me that I am 'Deflating like a balloon' This has kept me going! Since losing weight my happiest memory has been the fact that I have stuck to the plan with such great results and I am continuing to do so. Before I started the plan, on a Saturday night  I would have had a massive takeaway. Now I love having my Mexican Tacos New You Meal with crisps and a New You Chocolate Brownie afterwards, to me this is now such a treat!
The plan has completely changed my life and mindset.
I have realised that before I was an emotional eater, I would eat If I was happy, sad, worried, anxious, fed up or bored. I loved the feeling of wellness but this was short lived and doesn't help cure these emotions. I would think about food all of the time and think it would help. This was a vicious cycle: eat too much and then feel lousy. I now realise that food is not the answer to dealing with emotions and that food does not make you feel less bored, worried or anxious, food is used to stop hunger.
Food can make you feel protected and satisfied, warm, happy and loved, but after eating these emotions are still there. To get over these feelings, I think of other things, like listening to music, doing a workout, going for a walk, talking to people or seeing family and friends. I have also learned that I certainly did not sip enough water, I now 100% think I turned to food instead of 'sipping'/
My tips are, If I can do it, so can you. 12 weeks does so quickly, but take one day at a time and enjoy it. Wear your New You Wristband and keep reminding yourself why you are doing this. Set yourself goals and treat yourself after maybe a 7lb loss. Follow the Secret Slimmer's Facebook page, and take lots of photos, before, after and during.
Lastly, The New You Plan definitely works if you follow it. It offers great support, and can change your life a lot, so just think about it and believe it.
Thank you so much."
Having lost more than 4 stone, Sarah admits that there have been times she has been tempted to blip but has found that being prepared with New You snacks and showing off her before and after pictures have kept her on track.
Sarah took on our monthly Transformation Challenge to show others what could be achieved and to give those just starting out some extra motivation. In doing so she has a newfound proudness in herself.
It's not too late to follow in Sarah's footsteps and take part in our monthly transformation Challenge. There are some great prizes to be won, including £1000 cash. To find out how to enter, check out the details on our blog.