New You Plan Blog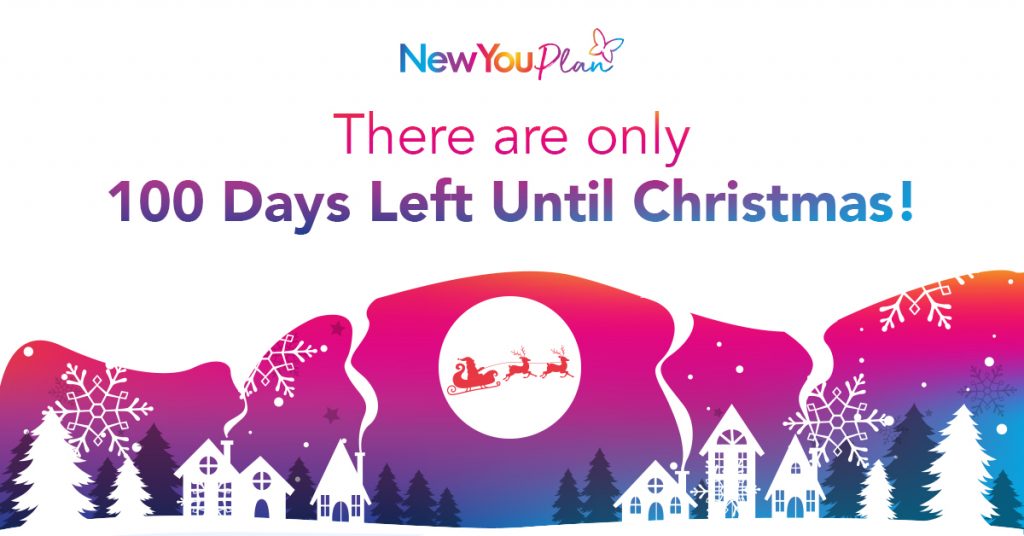 Did Somebody Say Christmas?
Hey, don't roll your eyes at us!
Here at the New You HQ, we can't believe that it's September already. This year has gone so quickly and someone in the office worked out that there are only 100 days until Christmas! It will soon be time to organise the office Christmas party, and it's gonna be a good one because Covid cancelled last year's. We've got some makeup dancing to do!
We all agree that 100 days sounds like a nice starting point to kick start and achieve some goals. After all, Rome wasn't built in a day (as they say) and change doesn't happen overnight. But over 100 days a lot can change. So here are some things we thought you could do:
Learn something new or start a new hobby – it's great for your mental health.

Establish 3 new healthy habits – it only takes 28 days to make a new habit, so you can definitely squeeze in 3 before Christmas!

Achieve your ultimate weight loss transformation – See out 2021 with a bang!

Save up for a new outfit for the party season – You're gonna need something special to show off your new slimmer figure!
How amazing is it that you could do all those things before Christmas?
Ok, we can see how taking up a new hobby, making new habits and saving for a new outfit could be easily doable. However, we can also understand if you're a little unsure when we say that you could make any meaningful progress to your transformation in 100 days, especially if you're new to the New You Plan.
So to convince you, we went over to our Secret Slimmer's community to find out what people like you were achieving. Because if they can do it, so can you! Right?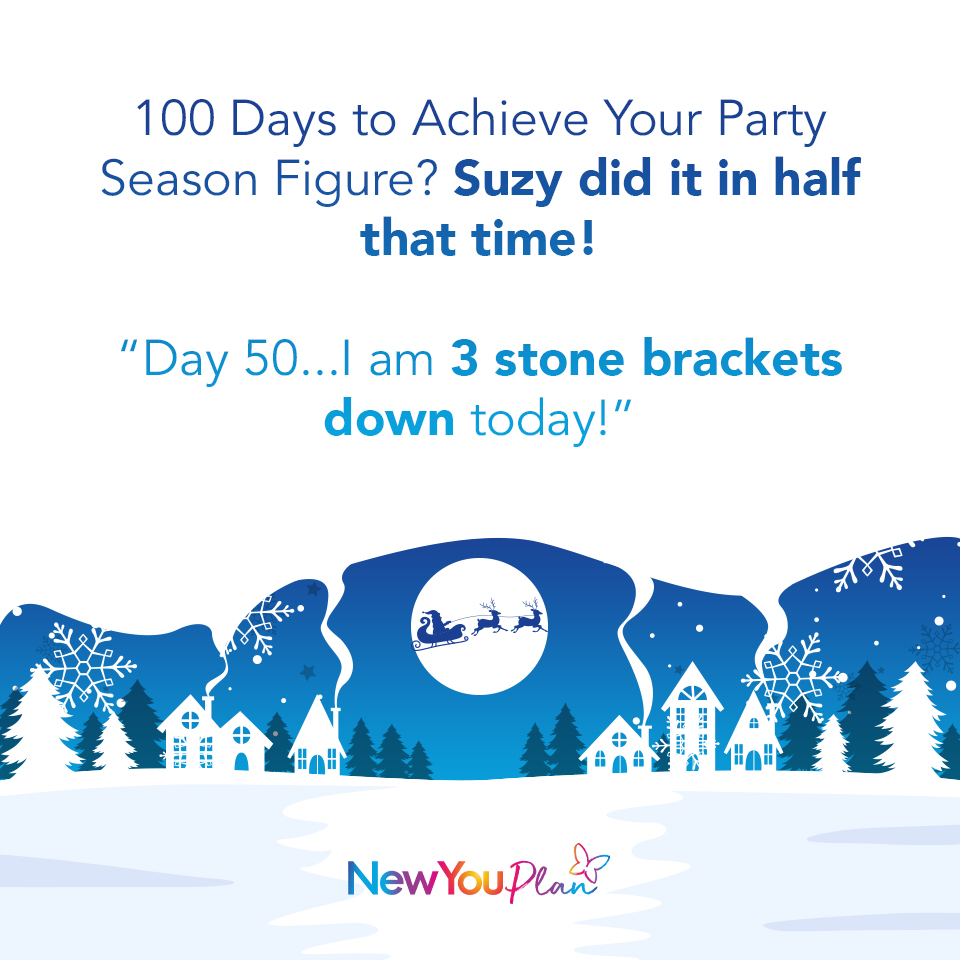 Here's what we found for you:
"Hi everyone!!! So 11 weeks ago I started the new you plan as I booked my girls christening I wanted to get some lovely pictures with my beautiful babies and not look at them and feel saddened…so the day finally came and I could cry with happiness!!!! I felt amazing 11 weeks last Saturday I hit THREE STONE !!!!" – Ruby
Well done to Ruby for achieving happiness with her 3 stone loss in 11 weeks, or 77 days!
"I did it. Exactly 3 stone off in 12 weeks!" 
That's 3 stone in 84 days! 100 days is plenty of time!
Tina kept it short, sweet and to the point. Congrats!
"I started this plan 10 weeks ago after trying on bridesmaid dresses and being absolutely disgusted with how I looked. It gave me the kick up my backside that I needed to do something about it…I had to have the dress taken in by 2 sizes and it was still too big! I'm 2 stone 2lb down and still on my journey to lose just enough that I don't have to shower with my eyes closed anymore." – Jodie 
Over 2 stone in 70 days is a fantastic result – Well done Jodie!
Regular poster Suzy adopted the countdown method and gave a shout out on day 52:
"Day 52 of 82 shrinkathon – here's a day 1 and day 52 NSV comparison that makes me soooooooooooo happy and sooooooooo over the moon that my head is in the game and that I'm doing this plan 100%. From Size 16/18 to size 10/12 and 3 stone brackets down." –  Suzy 
3 stone and 3-4 dress sizes down in only 52 days. This just blew us away!
There were so many other success stories, we could fill a book, but we just wanted to show you that people who committed to the plan and made use of our support achieved everything they set out to and beyond. 
Any thoughts on what you'd like to achieve in 100 days? Between 2 and 3 stone wouldn't be unrealistic, would it?
To start your 100 days countdown today (why put it off?), head to our website, order your bundle and check out our Secret Slimmer's community. Take your 'before' picture and weigh and measure yourself – you will need these to monitor your progress and to enter our £1000 cash prize competition! If you want to be in with a chance of winning that is!
Excited? (You could start looking for your party outfit now, you know!)
We are! 
We can't wait to see what you've achieved by Christmas! 
Please keep us posted!