New You Plan Blog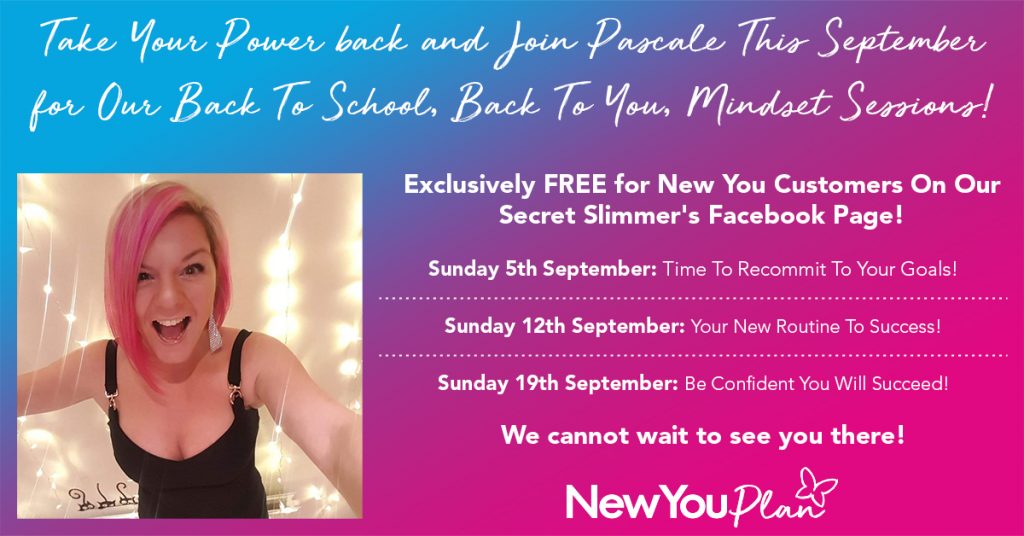 Confidence Breeds Success
Who can believe that we are already halfway through September? I know, right? But there's no time to sit around and dwell on time flying by and the past when there is progress to be made for your future!
This week in Pascale's mindset sessions she is coaching you on your confidence. Most people find that as the weight creeps on, their confidence falls away. This can be due to embarrassment or shame or just no longer recognise themselves anymore. If this has happened to you, then the great news is that Pascale can help you work towards claiming back your confidence.
The truth is, that confidence is about your self-belief. It's not about what you've accomplished in your life but what you believe you can accomplish in the future. Believing that you're enough, believing that you can be successful and having the willingness to put yourself out there and try. All these things bring about your confidence.
Confidence doesn't happen overnight, it takes practice. To practice confidence can be similar to acting, although no one is expecting an Oscar performance from you! Have you ever heard the saying dress for the job you want, not the job you have? Well, act like the person you want to become rather than the person you are – eventually the transformation will take place. 
To help you in your transition it's important to reject the negative images that try to persuade you that you're not good enough, you will never be confident and you will fail. Images from social media and TV get in your head and create an impossible ideal of what you should be.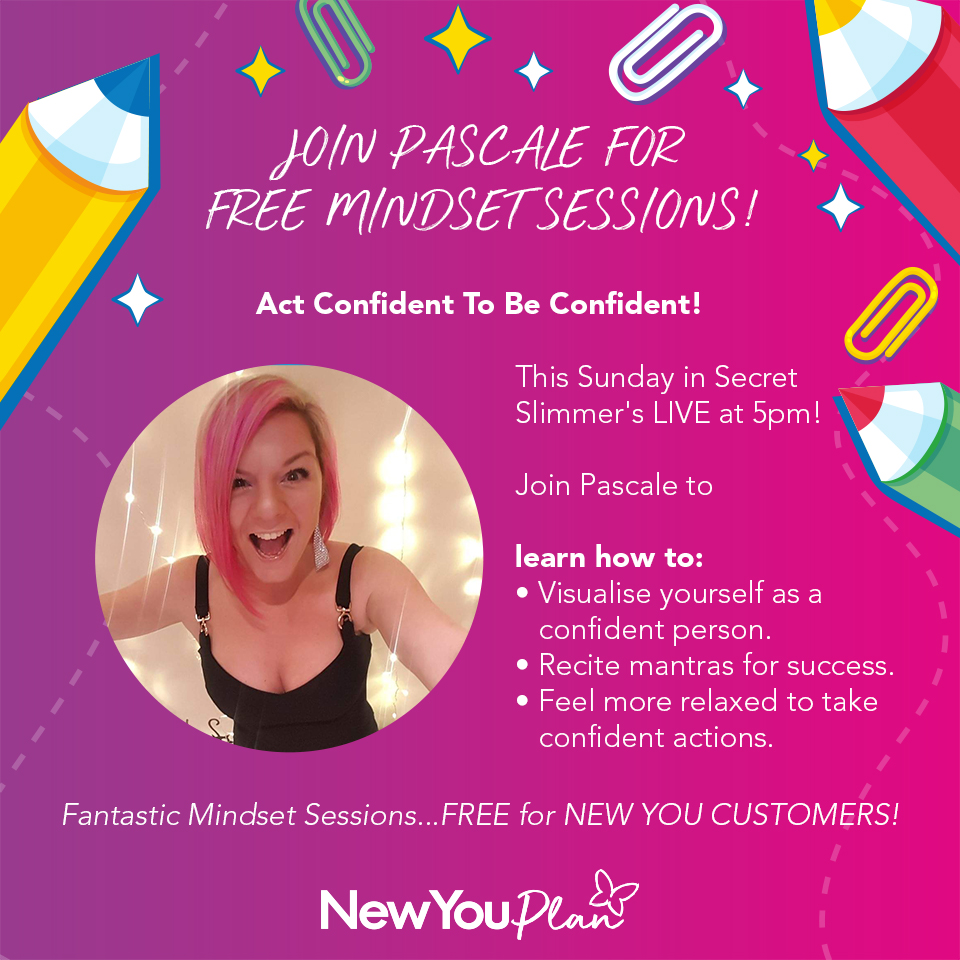 To flip those negative images you need to recognise what makes you feel uncomfortable. In what situations do you find yourself lacking confidence? Make a list, it could look similar to this:
I don't feel confident: – that I can reach my weight goal by X date.

I don't feel confident: – when I go shopping for clothes.

I don't feel confident: – to go out with my friends in town.

I don't feel confident: – when I take my kids to school and see all the other mums.

I don't feel confident: – my body can ever be slim and sexy.
Recognition of such things reduces the fear and doubt. 
Pascale covers several ways to remove your negative images, however, one way is to use mantras. Similar to acting confident, you use your voice to make positive affirmations to yourself.
Here are some mantras you can use: 
I am amazing, I've got this! 

I have more than what it takes to succeed. 

I only need to focus on one small step at a time. 

I am my biggest cheerleader. 

I owe it to myself to reach my goal and live fully the life I deserve. 

My challenges will get easier. 

I am worthy of believing in myself right now

I am powerful. I am so proud of myself.

All the resources I need to reach my goal are available to me right now. 

I am a beautiful soul with so much to offer to myself and others. 
Find some mantras that work for you and repeat them daily. You could say them in front of your mirror, read them to yourself or even record yourself and listen back to them periodically throughout the day. 
As you can see, re-growing your confidence is a process but it's completely achievable especially when you've got Pascale coaching you through all the steps. So make sure you tune into her third week of Back to School, Back to You mindset sessions. Don't worry if you can't make it live (Sundays at 5 pm) as she records every single one. 
Download Pascale's workbook as it's invaluable and helps you to organise what you've learnt so you can put it into practice in your own time. 
Oh and don't forget that Pascale's coaching is also FREE to both existing and brand new customers, so make sure you join our Secret Slimmer's Facebook community group – which is where she hangs out!
Confidence is within your grasp, you've just gotta reach out – you can do this!