Before & Afters

2021 Spring Transformation Winners!
Drum roll please… we are delighted to reveal the WINNERS of our 2021 Spring Transformation Challenge! Find out who has won our £1,000 First Prize
We had such an amazing response to our Spring Transformation Challenge! We LOVED seeing how motivated you were to smash your goals this season!
The past year has been testing time for every one lockdown has made it harder to get motivated and stay motivated. With our lives slowing down it has become increasingly difficult to maintain a healthy diet, but this has not stopped hundreds of our slimmer's from sharing their amazing transformations each week.
Our customers told us that they LOVED taking part and it definitely helped them stay on track, which is always our goal when we launch every challenge! At The New You Plan, we firmly believe in doing what we can to keep our customers motived at all times! We have now ramped things up and are now having a challenge EVERY month where one lucky person is set to win £1000!
Now that our Spring Transformation Challenge has ended we are delighted to reveal the winners!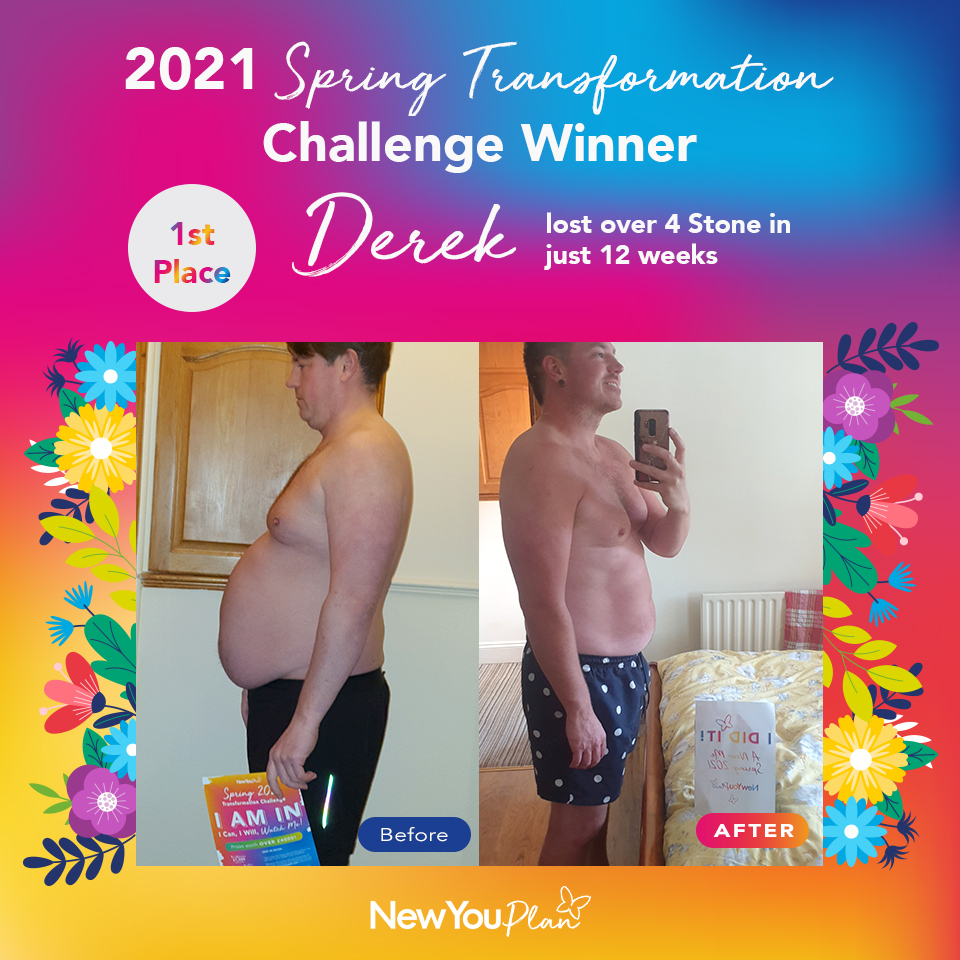 1st Place Winner: Derek Lost 4st and Won £1000 Cash and a Fitbit Versa!
Derek took 1st place in our Spring Transformation Challenge and has completely changed his life, he is full of confidence and it really beams from him!
"My first week of the spring challenge I lost 9.4 pounds. That was a major boost for me. I couldn't believe it. This spurred me on to keep losing substantial losses every week. To date I have gone from 266.4 pound (19.02stone) to 210pound (15stone) that's a total loss of 56.4pound (56.4 pound) I am delighted with the loss and my life has changed completely!"
"I have learnt so much about myself on the plan regarding my triggers and what does and doesn't work for me. Each person is different but I found distraction is key, especially in the first few weeks on plan. Also planning out your day the night before works very well. Have your packs prepared and use the New You diary which is also a great support. Also, Pascale's live mindset coaching sessions are brilliant for that extra support."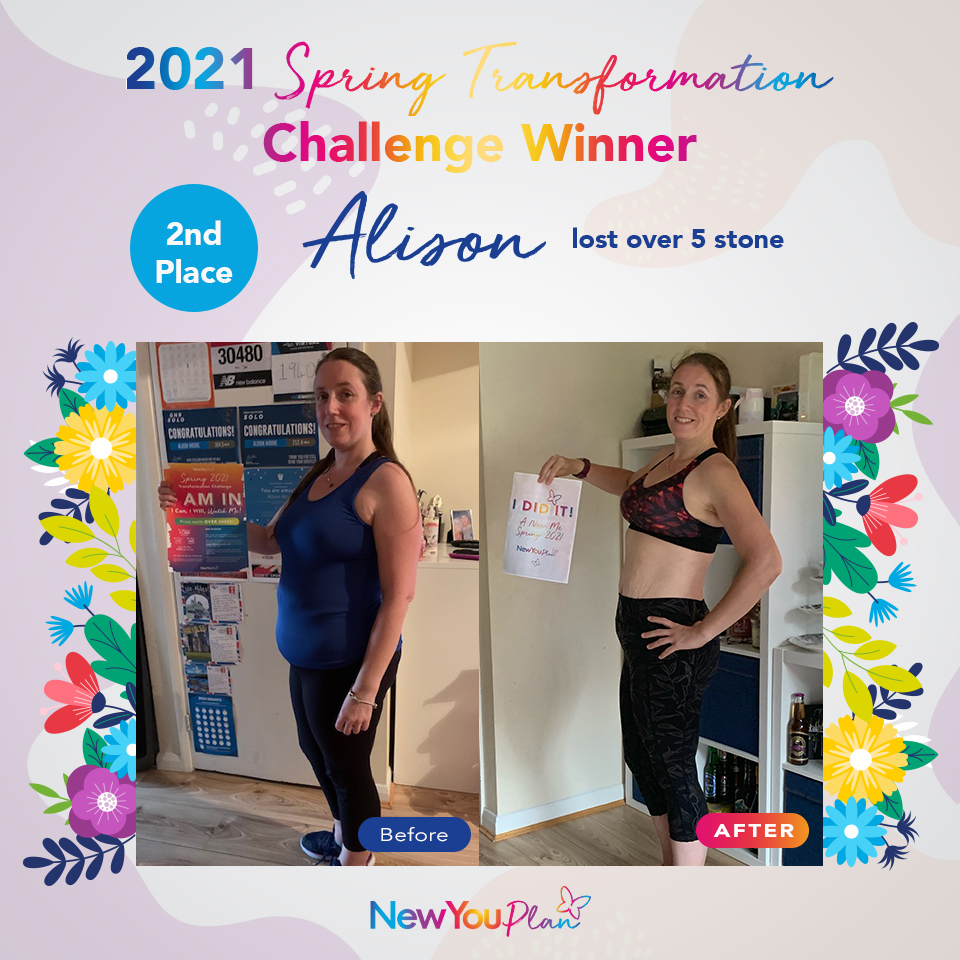 2nd Place Winner: Alison lost 5st and won £750 Cash and A Fitbit Versa!
Alison took 2nd place in our Spring Transformation Challenge and has dropped a massive 10 dress sizes and changed her life!
"I do have a lot of proud moments, but I think I am most proud of myself when I look at the picture holding those size 20 Jeans up in front of me. I now wear a size 10. Literally half the size! Sometimes, I can't quite believe it and I still look at myself in the mirror and can't believe it's me looking back!"
"The most memorable Non- Scale Victory is when I got ID'd at the shop and the Lady wouldn't serve me because she said the picture on my ID was not me. So, I need to get a new driving licence photo now!"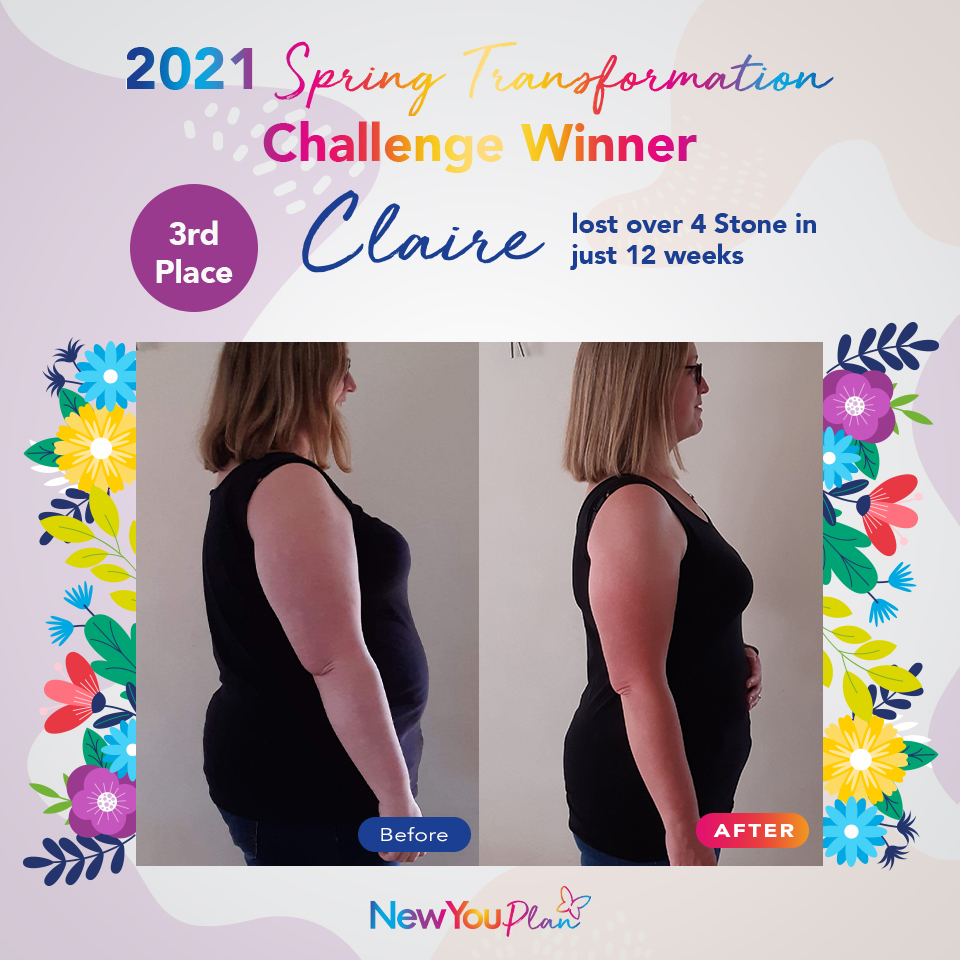 3rd Place Winner: Claire lost over 4 stone and Won £500 Cash and A Fitbit Versa!
Claire took 3rd place in our Spring Transformation challenge and can now walk 10,000 steps per day with no issues!
"My first week's loss was a fabulous 17 pounds and I was completely blown away that I had lost over a stone in a week. That certainly kept me on track!!"
When I started, I found the transformations so inspiring and they really helped to see the change that was possible by following the plan. I thought I'd take my before photo and keep it to myself if I didn't lose much, but by the end of the challenge I was more than happy to show what I had achieved!
Also a big congratulations to all our Runner-up winners:
Nancy – Lost over 5 Stone on the plan!
Olga – Lost 3 stone in just 12 weeks!
Caz Lost over 2 stone on the plan!
Marta – Lost almost 2 stone on the plan!
Each of these lucky ladies won £250 New You Credit and a Fitbit Versa!
Thanks so much to each and every one of you who entered. Remember, you are all winners. Be proud of every pound that you have lost, look at how far you have come and celebrate those non-scale victories along the way.
We have switched up our Transformation Challenges and now have one EVERY month! Where one lucky slimmer will win £1000 Cash! 2 Runner up prizes will be £150 New You Credit!