Before & Afters

2021 Spring Transformation Challenge Winner – 3rd Place Claire
Claire was desperate to lose weight as she knew she wasn't who she used to be and wanted to be the best version of herself for her and her family.
Contracting Covid was Claire's trigger and after seeing all the wonderful transformations on the Secret Slimmer's Facebook page, she knew she was up for the challenge!
Spurred on by the simplicity of our plan, Claire came 3rd in our Spring Transformation Challenge 2021, taking home a £500 cash and a Fitbit Versa.
We interviewed Claire to find out about her journey to becoming our runner up and if she had any tips and tricks to share.
How did you feel before you started the plan?
"Before starting New You, I wasn't my best self. At the end of 2020 I caught Covid and while I wasn't seriously ill the recovery from the virus was long and slow, walking made me breathless and the fatigue drained my energy and I spent most days parenting from the sofa and comfort eating."
What was your mentality, what did you struggle with?
"I got really down and wanted to do better for myself and my family. As I started to feel better and with lockdown easing, I knew I was ready to make a lifestyle change."
Why did you decide to start the plan, and why New You Specifically?
"I had looked into VLCD's before and given it a try so I knew that you would get results if you stick to the plan. After a Google search New You came up and after looking through the website, I decided to go for it."
What attracted you to New You, did someone recommend you, was there anything that made us different from other companies?
"With New You everything is set out so simply and it's really easy to follow. They also have a great range of products – I have a sweet tooth so being able to satisfy that with the shakes, bars and brownies has really kept me on track."
How did you feel when you received your first New You Pack?
"I was excited to get started and sorted all my products ready to start on the Monday…because all diets start on a Monday!"
What was your first week's weight loss and how did this loss make you feel?
"My first week's loss was a fabulous 17 pounds and I was completely blown away that I had lost over a stone in a week. That certainly kept me on track!!"
What are your favourite New You Products?
"I love the Mint Choc shake with plenty of ice and also the muesli bar."
Why did you decide to take part in the Spring Transformation Challenge?
"When I started, I found the transformations so inspiring and they really helped to see the change that was possible by following the plan. I thought I'd take my before photo and keep it to myself if I didn't lose much, but by the end of the challenge I was more than happy to show what I had achieved!"
What is the biggest lesson you have learned since taking part in the Challenge?
"I've learnt that if I put my mind to something I can achieve it and that making time to do something for myself benefits the whole family."

How much weight have you lost altogether?
I have lost 70 pounds
Was there a time that you found the plan difficult and how did you overcome these challenges?
The first few days on the plan were a struggle, but I knew that was just my body detoxing and I just pushed through, after day 5 I felt amazing. As I went into week 6 I was struggling with TFR I decided to change things up and started to follow New You Switch combining the packs with conventional food, I have continued to have really good losses and I'm really pleased with how it works for me.
Do you feel the support offered by New You such as secret slimmers has helped you on your journey? If so, how?
The secret slimmer's group is fantastic support, everyone there is so kind and helpful. It's also good for a giggle! Whatever your worry or question there is someone to help and I love transformation Tuesday to see everyone's progress.
What was your biggest motivator for staying on track?
Definitely the consistent losses.
What is your biggest non-scale victory?
My 2 NSV's are dropping from a size 24 to an 18 and my friend not recognising me walking towards her!
Since losing your weight what is your happiest memory or proudest moment?
I took part in 10,000 steps a day challenge, there's no way I could have walked that far every day before starting the plan.
Would you say the plan has changed your life, and if so, how?
It's definitely made me a happier and more active mum.
Would you have any tips you would give to someone who is thinking of starting the plan but is not sure?
Don't hesitate, this plan really works! You have nothing to lose but the weight.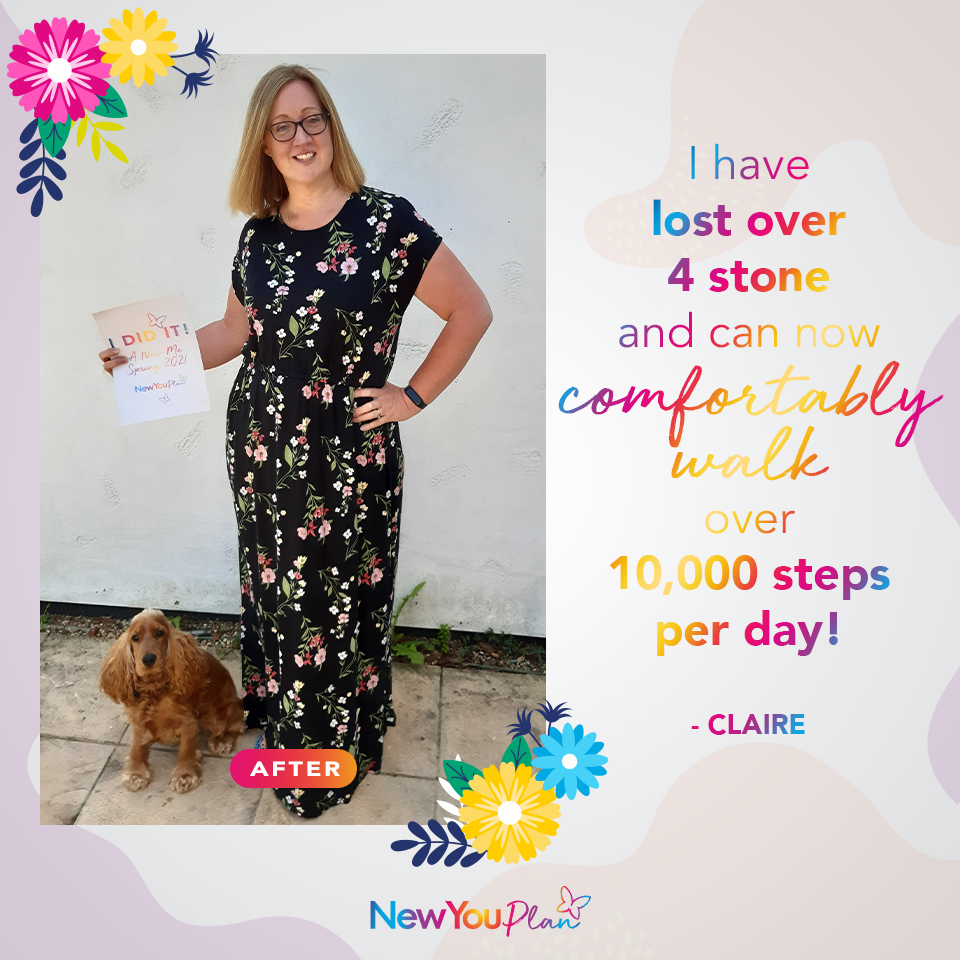 Now 70 lbs lighter, Claire has transformed her life in so many ways and you could too.
Follow in Claire's footsteps with our New Monthly Transformation Challenge! There are some great prizes to be won, including £1000 cash. Although it really is just taking that matters here as you will win back your health-which is priceless!
As Claire says, " you have nothing to lose but weight!"
Check out our blog for information on how you can enter our Summer Transformation Challenge 2021.