Before & Afters

2021 Spring Transformation Challenge Winner – 1st Place Derek

Derek had tried all the well-known diets without success and got to a point in his life where he was both physically and mentally unwell.
After a friend recommended the New You Plan, Derek took the plunge and now is the proud winner of our Spring Transformation Challenge 2021, taking home a £1000 cash prize and a Fitbit Versa.
As a thank you, Derek kindly shared with us his story on how he lost over 4 stone with the support of the New You plan. You can read his inspiring story below.
"I heard about the New You plan from a close friend of mine who had done it and lost weight and was very happy with the results.
Before starting the plan I was at my heaviest weight of 266.4 pounds (19.02 stone) I felt absolutely rubbish, bloated and very unfit. With covid and lock down it was hard enough but then having the added weight and generally feeling unwell in myself physically and mentally I knew I had to do something about it. When my friend told me about New You plan and the fast results that can be achieved, I looked it up and said I am going to give it a shot.
I am an emotional eater and turn to food in times of stress and upset. I would turn to the wrong foods and basically eat my feelings. I was so fed up with how I looked and having to wear double and triple XL clothing.
I ordered a bundle from New You with my friend's advice and doing some research myself. When I saw people's success stories and how fast people were getting amazing results, I thought to myself, this looks like it could be for me.
I have tried the other usual diets that most people know like weight watchers and slimming world but with failed attempts as the weight loss was very slow.
My first box of New You goodies arrived and I couldn't believe the variety of bars, shakes and savoury meals. So much to choose from and then the snacks I love, love the crisps especially the salt and vinegar ones. They are the perfect treat for me at night as I am a big night eater. I found that if I kept a bar meal and a packet of crisps for at night it kept my cravings at bay. I would look forward to them all day!
The meals are also very, very easy to make and it removes the stress of shopping and spending half the evening cooking after a long day in work.
Delivery and customer service are also brilliant, fast and efficient!
I had lost a bit of weight but then life got in the way and family bereavements made me come off plan.
I got myself into the mindset and I saw the 12 Week Spring Transformation Challenge started this year on the amazing Facebook Secret Slimmer's group. I was determined.
My first week of the spring challenge I lost 9.4 pounds. That was a major boost for me. I couldn't believe it. This spurred me on to keep losing substantial losses every week. To date I have gone from 266.4 pound (19.02stone) to 210pound (15stone) that's a total loss of 56.4pound (56.4 pound) I am delighted with the loss and my life has changed completely.
I am Much healthier, fitter and overall happier in myself. Even though the spring challenge is over and I have lost the weight, I am a New You member for life and will continue to use the products alongside conventional foods. My main focus is to continue to tone up and get solid in the gym.
The products are amazing. My other favourites are the Mexican tacos with the snack crisps or the cottage pie and pasta dishes done on the panini maker. They come out all crispy like a rosti. It is so easy to either ask in group for ideas or also I used the search bar #meals and it will bring up some amazing creations. I found this very useful.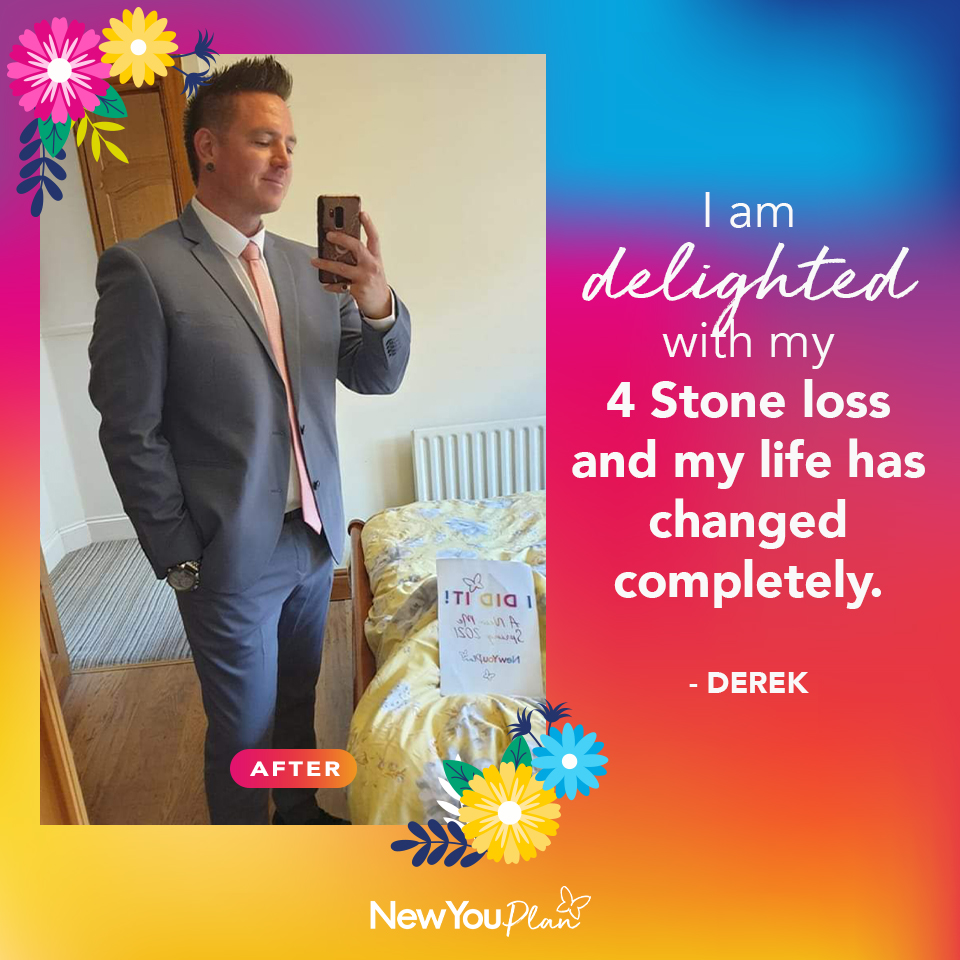 The most important part of my journey has been the amazing support system in place from the New You team both from the amazing staff and fabulous members. It is full of such supportive people who are all on their own journeys and willing to help and answer any questions or give the support when needed.
Seeing everyone success stories and helping each other along the way. Also supporting each other if having a bad day or week as it is not always easy and having the group on Facebook to log on and post for advice and support to get you over whatever hurdle is in your way was amazing. It really is like an online family that welcome you with open arms.
I have learnt so much about myself on the plan regarding my triggers and what does and doesn't work for me. Each person is different but I found distraction is key, especially in the first few weeks on plan. Also planning out your day the night before works very well. Have your packs prepared and use the New You diary which is also a great support. Also, Pascale's live mindset coaching sessions are brilliant for that extra support.
My biggest motivation for staying on track was how quickly I started to see results and reading through other members posts and success stories.
One of my biggest non scale victories was meeting my friend coming out of lockdown and I had not seen him in a long time. He didn't recognise me. He dropped his hands by his side and his jaw hit the floor. His exact words were "OH MY GOD, you skinny bitch" 🤣 I could have kissed him there and then only for covid!
It feels really good to meet people and received compliments and have that feeling of Yes, I did it and I am very proud.
For anyone that is considering doing the plan my advice is order a bundle for at least a week and just try it. Take it day by day at the start and join the Facebook group as soon as you place your order. I have been there feeling fed up and miserable in myself because of the weight I was carrying. You won't believe the difference after 1 week. Sure what's 1 week out of your life and see how you get on. I bet you will be writing about your success down the line if you take the leap. That one step will start to change your life and you will begin to smash your goals!"
So there you have it, a much slimmer, happier and healthier Derek!
As you read, completing the challenge has allowed Derek to change his mindset around food and now appreciates his good health and wants to continue along this path.
You could do the same as Derek and give the New You Plan a try, even for just 1 week. Like Derek says "what's 1 week out of your life and see how you get on."
Follow in Derek's footsteps with our new monthly Transformation Challenge! There are some great prizes to be won, including £1000 in cash.
Whether you win our prize or not, you will be claiming back your health, which is priceless!
Check out our blog for information on how you can enter our Summer Transformation Challenge 2021.