Before & Afters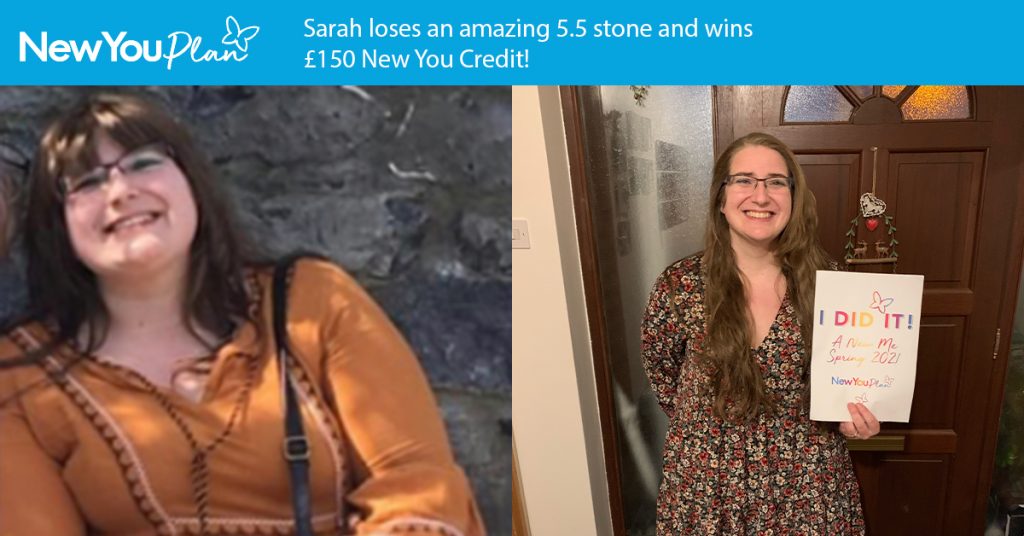 Winning 2nd Place Has Boosted Sarah's Confidence
Second place transformation winner Sarah had completely given up on trying to lose weight. She had spent so long feeling uncomfortable in her body that she had gotten used to it. Trying to lose weight had always led to failure and was just too hard. It wasn't until she faced fertility problems that she found the strength to take action. Read more on Sarah's journey to discover how her powerful why led her to win £150 in New You credit.
Sarah always remembers being big as a child, and when she hit puberty, her situation just got worse. Unbeknownst to her at the time she was suffering from undiagnosed PCOS which contributed to her weight struggles. Because she didn't have the right help for her condition, any attempt at weight loss was a battle that always ended in excessive comfort eating.
As Sarah got older, she blamed her tiredness and laziness on her constantly busy schedule. She would tell herself that she didn't have the time to take a proper break and eat regular healthy meals. And although Sarah's weight fluctuated, by the time she got married she was at her heaviest weighing 20 stone.
As with many couples, after their wedding, Sarah and her husband wanted to start a family. It was only then that Sarah received a confirmed diagnosis of PCOS. Suddenly it was clear that conceiving a baby might not be so straightforward. Sarah knew she needed to lose weight to give herself a chance but with a history of failed attempts behind her, she found it impossible.
"I'd struggle to maintain motivation after a few weeks of trying to control my eating habits."
The turning point for Sarah was when she was refused fertility treatment because of her weight.
"I left angry and embarrassed. It was at this point that it clicked mentally, I needed to lose weight to be able to have a baby either naturally or with help. I couldn't keep using excuses anymore, I didn't want being fat to be the reason I couldn't have what I wanted from my life."
Fertility treatment was out of reach for Sarah until she lost at least 8 stone.
Motivated to take action, Sarah did her research to find a solution. A friend of hers had found New You on TikTok and Sarah thought it sounded ideal.
With her conception goal spurring her on, Sarah was excited when her first order arrived – she was eager to get started and to make it work.
With an open mind, she tried all the meals and snacks to establish what she did and didn't like.
"The majority of meals were great and tasted better than anything else I'd ever tried of a diet food product before."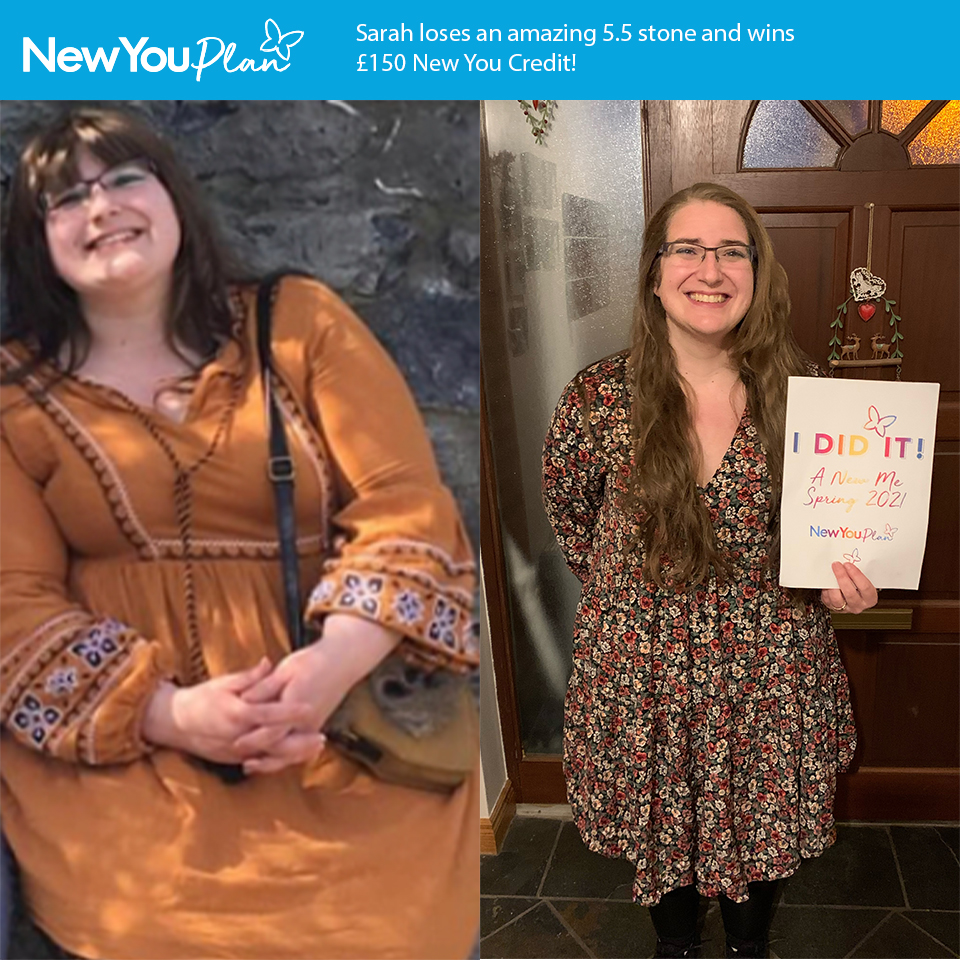 In her first week, Sarah was allowed 5 packs a day and lost 10lbs and after 18 weeks she shed a life-changing 5.5 stone.
And of course, she celebrated her non-scale victories too. She found her favourite shorts that she had been longing to fit in were far too big! She hit her proudest moment when she bought a size 16 dress.
"The fact that a 16 that has never been a size I could look at before is now hanging in my wardrobe, is the best feeling." 
Of course, losing weight isn't always plain sailing and Sarah had her fair share of struggles, especially within the first week. Luckily after 4 days her hunger and cravings had subsided and she had gotten herself into a positive routine. 
Throughout her journey, Sarah has found the benefits of gaining support from friends and family and the community of New You Secret Slimmer's. 
"The support from other plan users and the NYP Team is second to none and they really help you stay motivated and supported."
Sarah decided to enter New You's October Transformation Challenge through the advice of Glynis Vac. She had posted before and after pictures of herself and Glynis felt that Sarah was a great candidate. Sarah had been feeling low at the time and finally seeing for herself what others saw in her gave her the boost she didn't know she was looking for. And winning 2nd place in the Challenge had taken her confidence to the next level.
Sarah admits that she never thought she would weigh so little and feel so much pride and happiness in herself. But that's what being overweight does – it creates self-doubt. Throughout her journey, she has learnt some valuable lessons and advises people who take on the plan to treat it as a marathon, as it's not a race to see who can be the quickest loser. 
"Don't be disheartened either if you have a slow loss or a stay the same week, it happens!"
The best advice from Sarah?
"Just do it, take the leap of faith and believe in that it has worked for so many. It's the best thing I have ever done and I regret nothing. It really has changed my life in the sense that I know I can lose weight."  
"Thank you New You for giving me a new me!"
Everyone has a turning point and for Sarah, it was her fertility. But that wasn't enough to get her to where she needed to be and Sarah knew that. She sought the help of New You and took advantage of the support of friends, family and the Secret Slimmer's to get her through the difficult times.
Sarah didn't believe she had achieved enough to enter our Transformation Challenge, let alone win 2nd place. Losing over 5 stone is no mean feat and by putting herself forward she has given herself a much-needed confidence boost to help her to continue on in the second part of her journey.
You can enter New Year New You Transformation Challenge with prizes worth £7000 at any point in your journey, so why not just do it? You never know what you might get out of it if you don't give it a go!