Challenges

New Year New You £7000 Transformation Challenge
The year is new, it's 2022 and we're levelling up the Transformation Challenge here at New You HQ!
We're so proud that you are continually putting your health first by losing weight with us, but we know that the beginning of a new year can be a tricky time to get motivated and stay that way.
So we got our thinking caps on and decided that we would bump up the Transformation Challenge prizes and introduce more chances of winning.
So what does that mean?
Well here's what we're putting on the table:
1st

prize is a whopping

£3000 CASH!

2nd

prize is a fantastic

£2000 CASH!

3rd

prize is still not to be sniffed at

£1000 CASH!
4th, 5th, 6th
and
7th
prize winners get a very handy
£250 of NEW YOU CREDIT!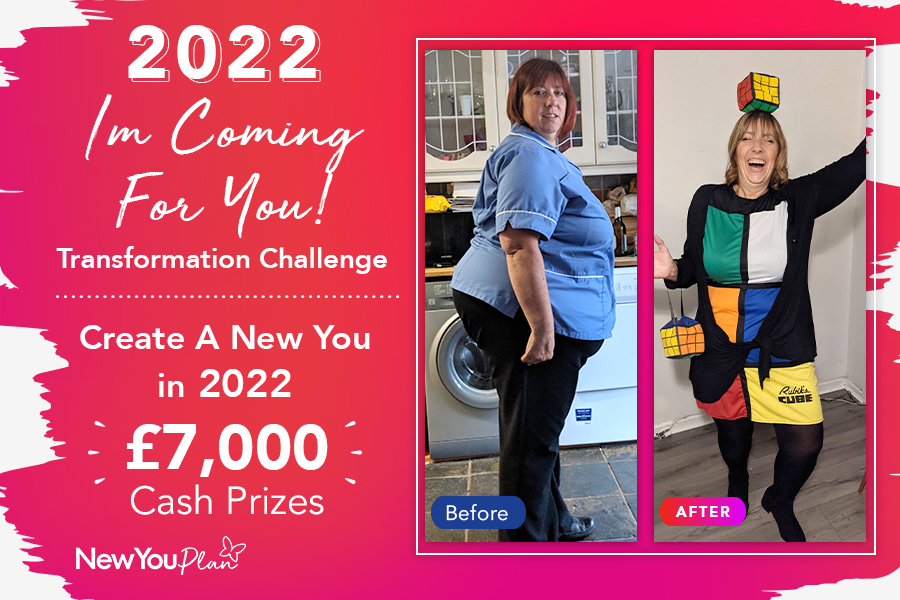 I'm sure you'll agree that this challenge offers some next-level motivation!
This Transformation Challenge is designed to allow you to make a start when you're ready, so you don't feel pressured to start instantly.
You will be able to enter at any time between the 1st January 2022 and the 31st March 2022.
So what do you have to do?
Nothing's changed there, but here's a recap if you don't know:
Take a clear, full-length before photo with our New Year New You, 2022 I'm Coming For You, I AM IN Poster. No filters necessary! If you already have a photo of you holding a previous poster you can also send that in instead.

Take your clear, full-length photo after photo with the I DID IT side of the 2022 poster.

Send in your amazing transformation story with both photos to

[email protected]

. We want to hear about the highs and the lows of your journey and how you have lost your weight or maintained it on the New You Plan.
All entries will be considered, whether you are just starting out on your journey or are a New You Plan veteran who's maintaining like a boss. We want to see those pictures and read those stories!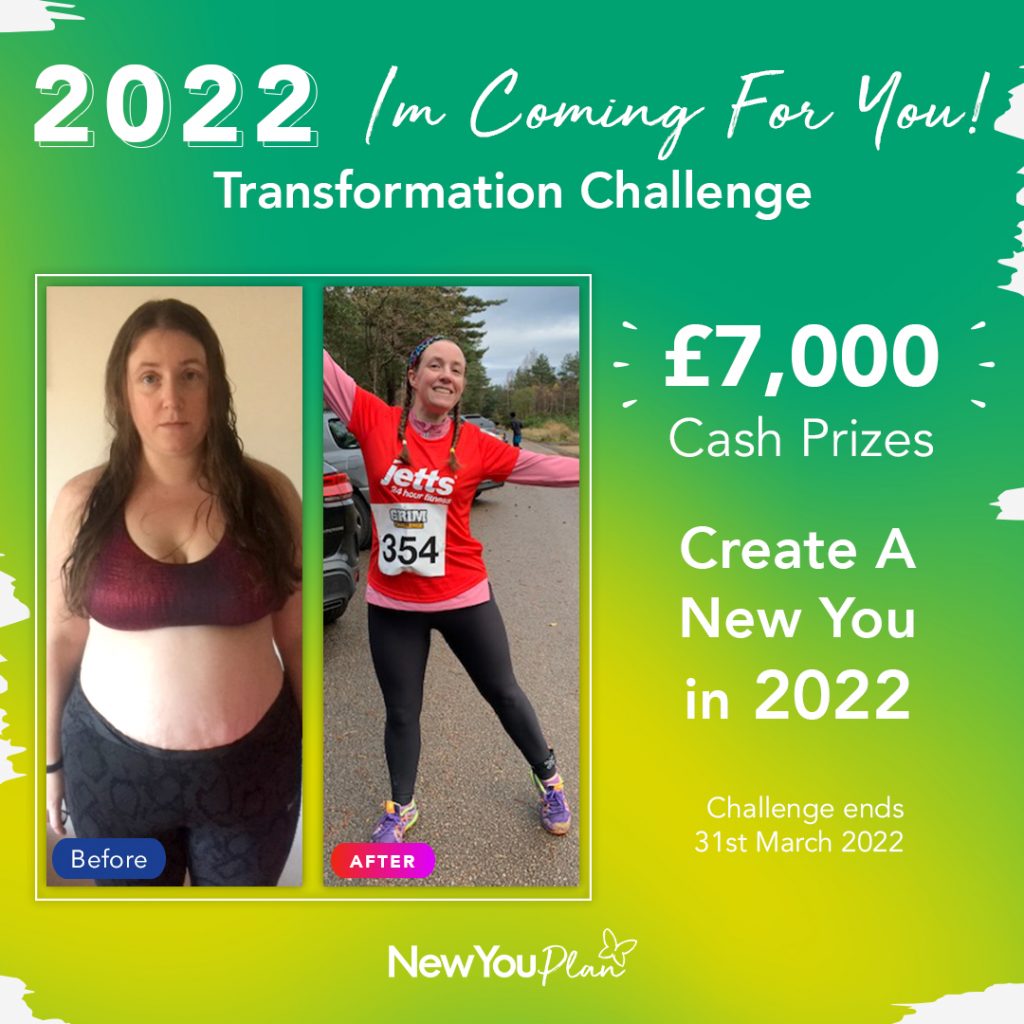 WAIT! Before you submit anything, here are our TOP TIPS for your competition entry:
What Are You Wearing?
We know you're probably going to hate this but we need to see as much of your body as possible. Not the flesh-put that back on, you'll make us blush! We mean ditch the joggers and baggy t-shirt and dig out those leggings or shorts and vest top.
Obviously, it's important that you feel comfortable in what you wear for your before picture, but we do need to see as much of your body shape as possible so we can have a great comparison with your after picture.
To really make an impact, try and wear the same outfit for your before and after picture. Obviously, if it's way too big, then you can't, but let us know that in your story.
It's All or Nothing…
This is no place for mug-shots or trout pout selfies! For our competition entry, we need full length, head to toe pictures of you. Trust us, if the scales haven't moved as you have liked, full length before and after pictures will show you exactly where your weight has disappeared from.
We Need More Than Your Best Side!
Take plenty of pictures from all sides and every angle, get a friend or family member to help. Have some fun, pretend you're at a photoshoot, especially with your after pictures-you will be feeling super confident. Strike a pose…there's nothing to it!
It's Behind You!
Yes, we can see that mound of laundry on the table behind you!
Seriously, we don't care what you do with your laundry, because there is more to life than housework-are we right?! However, if the background of your before or after picture is really cluttered, it can distract the eyes away from the real feature of the photo-you! So try and make the background of whatever location you choose for your pictures as clear or plan as possible.
Happy snapping and good luck!
*Terms and Conditions of the Challenge:
You must be over 18 years of age
The Challenge will run from the first of January 2022 and finish on the 31st March 2022, thereafter this challenge will roll from the first day of the calendar month until the last day of the calendar month.
It is preferable for you to be holding the I AM IN poster in your before photo (or any previous I AM IN Poster) to be considered, If you photoshop the poster on unfortunately it will not be accepted.
You must be holding this new I DID IT poster in your after photo to be considered, If you photoshop the poster on unfortunately it will not be accepted.
You must submit your transformation story along with your photos to [email protected] by the date of closing.
The winners of the challenges will be announced within 7-10 days of the challenge ending.
The winners of the challenge will be chosen by our expert New You Plan panel including an independent adjudicator to ensure the fairness of the challenges. (more details available on request)
In the unlikely event that we do not have any entries we have the right to forfeit the prizes.
If you are chosen as a challenge winner you must agree to a second set of terms and conditions that will allow The New You Plan to use your written content and images for promotion purposes.