Before & Afters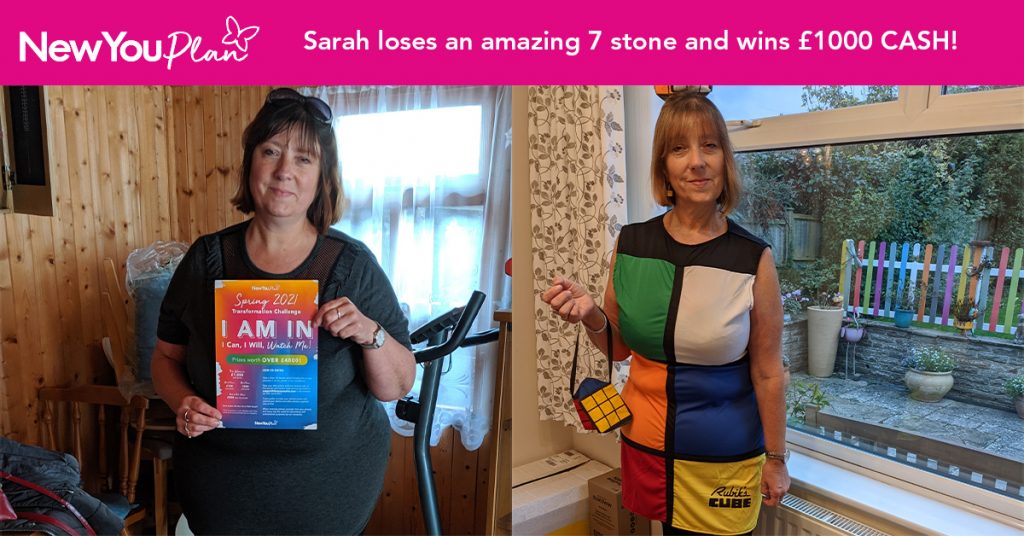 Sarah Lost an amazing 7 STONE and won £1000 CASH!
Not content at winning a runner up prize in our July Transformation Challenge, Sarah thought she would enter herself again in October. We love that kind of tenacity! And it paid off as she won 1st place and earned herself a whopping £1000 in cash.
After losing 4 stone in her first 12 weeks and 2 week refeed, Sarah knew she wasn't ready to stop her journey. She continued forward in a bid to firmly leave behind the awful life she had experienced having been 22 stone. Now 8 1/2 stone lighter, her life has been transformed and she's never going back.
Read more to discover Sarah's full story from runner up to humble grand prize winner. She truly is an inspirational lady.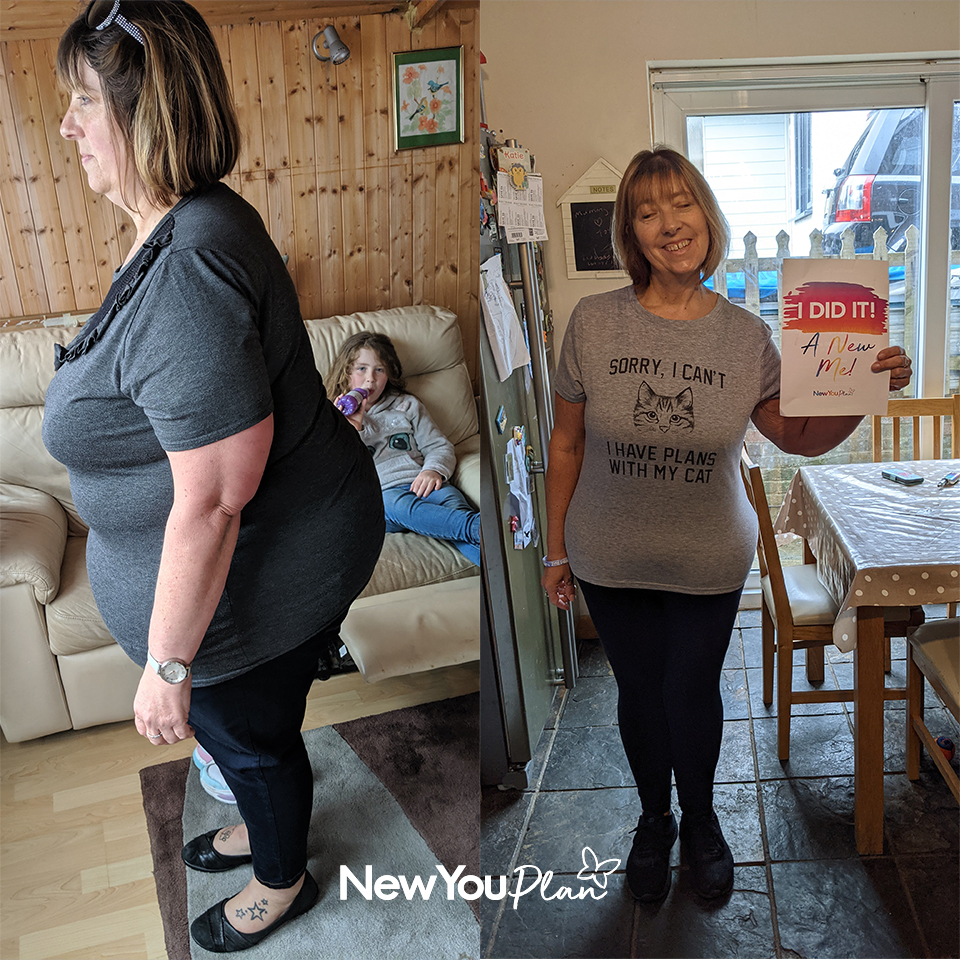 Sarah hadn't always struggled with her weight, in fact, she was an extremely active child. When she turned 17 she joined the Royal Air Force and spent the next 5 years keeping fit, working hard and playing hard.
It wasn't until her marriage broke down and she found herself a single mother that the weight started to pile on – for 27 years.
Unknowingly, Sarah had gotten herself into a cycle of emotional eating.
"I would eat If I was happy, sad, worried, anxious, fed up or bored"
Sarah tried to lose weight many times trying every diet going and failing. And like most, she had lost some weight but had piled it back on and then some once she stopped her new way of eating. For her son's wedding, she successfully lost 5 stone but over the proceeding 2 years her weight increased again.
Her spiralling weight took her to just under 22 stone and consequently, this had a knock-on effect on other parts of her life. She couldn't fit through the turnstile when she took her son to watch Liverpool play and had to leave via a wide exit. Sarah has experienced verbal abuse out in public and has had people following her around a supermarket, laughing because of her size.
Sarah's weight took a toll on her mental health and everyday tasks were difficult. Walking hurt, she couldn't tie her own shoes or cut her own toenails. Her clothes never fit properly because of her shape. Her final wake up call was when she tried to bend down to pick up her granddaughter.
"It was such a struggle I nearly fell over whilst trying to lift her."
Sarah knew her things had to change as she wasn't living the life she truly wanted, and now it was affecting how she interacted with her granddaughter.
In seeking out a way to lose weight, Sarah spoke to a friend at work whose family was having great results with the New You Plan. With a little research, Sarah was impressed by the support on offer such as the Secret Slimmers and the other little extras like challenges and video coaching. She felt she had nothing to lose if she just gave it a try for 7 days.
It didn't take long for her first order to arrive.
"I was excited but also a bit sceptical as to whether I would be able to manage 12 weeks."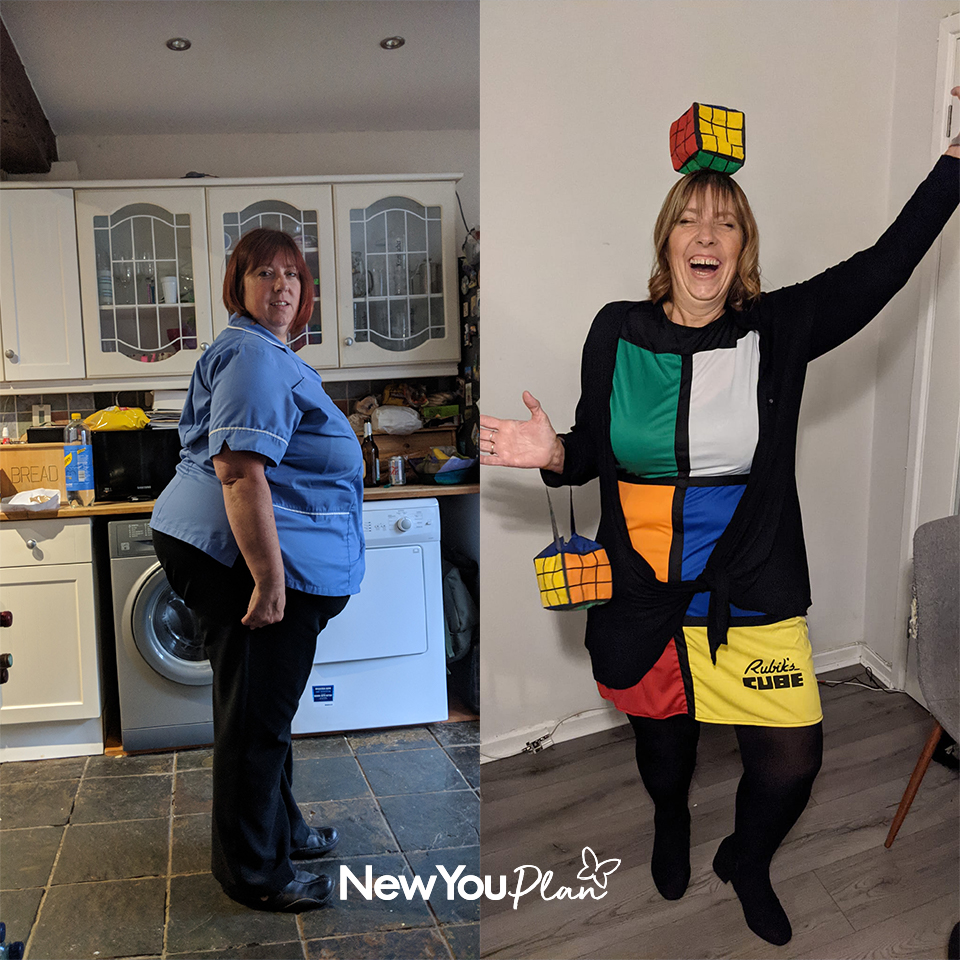 Sarah's scepticism was short-lived when she discovered that she had lost 12lbs in her first week. And since then the weight hasn't stopped coming off.
With feeling so much better and compliments flooding in she started to believe that she could make her transformation a success. Sarah decided to put herself forward for July's Transformation Challenge to prove to herself and to others what could be achieved. She wanted to be motivated and motivate others at the same time.
Sarah felt great pride when she was announced as a runner up in July's Transformation Challenge. It was just the boost she needed to keep going along her journey.
After losing a further 4 stone, Sarah felt confident enough to enter the October Transformation Challenge and won 1st prize! 
"So I never in my wildest dreams thought that I would be writing this as a Transformation challenge winner but here I am feeling so honoured, humbled and proud" 
Sarah has had an amazing transformation and still can't believe how much the New You Plan has completely changed her life and mindset when it comes to food. But she admits that her journey hasn't been without its challenges.
She has found herself in situations that most of us do, like family gatherings and social meet-ups. Sarah learnt how to deal with those situations in a more mindful way. She made sure she was prepared.
"I always plan my meals around events and I take my crisps with me, they have been my lifesavers, also thinking how far I have come and showing others photos helps and also removes myself from temptations while all of the blips are on show."
She has also learnt to find comfort in other things so she is not drawn into another emotional eating cycle. 
"I think of other things, like listening to music, doing a workout, going for a walk, talking to people or seeing family and friends."
The Secret Slimmer's Facebook group have also played a big part in helping Sarah along in her journey. She found the support, photo's, inspirational stories and accountability posts, invaluable.
Of course, her biggest motivator and why is her granddaughter, but she has added to that along the way. Her next goal is to get her 50th party booked, which she confesses she would never have even thought about before she lost her weight.
"My life and confidence has changed beyond belief!" 
Sarah now finds that people don't recognise her anymore and that she is enjoying herself in ways she never would before. 
"I went to a fancy dress party at the weekend, and instead of hiding in the corner & wanting the ground to swallow me up and hide me, I was up shaking my booty on the dancefloor, feeling absolutely amazing!"
She can do so many things now that she couldn't before that most people take for granted. She has all the energy she needs to be able to look after and play with her granddaughter and nieces. She can cut and paint her own toenails, take a leisurely walk without getting breathless, bend down to clean out her rabbits and even balance a plate on her lap whilst eating.
When interviewing Sarah about her recent win, we asked her if she had any advice to give to those just starting out or anyone who is struggling. Here is what she had to offer:
"Follow the plan and you can achieve amazing results."
"Become obsessed with the plan, I certainly have, I can't stop talking about it."
"Eat the meals you like, I haven't found anything that I don't like."
"Take up all the support offered, this really helps." 
"12 weeks goes so quickly, but take one day at a time and enjoy it." 
"Set yourself goals and treat yourself after maybe a 7lb loss."
"Follow the Secret Slimmer's Facebook page." 
"Take lots of photos, before, after and during." 
Sarah also had one more thing to say before we parted ways… "Thanks again, you have made me so, so happy and have made my year! New You really, really works, it has saved my life."