#Mchallenge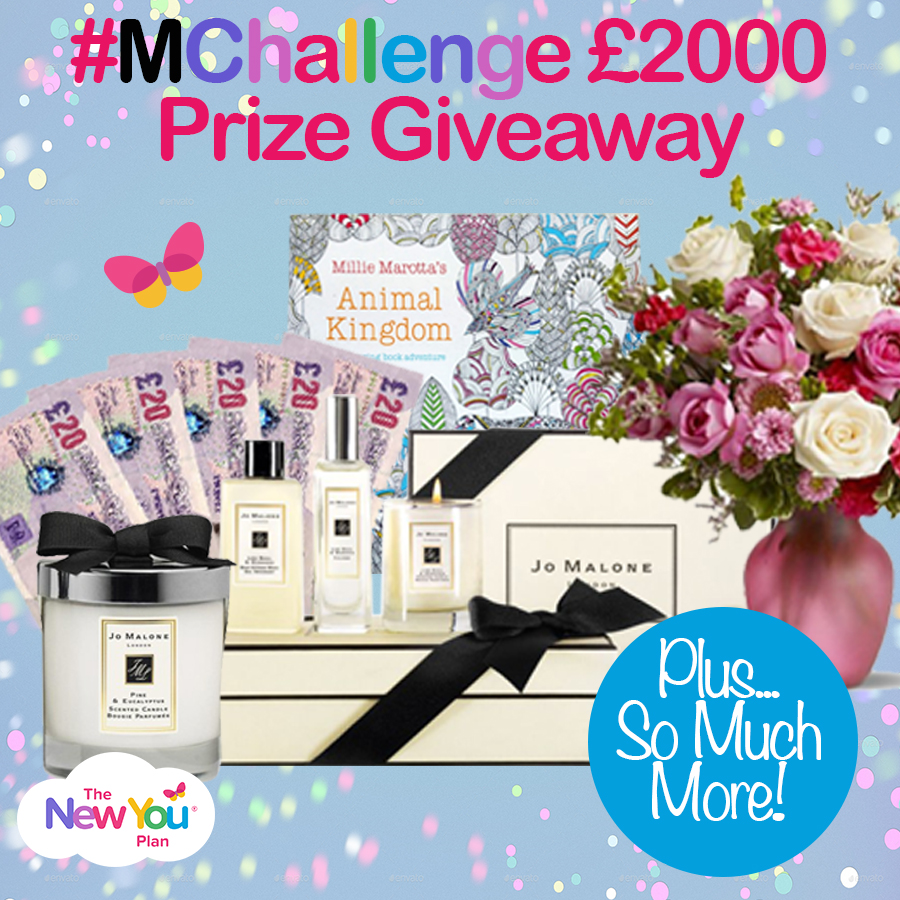 MAGNIFICENT MAY WEEK 3 – £2000 Worth of prizes to be Won this May! Click here to see this weeks Challenges
MAGNIFICENT MAY IS WELL AND TRULY UNDERWAY!!
The #MChallenge is Massive!! It is our Biggest Challenge EVER!!!!
Prizes, weight loss and confidence are high on the list of things to achieve this month!!

We are giving you the Chance to WIN Prizes everyday 🙂 🙂
We want to motivate you to stay on track and reach your weight loss goal and by doing this we are going to give you some extra challenges to stay on track. Each day we are going to have a #M which we are going to focus on and it is your input that counts 😀 😀
We are going to Updated this blog each week with what is in store for the week ahead and what prizes you can win 😛 We are going to tell you who our lucky winners are and what they won!!
It is all so exciting!!
---
The Plan of action for This week is:

Monday 23rd May 
#Motivation
Do you want to be in for the chance of WINNING 1 of the Free 15 Minute coaching session for 4 weeks on your weigh in day?

#Motivation – You need to take responsibility for your own motivation.  It is something that you need to take action with everyday and everyone is unique.  I am motivated by listening to positive audio books or you tube videos.  I also love vision boards or dream boards.  Writing out my goals everyday is another way I stayed motivated.  What can you do everyday to keep you motivated and focused on what you want to achieve?
Julie-Ann Has so many ways to keep herself motivated and positive when on her weight loss journey with New You, She is the most motivating person I have ever met, she really does know how to keep you on track and get you back in the zone.
Some of her favourite ways of keeping herself motivated are:
Audio books

Vision board

You-tube videos
---
Tuesday 24th May 
#Miracles
DO YOU WANT TO BE IN FOR THE CHANCE OF WINNING A BEAUTIFUL BOUQUET OF FLOWERS WORTH £40
#Miracles – Count your blessings and be grateful for all the little things in life. Life is full of miracles, the more we see them, the more they show up.  It is so easy to take life for granted, when we don't see the miracles all around us, and we don't appreciate our friends and family, then life losses it's appeal.  Stay grateful and make the habit of counting your blessings everyday.
When was the last time you stopped to really think about the things you're thankful for?
 We all have something in our lives that makes them truly AMAZING – the smallest thing for you could be massive for someone else, I thought the video below was a perfect example of how we should be grateful of what we have.
---
Wednesday 25th May 
#Mantra
DO YOU WANT TO BE 1 OF THE 4 LUCKY WINNERS TO GET £25 WORTH OF NEW YOU POINTS?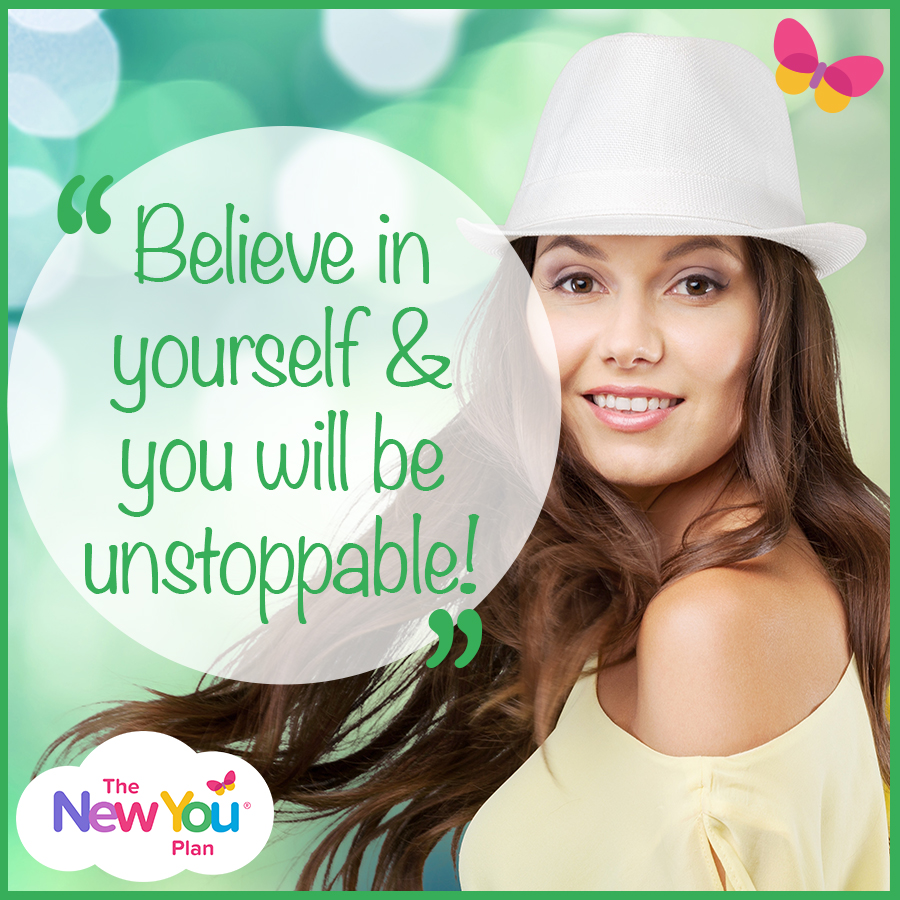 #Mantra – Affirmations are a great way to reprogram your brain.  What is your biggest limiting belief? I will never be slim. I will never find true love. I will never be fit. Turn that around, and build in a mantra that you repeat to yourself over and over every day to reprogram your brain. We are what we tell ourselves we are.  Create a new story for you, and it all starts with a mantra.
We all need to look at dieting in a different way – yes we are going to struggle but we are only human and the most important thing that we can do is learn how to over come our challenges and become stronger as people. Starting with a weight loss mantra and repeating it to ourselves is a great way to start.
---
Thursday 26th May 
#Makeover
DO YOU WANT TO BE 1 OF THE 2  LUCKY SLIMMERS IN FOR THE CHANCE OF WINNING Set of Make-up brushes and a beautiful pillow for your home 😀 😀
#Makeover – How we look and our environment play a big role in how we feel. From a new toothbrush, to a new foundation, to a new cushion for the sofa. Little changes and improvements keep us looking fresh and healthy, and keep our environment inspiring and relaxing.
Just the smallest change in your lifestyle can make a big difference to your mood, you just have to play around a little bit and you will find something that helps you to relax and stay happy.
---
Friday 27th May 
#MagicalMoments
Be in for the chance of WINNING a Jo Malone Candle Worth £50
#MagicalMoments – Life is all about creating magical moments and appreciating them. The more we seek out to make these moments, the more magical life will be. From the simple; cuddle on the sofa, making someone you love a cup of tea, a walk at sunset, a fun day out to the beach to be big magical moments like the holiday of a lifetime. The little moments and the big moments are what make life magical and what we will remember the most when we look back on our life. Make it your mission to create special memories for the people you love and for yourself.
---
EVERY WEEKEND WE ARE GOING TO BE LOOKING FOR YOUR #M's We have £100 to give away every weekend of the month and all you have to do is add a hashtag to your posts and you will be in it to win it!!!
Check out some of our winners from last weekend <3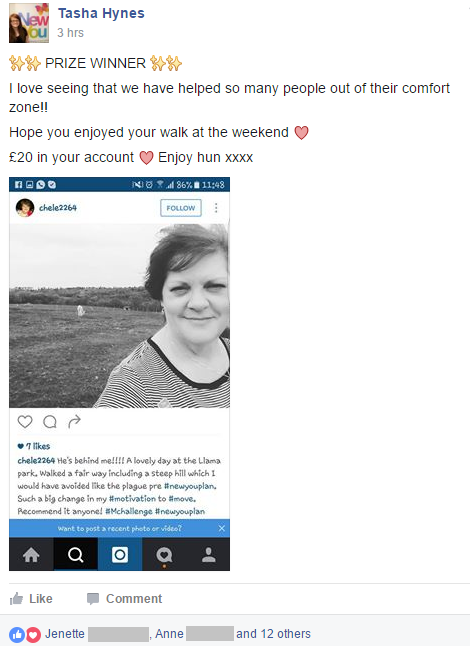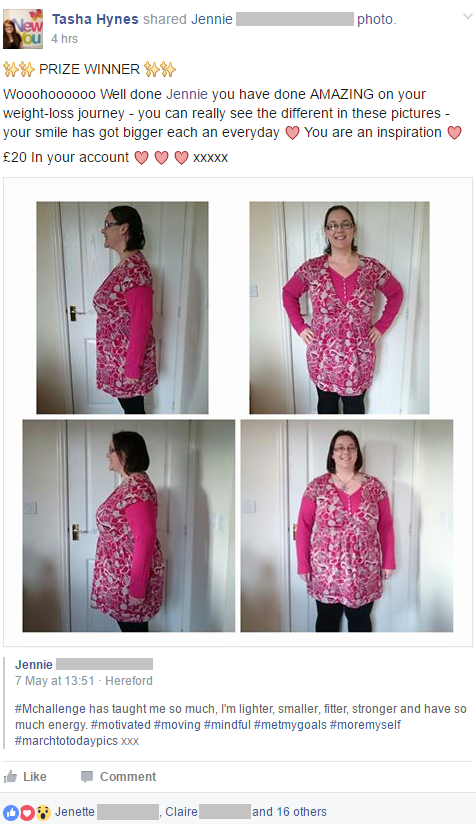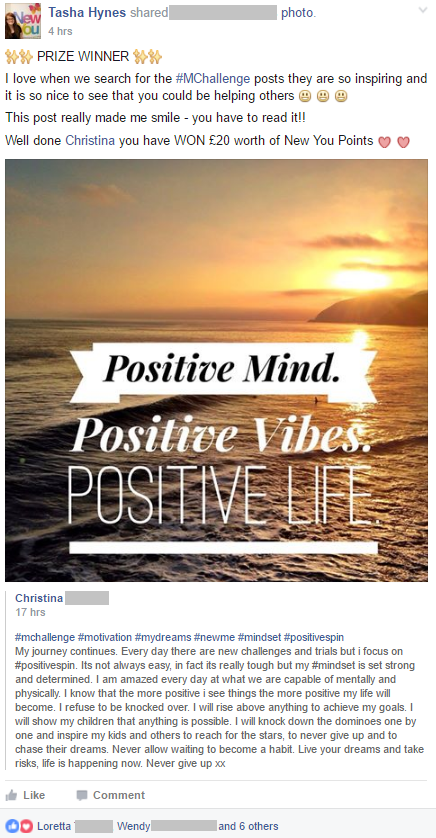 ---
See All our Winners So Far <3
#MISSION –  Monday 9th!
#MUSCLE – Tuesday 10th!
Make sure your #thenewyouplan and any of the #M's in the #MChallenge and your post is public that way we will be able to find it and you are on your way to creating the ripple effect<3
#MATES – Wednesday 11th!
#MOMENTUM – Thursday 12th!
#MERIT – Friday 13th!
#Meditation – Monday 16th May 
#Mindfulness – Tuesday 17th May 
#Morphing  – Wednesday 18th May 
#Morning – Thursday 19th May 
#Milestones – Friday 20th May 
---
DONT FORGET – I will be looking for your social #media #Mchallenge posts On Friday evening, Saturday and Sunday!! 😀 😀 😀 
Click here to sign up up for the #Mchallenge!