Diet Mindset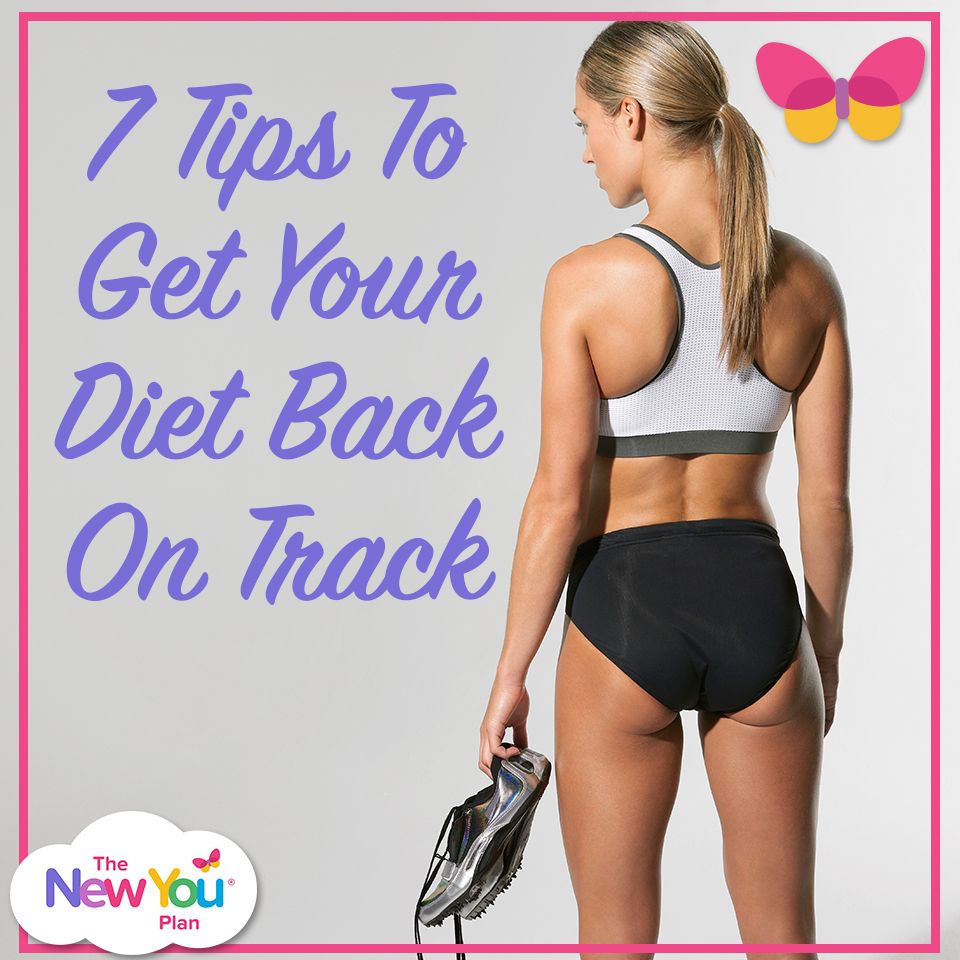 7 Tips To Get Your Diet Back On Track

If your diet has taken a turn for the worse, don't panic! Instead, get your head back in the game thanks to these top tips…
So you have fallen off the weight loss wagon! Perhaps life got in the way or you may have been on re-feed and lost your way. We can sort this – it's not the end of the world!
First of all, you really need to stop being so hard on yourself! Losing weight is about forming healthy habits; slow and steady changes will lead to sustainable results. You may think you have blown it. You might think it was a little difficult then you gave yourself permission to continue to overindulge, thus making it more difficult to get back on plan.
Refocus your energy from berating yourself to putting it to good use and getting back on the saddle. It really does not matter how many times you fall, it's all about how quickly you get back up again.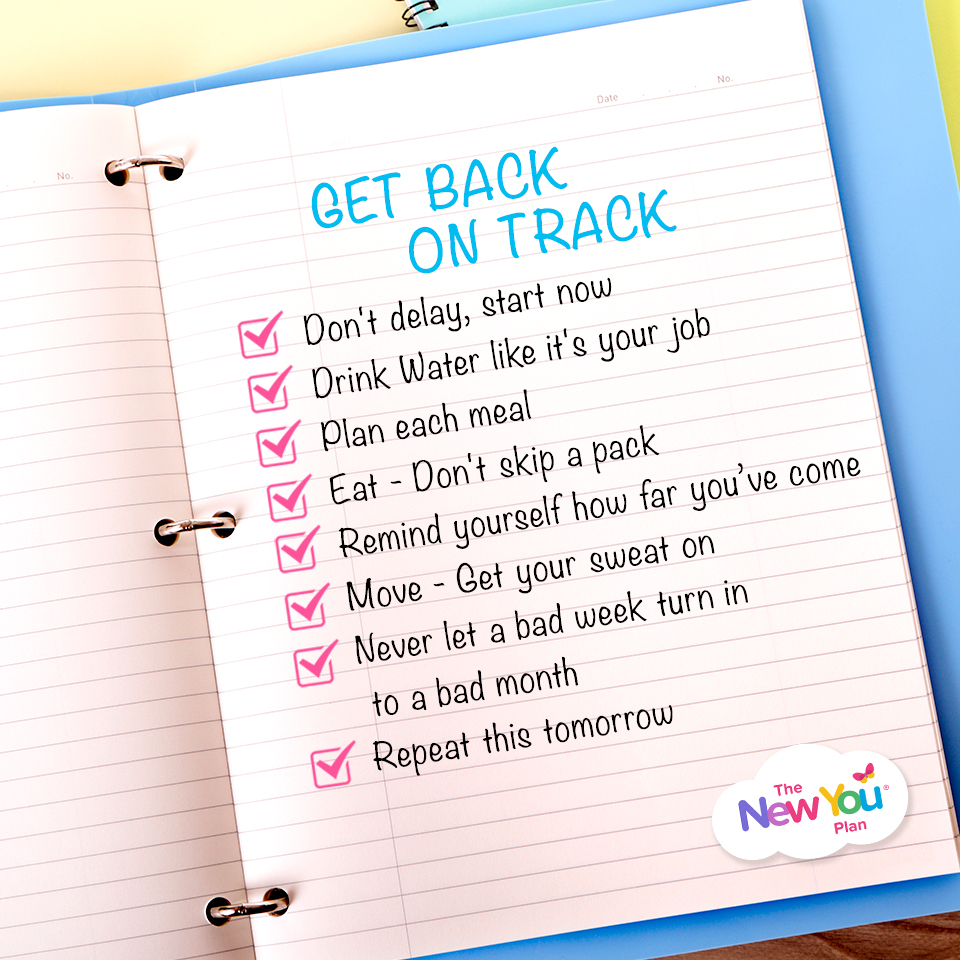 Let's go back to basics! Here are our top tips to help you get your diet back on track…
1. Know Your Triggers
Did you find it difficult to get back on your journey because you overate or felt upset, tired or frustrated? Understand why you are not sticking to the plan and find other solutions and treats that do not involve food. Reset small achievable goals.
2. Remember Why You Started
It is important for you to remind yourself exactly why you started The New You Plan! Visualise your success and do this daily. Keep affirmations such as pictures in strategic places such as the fridge and bedroom. These will serve as helpful reminders to keep you motivated.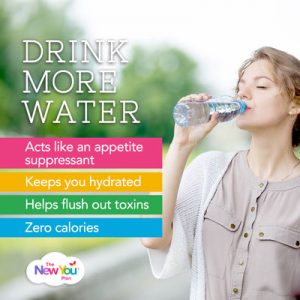 3. Sip, Sip, Sip
Drink your water like it is your job! This will boost your weight loss and almost instantly make you feel better and less bloated.
4. Recognise Your Excuses For Not Getting Back On Plan
We all make excuses, such as: "I'm so tired" or "I'm too busy! I don't have enough time to do the plan". All procrastinating excuses and if you cannot find the time to be healthy, then you had better find the time to be sick!
5. Empower Yourself By Knowing What Your Weaknesses Are
This will help prepare you for any future fall downs. If you are a snacker, make sure you have the correct snacks to munch on. Preparing the evening meal can be an issue for some whilst on plan, so drink your water! Divert yourself from picking by sipping on a lovely cup of coffee. Do not over think things – just be prepared!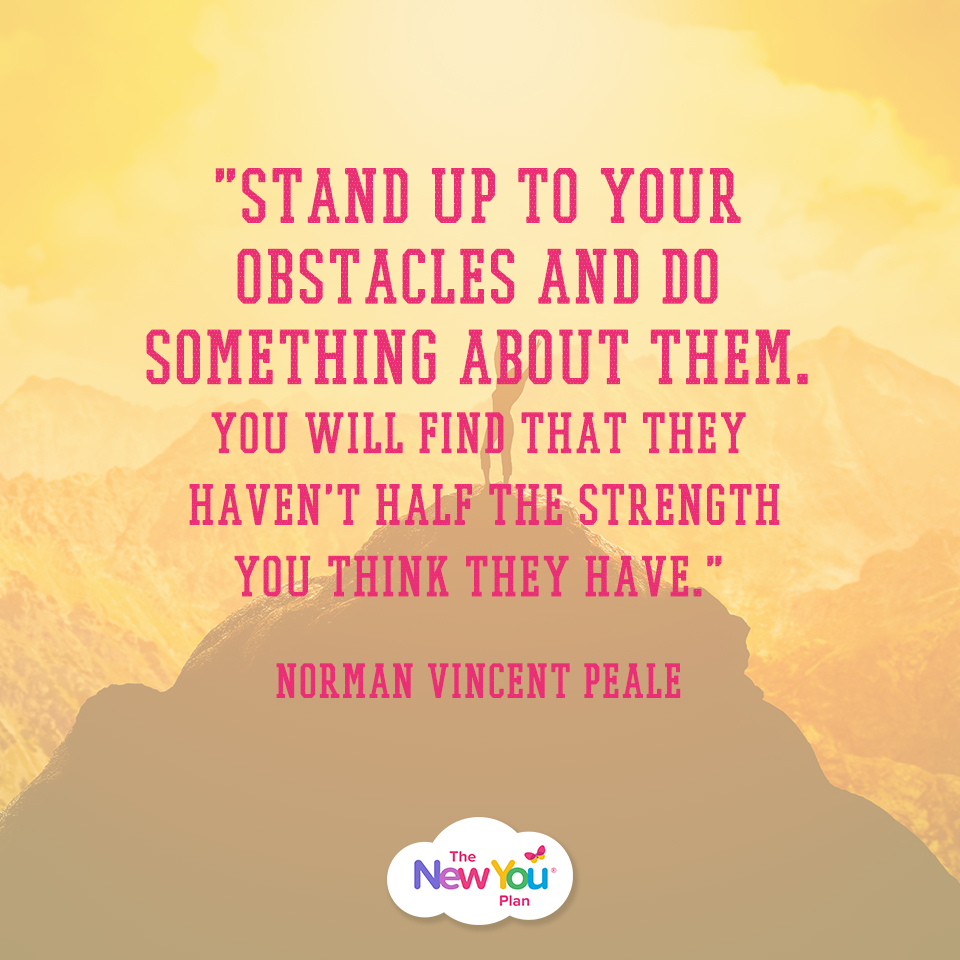 6. Make Yourself Accountable
Making yourself accountable and obtaining the support you will need is crucial. Explain to friends and family that you are getting back on plan and you hope they will support you in achieving your weight loss dreams and goals. Use Secret Slimmers on a daily basis. Get involved in the challenges and daily themes to keep you super motivated.
7. Get Moving!
You don't have to join a gym or a class. Small steps such as a brisk walk to the shops instead of taking the car, or using the stairs at work rather than the lift will go a long way in maintaining your fitness. When hanging the washing out, exaggerate your movements and turn it in to a mini workout. There are so many little things you can do to get your heart rate pumping!
Recommit today to a healthier, happier you! You can do this! "Stand up to your obstacles and do something about them. You will find that they haven't half the strength you think they have".
---
Are You Ready To Do This? Get Started TODAY!

Getting started is the first step in your journey to a brand New You! To help you understand fully how our plan works, our Get Started page with designed specifically for people new to the plan.
Head over to our site where you'll find tonnes of important information including how our plan works, the science behind it, loads of top tips, information on our meals, as well as real customer testimonials.
Click here to visit our Get Started page!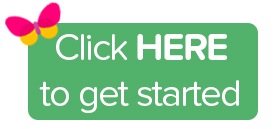 *Everyone is different, and we can't guarantee how much weight you will lose. Check out our success stories to see what our customers have lost.