New You Plan Blog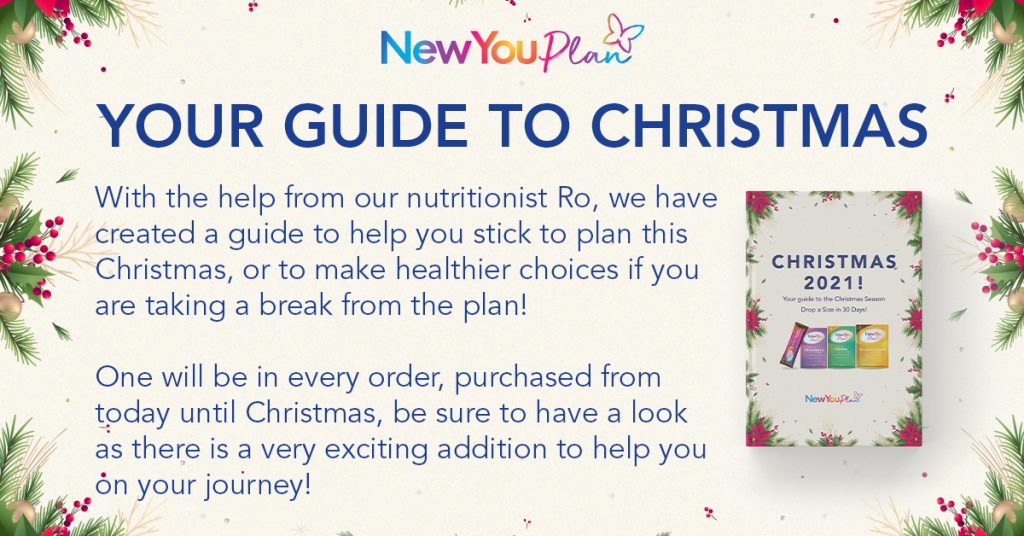 Your Guide To Christmas!
Here at New You HQ, we'll be the first to admit that dieting over the Christmas period can be hard. Not only that, it can be emotional with feelings of worry and guilt about what you should be eating and what you shouldn't.
In a bid to keep it real, we know that many of you will be thinking about coming off Plan for one or more days of the holidays and we wanted to make sure that you had the tools to be able to make that decision and be worry-free. And most importantly, not undo all the hard work you've put into your transformation up until now.
So to help you through the festive season we have put together a free guide. It will help you to make the right dietary decisions for you, and best of all it's FREE!
All you have to do is place an order with us between now and Christmas and we will pop Your Guide to the Festive Season in with your goodies.
So what can you expect in your guide?
How to successfully continue using New You products throughout the festive period. 

This section highlights how it's possible to follow the New You Plan throughout the holidays. But also offers alternative ways on how to mix in traditional food and still remain on track

Customer Inspiration.

There's nothing like some before and after pictures to see what can truly be achieved – are we right?

Guide to taking a break from New You products over the festive period.

If you feel like you want to put New You to one side over Christmas, then here we give you tips and advice to prevent you from sabotaging your progress so far.

Lifestyle tips to support your New You Plan journey over the festive period.

These days most of us would attend an opening of an envelope due to the after-effects of lockdown. If this is you, then definitely read this section! 

Mindset for weight management at Christmas.

Christmas time can really make you go full-on festive when it comes to eating and drinking. There's so much more to offer on the supermarket shelves. This part of our guide reminds you how to adopt a more balanced mindset to avoid overindulgence.
Once you get your hands on your guide you'll see that you can be health-conscious and have a great time with family and friends at Christmas. It doesn't have to be one or the other.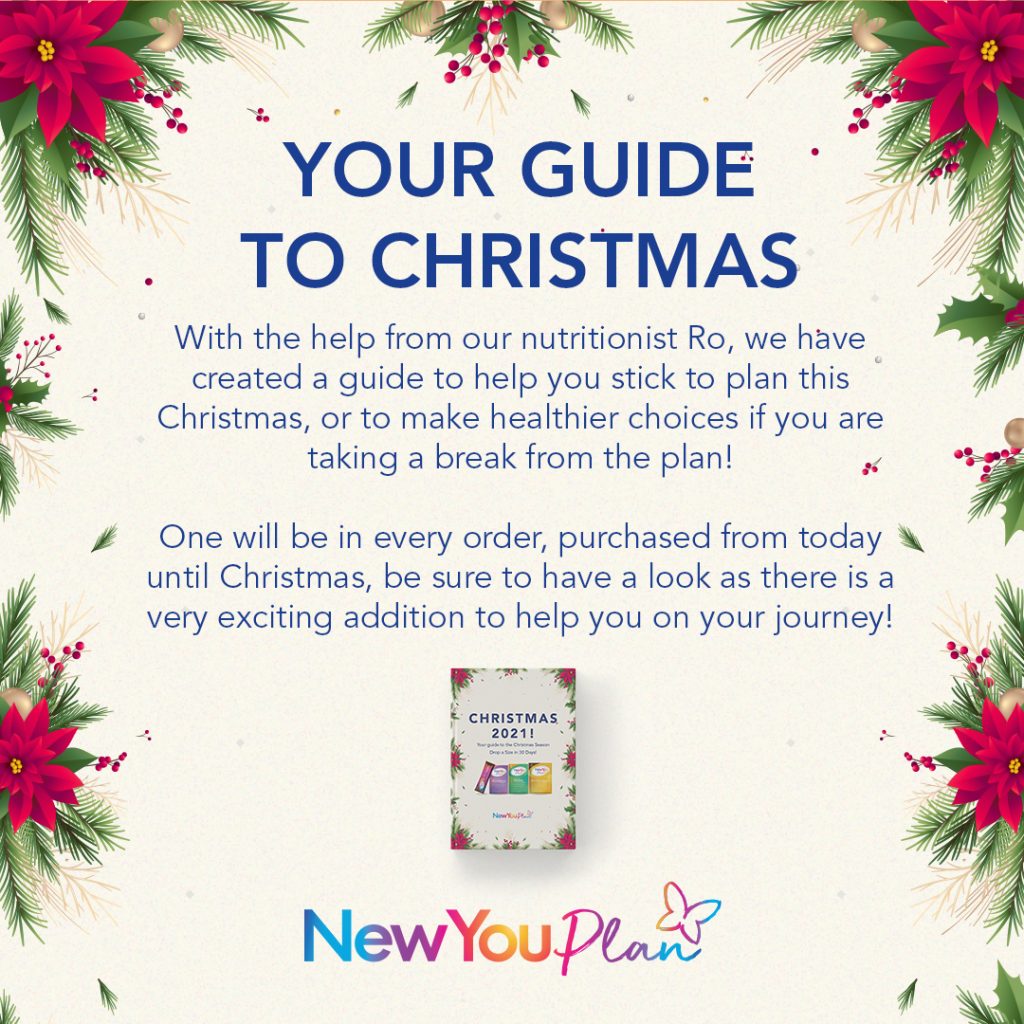 Oh…and there's more!
Also within Your Guide to the Festive Season, we have included a new mission, should you choose to accept it! 
Drop a Size in 30 Days!
We're challenging you to step into 2022 a whole size smaller, and the best thing is, is that we know you can do it.
You can start now, during Christmas and take days off Plan or wait until after Christmas. Whatever ever you like and however you like – it's your journey and you've got this!
And of course, we want to help you with this too, so we've dedicated the back of Your Guide to the Festive Season with a guide to get you started and a special place to journal your journey each day. 
Who Is To Blame?

The blame game is the easiest game to play but gets you nowhere when it comes to your transformation. Here we cover how to assign responsibility and make plans to cope with possible barriers in your journey.

Stress-Free Strategies.

Sadly, Christmas isn't like it is in the movies. It can be stressful and tiring. In this section, we cover what you can do to stay on top of your transformation and stress levels!

Rewards and Celebrations.

This is a special section where you can plan what you are going to reward yourself when you have those little and big wins.

Starter Checklist.

This is handy if you're just starting out or if you feel like taking your journey back to basics.

Emotions Checker.

Emotions can have a lot to answer for, but they can also be a great measure of progress as this section will show.

And lastly, a space for you to write down how you are getting on in your journey.
Excited?
We know we are! Just place an order over on our website or through our app and you'll receive Your Guide to the Festive Season with your drop a dress size mission and journal included – FREE. 
Be confident in your choices this Christmas and end 2021 strong!