Customer interview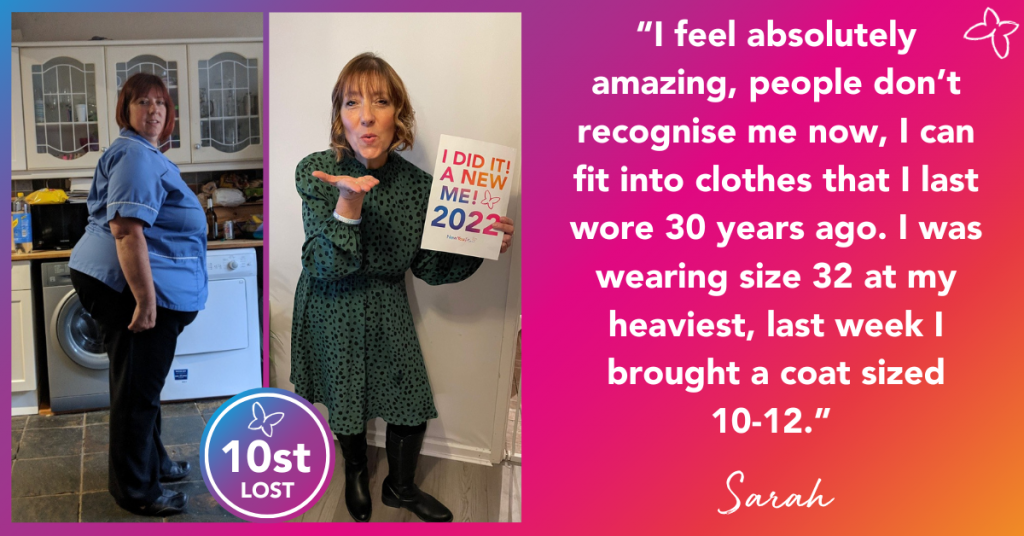 Sarah Proves Maintaining Weight Loss Is Easy With New You Switch
If you've reached your target weight then New You Switch is the key to maintaining weight loss for life.
If you spend time in our Secret Slimmers Facebook group, you may have heard of Sarah Harrison. She first appeared on our radar when she placed as a runner-up in the July 2021 Transformation Challenge. Then she won 1st place in the October 2021 Transformation Challenge. We then interviewed her for our blog again in April 2022 after she featured in her local newspaper.
Since then she has reached her goal and has been doing an incredible job of maintaining her weight. As a regular poster on the Secret Slimmers Facebook group, we thought we'd get hold of her once more to see how she's managing now that she's no longer on New You's 4X4 system. 
The Numbers
NEW YOU: Sarah, we can see from your photos that you have lost an incredible amount of weight. How much have you lost to date?
SARAH: Well at my heaviest I was nearly 22 stone. When I started the New You Plan in May 2021, the scales read 20 stone 8lbs. Throughout my journey, I lost 10 stone 2 and I'm kind of sticking around that. So now I weigh 10 stone 6 Six and I'm happy with where I am. 
NEW YOU: So you've lost half of your body weight? 
SARAH: Yes! It doesn't seem real. I wake up and think it's a dream sometimes!
NEW YOU: That's phenomenal! Did you find it hard when you first started the New You Plan?
SARAH: You know, I didn't. When I started I was self-isolating as my nephew had gotten Covid and I had been near him. I thought that because I live on my own that I would struggle. But the Secret Slimmers gave me all the support I needed and I just loved and still love the products. As the weight kept falling off, it just spurred me to keep going. I also increased my exercise because I finally had the energy, so it all helped. 
NEW YOU: So how long have you been maintaining? 
SARAH: I'd say around 4 months now.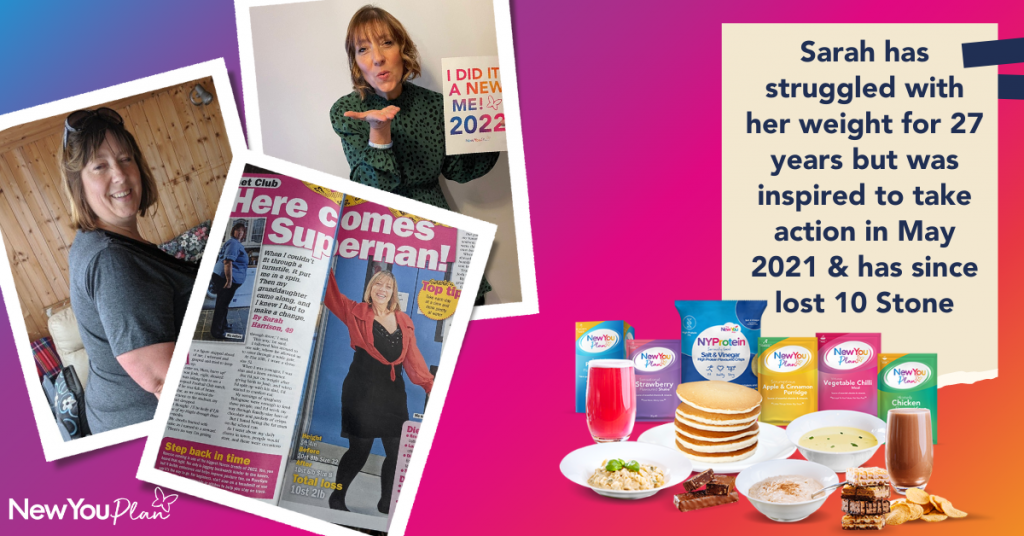 Maintaining Not Gaining
NEW YOU: How have you found maintaining? Has it been hard?
SARAH: I was a bit apprehensive about maintaining to begin with as I've never got down to this weight before. When I've lost weight before, I've always yo-yoed. I'd lose weight and then put it back on, plus more. But this time my whole mindset changed. People would tell me that once I'd gotten to my goal, I wouldn't be able to carry on but I have because I'm following New You Switch. It's really helping me and there's so much support on both the Secret Slimmers and Switch groups. The combination has really helped me. Following New You Switch is so easy. 
I'm always gonna have New You in my life as I love the products. Again, it's just so easy and maintaining with Switch makes all the difference. Even after all this time, I get comments at work as to why I still eat New You products. My answer is always because I enjoy them and they fit in my life and my new healthy lifestyle. It just works for me. 
How it Works
NEW YOU: What does maintaining your weight loss look like on a regular day for you?
SARAH: I generally work three days of 12-hour shifts, as I'm a nurse. On those days I do the boost* because it's an easy way to get what my body needs. This means that I only eat New You products. I usually have 5 packs (because I'm maintaining and not trying to lose) and 2 New You snacks. On nourish** days, I still incorporate New You products but I have a healthy meal either once or twice a day.  I try to avoid carbs, and that's my choice, I don't feel like I'm restricted by doing that and will have them on occasion. 
I usually start my day with a New You porridge or muesli, then if I'm having a nourish day I will have a salad for lunch with pork or fish. Again if it's a nourish day I will have an evening meal which is usually chicken and veg, with yoghurt and fruit afterwards and maybe a New You snack as well. On occasion*** days I always try and choose a healthy meal but if I fancy something, in particular, I will have it. You don't want to deprive yourself or else you won't be able to maintain long term. 
I think the boost days really help a lot and I still weigh myself every day because it works for me; it's my routine. I'm really enjoying maintaining and it really is like living in a dream! 
With New You Switch you get so much advice, I just love it.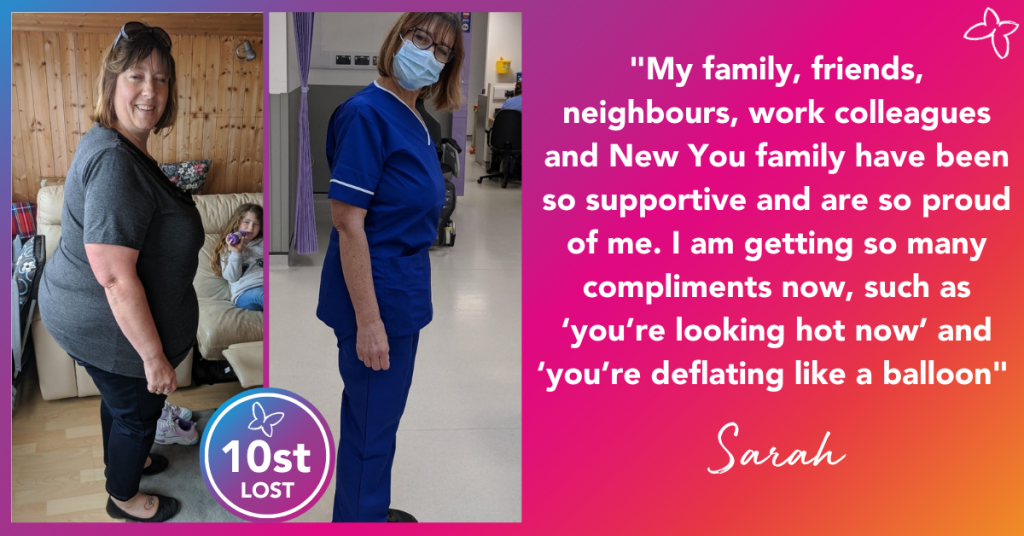 Enjoying the Changes
NEW YOU: So apart from not overdoing the carbs, you have quite a variety of foods then? 
SARAH: Yes and I enjoy food more now. Before I'd just eat for the sake of it I'd never drink enough, but I do now. I try to get my 4 litres in every day and still enjoy adding the pineapple boost or water flavourings. 
NEW YOU: How has losing weight and keeping it off changed your life?
SARAH: Oh hugely! Moving around is so much easier, the pains in my knees have gone and I've got so much more energy. I went out with friends on Saturday and walked home. I worked out that altogether I'd walked 13 miles! When I was away last week I went swimming a few times and did 400 lengths in total. 
I'm so much more confident now too. When I was bigger I used to worry about so many things, like when sitting on a chair, would I break it? All those anxieties have now gone. 
I never thought I'd achieve losing so much weight and now I have, I just wanna shout it from the rooftops!
NEW YOU: And so you should as you've done incredibly well! 
SARAH: Thank you. As you know, I shared my story with my local newspaper and soon I'm going to be in Woman's Own. I just want to inspire people and say "if I can do it then so can you!"
NEW YOU: Wow! We must get a copy! We know that you've had an amazing journey so far. Can you sum it up? 
SARAH: A blur of sheer unbelievable moments! And it's still continuing. Old friends still don't recognise me. I can walk into any clothes shop and buy what I want. It's a dream come to life. 
Great Advice
NEW YOU: Do you have any advice for anyone who is at this stage of their journey? People looking to move onto Switch and maintain.
SARAH: Take one day at a time. Make use of the Secret Slimmers and Switch groups for support. Check in with the groups, be accountable and see what others are eating to get inspiration and recipe ideas. Keep working on your mindset to make sure it doesn't let you slip back into bad habits. I constantly remind myself that eating healthy is my life now, this is for real now and I'm gonna keep the weight off!  
If you're just starting out, split your goals into smaller, manageable chunks. If you blip, just move on and keep going; don't beat yourself up. Become obsessed with taking photos of yourself as you'll really notice the changes happening.  
New You are always gonna be part of my life, I love it. The food is amazing, the team is amazing, and the support's amazing. So thank you so much New You!
We're so thrilled that Sarah has reached her goal weight and is enjoying maintaining weight loss and the freedoms it has given her in her life. It's easy just to look down at the scales and judge progress by the numbers. But the truth is that losing weight is so much more than that, as Sarah has found out. She no longer has to worry about how her weight might affect her everyday life in a negative way. She can walk through life with confidence and enjoy every day to the full.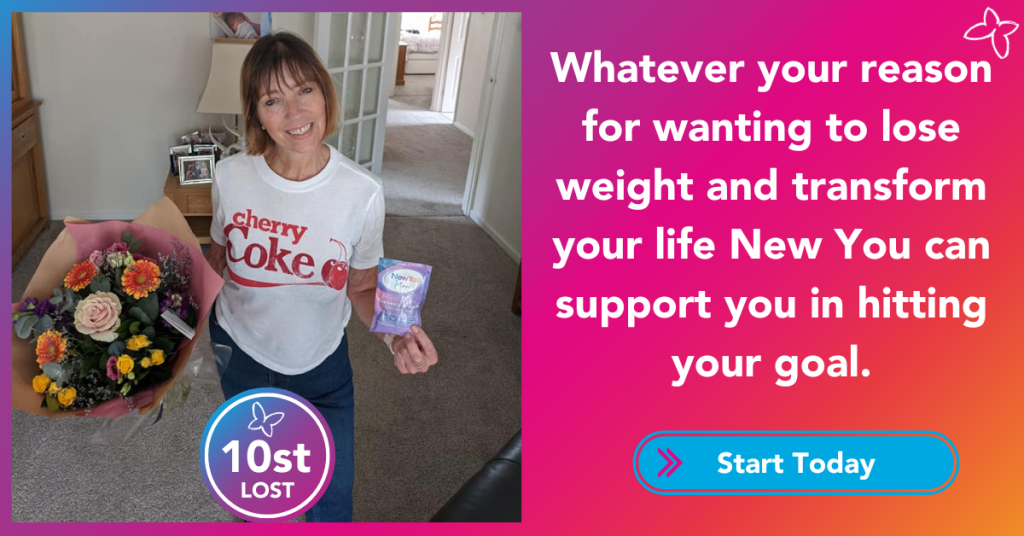 There's a Story In Everyone
If you have a story to share, whether you're part way through your journey or are maintaining weight loss, then we'd love to hear about it. Just reach out to our friendly customer service team at [email protected]
Want to read Sarah's previous stories? You can find them here, here and here.
*Boost on Switch is a way to eat fewer calories for a day for maintaining weight loss with New You Products. You can learn more on the Switch Facebook group.
**Nourish on Switch is choosing to eat healthy nutritious food. You can learn more on the Switch Facebook group
***Occasion on Switch is when you decide to choose food that is less healthy. You can learn more on the Switch Facebook group.