New You Plan Blog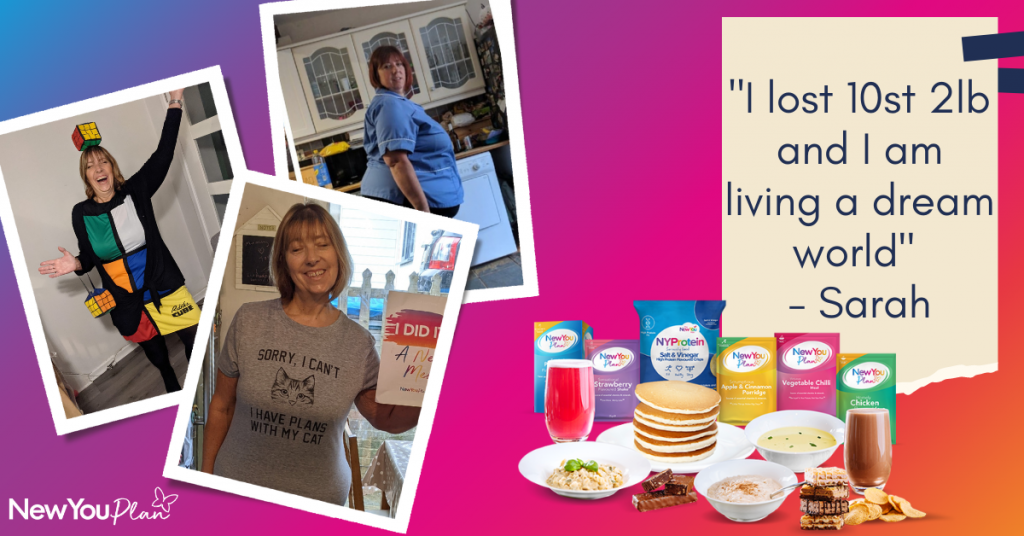 2 x Challenge Winner Sarah Reveals Her Weight Loss Secret To The Press!
Secret Slimmer Sarah felt compelled to inspire her home county with her transformation story. And although her weight loss secret isn't really a secret, not everyone is fortunate to have heard about the New You Plan.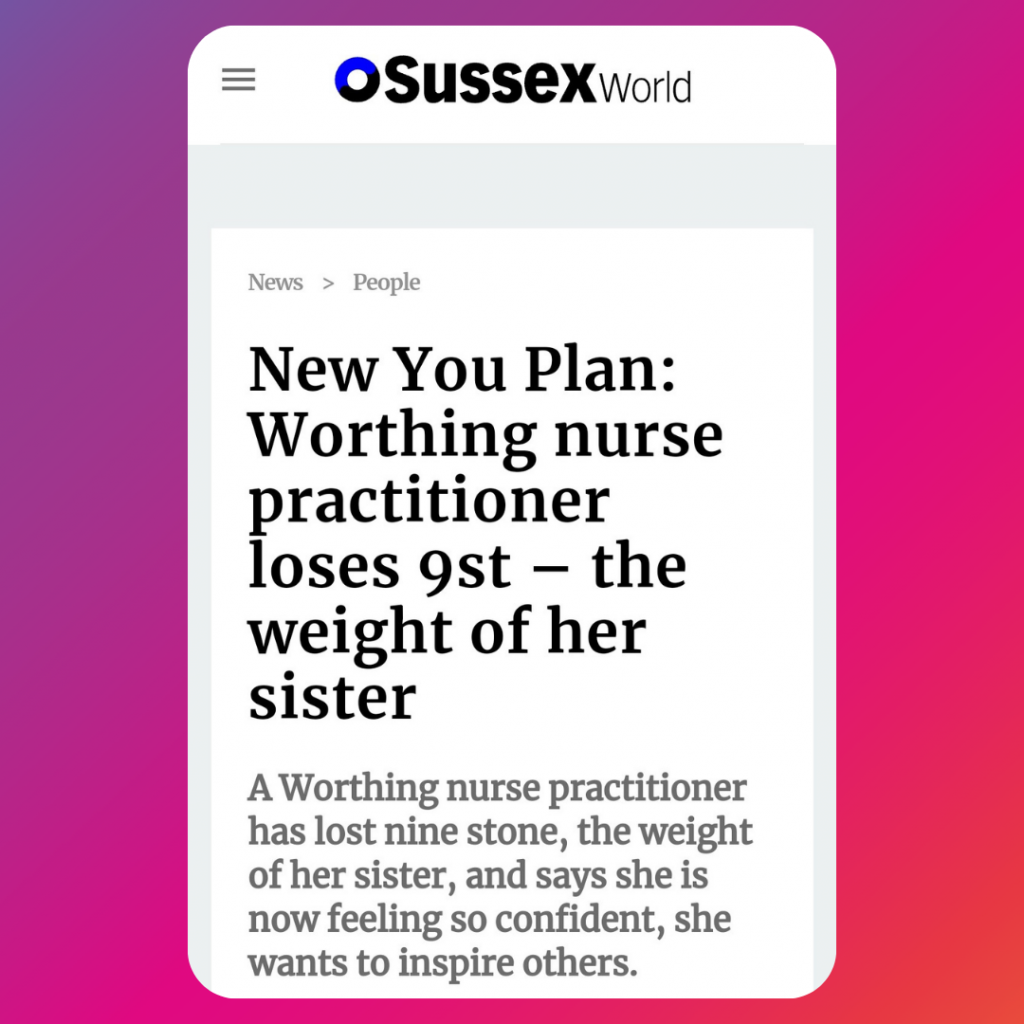 If you don't know about Sarah, in brief, when we announced her as the winner of the October Transformation Challenge, she had lost a life-changing 7 stone. This month we read that 2 more stone has gone! She's now 9 stone lighter than her heaviest ever weight.
As you can imagine, her journey is an inspiring one, so grab yourself a coffee, sit back and prepare to be motivated!
Before the New You Plan
Sarah was always active as a child. She never suffered from her weight and was fit enough that at 17 she joined the Royal Air Force. She enjoyed working hard and playing hard.
"Growing up, I had the best childhood and kept active. I swam for swimming clubs, ran and did sea cadets and kept my weight down."
Like many of us, Sarah's life took some unexpected turns. Her marriage broke down and found herself a single mum. Little did she know that the next 27 years would see her active lifestyle halt and her weight hit nearly 22 stone.
Over the years, simple tasks like doing up her shoelaces, cutting her toenails and even walking became an unwelcome struggle.
It wasn't just negative physical effects that she experienced. Sarah was verbally abused because of her weight on numerous occasions and her confidence was shattered.
"I have also had abuse shouted at me from a car, a group of young lads shouted 'fatty' out of the window. I was also once followed around a supermarket by a group of girls from school, who were laughing and sniggering at me."
It got to the point where Sarah couldn't see the end to the cycle of eating too much, feeling low and therefore eating more to console herself. That was until she committed to helping take care of her one-year-old granddaughter on a regular basis. Sadly, when it came down to it, Sarah found it hard to lift her granddaughter and have fun and play with her. This was the catalyst that made Sarah want to turn her life sound.
Sarah knew from previous weight loss attempts that there was no weight loss secret but she knew she needed a solution that worked for her. In her hunt for help, a colleague recommended the New You Plan and after a bit of research, she saw the results people were getting. She felt a meal replacement plan was something she could do, it sounded so simple.
"I thought I would give it a go. I did some research and was so impressed by all of the support offered, and all of the extras available such as the 7 day kickstart online video coach program, the Secret Slimmer's support group, weight loss challenges and motivation."
After losing 12lb in her first week, Sarah was delighted and that was all the motivation she needed to continue with the plan.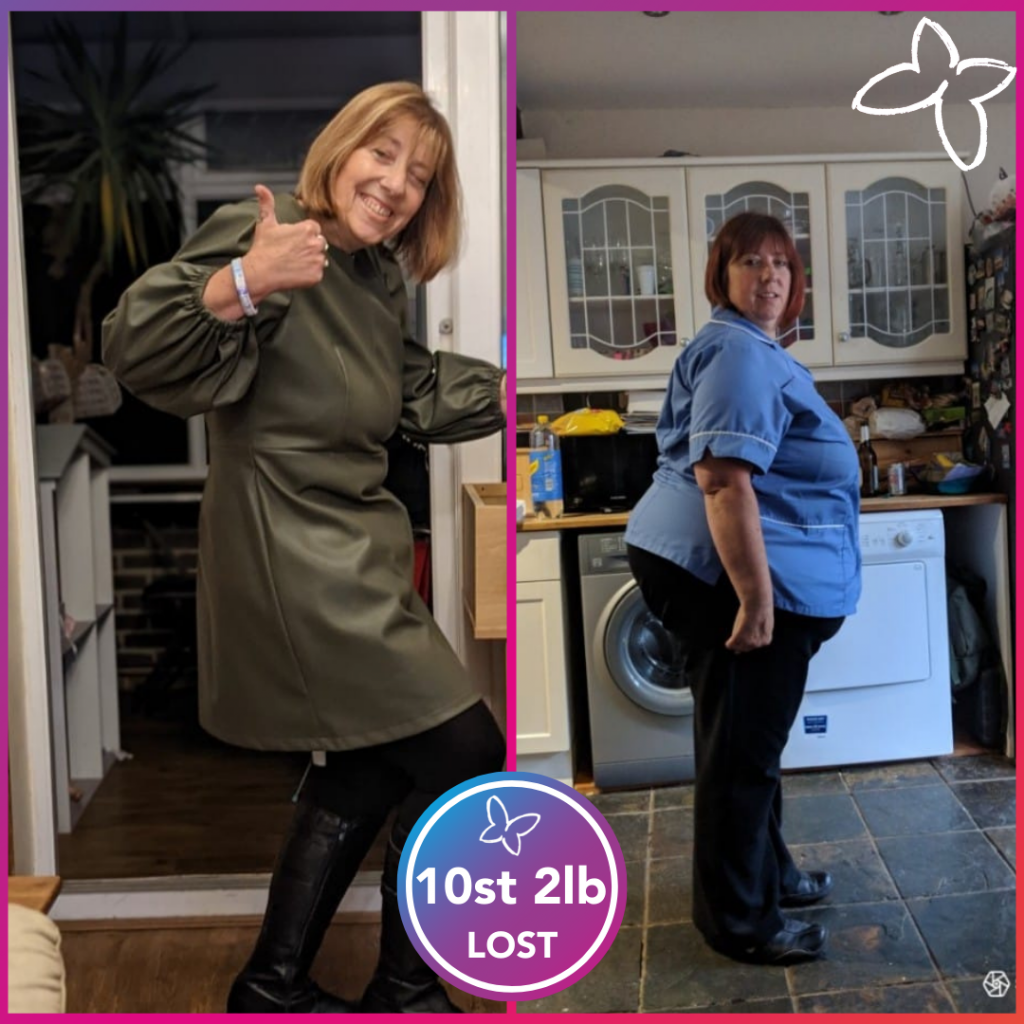 Looking Back at Sarah's Journey
Sarah admits that just like everyone else, she had her good days and bad days. Some days she felt like losing weight was too hard and that she was failing, but other days she found it easy and felt like she was winning.
"The times that I have found the plan challenging was at family gatherings where there were lots of tempting blips, and at work sometimes again when there are tasty blips on show, normally also when meeting friends I would have had a catch up chat over blips."
"I always plan my meals around events and I take my crisps with me, they have been my lifesavers, also thinking how far I have come and showing others photos helps and also removes myself from temptations while all of the blips are on show."
Throughout Sarah's journey, she learned a lot. Above everything, she realised that she was an emotional eater so worked on changing her mindset. She took advantage of New You's free mindset coaching and found a new way to manage her emotions.
Sarah also believes that her journey was made easier because she ate the products that she enjoyed the most – it didn't feel like a diet. Her personal New You go-to's were and still are:
Chocolate porridge.
Hazelnut shake.
Chicken noodle curry soup.
Mexican tacos.
Spicy noodle nosh.
Vegetable chili.
Pasta carbonara.
Vegetable risotto.
Chocolate brownie.
Chocolate caramel muesli.
BBQ crisps and salt and vinegar crisps.
Peach drainers.
Pineapple boosts.
Muesli bar.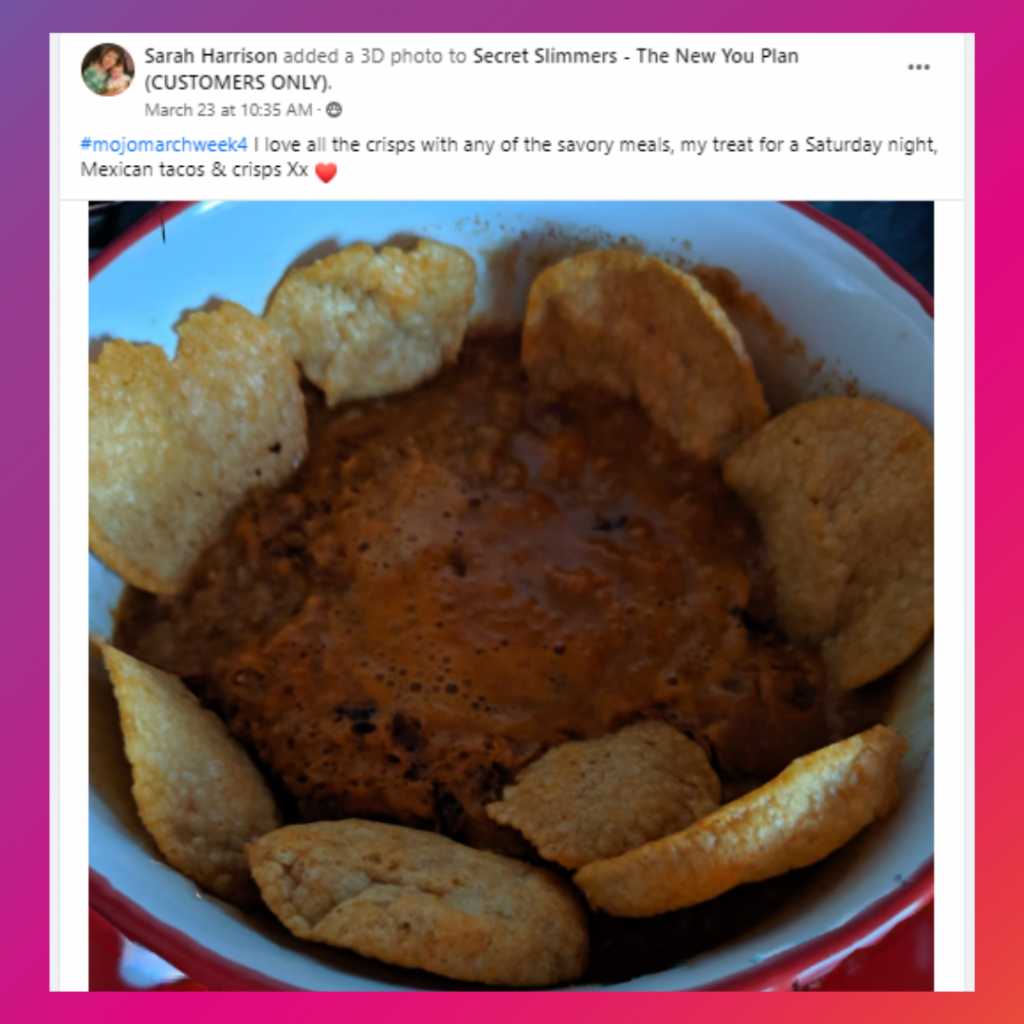 We all know how important it is to have support when on a weight loss journey. Sarah attributes a lot of her success to the support she's had from her family, friends and the Secret Slimmers.
"The New You Secret Slimmer's [Facebook] group has been a great help as I have loved seeing everyone's questions, answers, photos, inspirational stories and advice."
And Now?
"I feel absolutely amazing, people don't recognise me now, I can fit into clothes that I last wore 30 years ago. I was wearing size 32 at my heaviest, last week I bought a coat size 10-12."
Sarah is reaping the benefits of having lost 9 stone in total. She can do so many things now that she couldn't before; things that most people take for granted. Cutting and painting her toenails is a doddle and taking a leisurely walk doesn't result in breathlessness. She can bend down to clean out her rabbits and even noticed that she can balance a plate on her lap whilst eating-it's the little things that count. But most importantly of all, Sarah can confidently pick up her granddaughter and have fun and play with her all day!
Of course, feeling fit and healthy has had a knock-on effect on her confidence too.
"I feel so confident now and due to my weight, which has held me back for so long, I now feel ready to look for love again."
And she embraces the compliments she gets now, rather living in fear of a barrage of abuse from strangers.
"I am getting so many compliments now, such as 'you're looking hot now' and 'you're deflating like a balloon.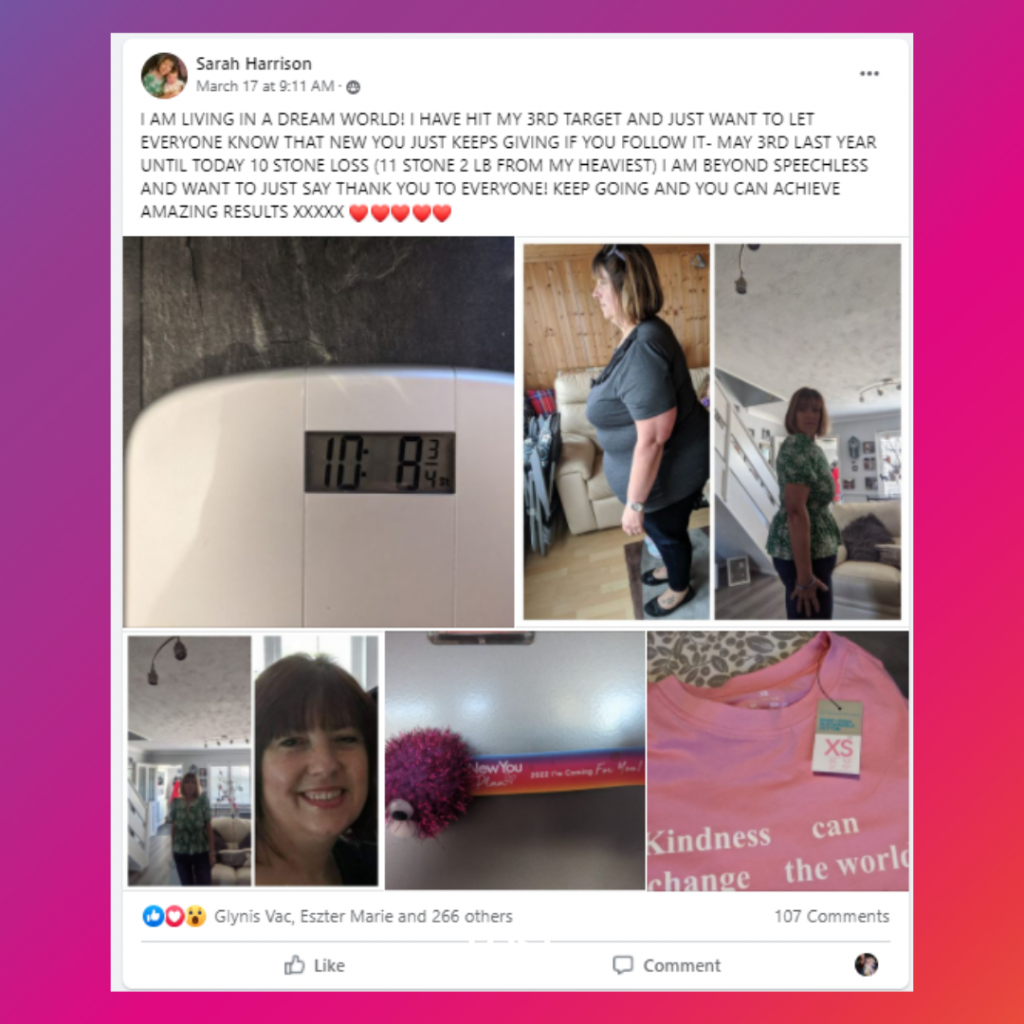 Throughout her journey, Sarah has kept one thing in mind to keep herself motivated, her granddaughter. Without having a 'why' she would have nothing to work for.
Sarah's results have been phenomenal and we couldn't be more pleased for her. We're so proud that we could be a part of her life-changing experience.
We hope that Sarah's story has given you some inspiration and planted that little seed of belief that if Sarah could do it, then so can you. Because you absolutely can! There really is no weight loss secret, just the right tools and a strong enough 'why'.
You can try the New You Plan for 7 days and see the results for yourself. You can find more about how to get started in our handy guide, right here!
But before you go, Sarah left us the following advice for anyone starting out on the New You Plan:
"Follow the plan and you can achieve amazing results."
"Become obsessed with the plan, I certainly have, I can't stop talking about it."
"Eat the meals you like, I haven't found anything that I don't like."
"Take up all the support offered, this really helps."
"12 weeks go so quickly, but take one day at a time and enjoy it."
"Set yourself goals and treat yourself after maybe a 7lb loss."
"Follow the Secret Slimmer's Facebook page."
"Take lots of photos, before, after and during."
"Thanks again, you have made me so, so happy and have made my year! New You really, really works, it has saved my life." -Sarah