Tips for New You Diet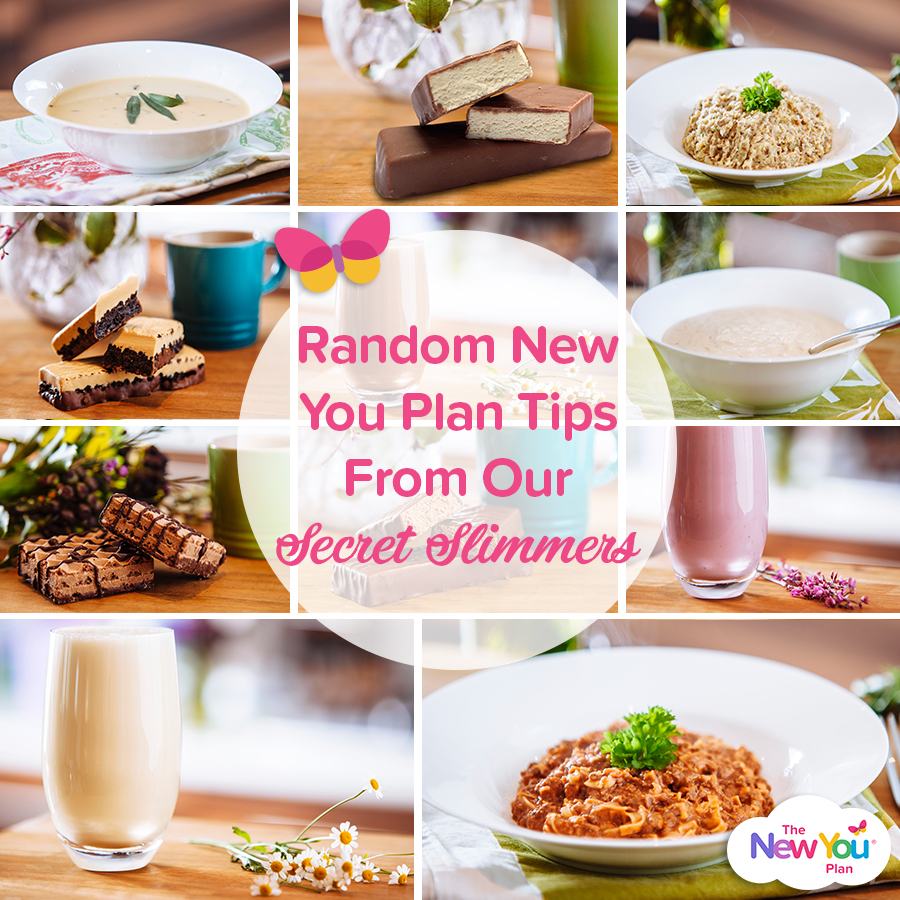 Random New You Plan Tips From Our Secret Slimmers

With thousands of customers who love our plan, it isn't surprising that over the years a whole host of random New You Plan tips have come to the surface.
Because our customers are so keen to share the love and help others on plan, these tips often come to light in Secret Slimmers. And now, you can get them in one handy place! Here, we round up the weird and wonderful New You Plan tips from our Secret Slimmers, guaranteed to make your weight loss journey a breeze!
Open the crisp packets from the bottom. It's easier.
Fry the chocolate brownies. It's nicer!
Add a Pineapple Fat Burner to a Strawberry Shake and your life will never be the same again.
Save a double dinner so that you have another meal to put on top of the Burger. It's much nicer!
Cook the Pancakes in a little pan – it works a treat
Mix and slowly add either the Water Flavourings, Pineapple Fat Burner or Peach Drainers to soda water. It's so refreshing and helps you avoid the bubble spillage.
Don't put hot water in the shaker!!!
Always put the shaker top on properly, especially if you're in the car and about to visit a patient without a change of clothes! Lesson learned the hard way!
Fry a bar into your Pancake or Chocolate brownie. Divine! 

Start your first meal as late as possible so you have something to eat in the evening as this time can be hardest for most (I know I struggle in the evenings). I normally do 12pm, 3pm, 6pm and 9pm and maybe crisps if I'm feeling extra hungry. 

Pineapple Fat Burner + Vanilla Shake = Pina Colada
Add the Vanilla Shake to coffee. It makes a lovely creamy coffee and gives you some calories to tide you over so you don't get to hungry all at once.
Get yourself a wee flan dish and do the Omelettes in the oven like a cake. Allow to cool, run a pizza cutter around the edge to remove, and wrap around a noodle nosh. Ohh! My tummy is rumbling just thinking about it!
Half and half your shake packs to make new flavours! The Vanilla Shake is fabulous with any of the Water Flavourings as well.
Always ask for an extra take out cup of hot water when getting a takeaway coffee. It's free and fab for Water Flavourings or Pineapple Fat Burner or making hot Soup or a Shake if you are stuck!!
Armed with these random New You Plan tips, you're dieting experience is guaranteed to be a breeze!
_____________________________________________________________________________________
Get started with The New You Plan TODAY!

Getting started is the first step in your journey to a brand New You! To help you understand fully how our plan works, our Get Started page was designed specifically for people new to the plan.
Head over to our site where you'll find tonnes of important information. Find out how our plan works, learn the science behind it, get loads of top tips and information on our meals, as well as real customer testimonials.
Click here to visit our Get Started page!