New You Plan recipes
New You Plan Customers Share Their WINNING TFR Recipes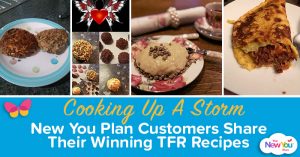 Check out our customers' winning TFR recipes, created using our tasty New You Plan Meals and get some inspiration for your next meal.
At The New You Plan, we love a competition and last week, we launched a competition in our Secret Slimmers group. As our customers are always getting creative in the kitchen using our meals, we asked them to share their favourite TFR recipes.
The great thing about our plan, is that our range includes over 40 meals and snacks. But what's more than this, is that there are some amazing ways to combine them to create even more tasty options. From patties to banoffee (yes really), you'll find yourself asking: "Diet?? What diet?!"
When we posted the competition we were flooded with responses, so much so that we couldn't pick just one winner. In fact, we have FOUR amazing winning TFR recipes to share with you! They're so easy, quick to prepare and most of all, tasty. The ultimate in guilt-free treats, give these recipes a go this week.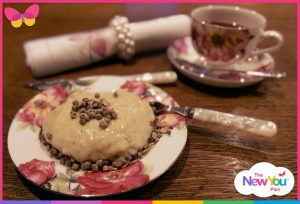 Louise's Crunchy Banoffee Pie
Sieve the Chocolate Caramel Muesli
Combine the Muesli powder with 60mls of cold water and a Banana Shake to create a caramely flavoured mousse
Chill in the freezer for 15 minutes
Tip the mousse onto the chocolate balls from the Muesli and keep some to sprinkle on top

Vicky's Valentine Truffles

Pauline's Patties
Add about 100mls of cold water and herbs and spices of your choice to the either the Cottage Pie or Spicy Noodle Nosh
Leave to soften
Using your hand, form patties to any size you like
Fry in a little spray of Fry Light, turning until crispy

Claire's Spicy Burrito Wrap
Soak Spicy Noodle Nosh in hot water for five minutes
Form into a patty
Bake for 5 minutes at 200 degrees (fan assisted)
Make an Omelette in a medium sized frying pan
Once cooked, place on a plate and add the Noodle Nosh patty in the centre
Fold the Omelette wrap around the Noodle Nosh and enjoy
Fancy coming up with your own New You Plan TFR recipes? Check out our Special Offers section and get started today.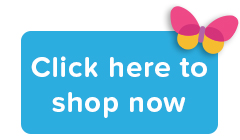 ____________________________________________________________________________________________________
Get started on the BEST TFR Plan TODAY!

Getting started is the first step in your journey to a brand New You! To help you understand fully how our plan works, our Get Started page with designed specifically for people new to the plan.
Head over to our site where you'll find tonnes of important information including how our plan works, the science behind it, loads of top tips, information on our meals, as well as real customer testimonials.
Click here to visit our Get Started page!
*Everyone is different, and we can't guarantee how much weight you will lose. Check out our success stories to see what our customers have lost. 
*Weight loss results may vary. This is not a guarantee.