Before & Afters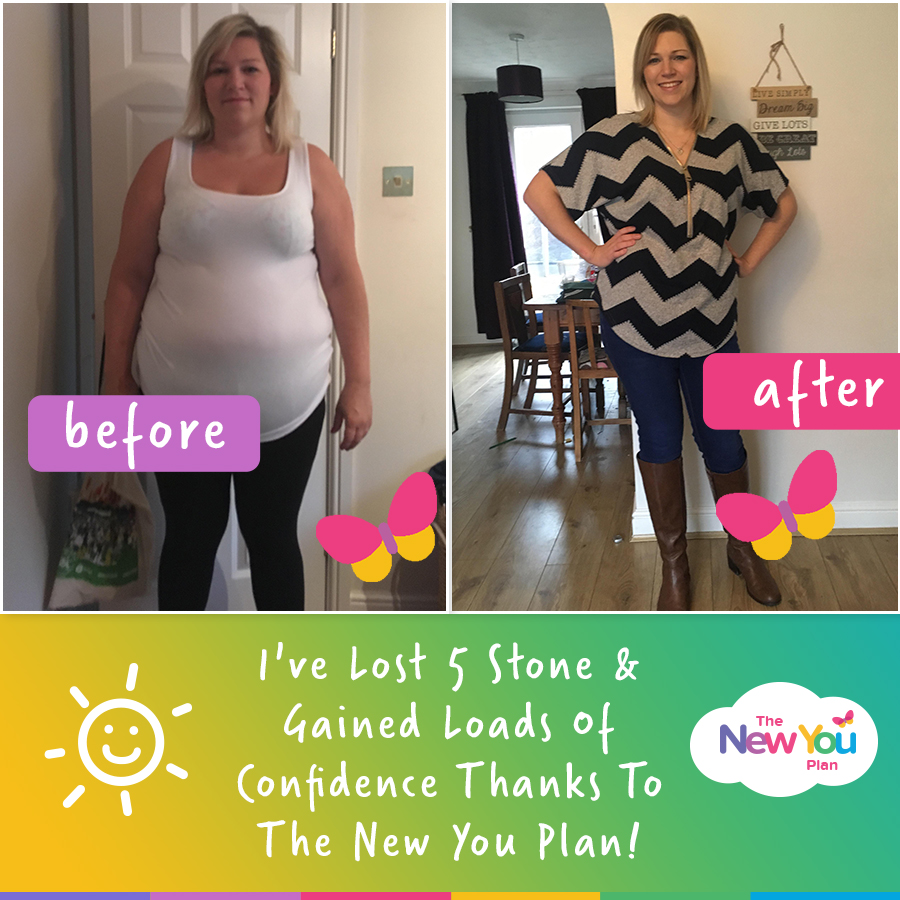 Charlotte's Incredible, Life Changing TFR Journey!

For customer Charlotte, she only ever imagined being where she is now. Lacking confidence and unable to do certain things with her kids, her weight was holding her back and she knew she had to do something about it. After finding The New You Plan, she has lost 5 stone, gained tones of confidence and has even started online dating. She said if she can do it, anyone can! Here, is what she had to say about her life changing TFR journey…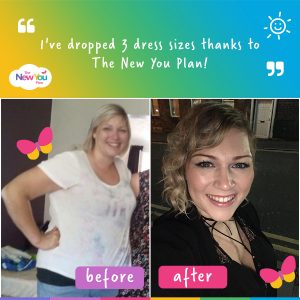 Charlotte, when did you start The New You Plan?
I bought a 10 day bundle in July last year but I kept putting off getting started. Then on 31st August 2017 I gave myself a good talking to and got started!
When I started The New You Plan, I weighed 18 stone 10lbs and was wearing a size 22. I wouldn't admit my weight to anyone because I was so ashamed that I'd let myself get so heavy and unhealthy. I have previously lost a stone or two here and there on other diets but I have never got remotely close to my goal.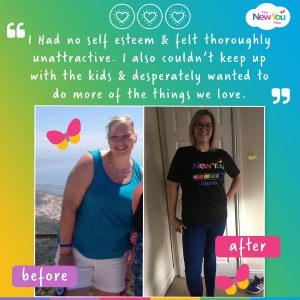 Describe how you felt before you started the plan?
Before I started the plan I was stuck in a cycle of making the wrong food choices and eating at the wrong times. I work full time as a manager and I am also a single mum to two children so mealtimes are rushed and comfort food was always my go-to after a busy day. I felt like I would always be 'the fat one' and there was nothing I could do to change it after so many failed attempts.
Lots of people think I'm a really confident person but this couldn't have been further from the truth. I had no self esteem and felt thoroughly unattractive. I've been on my own for a long time and my friends kept telling me to try going on a few dates but if a man offered to buy me a drink I'd wonder which of his friends had put him up to it!
I also couldn't keep up with the kids and desperately wanted to do more of the things we love. My daughter asked me to take her on a high ropes course at Go Ape in the summer and I had to say no, simply because I was over the weight limit. This was a real turning point for me and so I started New You soon after.
How did you discover The New You Plan?
A friend of mine lost an incredible amount of weight using the plan. She told me about it a year before I actually got started. I had dismissed it originally because I thought it would be too expensive but how wrong I was! I've actually ended up saving money as I don't spend on lunch at work, weekend takeaways and alcohol.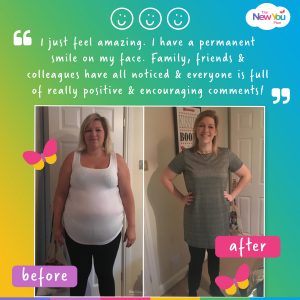 How has the plan changed your life?
Where do I even start?! I just feel amazing. I have a permanent smile on my face. Family, friends and colleagues have all noticed and everyone is full of really positive and encouraging comments as well as lots of compliments.
The important thing is that I can really see my own progress. I feel healthier and fitter – I've even starting doing some exercise (I still maintain that high intensity step classes are designed to kill me ).
My confidence has improved so much too. I'm even trying online dating!
My daughter looked at me this morning as I was getting dressed and just said: "Wow Mum! You should be so proud of what you have done – you are amazing". This just made me beam. I am totally proud of myself!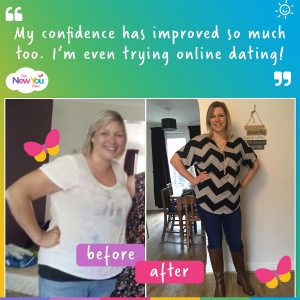 What's your biggest non-scale victory?
Anyone that knows me knows I truly hate shopping. This comes from only ever being able to buy clothes that fit, rather than clothes I like. The last time I tried to shop for myself I came home with a new pen and a toy car for my son. Last weekend I went shopping with a friend who took me into shops I'd never been in before and I was convinced nothing would fit. My friend made me try on clothes in every shop and every time I made my way to a changing room with a size 16 I just kept thinking 'no way is that going to fit on me!' But it did and every single shop I went into was the same story. I came home with a whole new wardrobe!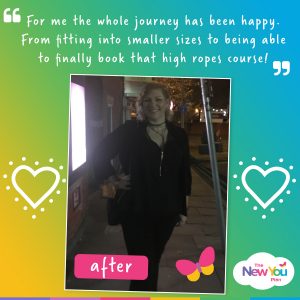 Since losing weight, what is your happiest memory?
For me the whole journey has been happy. From fitting into smaller sizes to being able to finally book that high ropes course, it has been incredible. My favourite part has been making a whole load of new fantastic friends in Secret Slimmers Facebook. Everyone in the group has the same goal – to lose weight and maintain that loss and we all help motivate each other every day (with a large sprinkling of humour!).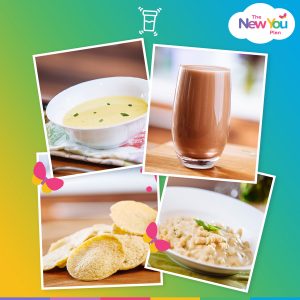 What are your favourite New You meals and snacks?
I absolutely love the Asparagus Soup which is weird because I didn't like asparagus before this plan! I also love the Pasta Carbonara and the Chocolate Shake heated up. I have a hot chocolate before bed every night! The Salt and Vinegar Crisps and Wafers are just divine and really help when you are needing a little boost.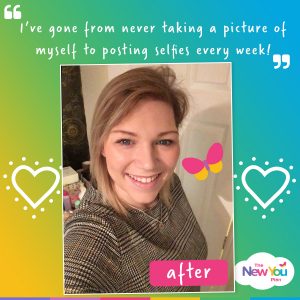 What advice would you offer anyone thinking of starting the plan this year?
Firstly – you CAN do it. I remember looking at all the before and after pictures on the website dreaming, but not believing that one day that would be me. I've proved myself wrong and I am so glad I stuck to it.
Use the snack allowance – the plan has been designed to allow these so go ahead and indulge guilt-free.
Set mini goals and mini rewards! Don't be afraid to treat yourself to a new top, a trip out or a spa break. You've earned it.
Get support! When I joined Secret Slimmers I didn't think I needed motivating. I had already taken the first step by getting started on the plan and wanted to lose the weight. But the group is utterly fantastic. On those rare days when you feel like giving up, there is always someone with kind words of support or a joke to brighten your mood. I've gone from never taking a picture of myself to posting selfies every week!
Have some mantras and remind yourself daily. I have 2:
"I haven't come this far to only come this far" – This is so true!! I am not giving up part way through – I will get to my goal and stay there!
"Food is fuel, not a reward" – How many times have you gone out for a big meal to celebrate a new job or a life event? Why is it we do this? You can reward yourself in so many other ways and the biggest reward will be getting to goal!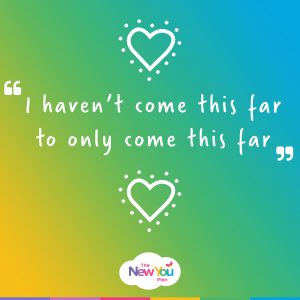 You can do this! You deserve it!
Charlotte x
____________________________________________________________________________________________________
Get started on the BEST TFR Plan TODAY!

Getting started is the first step in your journey to a brand New You! To help you understand fully how our plan works, our Get Started page with designed specifically for people new to the plan.
Head over to our site where you'll find tonnes of important information including how our plan works, the science behind it, loads of top tips, information on our meals, as well as real customer testimonials.
Click here to visit our Get Started page!
*Everyone is different, and we can't guarantee how much weight you will lose. Check out our success stories to see what our customers have lost.