Before & Afters

Kerry £3000 Cash New Year New You 2021 Transformation Challenge Winner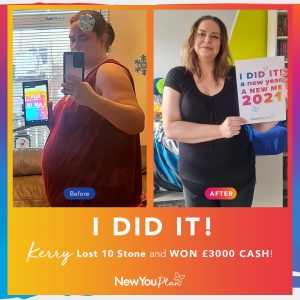 Meet Kerry, the winner of our New Year New You 2021 Transformation Challenge. She's bagged herself a whopping £3000 for her amazing weight loss achievement.

With a holiday to Turkey only 3 months away, Kerry had a goal of losing enough weight to be able to enjoy the trip. Before starting the plan, she complained of various ailments, such as sleep apnea and pain when walking – she couldn't walk very far at all and was worried she wouldn't be able to have fun in Turkey with her family.
Have a listen to Kerry's Call when she found out she won £3000 CASH!!
Read on to find out how she managed to turn things around and snag the top prize.

What was your motivation to begin the plan and how did you feel before starting the plan?
My motivation to begin the New You plan was my health – I wanted to feel better!
We were due to go on holiday to Turkey, 3 months after I started the plan. I was unable to walk very far without being in a lot of pain and I desperately wanted to change this and be able to enjoy the holiday with my family.
I also suffered from sleep apnea and various other complaints related to my size.
I was miserable in my body; it didn't do what I wanted it to, which had to change!
I'll admit that I was apprehensive about starting but decided I had nothing to lose (but weight!). I had never done a TFR or VLCD before so I wasn't sure what to expect but I did my research and was hopeful it would work out for me.
How did you hear about the New You Plan?
An advert for New You came up on my social media news feed. I was instantly drawn to the concept. The name just made sense to me, and I loved the bright colourful packaging.
So I clicked the link, opened the website, had a good read through the different pages, and decided to give the plan a go.
The website had lots of information which I appreciated, as I'm a bit of an information junkie! The support seemed to be very easily accessible. Little did I know at the time just how amazing the support is.
Needless to say, I have never looked back!
In taking part in the challenge did it encourage you to stick to the plan?
I first started the plan in February 2020. I had received a few of the challenge posters and seen some of the fabulous results before, but just never felt comfortable in entering the challenges myself. However, when the New Year New You challenge came out in December I, with a lot of encouragement from my partner, decided to take some photos and enter the challenge.
With Christmas and New Year coming up and all the food and drinks associated with this period I also thought this challenge would be perfect to keep me 'on plan' if I was tempted by all the 'blips'!

How much have you lost in this challenge and lost in total?
I started the plan in the middle of February 2020 and have lost 148.5 lbs to date. That's over 95 inches in total off my chest, upper arms, waist, hips, thighs, and calves.
Throughout this challenge, I've managed to lose 24.8lbs and 18 inches.
What have you found most enjoyable about the plan?
Lots of things, actually.
The simplicity: I really enjoy how the plan makes things so easy. You just pick whichever of the packs you fancy, add some water, stick it in the microwave, and eat. Combine that with sipping 4 litres of water throughout the day and then just watch the results come in.
The choice: The New You Plan has so many different products and flavours and there have been several yummy new ones introduced since I started.
The snacks: Another thing I love is the snack choices – the New You crisps and gummies; though don't eat too many of the gummies
The support: The dedicated Facebook page is great and there is always someone in the community there if you need them. The customer service team is also really great – they're so helpful; genuinely invested in resolving anything.
The price: The bundle offers and frequent discount codes offer fabulous value for money! Be warned though, they're often too tempting so make sure you have somewhere to store your many purchases
What's your favourite product?
I adore the crispy caramel bar! I could eat that for all my meals but I don't think I would have survived on plan without the salt and vinegar crisps.
Have you struggled with anything and if so, how have you overcome the struggles?
Yeah, there have been times I struggled. My weight loss has really slowed down and that can be hard to accept. I do have lots more NSVs (non-scale victories) now which I would have never have paid attention to if it wasn't for the information on the website, and help from the secret Slimmers page.
I think it's very easy to become obsessed with the scales and if the numbers don't go down as expected it can be very frustrating. I wouldn't have thought to take measurements if the plan didn't recommend it, but this is where I always see a difference.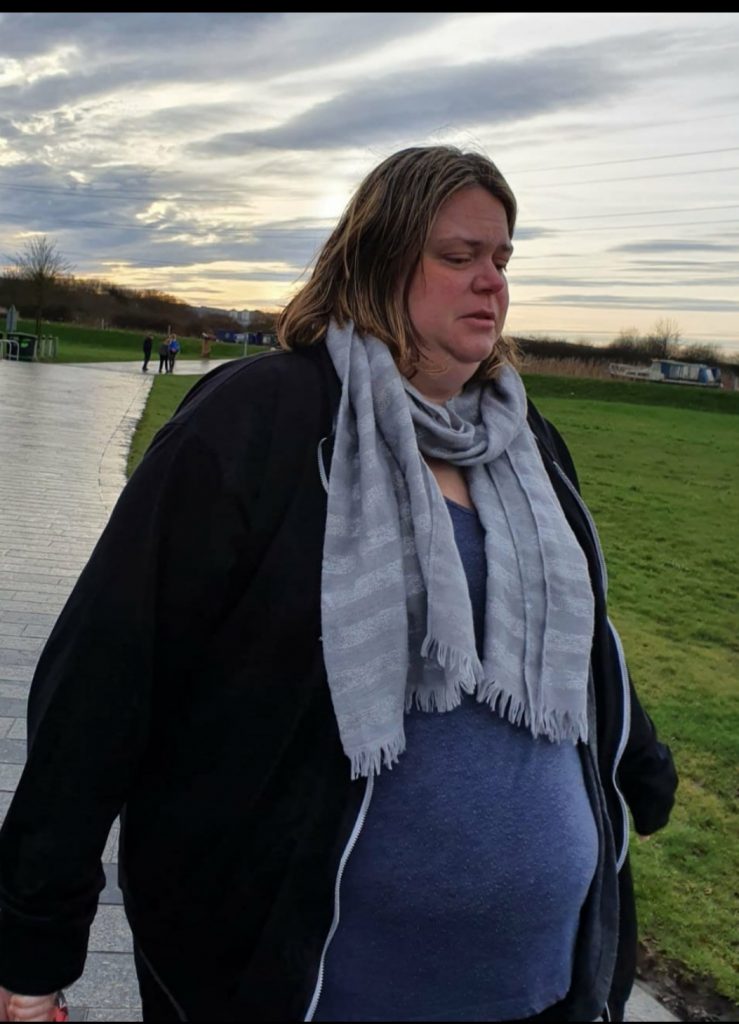 Have you reached your target and if not, how much left do you want to lose?
I haven't reached my original target yet. I still have 4 stone to lose to get there, and that will put me in the middle of the healthy BMI range for my height. But since being on plan my outlook has changed. It's more about how I feel than the number on the scale – I'm just taking it half a stone at a time.
I will get there, and I am continuing my journey with New You, as I'm currently on my fifth block of TFR and I'm still loving it as much as when I started.
Do you feel being a member of Secret Slimmers gave you the encouragement and motivation that you needed to keep going with the challenge, if so what in particular helped you?
The secret Slimmers page is fab. There is so much encouragement available as everyone has done the plan or is currently doing the plan. It is a really positive zone. I don't even always post, – it can be enough just to dip into the page when I'm having a bit of a wobble and I find that this helps to keep me on track.
Seeing everyone's photos and their individual journeys is so motivating. I feel that it helps to see that everyone is different and our journeys are not all going to be the same.
How has the plan changed your life?
It has completely changed my life! I am no longer miserable in my body and I now try to make more time for myself.
Before starting the plan, I was unable to walk very far without incredible lower back pain and breathlessness. Now? I smash my 10K steps, and do cardio and weight training at least 3 times a week.

I lost my mother and father too soon due to conditions that were caused or worsened by obesity. I was also at high risk of developing obesity-related conditions, but now I am at a much lower risk of this.

Plus my Primark hauls are no longer limited to accessories and makeup; though I think I may need a bigger wardrobe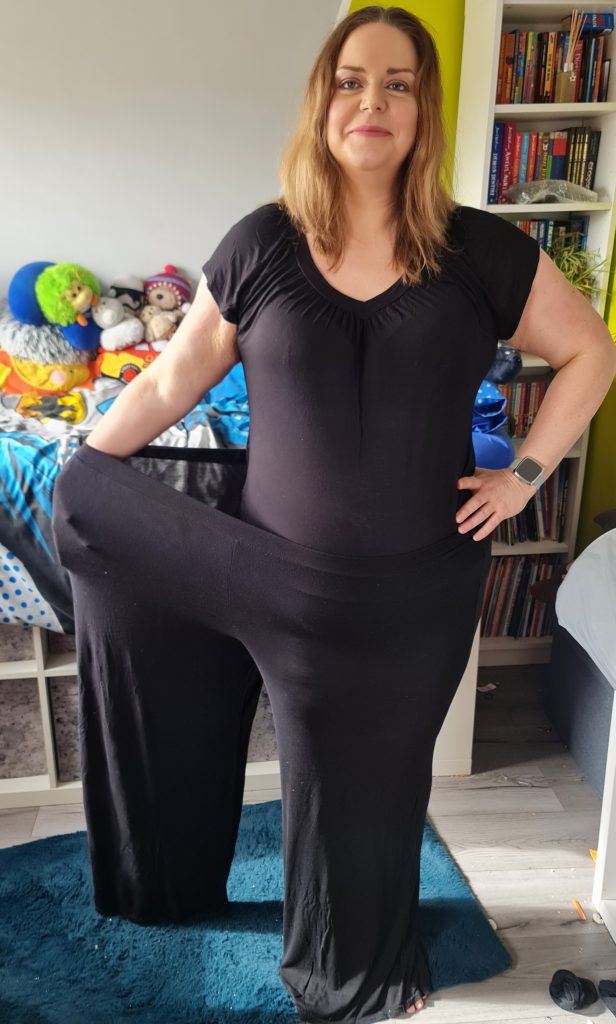 What advice would you give to someone thinking of starting the New You Plan?
Just do it!
There is no time like the present, I just wish I'd found New You sooner.
With three grand in the bank, we think that Kerry will be able to afford that new wardrobe to store all of her new clothes.

Spring 2021 Transformation Challenge
If you want to be in with a chance to win an amazing thousand-pound cash prize or one of many runner-up prizes, download your poster here.

1st Place £1,000 cash
2nd Place £750 cash
3rd Place £500 cash
4th place £250 credit
5th place £250 credit
6th place £250 credit
7th place £250 credit

All of the winners will also receive a Fitbit Versa to help them keep track as they smash their 10k steps just like Kerry does.

To enter, simply download your poster above and snap a clear full body picture holding this or any previous 'I am In' poster to be considered.
Make sure you take your after photo with the reverse side of the poster and submit both photos by email to [email protected] to be entered into the competition by 30th June 2021.
If you want to be in with a chance to win an amazing thousand-pound cash prize or one of many runner-up prizes, download your poster here.
READ MORE ABOUT THIS CHALLENGE