Before & Afters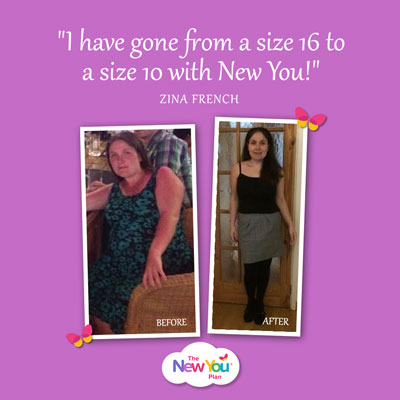 "I Dropped 3 Dress Sizes With The BEST Diet Plan"*

Customer Zina French was feeling fat, frumpy and fed-up! Following the birth of her two children, she gained weight while on maternity leave. She struggled through diet after diet with little to no success. Hearing about how well a colleague's brother did on the plan, she decided to give it a go! Now, she has lost a total of 35lbs and smashed her goal. Here she shares why she thinks New You is the best diet plan!*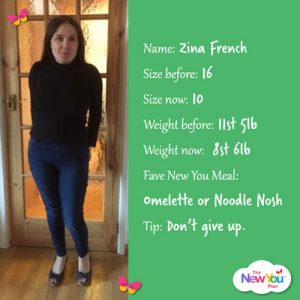 Zina, what do you think led to your weight gain?
Both times I had a baby I actually put more weight on whilst on maternity leave rather than while being pregnant. I never lost the weight after my second child and just kept getting bigger. I always wore dresses that cut in just below the bust rather than at the waist (which is where I tend to store fat) so I spent years convincing myself I wasn't really that big.
How did you feel before you started the plan?
I was so tired. I always wanted a mid-afternoon nap. And I was never happy with the way I looked. Mirrors and photographs were banned as I just couldn't face them.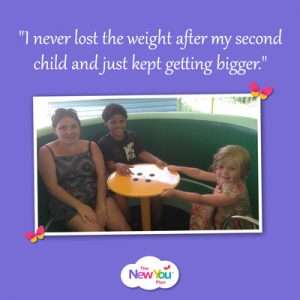 When did you make the decision to take control of your weight?
When I changed careers and relationships, I suddenly realised that I was fat, or rather obese, and just decided to do it.
How did you hear about The New You Plan?
A colleague's brother is one of the success stories on the website! He told me about him, as I had been 'on a diet' for a year at this point and wasn't making any progress.
You see loads of different products out there with 'before' and 'after' pictures and realistically they are just taken at a different angle, or even with different people. But when I went onto the New You website, I could tell the people on there were real, actual people, and the photos weren't particularly posed.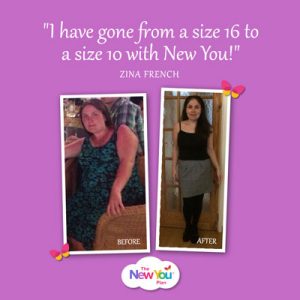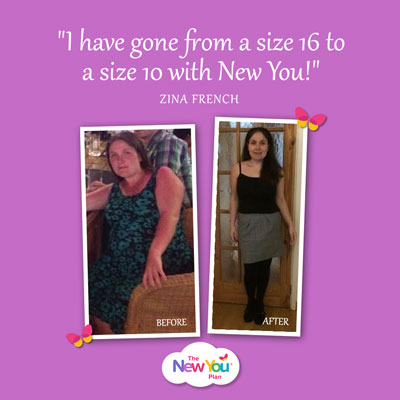 Tell us about your journey to a new you!
I opted for Fast Focus to lose my weight but now I plan to stay with New You through Family Focus or Fresh Focus in order to maintain my weight loss.
It is just so much easier sticking 100% to New You products. There's no planning or shopping or making special meals. I just choose four packs a day to eat; any packs, at any time of the day. Simple.
It's also easier not to cheat when you are not making up your own portion sizes as you just make what you are given. It takes literally a couple of minutes so food becomes less of a part of your daily life. Being 'on a diet' doesn't take up all your attention when you are not spending time going to the shops and weighing out food. It really is the best diet plan.
I started The New You Plan in October 2016 so I was on plan for six months, over a few bursts. That's just the way I like to lose weight – it's not all about the end result. There's no point just being happy when you get to the end, you have to appreciate the difference when you lose each chunk of weight.
I also personally felt that maintaining long term would be easier if I lost a bit, maintained a bit, then lost a bit more. I've just stopped Fast Focus again for a couple weeks but will be starting again soon for another 5 to 6 weeks.
I have lost 35lbs in 6 months. 18 months ago I set myself the target of getting to the weight of 126lbs and I never thought I would make it. I've just hit the 124lbs mark. I'm now a size 10/12, down from a 16.
How have you found the support?
The support is fantastic! I felt really ill one day and thought it was down to the diet (in hindsight it was probably some kind of migraine). I had a headache, felt dizzy, and my arms and legs were really heavy to the point where I didn't feel like I could drive home from work. I spoke to New You on live chat, who gave me some advice. It was enough to make me stick to the diet that day and not give in with the excuse of feeling ill. I woke up the next morning feeling amazing, and feeling even better for the fact that I hadn't broken my diet.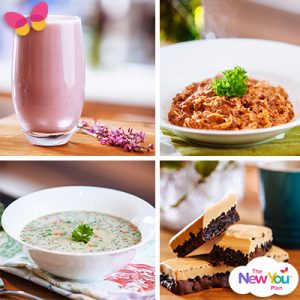 What meals are your favourite?
I genuinely like everything. When I started there were some meals I couldn't stand but as time has gone on my tastes have changed. I go through phases. For a couple of weeks I couldn't get enough of the Spicy Noodle Nosh and wanted to eat it at least twice a day. The last two weeks I haven't wanted it at all. I'm now into the Omelettes  (which is a meal I hated in my first week!).
I'm an evening eater. It doesn't matter what I eat during the day, I will still be the same amount of 'hungry' in the evening. So I don't have a pack for breakfast.
In the morning, I have a Pineapple Fat Burner and I drink decaffeinated green tea the rest of the time so that little bit of caffeine helps. I also drink 2 litres of water/green tea before lunchtime.
At lunchtime I have a Shake– I love all the flavours even though in 'normal' milkshakes I would probably never have anything other than vanilla.
At dinner time I tend to have two packs at once. At the minute I am into having the Chilli with the Omelette. Before bed, I end the day with a Bar or Brownie.
Would you recommend joining Secret Slimmers?
Absolutely. It's the best thing I ever did, and I intend on staying on there even when I am having a break from Fast Focus. I didn't bother on my first two stints. I thought social media groups weren't my thing, and I wasn't one for publicly posting stuff anyway.
However, this time I joined and it has made such a difference. I was nervous to post as I thought people wouldn't support me. I thought at my weight, I was already at some people's goal weight and they would think I was daft, but it wasn't like that at all. Everyone is really positive – whether you have got 10 stone to lose or just 2, everyone is welcomed.
You end up feeling like people on the group are your friends. I talk more openly on there than I would in real life! I have learnt loads of tips and ideas on making the food in different ways. It also inspired me to try the drinks that I hadn't bothered with before and they are making a huge difference. I have now actually started posting pictures of myself and actively involving myself in the group. If I have a day when I am struggling or want to eat, I go onto the group, and by the time I have read everyone's posts the urge has gone.
I also love the challenges. It makes you feel accountable by publicly putting the pledge out there.
How do you feel since losing weight?
I honestly didn't think I would get to my goal. I feel amazing.
I can look in the mirror, I don't mind photos and I am enjoying buying new clothes. I finally feel like me again. And I have so much more energy!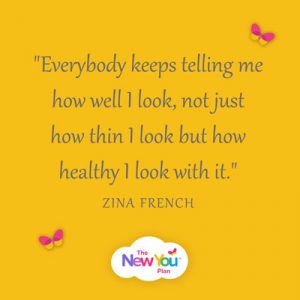 What's the nicest compliment you've received since losing weight?
Everybody keeps telling me how well I look. Not just how thin I look but how healthy I look with it.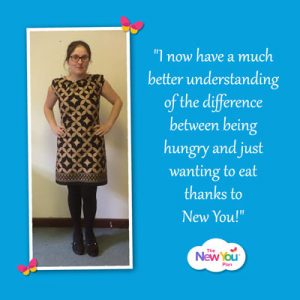 How has your mindset changed?
I have a much better understanding of the difference between being hungry and just wanting to eat. After the first few days on New You you don't get hungry, so the days that I struggle are just because of my head wanting food and not my body. Previously, weekends were focussed around food, shopping for nice food and making big meals with loads of side dishes. It was almost like a hobby and an activity to look forward to.
New You has stopped food being entertainment. I've had to find something else to do on a Friday and Saturday night, rather than spend a couple hours chatting over dinner.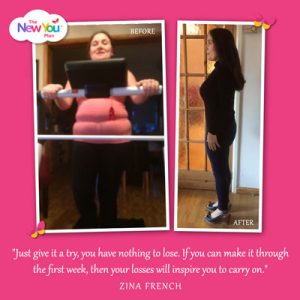 What advice would you offer someone considering starting their weight loss journey?
Don't give up starting again! I've had a couple of false starts where I've only managed a few days and then given up. Keep starting again, because at some point, something will just 'click' in your head and it will become easier.
Just give it a try – you have nothing to lose (except weight!). If you can make it through the first week then your loses will inspire you to carry on. I find our family food bill is so much cheaper. It covers the cost of my products easily. Turns out I was the one making our weekly shop so expensive!
Love Zina x
*Weight loss results may vary. This is not a guarantee.
_____________________________________________________________________________________
Start Your TFR Journey Today!

Getting started is the first step in your journey to a brand New You! To help you understand fully how our plan works, our Get Started page was designed specifically for people new to the plan.
Head over to our site where you'll find tonnes of important information including how our plan works, the science behind it, loads of top tips, information on our meals, as well as real customer testimonials.
Click here to visit our Get Started page!