Before & Afters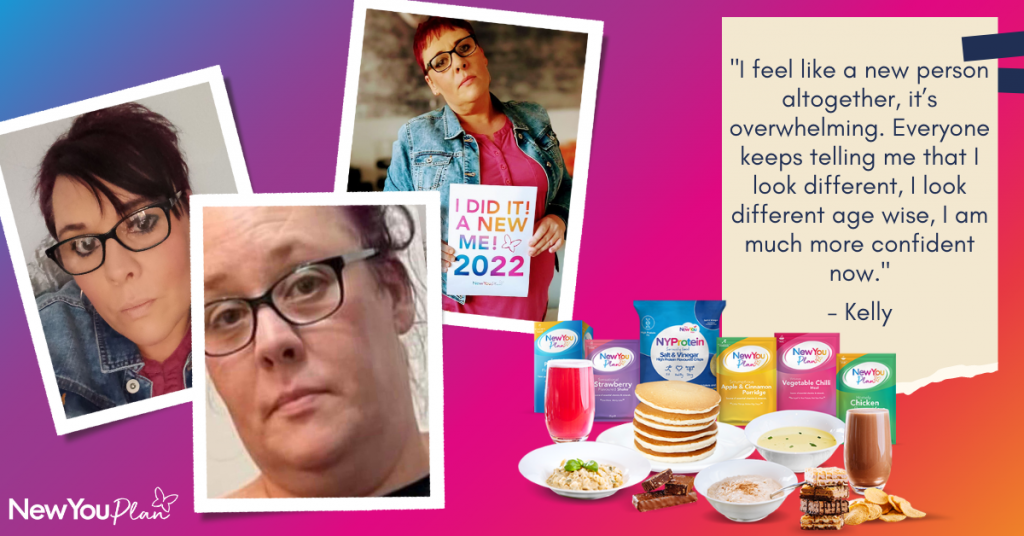 How Kelly Eased Her Fibromyalgia With The Help Of The New You Plan
Kelly was depressed, overweight and suffered from Fibromyalgia. She knew something had to change and looked to her friend Mark for inspiration.
Mark, Kelly's friend had already lost 15 stone with the New You Plan, so Kelly knew that he would be the perfect person to seek advice and support from. She feared that her Fibromyalgia might prevent her from losing weight as she had never been successful in the past.
12 weeks on from taking on the New You Plan, we caught up with Kelly to find out how she was getting on and how she was coping with her Fibromyalgia
New beginnings
NYP: How did you discover the New You Plan?
Kelly: Through my friend Mark, he has been doing it for a year and he has lost 15 stone so when I watched him doing the plan I just couldn't believe the transformation he had, he showed me all the products and how much he was losing. I just couldn't get over how much weight he was losing so quickly, he was like a different person.
NYP: When did you start the plan?
Kelly: 2nd of January 2022.
NYP: How much have you lost and how do you feel?
Kelly: 37 lbs so far, I feel absolutely fantastic, I feel like a new person altogether, it's overwhelming. Everyone keeps telling me that I look different, I look different age-wise, I am much more confident now.
NYP: How did you feel before starting this plan?
Kelly: I was very depressed, I was very overweight, and I had no confidence in myself. I felt really low. I was talking to my friend, Mark about this, and he asked, why don't you give the plan a go, if I can do it, you can do it.
NYP: What was your first impression of the plan?
Kelly: I was a bit overwhelmed in the beginning because obviously, it is a big shock to the system. Changing what you're eating, suit your lifestyle to the plan, go into a routine and drop the calories. During the first week, I found it quite hard, I needed a lot of motivation to pull through. Mark kept telling me that the first week is the hardest and he was right, it is a routine now and I am now used to it.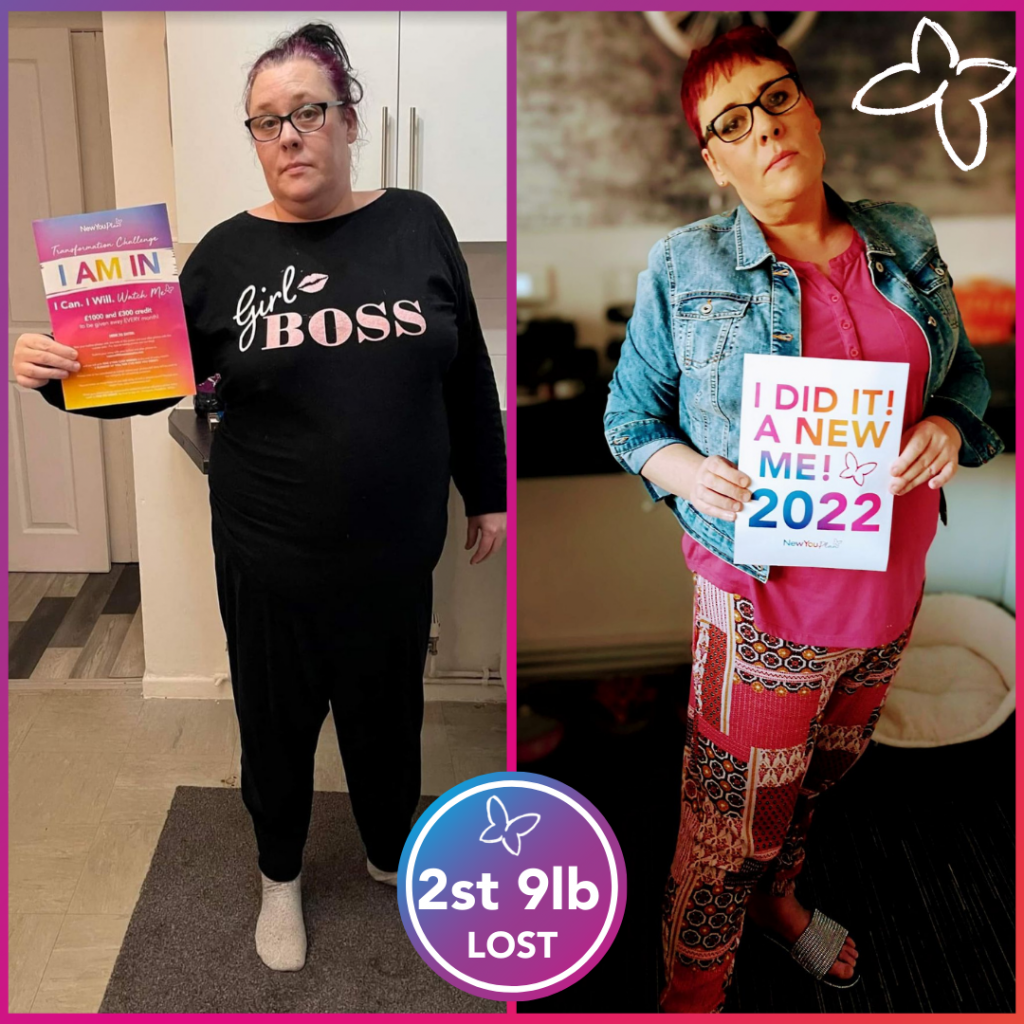 Seeing results
NYP: What did you find hard in your first week?
Kelly: Mainly the mindset and the hunger. I felt really hungry, Mark told me to just drink a lot of water, he has also given me tips as well, I got into it quite shortly after this. The first couple of days I did feel a bit headachy and a little bit tired and all the things that go with starting a diet, but then after the first 4 days I started to enjoy it.
NYP: Do you remember your first week of weight loss?
Kelly: 9 pounds I have lost in my first week. I couldn't believe it, I had to get on and off the scales 3 times to check if it was right.
NYP: And how were you able to adjust the plan to your lifestyle, at work or at home?
Kelly: I work it around everything, you obviously have your shakes and the bars, I drink plenty of water and I have the soups as well, so it is quite easy to bring the products around with me when I go out for a day. It doesn't stop me, I just carry on the same as when I am at home.
NYP: What is your favourite meal and snack?
Kelly: I love the wafers, I love the crisps, I love all the shakes, they are all amazing. My favourite meals are Carbonara and the Noodle Nosh.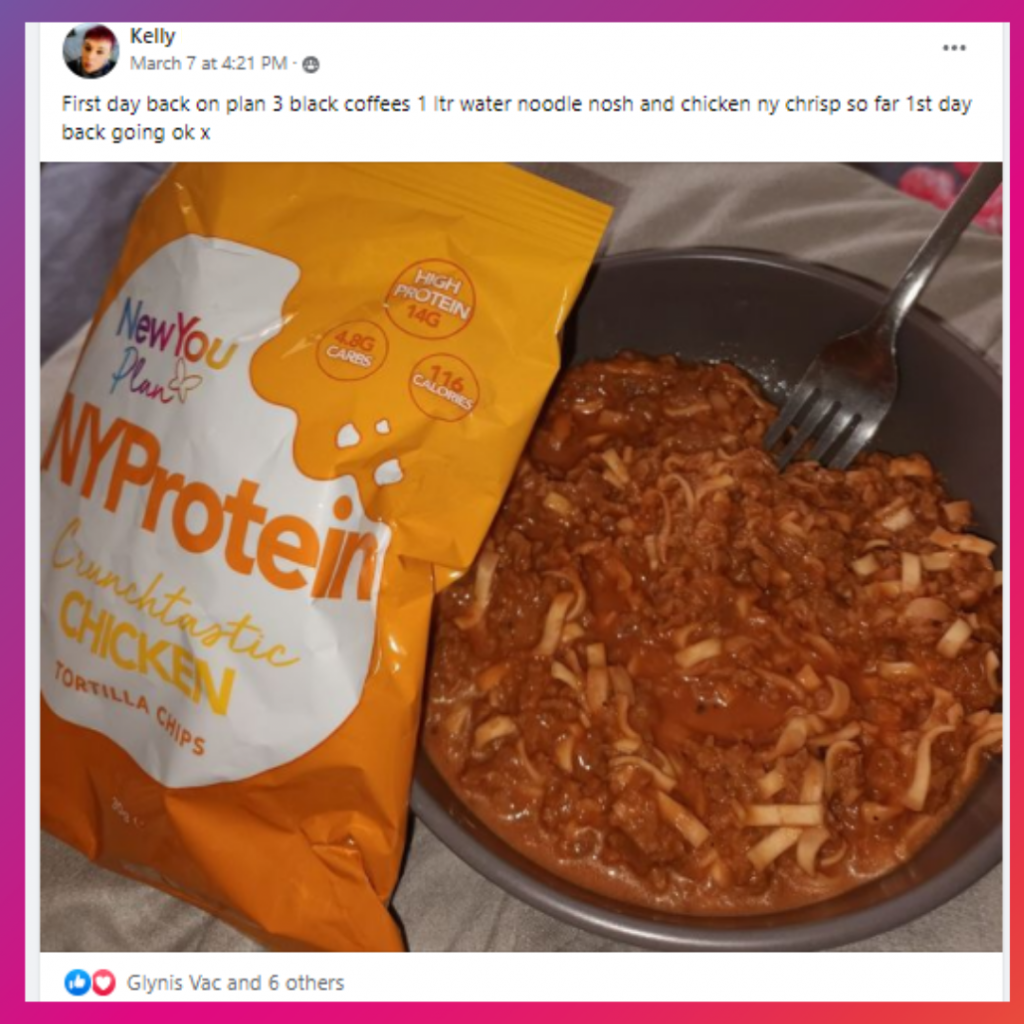 NYP: Can you tell us a menu of products you would have daily?
Kelly: I would wait until 2-3pm to have my first pack soI would drink lots of water in the morning. Then I would have a shake or a soup to start and later on, I would have another shake or a bar, and for my evening meal, I would have 2 products with some crisps. I was on 5 packs a day when I first started because I was over 17 stone.
NYP: Was there a big difference for you to go from 5 packs a day to 4 a day?
Kelly: Not really, I just had to adjust. When I got to a point where I had to cut down on 1 product, I wasn't feeling as hungry anyway so it was a good thing that it had gone down to 4 because at that point I found it quite hard to push myself to the 5th product. When I started having 4 a day, felt that was better for me as obviously you don't need as much anymore, because you have lost weight.
NYP: How long did you do the 5 packs for?
Kelly: It was about 6 weeks.
More than the numbers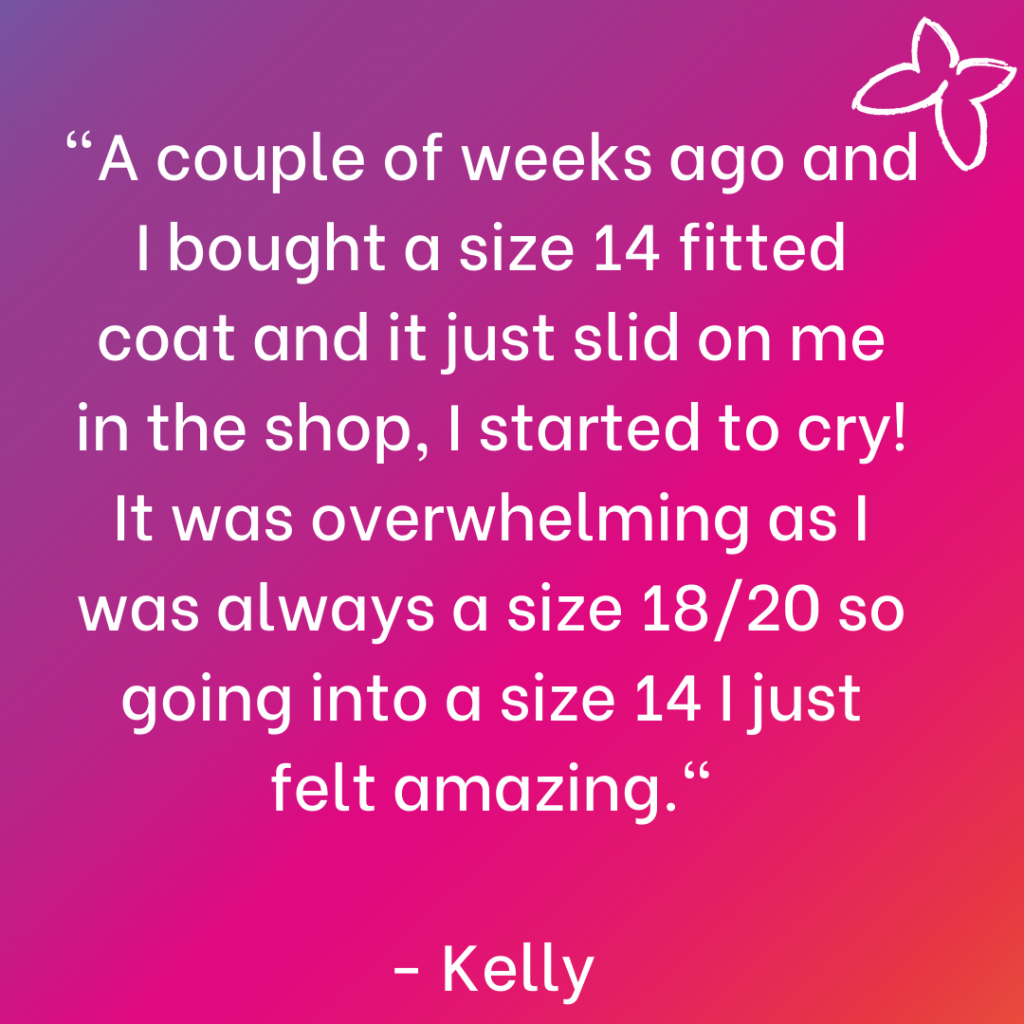 NYP: That's great. What was the biggest non-scale victory?
Kelly: When I went out with my mum a couple of weeks ago and I bought a size 14 fitted coat and it just slid on me in the shop, I started to cry! It was overwhelming as I was always a size 18/20 so going into a size 14 I just felt amazing. Then I stood in the mirror for ages, thinking "Wow! I actually fit in this coat!" This is only the first part of my journey, I am planning to do another 3 months once I have done the 2 weeks refeed period. I am just about to start my refeed period.
NYP: What was your biggest motivator for staying on plan?
Kelly: Just watching myself change. My confidence and my body image have been changing, and people are mentioning how younger I am looking. I am turning 40 soon, but I believe that when you are overweight, it can age you quite dramatically. The fact that I look after myself again, I got my eyebrows microbladed, and lots of different things, such as self-care.
NYP: That's amazing! I am so happy to hear that. Are you on our Secret Slimmers Facebook group Kelly?
Kelly: I am, yes. With the support there and the people you can talk to, the admins are great and just watching everyone else's transformation.
Fibromyalgia hasn't stopped me
NYP: How has the plan changed your life? Has your health improved?
Kelly: Yes, I suffer from fibromyalgia. The pain has been easing slightly because obviously, I am not carrying as much weight around, so it has taken the pressure off me. I've started doing a little bit more, getting a little bit more active. I was worried that it will be a struggle to lose weight with fibromyalgia and other illnesses as I am on a lot of painkillers, however, it doesn't seem to be affecting my weight loss at all. I've tried other diets before, and I never lost weight with them ever, this made me give up after a week or two, this seems to be the only diet that's working for me.
NYP: Since losing weight, what is your happiest memory?
Kelly: Just being more confident, trying new clothes on, I am looking forward to summer, I won't have to hide anymore I can wear nice clothes. I will be able to go on a holiday feeling nice.
NYP: What is the nicest compliment you have received since losing weight?
Kelly: That I look younger and healthier. People can't believe how fast I have lost weight and how much healthier and happier I look. They are all very proud of me. My husband has been very supportive as well.
NYP: What advice would you offer anyone thinking of starting the plan?
Kelly: Give it a good shot, it changes your whole life. Follow the plan and it works.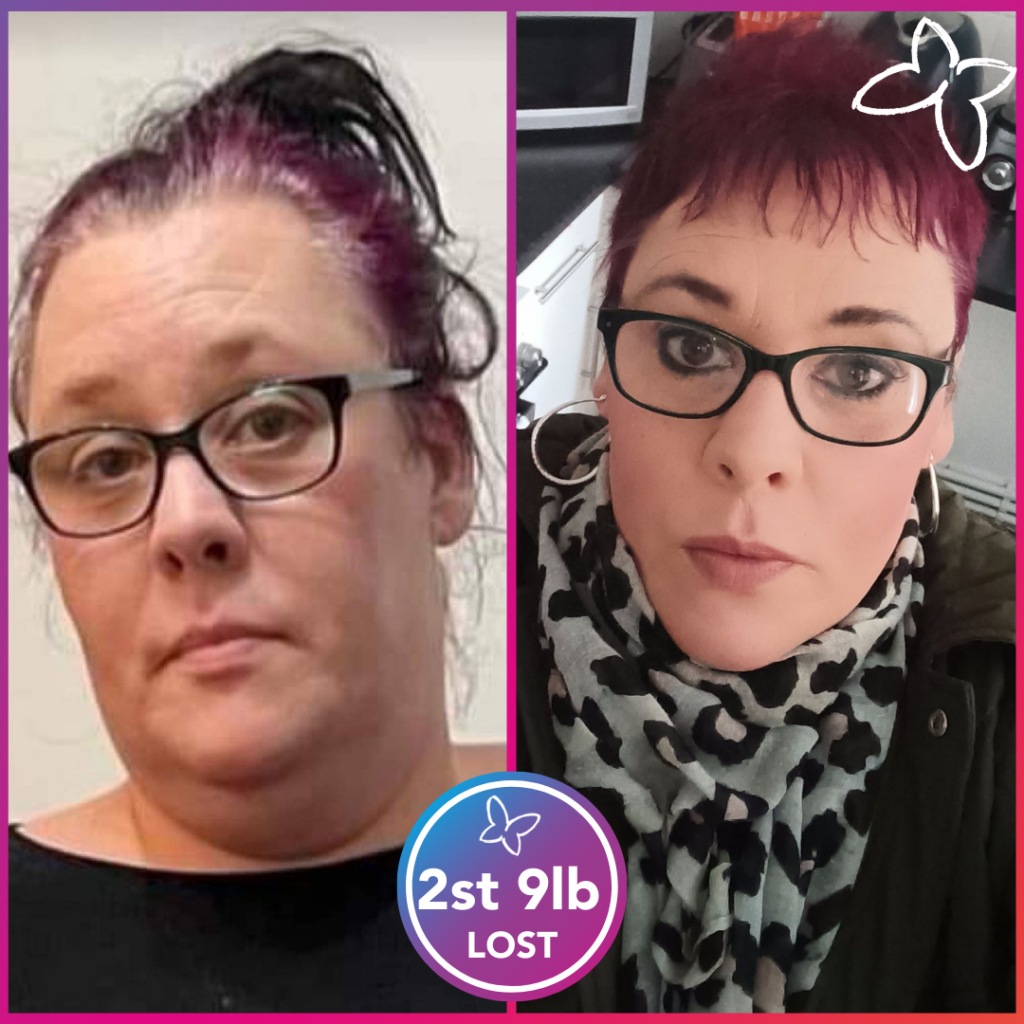 That's a wrap
Kelly has lost over 2 1/2 stone so far which is incredible. But more than that she has seen an improvement in her health and her Fibromyalgia.
She is only partway through her journey, but Kelly has already learned so much. She has discovered that she is strong enough to reach her goals and Fibromyalgia isn't the barrier she once thought it was. Even better, Kelly now has the tools, support and mindset to continue her transformation and be successful in smashing her goals.
If you feel you could improve your health by losing some weight then we would love to support you in that. Head on over to our website or download our app and you will find everything you need to get started. Alternatively, you can contact our helpful customer service peeps for a chat