Before & Afters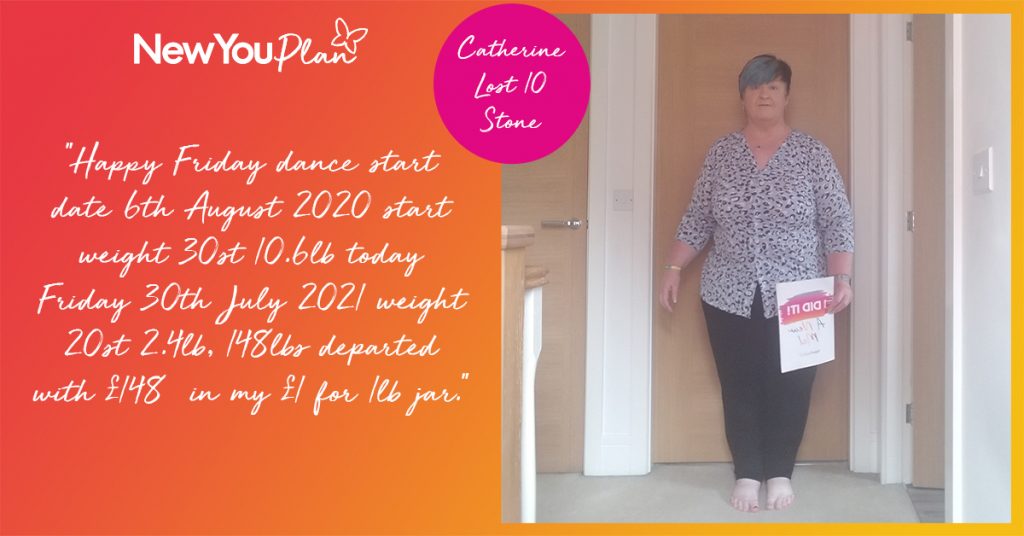 Catherine Lost a Whopping 10 Stone!
Feeling her lowest and weighing in at her heaviest, Catherine knew she had to make changes before her upcoming 50th birthday celebratory holiday.
Attracted to The New You plan, by the choice of meals and value for money, Catherine took the plunge and lost 15.2lbs in her first week!
We interviewed Catherine to find out more about her journey and to see if she had any advice or tips to share with us, read on to find how Catherine lost 10 Stone!
How did you feel before you started The New You Plan?
"I felt very low, I was the biggest I've ever been and the weight was getting on more and more. I was approaching my 50th birthday and didn't want to be this fat person any more."
What was your mentality, what did you struggle with?
"I struggled with seeing me as a person all I could see was this fat mess."
Why did you decide to start the plan, and why New You Specifically?
"I decided to start the plan as I had a holiday booked for my 50th and didn't want to get on a plane to New York and
a) ask for a seat belt extender
b) I didn't want to be on a plane for 9 hours and be so uncomfortable that I'd be longing for the flight to end. I started looking through the internet at different diets and New You popped up, I liked the look of it and so decided to give it a go."
What attracted you to New You, did someone recommend you, was there anything that made us different from other companies?
"I had seen other VLCD and some were more expensive, some had less choice and some were all things I didn't like, then as I was looking at it a discount code came up and was 100 meals for £100 so I thought well there must be a reason why that has come up."
How did you feel when you received your first New You Pack?
"When my packs first came I felt very nervous but also excited then I wondered if the packs would fill me. I remember looking at the burger pack thinking how on earth do I make that into a burger."
What was your first week's weight loss and how did this loss make you feel?
"The first week weight loss was 15.2lb I was ecstatic and was like wow how have I not heard of this before I was amazed that I lost so much."
What are your favourite New You Products?
"I love the 4 cheese pasta, the tomato soup which is odd as I don't usually like tomato soup. I love strawberry, chocolate, mint chocolate, caffe latte & vanilla shakes."
Why did you decide to take part in the Transformation Challenge?
"I entered all the challenges as I thought why not if I don't enter I will never know if I'd have won."
What is the biggest lesson you have learned since taking part in the Challenge?
"To look at me and see me how others see me."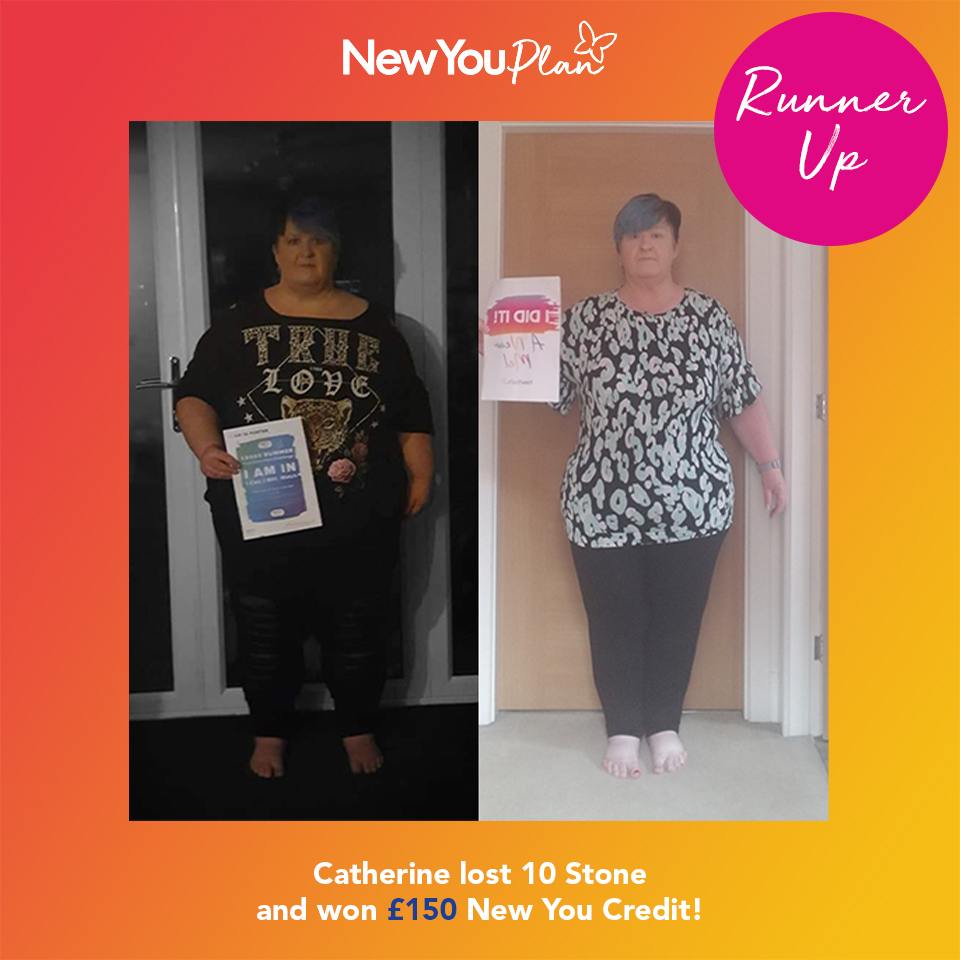 How much weight have you lost altogether? 
"10stone 4lbs"
Was there a time that you found the plan difficult and how did you overcome these challenges?
"At Christmas I wasn't sure how I would cope so planned to do it up to 23rd December and then off for 3 days and then straight back on it. Because I'd planned what I was doing, it wasn't as bad. Other times I found it difficult was when it got to the 2 week refeed and at first it was like oh what do I do now. I decided to take it one day at a time and just make sure my head was in it."
Do you feel the support offered by New You such as secret slimmer's has helped you on your journey? If so how? 
"Yes the support helps tremendously, if you are having one of those days or just not feeling it there is always someone who will just pick you up, everyone is there for each other there is no judging or nastiness."
What was your biggest motivator for staying on track? 
"Seeing how well others are doing and not wanting to let them or myself down."
What is your biggest non-scale victory?
"I have a fur coat that was size 32 which is now way too big. I took this coat into work where one of the seamstresses has taken 16inches off the back of the coat to make it smaller and I can get in certain cars and my legs are not touching the steering wheel."
Since losing your weight what is your happiest memory or proudest moment?
"Winning a boudoir shoot at a photography studio and doing a photoshoot that I would never have dreamed of doing before. And showing the group the photos to be told I'm hot & sexy which I still don't believe." 
Would you say the plan has changed your life, and if so how? 
"Yes its changed my life, I have met some wonderful people that I don't want to lose so far I have lost 10st a third of my body weight and I look better at 50 than I ever did at 30 or 40."
Would you have any tips you would give to someone who is thinking of starting the plan but is not sure? 
"Try it, you have nothing to lose, only the weight. If you don't like it or it's not for you it's not a problem but don't compare yourself to others."
For Catherine, the New You Plan has been life-changing, having lost an amazing 10 stone 4.
She admits that there have been tough times. But taking advantage of the support available has helped her no end and being part of the Transformation Challenge enabled her to see how others saw in her.
By taking part in our new Monthly Transformation Challenge, you've nothing to lose but weight. Whether you're new to the New You Plan or have been on your journey a while, check out our blog to find out how to enter. There are some great prizes to be won – including £1000 cash!