Before & Afters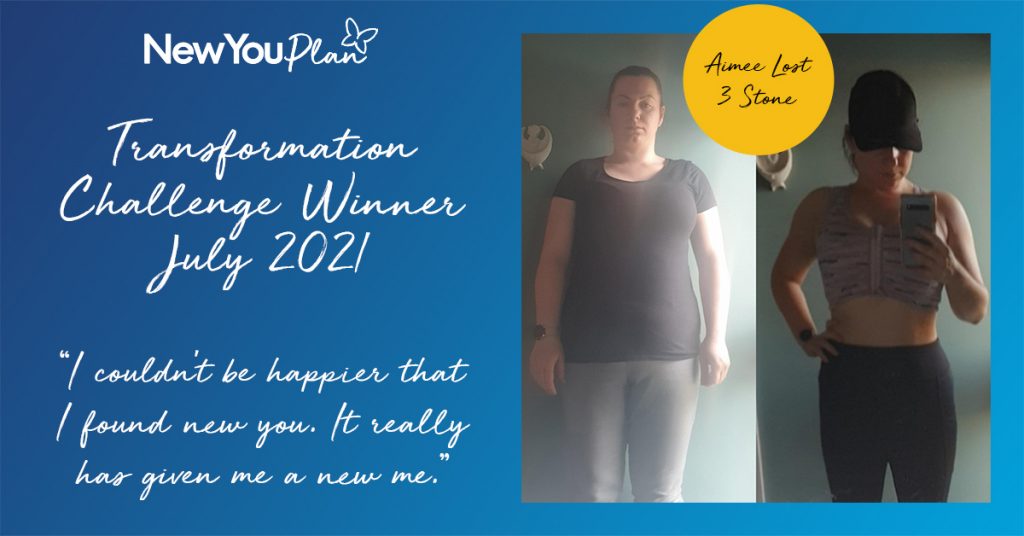 Aimee lost 3 stone and Won £1000 CASH!!!
Feeling older than her years, unhealthy and uncomfortable in her own skin, Aimee had started to avoid pictures of herself with her kids and was the unhappiest she'd ever been.
As luck would have it she stumbled upon the New You Plan on TikTok. After some research, Aimee was so impressed with how much New You cared about their customers that she felt her weight loss journey would be in safe hands with us.
Encouraged by our previous Transformation Challenge winners, Aimee took the plunge and entered our July Transformation Challenge 2021.
We interviewed Aimee to find out about her journey and if she had any tips and tricks to share with us.
How did you feel before you started The New You Plan?
"I felt terrible both health wise and confidence wise. I was really unhappy in myself. I felt like I was a lot older than I actually was and my fitness was horrible. I had stopped taking pictures with my kids because I hated how I looked in them."
What was your mentality? What did you struggle with?
"My confidence was on the floor , I didn't believe in myself at all and felt really uncomfortable in my own skin."
Why did you decide to start the plan and why New You specifically?
"I was stuck in a rut . We had just come out of lockdown and I had put on a lot of weight . I was trying everything to lose weight but it wasn't working because I felt like I was depriving myself and then would binge on unhealthy foods . I loved the idea of the new you products and the fact that you could still have things like chocolate and brownies and lose weight."
What attracted you to New You? Did someone recommend you? Was there anything that made us different from other companies?
"The variety of products on the new you plan . Before I had heard about and looked into the new you plan I assumed vlcds were just having three shakes a day and that I would be starving. This isn't the case with New You at all . I've never really felt hungry or deprived on the plan at all. I also loved how easy the plan seemed . This would work out well for me being a busy mam of young kids.
I wasn't recommended new you plan I found out about it when I was scrolling through tiktok and decided to do do some research on it . I read some reviews on trust pilot and I was sold and put in my first order.
The thing that makes you different than other companies is that I personally feel that the people behind the company actually care about you . You aren't just another person making an order to them . They want you to succeed and will do everything in their power to help with that."
How did you feel when you received you first New You pack?
"I was so excited to get started on my New You journey when my pack arrived. It felt like this could be the start of a new life for me . It was almost like receiving a box of hope . I was also really impressed with how well packaged the products were and the sheer amount and variety of products that I received."
What was your first week weight loss and how did that make you feel?
"I lost 9 pounds my first week on plan . I couldn't believe it . I actually thought there was something wrong with my scales and weighed myself on a different scales too. When I realised that the first scales were right I was over the moon and It made me believe in myself a bit more ."
What are your favourite New You products?
"This is a hard question as I love so many of the products . They don't taste like food that you would eat on a diet at all. Everything is so tasty. If I had to choose my top 3 products though I would choose the salted caramel cake which I make in a waffle maker . The chocolate brownie . I have this Every Saturday night as my treat , and Mexican tacos . This is such a filling and delicious meal."
Why did you decide to take part in the transformation challenge?
"I decided to take part in the transformation challenge after seeing past transformation challenge winners who were a massive inspiration to me . I feel like I've come a long way from the person at the start of my New You journey. If I even could inspire one person it would mean so much to me ."
What is the biggest lesson you have learned since you took part in the challenge?
"I've learned so much about myself on this journey. I've learned that I'm capable of much more than I give myself credit for . I've learned how to have a much healthier relationship with food and how to treat myself outside of food eg self care and I learned that I like planning things out ."
How much weight have you lost altogether?
"As of this morning (14/08/21) I have lost 43.6lbs / 3 stone 1.6 since May 10th . My BMI has dropped by 7 from the obese category to just above normal and I have lost 11% body fat. The benefits to my health have been incredible."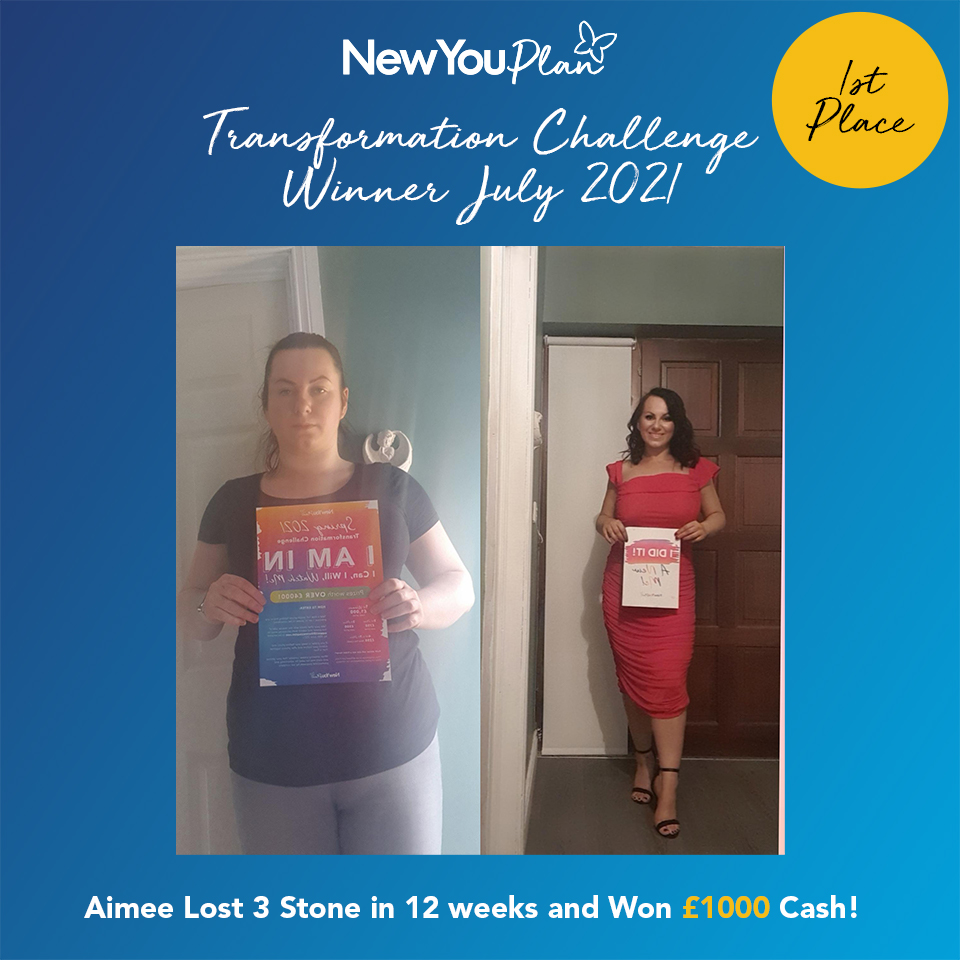 Was there a time that you found the plan difficult and how did you overcome these challenges?
"I felt a bit hungry and had a slight headache on the 3rd day when my body was detoxing . I overcame this by upping my water intake and eating half a raspberry wafer bar."
Do you feel like the support offered by New You such as Secret Slimmer's has helped you on your journey, if so how?
"Definitely. I've never felt support like the the support I've had from new you or our Secret Slimmer's community. You are met with nothing but kindness and people wanting to help you on your journey and you never feel like there is something you can't ask. From the owner , customer services , admin and other members everyone I've met or dealt with on this journey has been amazing."
What is your biggest motivator for staying on track?
"My biggest motivator is how I feel. I've turned into a person who is so much happier and healthier and that has so much more confidence and I want that to last ."
What is your biggest non scale victory?
"Before New You I wore leggings all the time because jeans didn't feel comfortable on me because of how big I had got. I wear jeans all the time now and when I wear leggings it's because I want to wear them not because I have to. I'm also told by people that they didn't recognise me a lot since I've lost weight."
Since losing your weight What is your happiest memory or proudest moment?
"I live on a hill that I used to struggle walking up with my kids . I can now run up that hill with them. I'm much more active and go for regular walks with them which has had such a positive impact on our whole family. Also my first time putting on Jeans comfortably."
Would you say the plan has changed your life and if so how?
"This plan has 100% changed my life . I feel like a new woman . I believe in myself so much more that I did in the beginning . I feel like I can achieve anything I put my mind to and I'm so hopeful for the future .I'm happier and healthier than I've ever been. I will forever be grateful that I found New You."
Would you have any tips you would give to someone who is thinking of starting the plan but is not sure?
"If you don't want to commit long term at the beginning buy a one week or two week kick-start bundle . This allows you to see the results that are achievable to you and it gives you a chance to see the products that you like and that work for you. Read reviews if your unsure. Read through the website . There is so much information on there . Also sign up for the secret slimmer's Facebook group as soon as you make an order and I've also found Julz' emails brilliant."
Feeling in better health now having lost 11% of her body fat, Aimee has learned how to have a more positive relationship with food through the support of the New You Plan.
So many of our customers say that New You has changed their life, and as Aimee says, you don't have to commit to 12 weeks straight away as we offer 1 or 2-week kick start bundles so you can try us out and feel the results for yourself.
Alternatively, if you do want to follow in Aimee's footsteps you can enter our NEW Monthly Transformation Challenge! There are some great prizes to be won, including £1000 cash.