Diet Mindset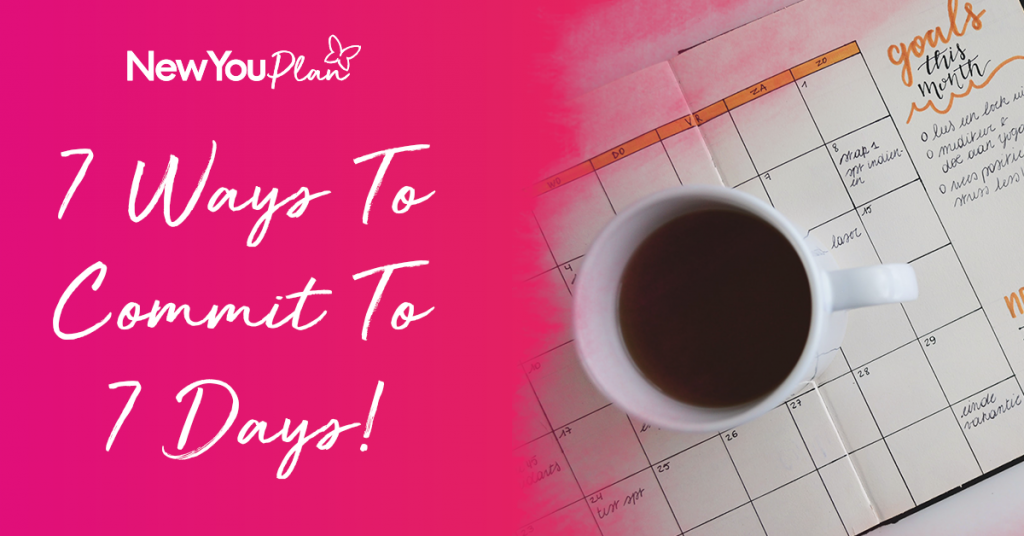 7 Ways To Commit to 7 Days!
7 days, 168 hours, 10080 minutes, or 604800 seconds is all it takes to see a difference in your weight and body with the New You Plan. 
The hardest part is deciding as to whether now is the right time to lose weight – but how long have you been thinking about it? How many tomorrows haven't come? Could you already be at your goal by now if you had just taken the plunge months ago?
Think about it, if you decided to start your weight loss journey today, you would be 7 days into the New You, by this time next week. What would that look and feel like? Increased mobility? Less bloated? More energy? More confident?
The commitment to make a start can be a daunting task but if it's the commitment that could potentially hold you back then we've got you covered with our tips to get you through the next 7 days…and beyond.
1. Tell Everyone
We know this may sound horrific, an image of Macaulay Culkin a'la Home Alone may spring to mind! But if you select the right friends and family, those who you know will be supportive, then you will have someone to be accountable to. This is a great motivator. You don't have to go into detail about how you are losing weight if that feels uncomfortable, just let them know about your journey and future goals. Tell them how they can make your journey easier and what they can do to be supportive. 
2. Make A Plan
Without a plan, you won't succeed! You would never go on holiday without knowing the destination or booking your flights and accommodation. Well, OK, some people do, but you see our point. To get the holiday outcome that you foresee, you put in a bit of planning! It's the same for losing weight. Firstly decide how much weight you want to lose. It doesn't have to be set in stone, you can always change it at a later date, but it's good to have a rough idea. Then consider how long you think it will take you. Next, break that down into manageable goals. Don't forget to consider if you are going to incorporate any exercise into your plan, if so, how much and how often? The great thing is with the New You Plan, exercise isn't essential to get great results. 
Just remember, fail to plan and you are planning to fail!
3. Change Your Mindset
You will need to adjust your mindset. As the once-great Yoda said 'Do or do not. There is no try.'  Believe that you are losing weight, not just trying to lose weight. You're not giving it a go or seeing if it works. Turn that negative mindset around into a positive way of speaking to yourself. You are doing this and it will work and you will look and feel amazing – because you deserve it!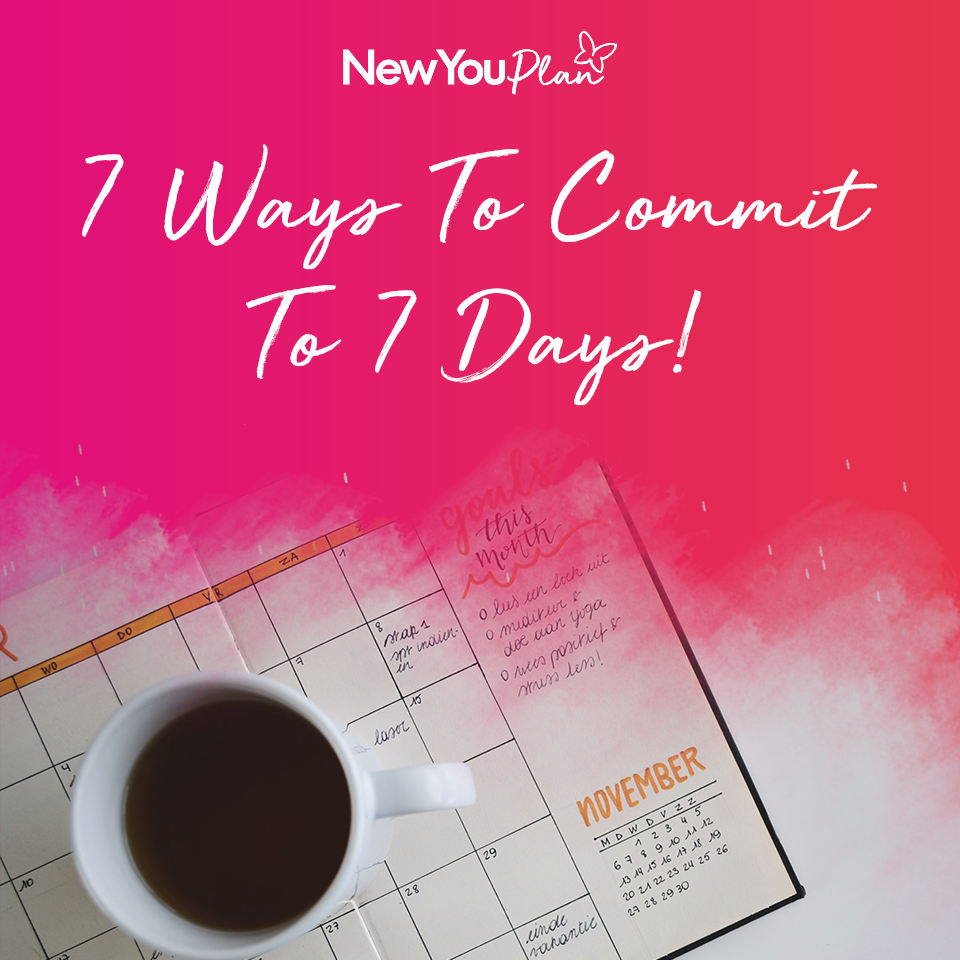 4. Write Down Your Goals
Your goals need to be realistic and achievable, if they aren't then you are setting yourself up to feel like a failure which usually leads to quitting. And you're not a quitter! Just remember, that nothing is set in stone. If you set some goals and you're just not hitting them as you'd hoped, then change them! Also, when you write down your goals make sure you put underneath how you will reward yourself once you've reached each one. You need to celebrate. Make it anything as long as it doesn't include food or drink!
5. Clean Out The cupboards
Banish all tempting food and drink! Get rid of all the junk food in your cupboards and fridge so it can no longer call your name from the kitchen whilst you're watching Netflix. You can always give the food to neighbours or donate it to the local food bank. It's hard, but you really are doing yourself a service. As an additional tip, if others in the house like to indulge in sweet treats, buy the versions that you don't like and then you will have no interest in it whatsoever!
6. Set A Deadline
Have an end deadline and commit to it. This doesn't necessarily mean this will be the end of your weight-loss journey though. You won't know until it gets closer, but the deadline could signal a review or evaluation of how well you've done and what steps you might need to make next. Take it seriously, make it real, make it important and make it count. Put a big red circle around the date on your calendar and set yourself regular reminders on your phone about it. When you announce that you are going on a diet, tell your friends and family your time scale. Accountability for yourself is a big motivator.
7. Make No Exceptions
No excuses! Stop it! There is always a 'reason' why you shouldn't start your weight-loss journey today. You're tired, there's still chocolate in the fridge that needs eating, it's the weekend, a diet should start on a Monday, it's my best friends-aunts-sisters-roommates wedding tomorrow, Gemini is rising with Mercury…need we go on?!
*hands over ears* La-la-la-la-la-la, we can't hear you! There are NO exceptions apart from the one exception you will continue to make over and over if you don't stop making exceptions! Exceptions kill all progress and any hope for successful weight loss. 
You owe it to yourself to stick to your commitments.
If you need more help and advice, check out our other blogs, they are full of information and useful tips. Also, once you order your first New You Plan pack you will get access to our exclusive Secret Slimmer's Facebook page. It's our amazing community of slimmer's who are itching to support you on your toughest days and celebrate with you on your best.