Joint Effort – How A Calorie Intake Can Influence Inflammation

Do you suffer from inflammation or joint pain? Here, we discuss a recent survey which showed that arthritis patients who were put on a Very Low Calorie Diet for 12 to 16 weeks saw major improvements!
Burning, intense pain. Aching back, stiff fingers and sore knees. Fatigue. Living with inflammation isn't easy and carrying out simple, everyday tasks can often be painful and difficult.
Inflammation is our body's means of defending itself against infection. When inflammation becomes chronic however, it can lead to cardiovascular and neurological disease, cancer, diabetes and arthritis. We often hear that certain foods or vitamins can lower inflammation in the body, but a new study suggests that there's a simple thing we can do to cut inflammation: Eat less.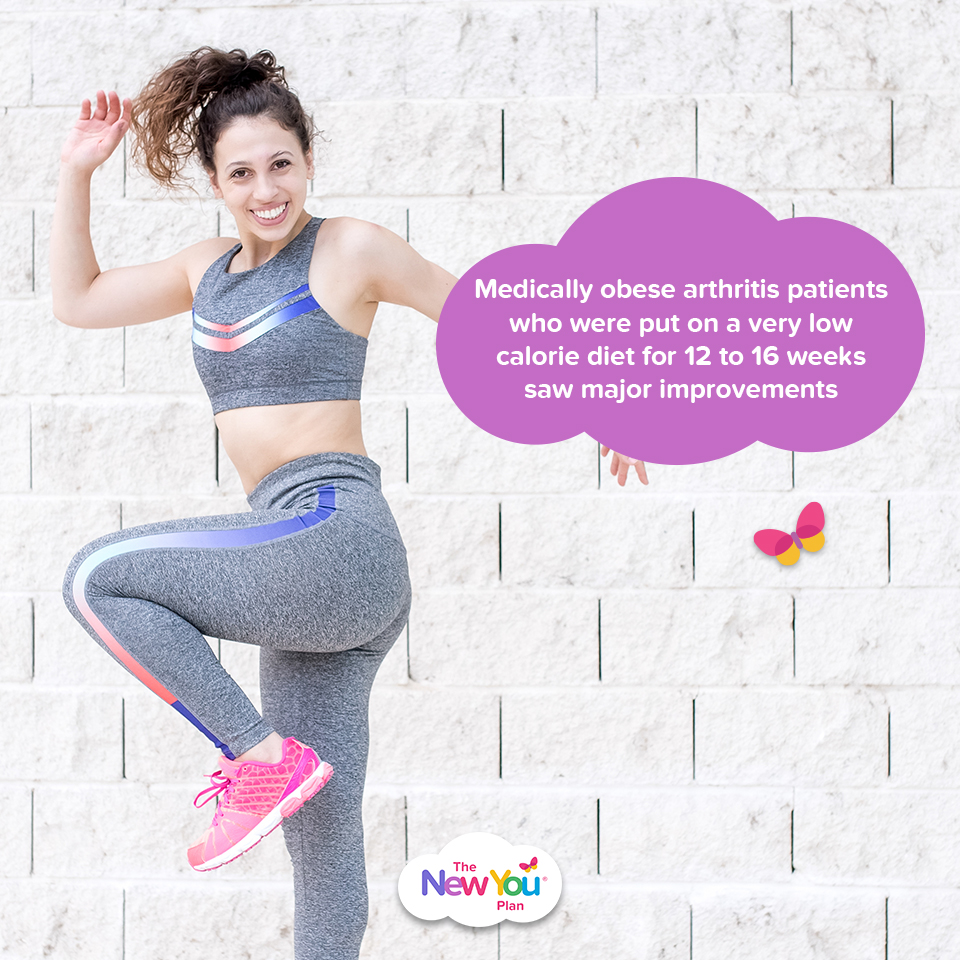 In a new study, published in Arthritis Research & Therapy, medically obese arthritis patients who were put on a very low calorie diet for 12 to 16 weeks saw major improvements: Their swollen joint count decreased, CRP (an inflammation marker) decreased, and overall health, pain, and fatigue got better.
Our customers at The New You Plan have experienced dramatic reductions in pain from following our meal plans. Similar to the medical study published in Arthritis Research & Therapy; The New You Plan is a Very Low Calorie Diet which results in an average* weight loss of 1 stone a month.
VLCD diets such as The New You Plan are recognised by the NHS as an effective tool in the fight against diabetes and obesity. By reducing calorie consumption and ultimately reducing body fat, there are less fat cells to release pro-inflammatory chemicals. This combined with less pressure on joints due to a decrease in weight results in New You Plan customers experiencing significantly less joint pain.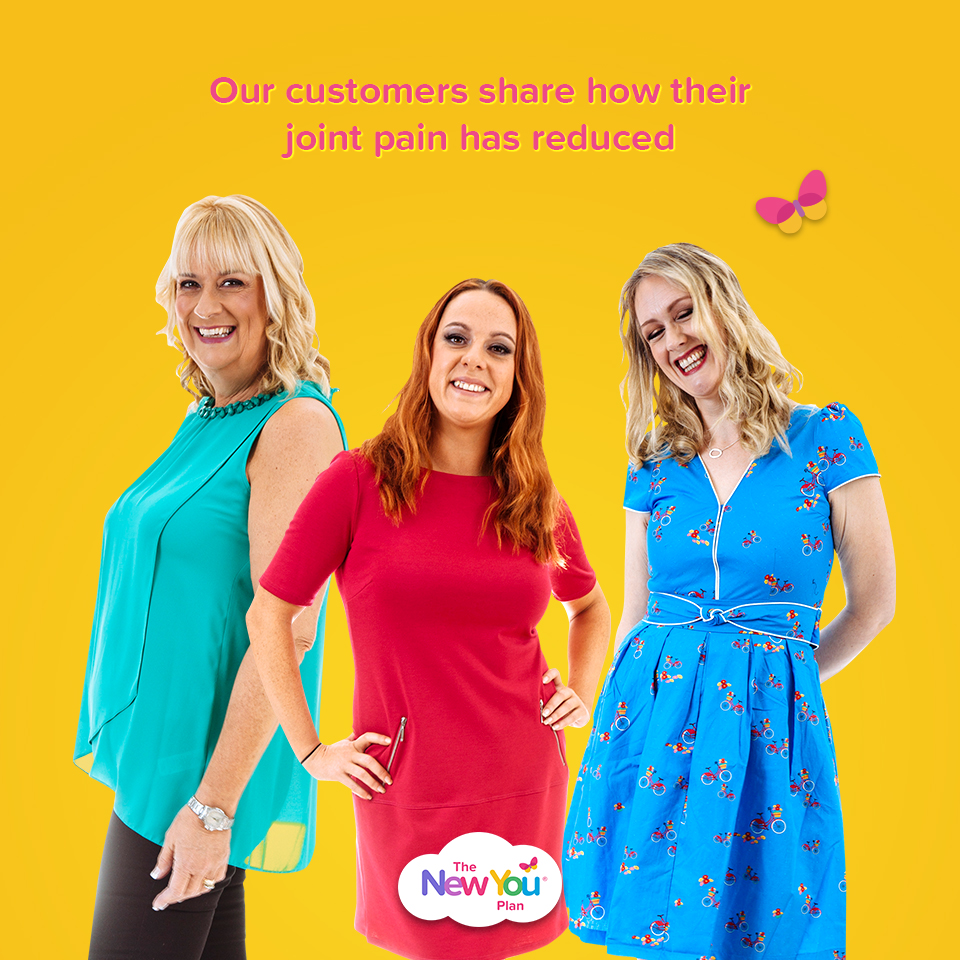 This is just a selection of comments from our customers:
"I'm wondering if anyone else has had joint pain that's gone away since starting the plan? I have been suffering for ages with bad knees, literally staggering off the sofa and hobbling down the stairs, putting it down to old age and too much weight. But today I skipped downstairs and jumped off the sofa!"
"I had painful feet and ankles from being overweight, although I'm still overweight I'm a lot more flexible and pain free and have almost as much energy as my kids."
"Can anyone relate to this? I am 6 days into plan and all the joint pains and stiffness I had, have vanished."
"I have IBS – my inflammation in my tummy was +100 in my blood tests – with this plan and losing weight my last blood test was +2"
"My joints were hurting me so much before, my hips and I had a pain in my lower back every day. I even bought a new mattress. Now all of that pain has gone."
If you think that drastically cutting calories on a Very Low Calorie Diet such as as the New You Plan would be torturous, don't be so sure. After the experiment ended, the overwhelming majority of participants rated the initial Very Low Calorie Diet (powder-based soups and shakes) phase as "much easier than expected" or "easier than expected."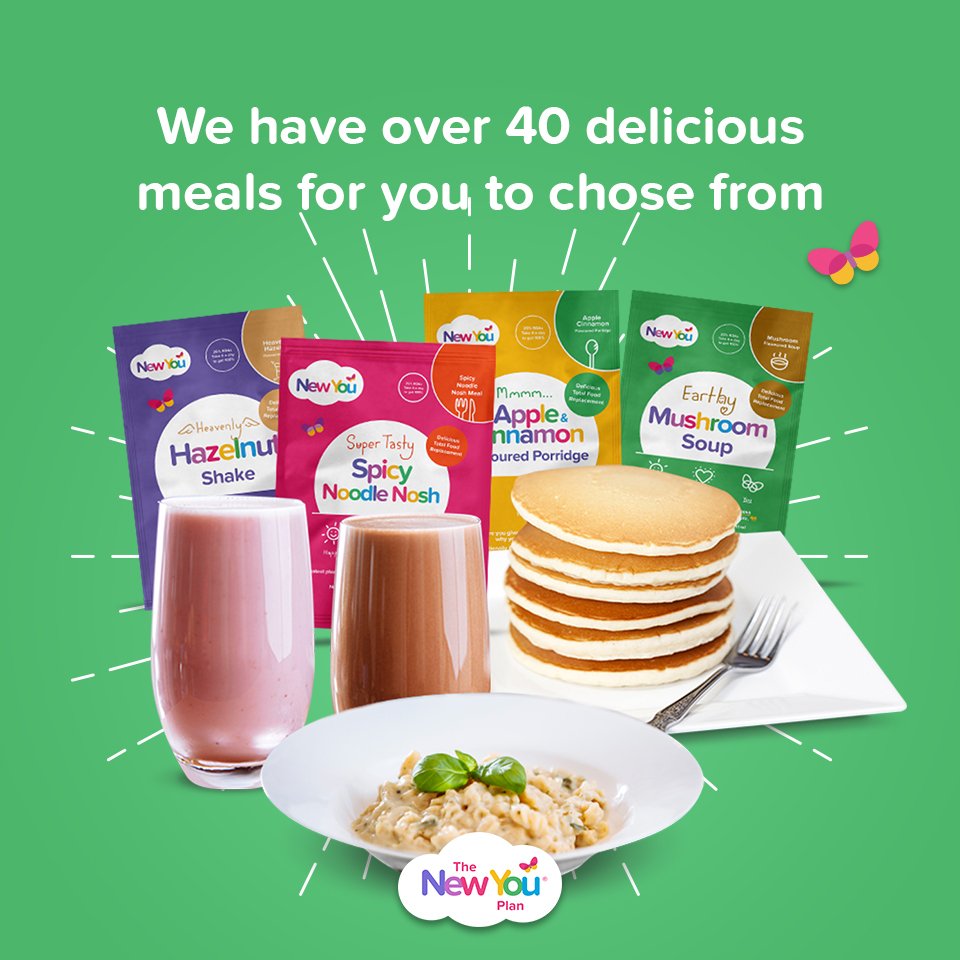 At The New You Plan we have over forty delicious meals for you to chose from including shakes, soups, bars and hot meals. We are not one to boast but our food as been described as 'the best tasting meal plan yet' and we are consistently rated as excellent on Trust Pilot. Many of our customers experience such positive health benefits they say they wish they had found us sooner.
What health improvements might you experience by following The New You Plan? Click here to find out how to GET STARTED.
Are you ready to get started on a really, really, really easy diet plan?


Getting started is the first step in your journey to a brand New You! To help you understand fully how our plan works, our Get Started page with designed specifically for people new to the plan.
Head over to our site where you'll find tonnes of important information including how our plan works, the science behind it, loads of top tips, information on our meals, as well as real customer testimonials.
Click here to visit our Get Started page!