Before & Afters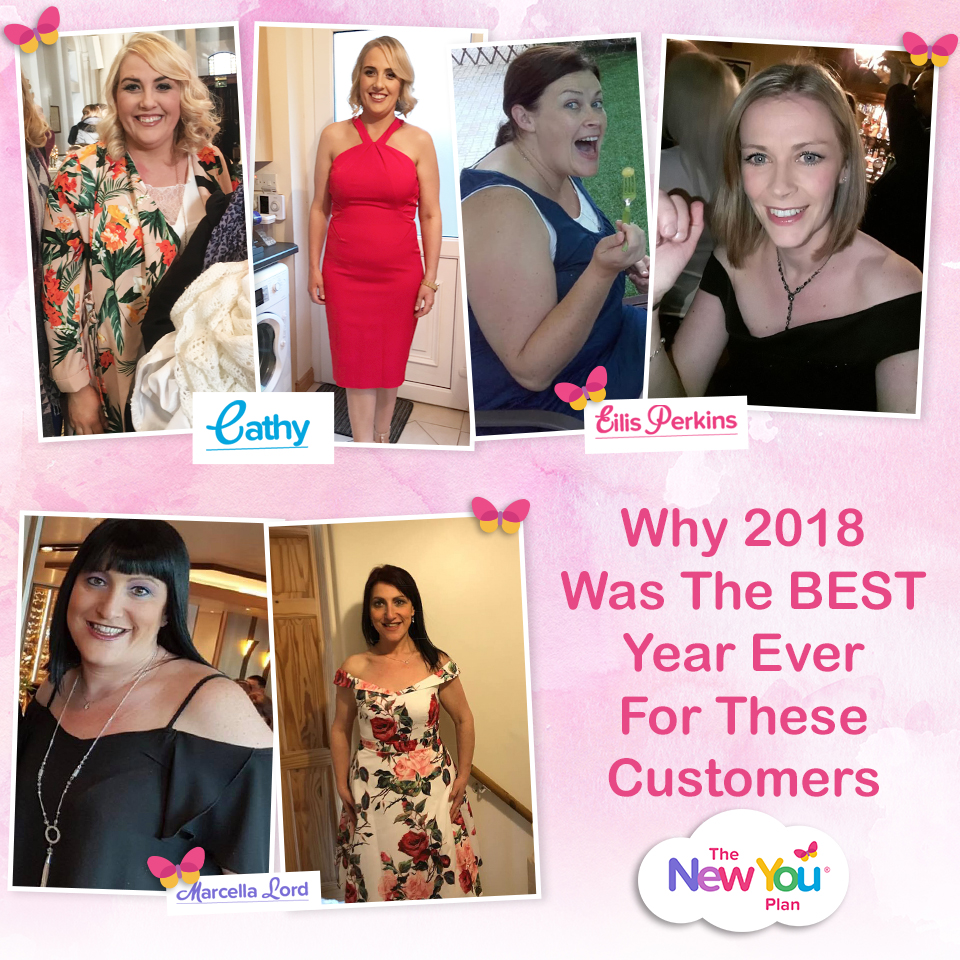 Why 2018 Was The Best Year EVER For These New You Plan Customers

As 2018 comes to an end, it's wonderful to look back and see what an amazing year of transformation it has been for so many of our customers.
Here, customers Eilis, Cathy and Marcella share how their lives have changed this year and how you could make 2019 YOUR year!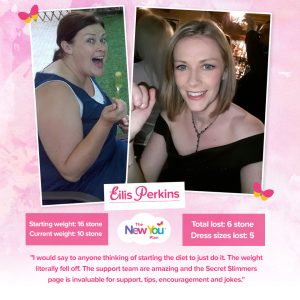 Name: Eilis Perkins
Starting weight: 16 stone
Current weight: 10 stone
Total weight lost: 6 stone
Dress sizes dropped: 6
"I started the diet in July 2017 and reached that goal in January 2018. I maintained the weight for 6 months but decided to lose another stone before I turned 40 in July, which only took a month.
When I started the diet my second son was 6 weeks old but I finally felt like my head was in the right place to start. Once I had the all clear from my doctor, I placed my order and never looked back.
My life has changed for the better in so many ways. Now I have energy to run around after my two boys and I am no longer in constant pain. I can shop in any shop now and have a new found passion for fashion which I never had before. Also I am so much more confident since losing the weight and my husband loves the new me.
I would say to anyone thinking of starting the diet to just do it. The weight literally fell off and I have introduced 8 people to New You after they saw how well I had done. The support team are amazing and the Secret Slimmers page on Facebook is invaluable for support, tips, encouragement and jokes.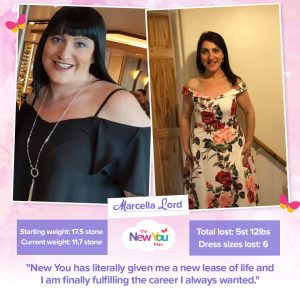 Name: Marcella Lord
Starting weight: 17.5 stone
Current weight: 11.7 stone
Total weight lost: 5st 12lbs
Dress sizes lost: 6
"In August 2018 if you had said I was going to be a Secondary School Teacher I would have laughed out loud. Kids can be awful and I know I would have been made fun of for being overweight. Now I stand in front of all year groups and the one thing I know is that they can't call me fat!!
It sounds ridiculous but New You has literally given me a new lease of life and I am finally fulfilling the career I always wanted, but because of my appearance I have always been too scared to pursue it.
If I could offer any advice it would be to make sure you are doing this for yourself and don't allow other people's negativity to deter you on your New You journey!"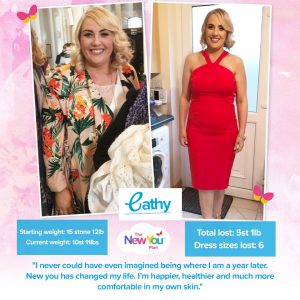 Name: CathyMcEnerney
Starting weight: 15st 12lbs
Total lost: 5st 1lb
Dress sizes lost: 6
"On New Year's Eve last year I was so unhappy with my weight. I never could have even imagined being where I am a year later.
New You has changed my life. I'm happier, healthier and much more comfortable in my own skin. I'm a before and after success story!
For anyone thinking of starting, just do it, you won't be sorry! It's tough, but the end result is so worth it. This plan will change your life."
____________________________________________________________________________________________________
Get started on the BEST TFR Plan TODAY!

Getting started is the first step in your journey to a brand New You! To help you understand fully how our plan works, our Get Started page with designed specifically for people new to the plan.
Head over to our site where you'll find tonnes of important information including how our plan works, the science behind it, loads of top tips, information on our meals, as well as real customer testimonials.
Click here to visit our Get Started page!
*Everyone is different, and we can't guarantee how much weight you will lose. Check out our success stories to see what our customers have lost.