Before & Afters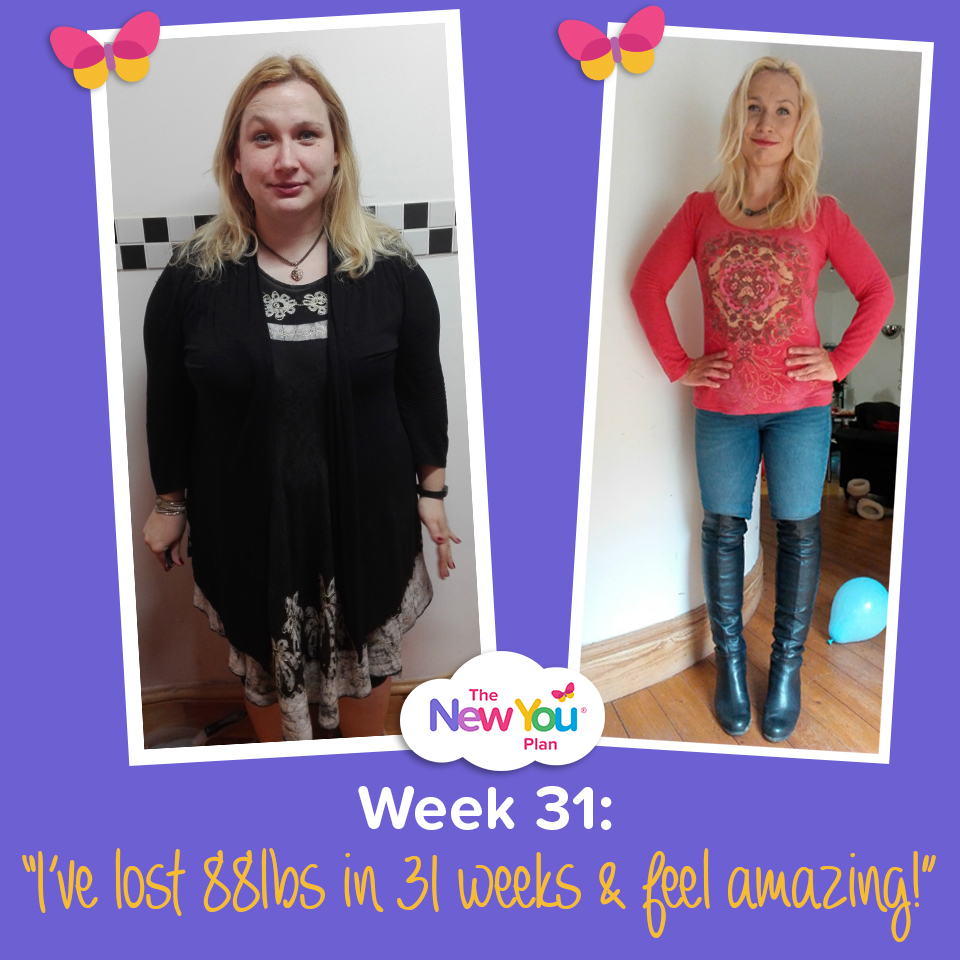 Week 31: "88lbs Lost On TFR & I Feel Amazing!"

Week 31 on TFR, customer Hele has lost an incredible 88lbs and is itching closer to her end goal. This week her advice is all about making small goals and celebrating every success!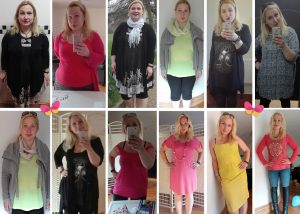 I have lost another 2lbs this week, which brings my total TFR weight loss of 88lbs, which is exactly 40kg in only 31 weeks. It is funny to think about it – I have lost almost as much as my 10 year old son weighs!
My week went pretty quietly but once again I had to remind myself to plan ahead! I was running out of all my favourite packs and so it changed my usual daily routine. I was thinking that it doesn't matter – because I had other packs – so everything should be ok. But it does make a difference. Luckily this diet allows us to choose between so many nice meals and when you get used to the idea that the meals are like treats for you then it is not that easy to "just eat".
On the Secret Slimmers page I noticed that so many people are posting about their big goals . Someone planned to lose 80lbs, while someone is aiming for 50lb. And I also noticed that it was a bit intimidating for them – and I can so relate!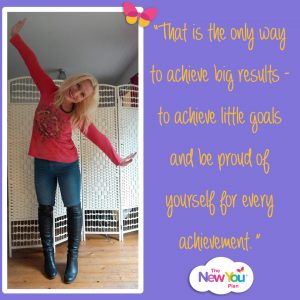 My first goal was to lose 100lbs. I am not sure I will loose 100lbs anymore but it will definitely be close to that. When I began my journey, I rarely thought about the big number – because it wasn't real for me – it's just too much. I know I didn't have any confidence as well – even losing a stone felt impossible – let alone 100lbs. So from the start I cut my goals into mini goals. That is the only way to achieve big results – to achieve little goals and be proud of yourself for every achievement. So it doesn't matter if you decide to lose a stone, half a stone – be proud of every little win you have!
So another week has started! I have received my new bundle so I am really looking forward to getting back to my routine. My ideal daily meal plan is  pancakes for breakfast, cottage pie or spicy noodle nosh for lunch and pasta carbonara and chocolate brownie for dinner!
I understand that a lot of people don't like routines but with this TFR diet, I absolutely love it. Because my favourite meals taste so good, what is there not to love?!
Until next week!

_____________________________________________________________________________________
Take your first step with The New You Plan today!

Getting started is the first step in your journey to a brand New You! To help you understand fully how our plan works, our Get Started page was designed specifically for people new to the plan.
Head over to our site where you'll find tonnes of important information including how our plan works, the science behind it, loads of top tips, information on our meals, as well as real customer testimonials.
Click here to visit our Get Started page!