New You Plan Blog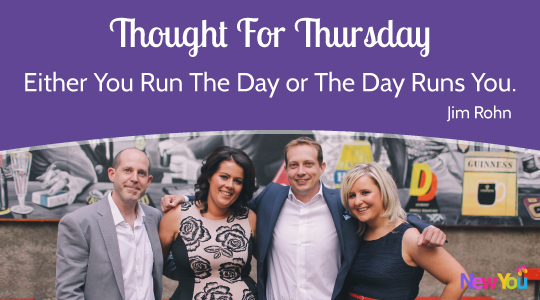 [Video] The New You Plan Thought For Thursday
Thought For Thursday
Either you run the day or the day runs you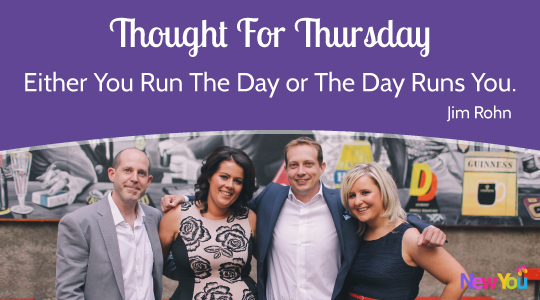 When I did the TFR diet with The New You Plan the element of the process that was the tipping point for success was being able to keep the diet out of the destructive path of a bad day. I told myself that the diet was something that I was doing for myself and no amount of external intervention or pressure was going to impact this process.
It was almost like creating a barrier in my mind for this one element of my life that was completely unaffected by external forces. This was the place where I had complete control!!! The reason I believe this worked for me is because as a person with responsibilities to others we often have to give to the point where our own needs are sacrificed – by putting a label on just one thing (the diet) and calling it my one need I was able to justify any sacrifice necessary to achieve this.
This is something that I want to pick up with you today. Today's task is going to be that key element that allows you to succeed and get that one goal that means more than any other to you. It is going to give you the ability to turn down the food at the Christmas dinner, avoid the drinks at the party afterwards and will ensure you remain focused under the pressure of the holiday planning period!!
Todays Task: 
As I had hinted above what I really hope to achieve today is finding out that one thing that makes it possible for you to keep steaming ahead. It does not matter if this tip is an action that you perform to bring you back on track or a mindset tip that keeps you grounded. It is that one thing that lets you RUN THE DAY!!!
[box type="download" size="large" style="rounded" border="full"]Comment below and be in with a chance of winning one of our awesome prizes:[/box]
See you tomorrow 🙂
Kind regards
Grant