Before & Afters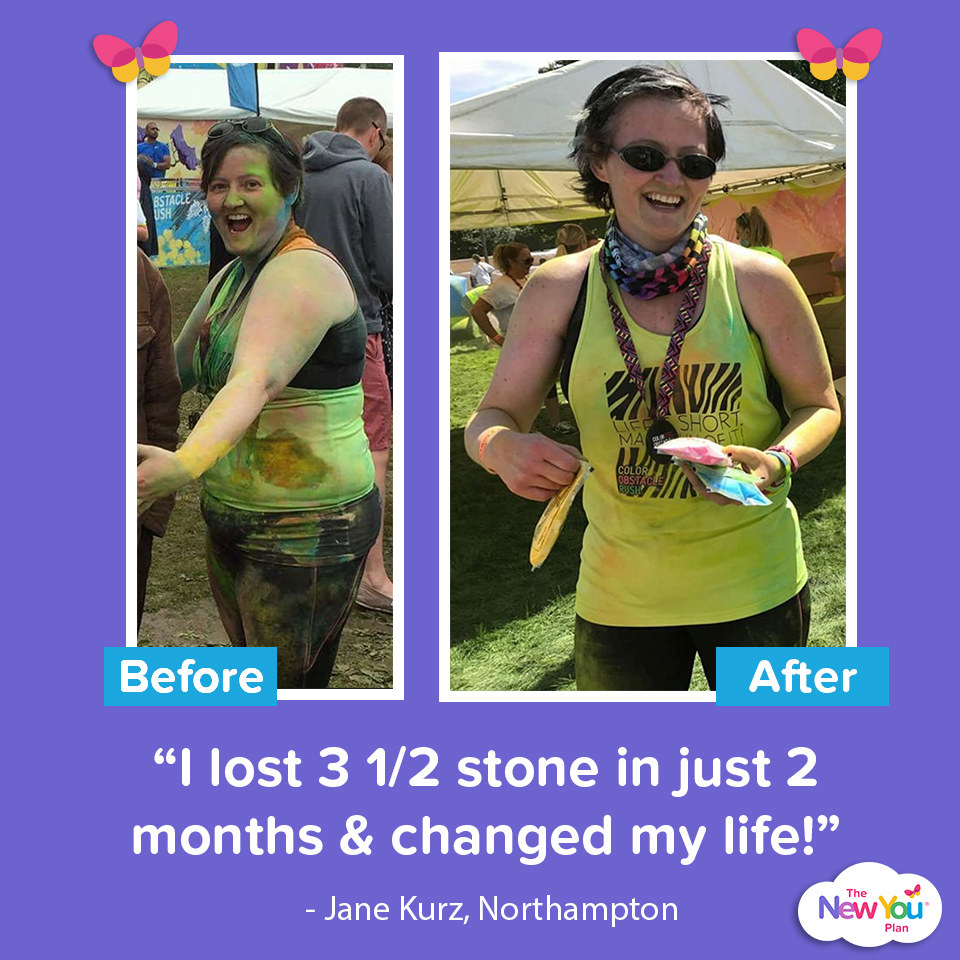 [ Success Story ] – Jane lost 3 1/2 stone in just 2 months!* Find out how..

Like many of our customers, Jane's busy lifestyle made it difficult to control her weight. She tried every diet plan, including Weight Watchers and Diet Chef, but the results were minimal. And then, thanks to a recommendation from a friend, she found The New You Plan.
Today, in her success story interview, Jane opens up about how it felt to be overweight and how losing an incredible 3 stone 6 pounds in only 2 months has completely changed her life for the better.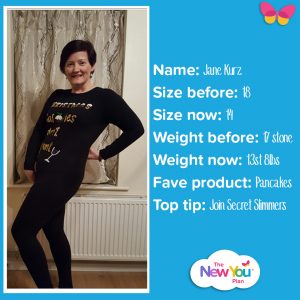 Jane, what do you think led to your weight gain?
I have never been a skinny person, in fact my own saying is that 'I was born at 11 stone'. This is because the lightest I was ever was 11 stone as a teenager and I don't remember being any lighter. Growing up my parents had my thyroid tested and tried dieting and nothing seemed to matter. Yet I was incredibly sporty so I was not a "couch potato". So whilst this sounds heavy it actually suits my body build and height.
My weight gain journey really started around the birth of my daughter. I did the Atkins plan in preparation for pregnancy and got down to 12.5 stone. I felt in a good place when I fell pregnant in 2003. I put on a little weight during my pregnancy but lost the majority of it straight after the birth and was about 13 stone after having Amber. However as Amber got older I picked up a really bad habit of "hoovering up" leftover food. This is when the weight started to creep on.
I kept telling myself it didn't matter and after a couple of years I managed to kick that habit. This left me about 14 stone. I was not happy with this and over the next few years I tried various diets and even had a personal trainer in an attempt to get back down to where I was. But when it did not work it made me depressed and I ate more! The fatter I got the more depressed I was and I ate more until last year when I reached a massive 17 stone!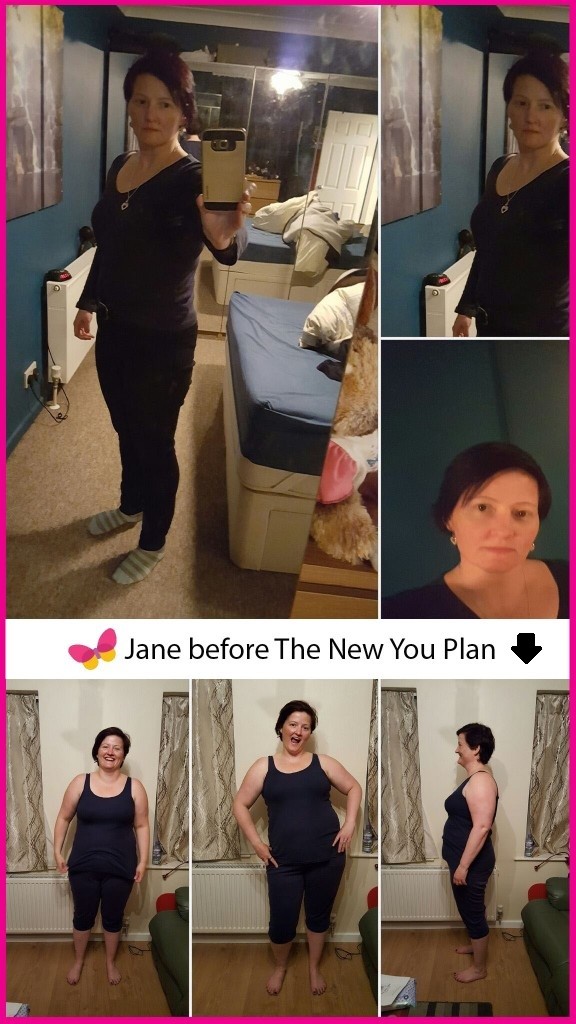 How did you feel before starting the plan?
Deep down I was totally disgusted with my body. I banned all photos of myself and kept telling myself that I was destined to be fat and 'what does it matter?' as I have a loving daughter and husband and no health issues. However I was still very sad and felt really lonely in my own skin. I wanted to be a role model for Amber and despite having ensured that she does not eat badly and has no weight complexes I felt I had failed her.
How did you find the plan when you started?
There were two major factors that made me rethink weight loss and they were:
Firstly, my daughter has and always will be very photogenic and we have lovely adventures, but slowly the photos of the adventures have become all of her.
Earlier this year we went to Wickstead Park and Amber wanted to do the Zip Line. Now this is something that I would normally have done with her, but I could not as I knew I was over the weight limit. Luckily I did not have to embarrass myself by getting this publicly declared as she is old enough to do this alone. It made me sad to think our adventuring was now effected too. I started to worry about this as I want her to look back and remember I was part of these.
The second and final tripper for me was that my lovely "skinny" husband had a health issue that was linked to high cholesterol and for the whole of the summer we were worried if he would still be with us for Christmas. He is only 47, and I started to think about Amber's future. I knew deep down my weight would eventually effect my health too (I am 42) and I did not like the idea of Amber being orphaned.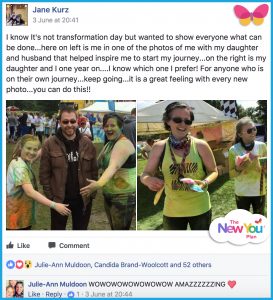 How did you hear about the New You Plan?
I admit I had never heard of New You but I decided to do some research into Total Food Replacement as my friend has had success with a similar plan. Another friend had tried both New You and Lighter Life and she recommended New You. I actively compared the two and found that New You shone over its competitors for the following reasons:
I preferred the menu choices for the main meals
Cost – There is a cost to join the support group in Lighter Life.
Support – I am a very busy person so it is nice to log into the support group when I have some free time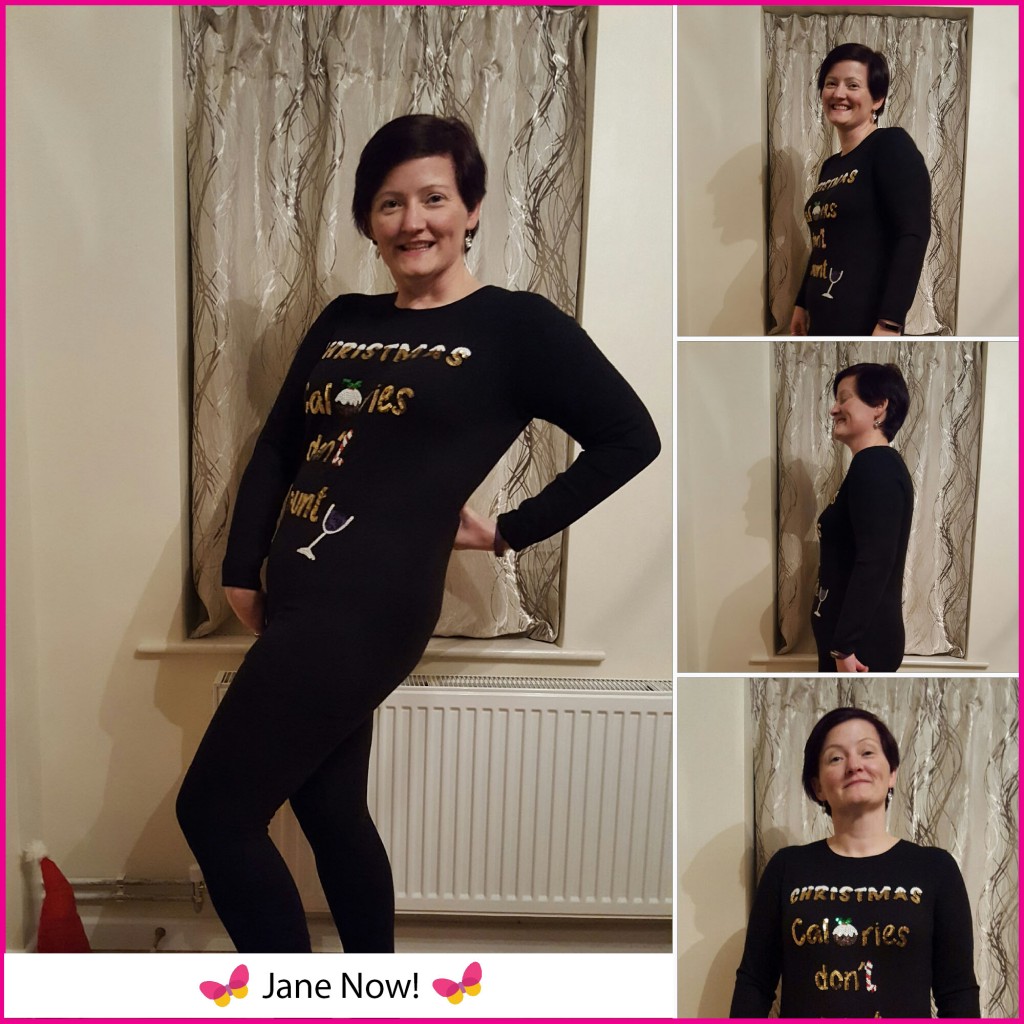 What made you chose Fast Focus?
The reason I chose to do Total Food Replacement (TFR) is that I needed to be sure on portion size and I am not a great cook. So anything quick and easy without having to weigh things out is perfect for me.
How long have you been on plan?
I made the decision to start the plan on the last two days of the school holidays. So I treated the bank holiday weekend as my "last supper" to have my favourite meals prior to starting. With Amber eating at school it was a great time to avoid temptation in the kitchen. The 1st of September was day 1 for me as I also felt if I started on the 1st of the month it would be easier to monitor weekly progress.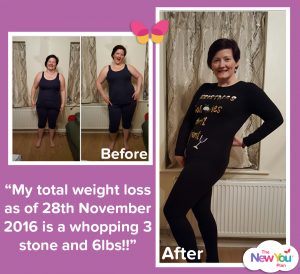 How much weight have you lost?
My total weight loss as of 28th November 2016 is a whopping 3 stone and 6lbs!!
Tell us about your experience on the plan?
The team are great. I have to say the day 1 -to 7 videos you receive are great and I am not sure that I would have been so motivated without them. I also found that when I had any queries they have been so quickly and politely answered that it makes me feel like a "treasured customer" rather than a cash cow. I enjoy all the meals but my favourites are Pancakes, Burgers, Brownies and Bars as you feel like you are cheating even though you know you aren't.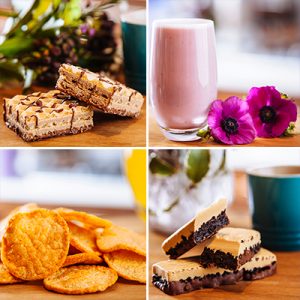 Describe a typical day!
– Breakfast – Oatmeal Porridge or Pancakes
– Lunch – Shake
– Dinner – Spicy Noodle Nosh or Spaghetti Carbonara
– Snack – Usually a bar around 10:30am at work

How did you find Secret Slimmers?
Secret Slimmers is my lifeline. It helps me not feel alone on this journey. The support the members give each other is second to none, and if you are busy like me you can fit it in when you need it. I love the fact people really know what you are going through. It's real people on this forum who have or are doing the diet in the here and now. All too often in the past I have had 'supposed support' from diet specialists that have left me feeling patronised and demotivated. I always love reading how other people are doing, the ups and downs, celebrating their success and helping give support on their low times. It's better than a soap opera.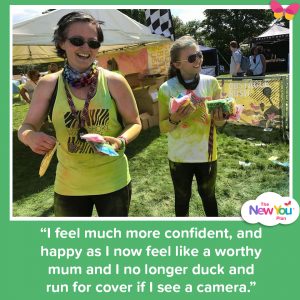 How do you feel now?
I feel much more confident, and happy as I now feel like a worthy mum and I no longer duck and run for cover if I see a camera. I also love the feeling that my clothes are too big and I am finding that my energy levels are high so that makes any exercise easier and more enjoyable. I enjoy the fact people notice and are saying positive things to me which is great.
'I am now 13 stone 8lbs and wear a size 14.'
I still haven't reach my goal but I am on the right track. I would like to lose a further 1.5 stone and get to 12 stone.
How has the journey changed you?
I am so much happier. I go to adult dance fit classes, Zumba and run the Park Run. The exercise is easier and I love taking part weekly. Now when I get sweaty I know it is all helping me reach my goal and this motivates me.
"I have inherited the nickname of the "incredible shrinking woman".
How do you feel your mindset has changed?
I was a bit conscious that once I come off TFR that I would go back up but I recently had a 3 week refeed and I found this incredibly easy. I now look at food as something to enjoy in moderation. I have a "little of what I like" but not something that is needed to make me feel happy.
*Weight loss results may vary. This is not a guarantee.
_____________________________________________________________________________________
Start Your TFR Journey Today!

The first step in your journey to a brand new you begins with getting started! So that you can fully understand how our plan works, our Get Started page was designed specifically for people new to the plan.
Head over to our site where you'll find tonnes of important information including how our plan works, the science behind it, loads of top tips, information on our meals, as well as real customer testimonials.
You can visit our Get Started page by clicking here.