Before & Afters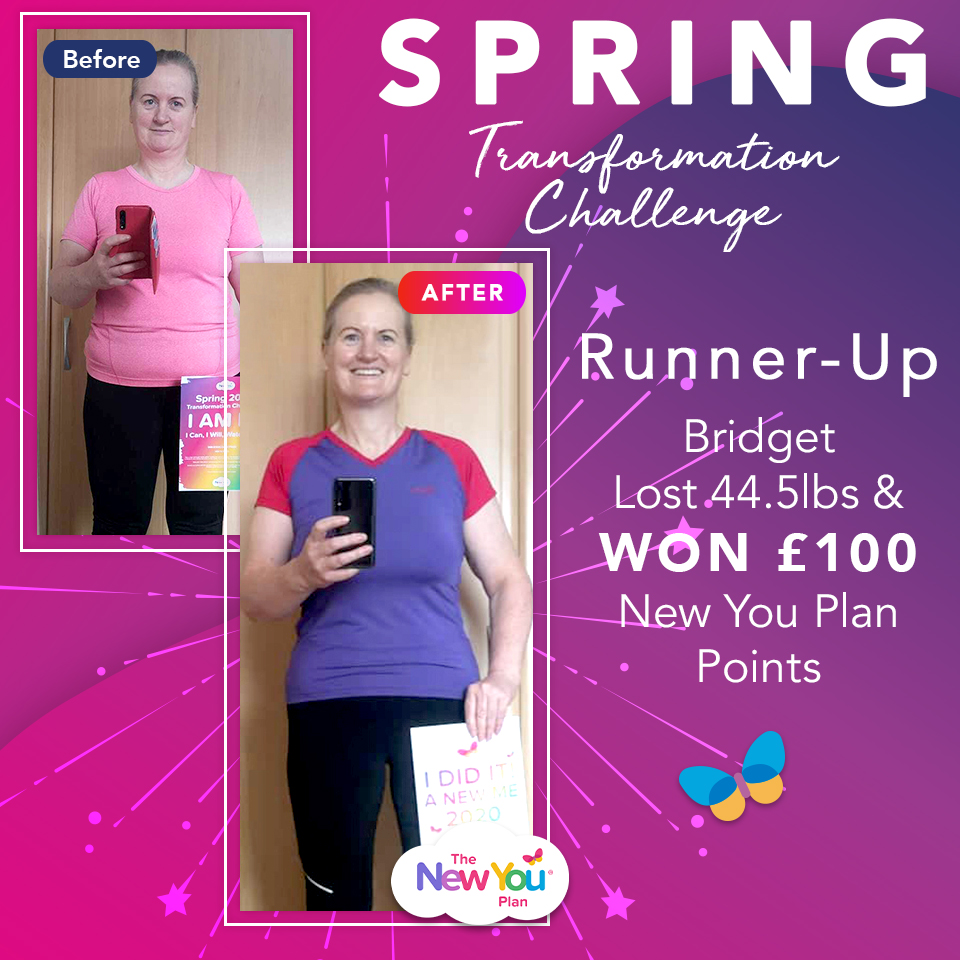 Spring Transformation Challenge Runner-Up Bridget Lost 44.5lbs & WON £100 New You Plan Points

To make herself accountable, Bridget joined our Spring Transformation Challenge. In just 12 weeks she lost 44.5lbs, went from a size 20 to a size 12 & was named Runner Up, winning £100 New You Plan points.
Here, we caught up with Bridget to find out about her time on plan and she also shares some amazing advice for anyone thinking of trying it out for themselves.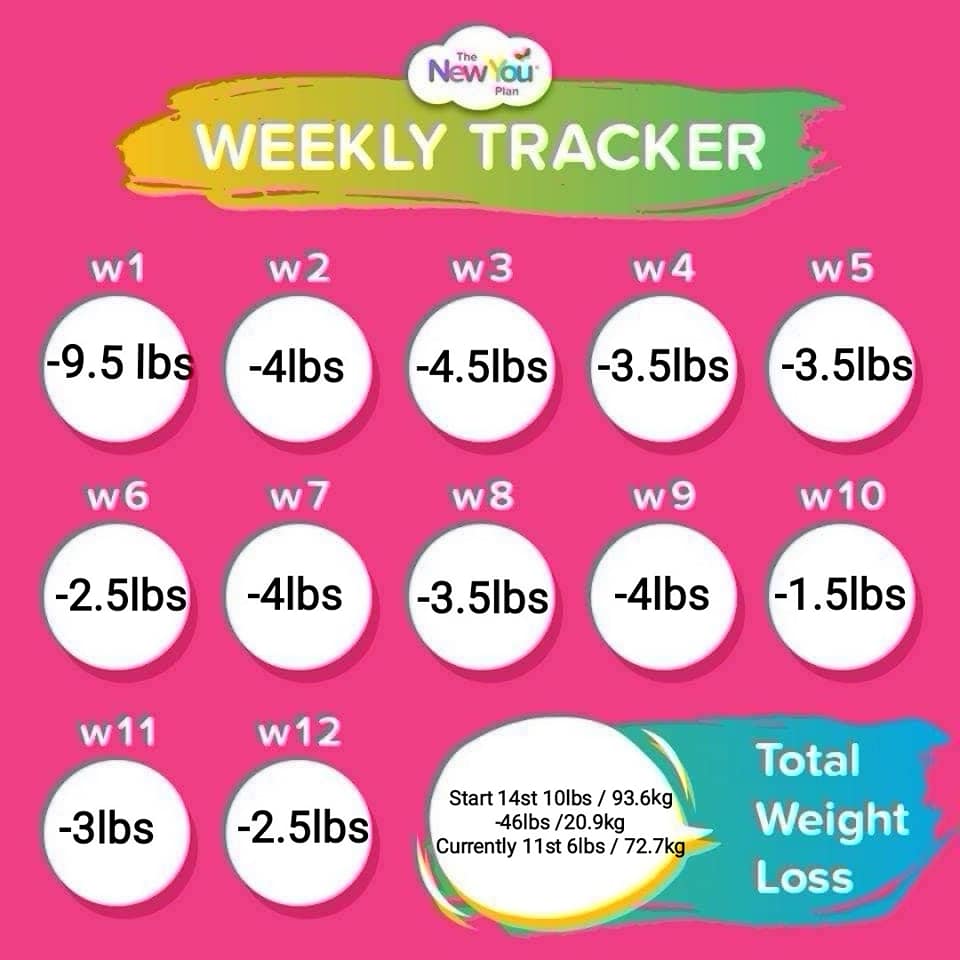 Bridget why did you decide to take part in the 2020 Transformation Challenge?
I decided to take part in the 2020 Transformation Challenge to give me additional motivation for my journey and to keep myself accountable for my progress. I really liked the idea of documenting my efforts with photos so I could see the positive changes my body was making and not just to feel the changes. That also motivated me to keep working on my transformation. Being part of the challenge was great fun. The support and compliments that I received from other group members and New You Support was phenomenal. This boosted my confidence and self esteem and helped my personal growth. Also, seeing the amazing transformations of my fellow dieters was truly inspirational.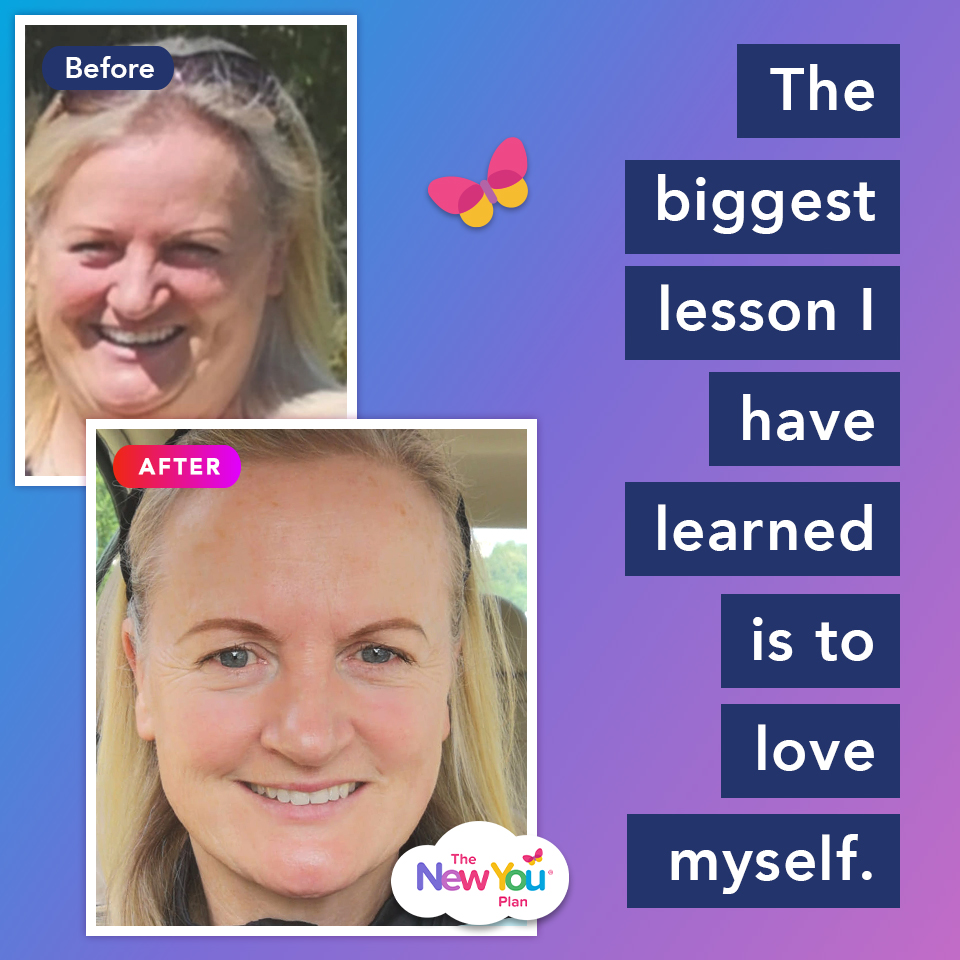 What's the biggest lesson you've learned since taking part in the challenge?
The biggest lesson I have learned is to love myself. That may sound vain but it's not. It's self care. When I love and care for myself and what I have achieved, I will respect the New Me and not want to sabotage my achievement. I will respect myself and my body more. It's a vessel I dwell in and it will serve me well if I treat it well. This encourages me to find other methods to treat or comfort myself instead of abusing food.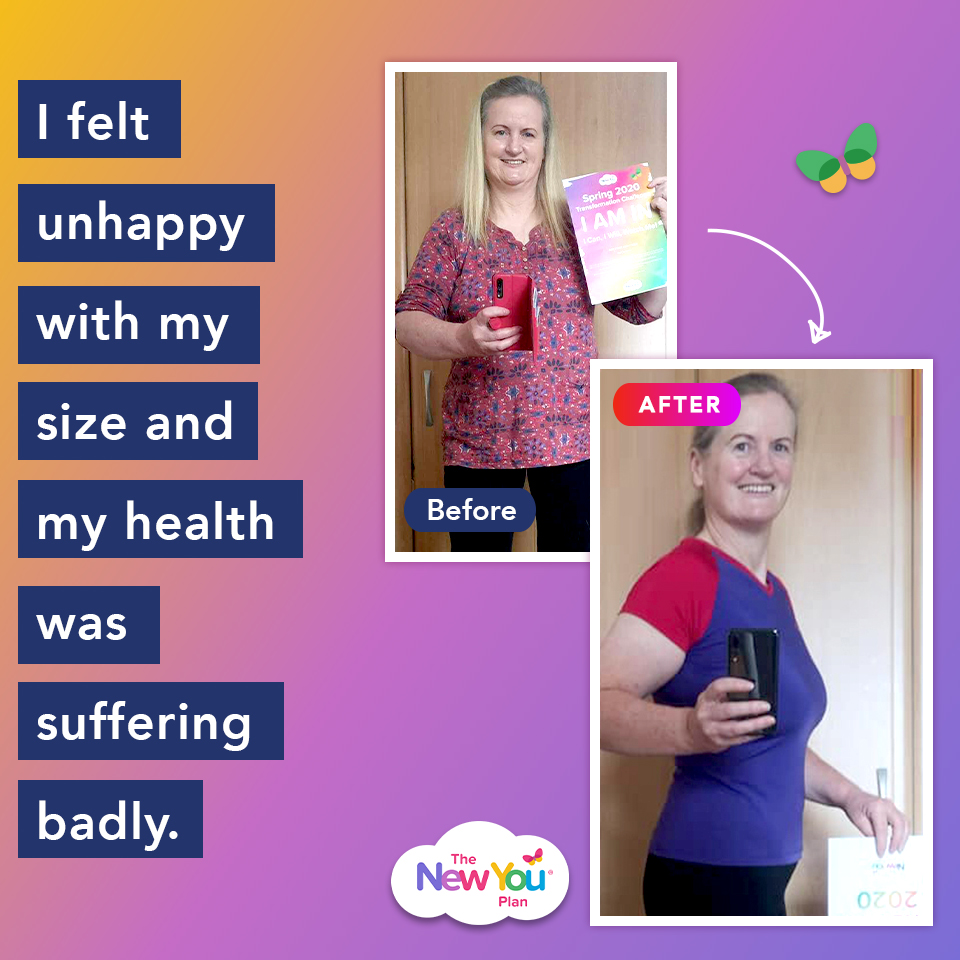 Describe how you felt before you started the plan?
I felt unhappy with my size and my health was suffering badly. I was a pre-diabetic, taking diabetic medication. I had high cholesterol. I was diagnosed with mild sleep apnea. I had a very sore hip and periodically sore knees. I didn't dress up and hadn't bought new clothes for a long time because I was sick of buying size 20 clothes which weren't very stylish anyway. I didn't bother with makeup and didn't really make an effort to socialise as my self esteem had taken a nosedive.
How did you discover The New You Plan?
I had lost 7lbs in the 3 weeks prior to coming on the plan but I knew I could not continue the dieting without a proper plan or support in place. I Googled on line to find a dieting plan. I found New You with its colourful packets and positive reviews. I just knew this could be the plan that would suit me.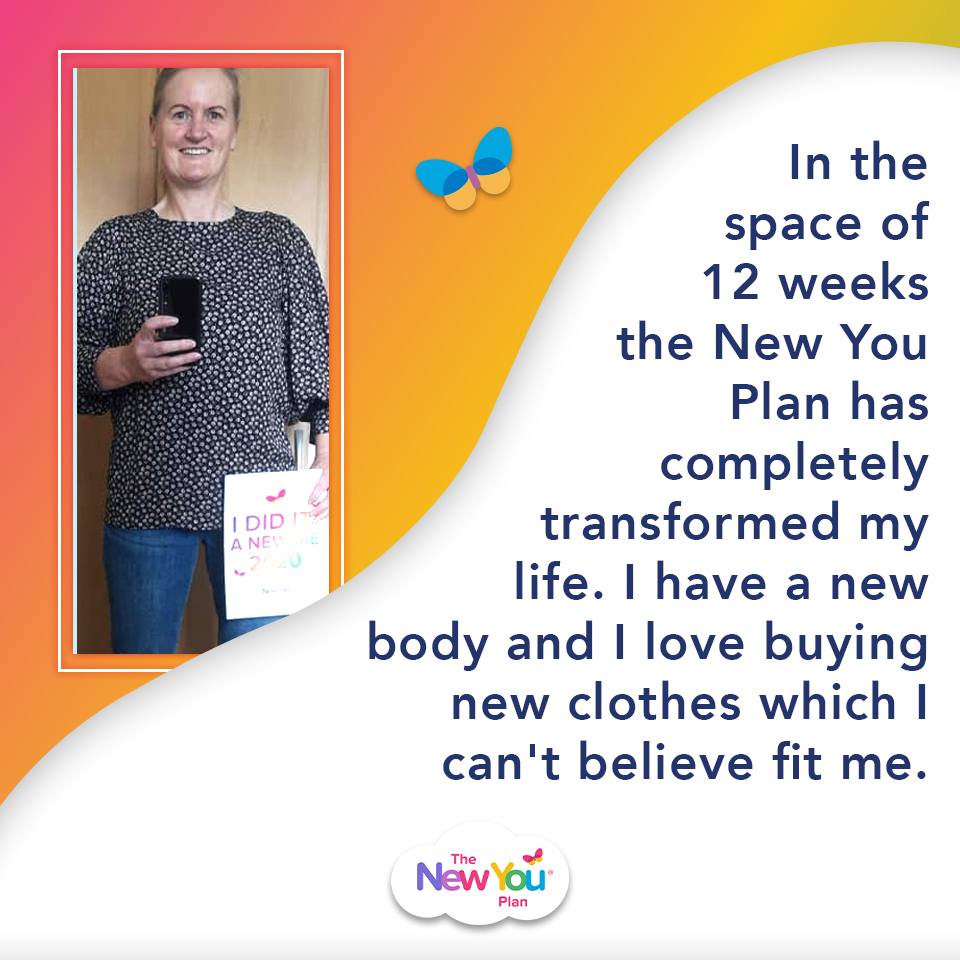 How has the plan changed your life?
In the space of 12 weeks the New You Plan has completely transformed my life. I have a new body and I love buying new clothes which I can't believe fit me. I look in the mirror a lot more and I like what I see. I try to look my best everyday to show off my body that I worked hard to achieve. I am also more outgoing, more chatty with everyone and smiling a lot more. All the lovely support group and team comments helped to put the smile back onto my face. My cholesterol has dropped to a healthy range. I no longer have prediabetics nor am I on diabetic medication now. My sleep apnea is gone. I sleep well, get good rest and I don't keep the house awake at night. I don't feel embarrassed about my epic snoring anymore because I no longer do. I am fitter. I love cycling and walking. I have lots of energy. I am more organized, thanks to my New You Journals and I get a lot more done in my days. I am also chasing my dreams which I never did before.
What was your biggest motivator in staying on track?
I use the New You Journals everyday since I started the plan and this has helped me to value myself more. In valuing myself more and being proud of all my efforts I am less likely to cheat and abuse my body with food. Experiencing the rapid results is a huge motivator for me to stick with the plan. It obviously works. Also seeing the fantastic achievements and transformations of my fellow dieters is a massive motivator for me. If they can do it, then so can I.
What's your biggest non-scale victory?
I have a tote bag of size 12 and size 14 exercise gear that I bought on a great sale about 10 years ago. I often tried them on over the years, but came no where close to squeezing into them. I never parted with them because I always told myself, one day I will wear them. That day came last week and I opened the tote again, filled with lovely exercise gear with tags still on. They all fitted. I started to cry at the enormity of what I had finally achieved. That was by far my biggest victory because the full realisation of my achievement dawned on me and I was extremely proud. I cried happy tears.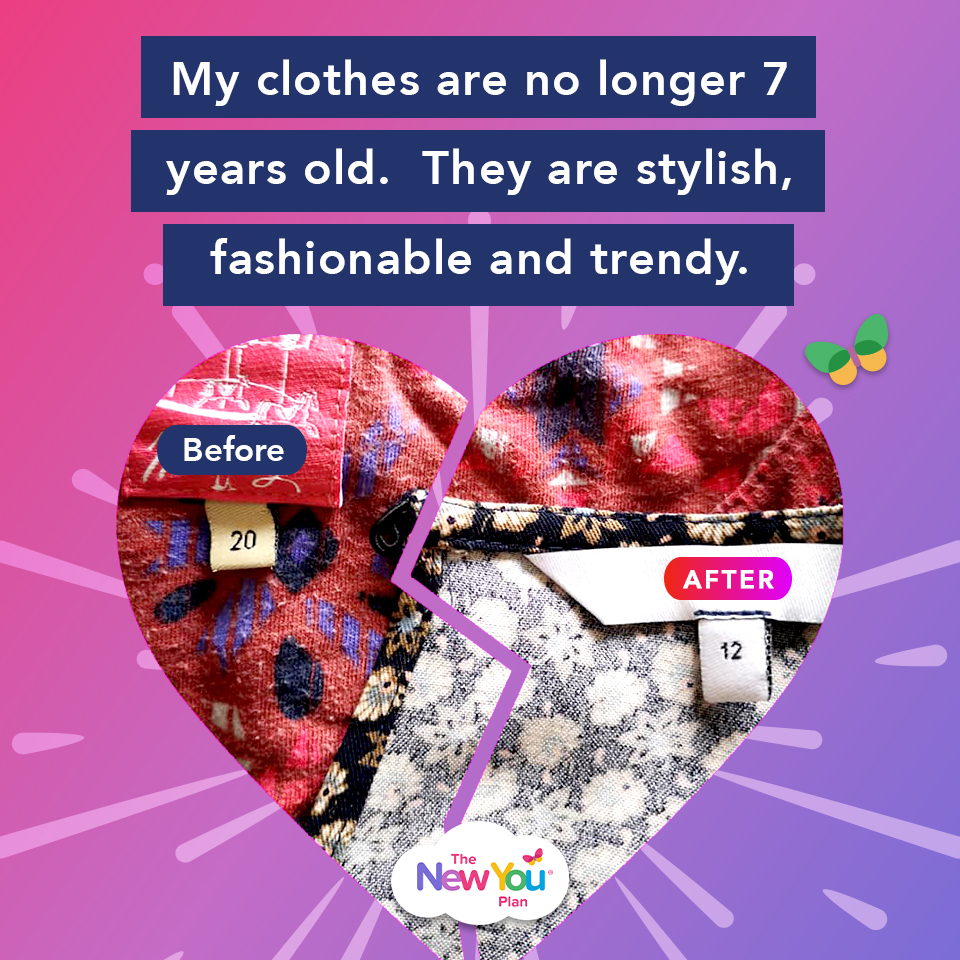 Since losing weight, what is your happiest memory / proudest moment?
My happiest memory was walking into a NEXT sale by accident on week 10 and spending a fortune on size 12 dresses, coats, trousers and blouses. A whole new wardrobe as a huge treat because I had no clothes that fit me anymore. My clothes are no longer 7 years old. They are stylish, fashionable and trendy.
What is the nicest compliment you've received since losing weight?
I put some pictures on the New You Support Group Facebook page and I got a phenomenal response. I was blown away and overwhelmed by all the beautiful comments, kindness and support. There is not one comment that stands out. They all collectively elevated me and made my heart sing.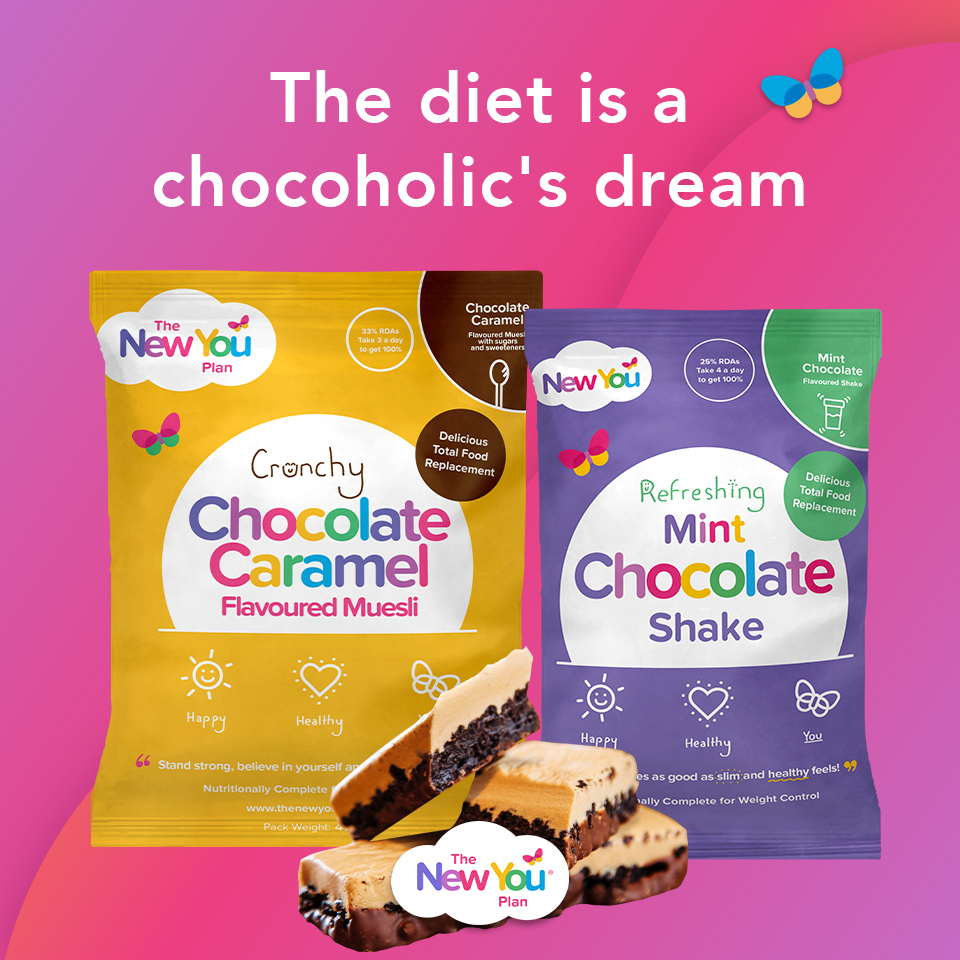 What are your favourite New You meals and snacks?
My absolute favourite meals are the Mint Chocolate Shake, Chocolate Muesli and Triple Cream Choc Bar. The diet is a chocoholic's dream. I have a fantastic choice of TFR meals. I am a vegetarian and I was afraid that my choices would be very limited. But there is a huge range of tasty meals and snacks to choose from. They contain all my nutritional needs so I don't feel hungry on the diet.
What advice would you offer anyone thinking of starting the plan?
I would say if you are worried about excess weight, check out the New You Plan. It is a safe plan. I have had lots of energy using the New You Plan. I have lost weight faster than I could possibly have hoped to and I have enjoyed the tasty TFRs that I buy each week. It is a very affordable. I spent a lot more on non-TFR meals beforehand, so the plan has actually saved me money.
When I reach my goal, I will continue with the New You Maintenance Plan which is a phased reintroduction to regular, healthy food. I plan to continue my journey indefinitely so I can have support maintaining my new body and habits. Also I love their products too much to walk away from them. They will always feature in my diet going forward.
I participated in some New You online challenges which were great fun and won a couple of prizes, bagging myself lots of my favourite food free in the process. The support group online is amazing. I've never experienced similar on other plans. The dieters in the support group offer each other support on the bad days, recipe tips, fun posts, compliments and great encouragement for each other's journeys. I love the group and the friends I have made. The journals for self development, goal setting, positive reinforcement, appreciation etc are beautifully laid out and colourful.
The New You Plan has been a fabulous, mentally and physically healthy plan for me. I seriously could not recommend this plan enough. This plan will work, if you decide to begin and make work for you.
---

Bridget did it & you can too!
Click here to learn about our Summer Transformation Challenge, with an amazing pool of £8000 to be won!