Before & Afters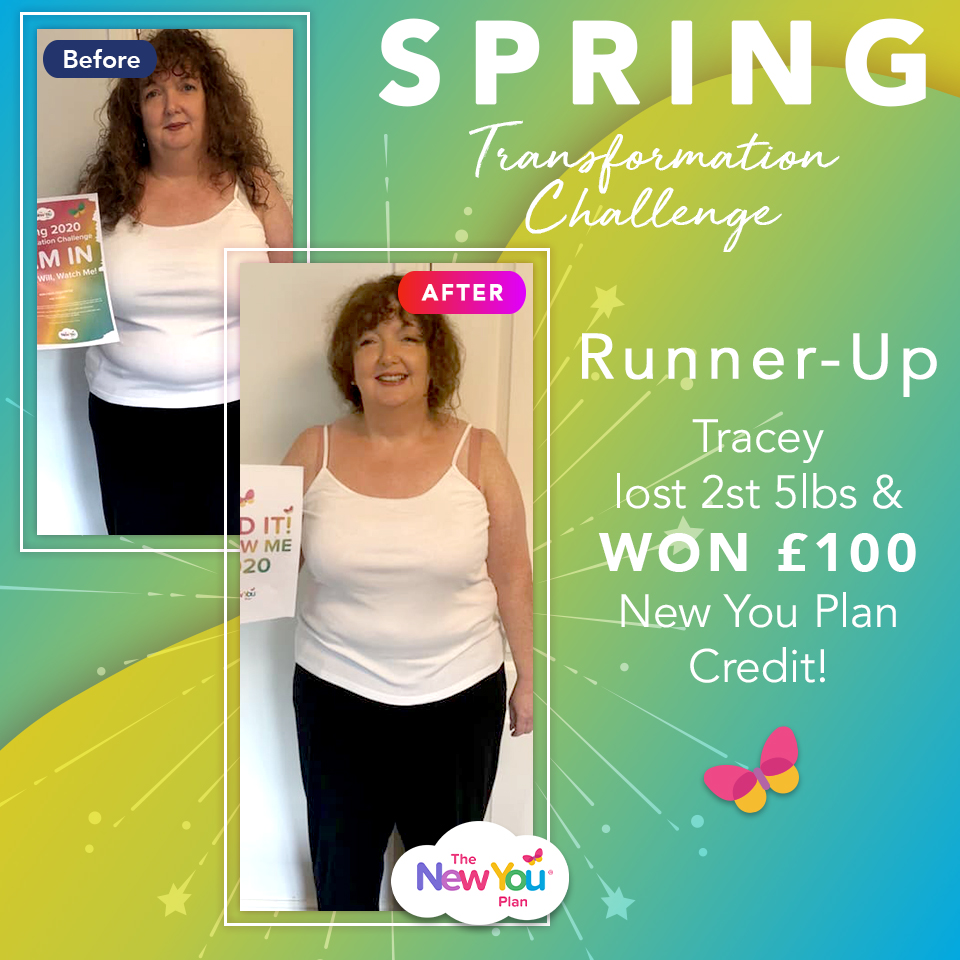 Spring Transformation Challenge Runner-Up Tracey lost 2st 5lbs & won £100 New You Plan Credit!

Feeling rubbish with the lockdown situation and not in control of her eating habits, Tracey joined our Spring Transformation Challenge as an incentive to lose weight. Not only did she lose 2st 5lbs, she was named runner up, winning £100 New You Plan credit.
Here is her story…
Tracey, why did you decide to take part in the 2020 Transformation Challenge?
I decided to take part in the Transformation Challenge as a 'challenge to myself' and to give commitment to my journey starting the programme. Having joined the Secret Slimmers page on Facebook, and having devoured all the pictures, quotes and quite frankly unbelievable openness of the members on Facebook, I really felt quite inspired and wanted to be part of the whole 'family'. On reflection it most certainly did help me focus and gave me a goal of approximately 6 weeks, which was a perfect induction to the New Plan, something that I had never done before.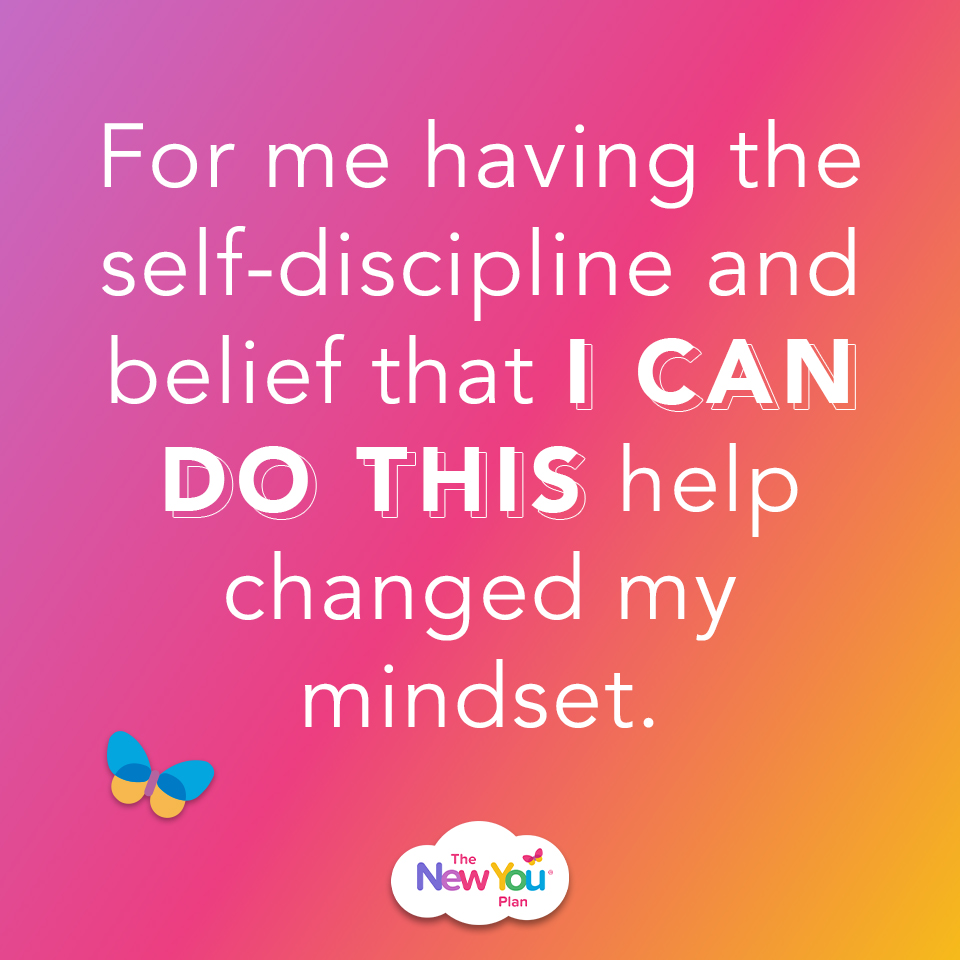 What's the biggest lesson you've learned since taking part in the challenge?
To plan, basically prepare what you are going to do at least a day in advance, have everything laid out, what choices you have and don't sabotage yourself. Stick to the Plan. For me having the self-discipline and belief that I can DO this help changed my mindset. It is not a difficult plan to stick to, the packs are tasty, varied and you also get snacks that you can build in. The Salt & Vinegar crisps are totally the best (nipping my tongue) but fabulous, so I don't ever really feel denied, plus the weekly results speak for themselves. Also the support from the Secret Slimmers when moods are low, really help motivate and stay on plan. The group itself is a revelation, with so much positivity and support from people who truly understand.
Describe how you felt before you started the plan?
Out of control! I was comfort eating based on my moods, which during lockdown have been pretty poor. Disgusted that I had let myself go so much. Lockdown also gave an excuse to eat more as no one was really seeing me. Basically really unhappy.
How did you discover The New You Plan?
Completely by accident. I was on line looking for diets and the New You Plan popped up in a search. When I read the website and the testimonials I was immediately hooked. I really thought I had nothing to lose and actually being told what to eat (although I had choice of packs) it was controlled. I do find I am an 'all or nothing' girl, either fully disciplined or off the tracks. Anyway this New You Plan to me appeared to be a way of possibly getting some control over my terrible eating habits and getting my health back on track.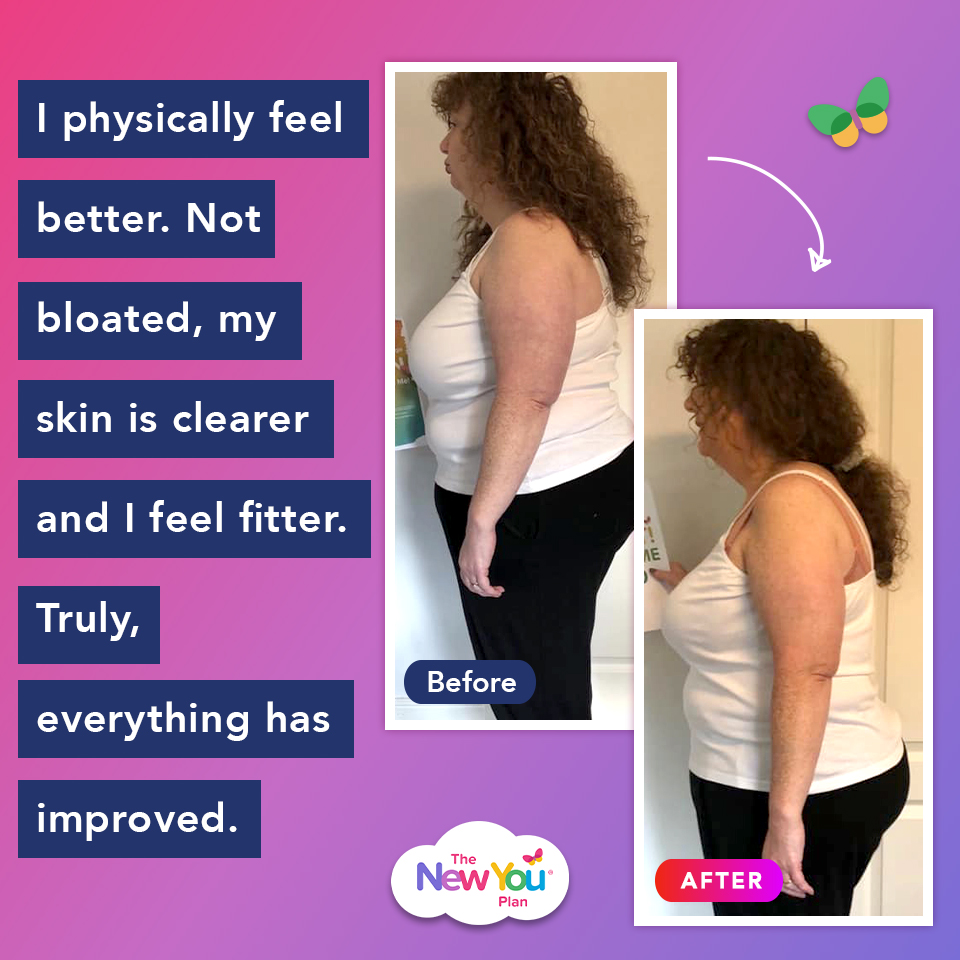 How has the plan changed your life?
I physically feel better. Not bloated, my skin is clearer and I feel fitter. Truly, everything has improved. Plus being menopausal I feel my moods and hot flushes have totally improved, though I do sometimes question if this is a placebo effect, because I am happier everything is better, which takes me full circle back to mindset.
What was your biggest motivator in staying on track?
My health! The last 2 years in a row I have broken both ankles from bad falls, which now have metal plates and pins. I seriously needed to lose weight to help with the ankle pain and fitness for the future. However, the true motivator I feel is all the Secret Slimmers on the Facebook group – seriously inspirational and so supportive.
What's your biggest non-scale victory?
Trying on a dress that was far too tight only a few months ago – one that I really wanted to wear – to find out it was a bit too loose and actually I am thinking of getting it taken in when I get to my goal. I can't believe the inches lost – the scales don't always show the total story.
Since losing weight, what is your happiest memory / proudest moment?
It's early days for me on the plan with still a long way to go, but possibly just looking in the mirror and actually starting to like what I see.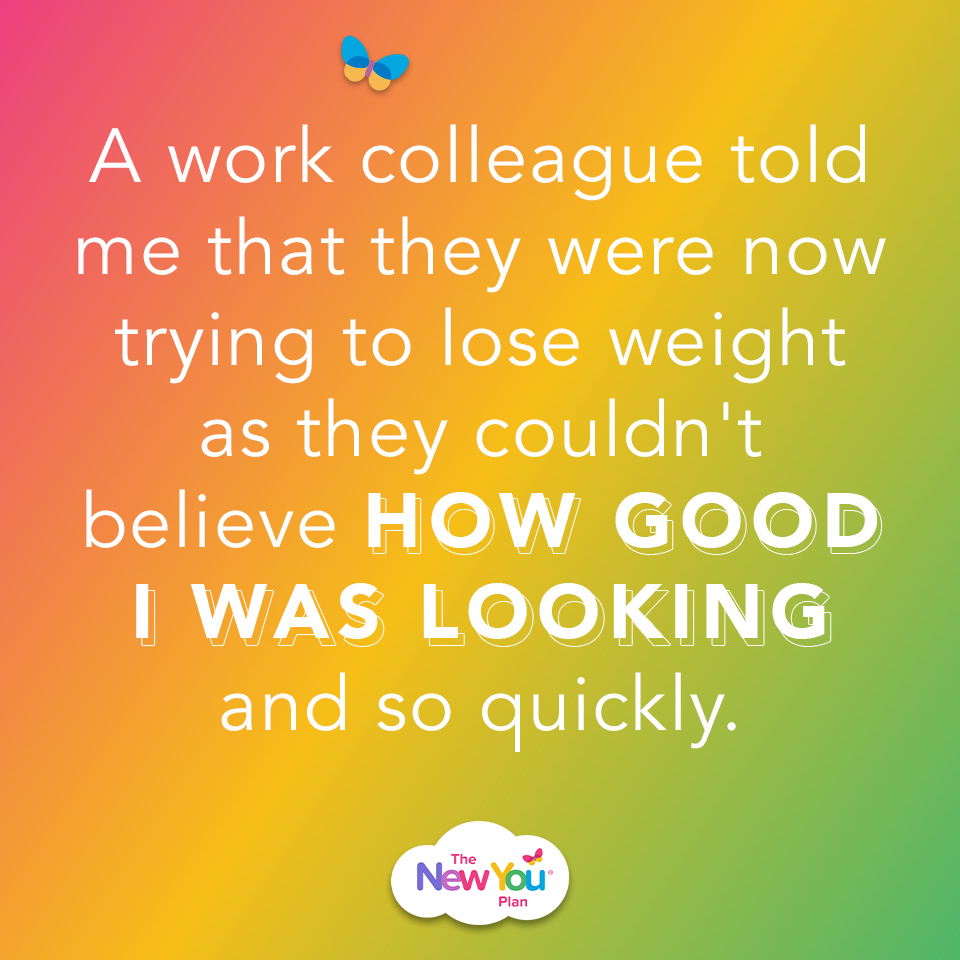 What is the nicest compliment you've received since losing weight?
A work colleague told me that they were now trying to lose weight as they couldn't believe how good I was looking and so quickly. I haven't really disclosed what I am doing to my work colleagues as I don't want judged and working in HR I am not happy disclosing too many personal details. They said, note a male colleague, that they had spoken to their partner and felt inspired by my weight loss and how positive and focussed I was. Plus quite a few people have said how much happier I look.
What are your favourite New You meals and snacks?
I love the Chocolate Mint Shake, blended with ice – it feels like a real treat, so tasty and satisfying. I also love the Burger mix and the Vegetable Chilli together, it really fills you up. I suppose to me none of the packs really feel like I am on a diet as they are all tasty with so much variety. My favourite snack is the Salt & Vinegar crisps – a life saver when I want something a little bit extra and naughty.
What advice would you offer anyone thinking of starting the plan?
Go for it, you have nothing to lose. The New You Plan packs are all tasty, with such a variety that you won't get fed up. The Facebook Group offers loads of support, advice, and most importantly inspiration to help keep you on track.
Finally, I had been on diets most of my adult life, with losing a few pounds or stone here and there, but it took an absolute age to do so and it didn't stay off. This is such a fast track to getting there, and with the option of moving to the Switch Plan when at goal weight then I can only hope the weight will NEVER go back on. I will ultimately change my eating habits, and be in control for once in my life. I can seriously say, I am looking forward to the next 6 months with anticipation of where I will be. Happy, healthy and ultimately slimmer than am I now.
---

Tracey did it & you can too!
Join our Summer Transformation Challenge today! There's a prize pool of £8000 to be won!