Before & Afters

Simone Our £1000 Cash New Year New You 2021 Transformation Challenge Winner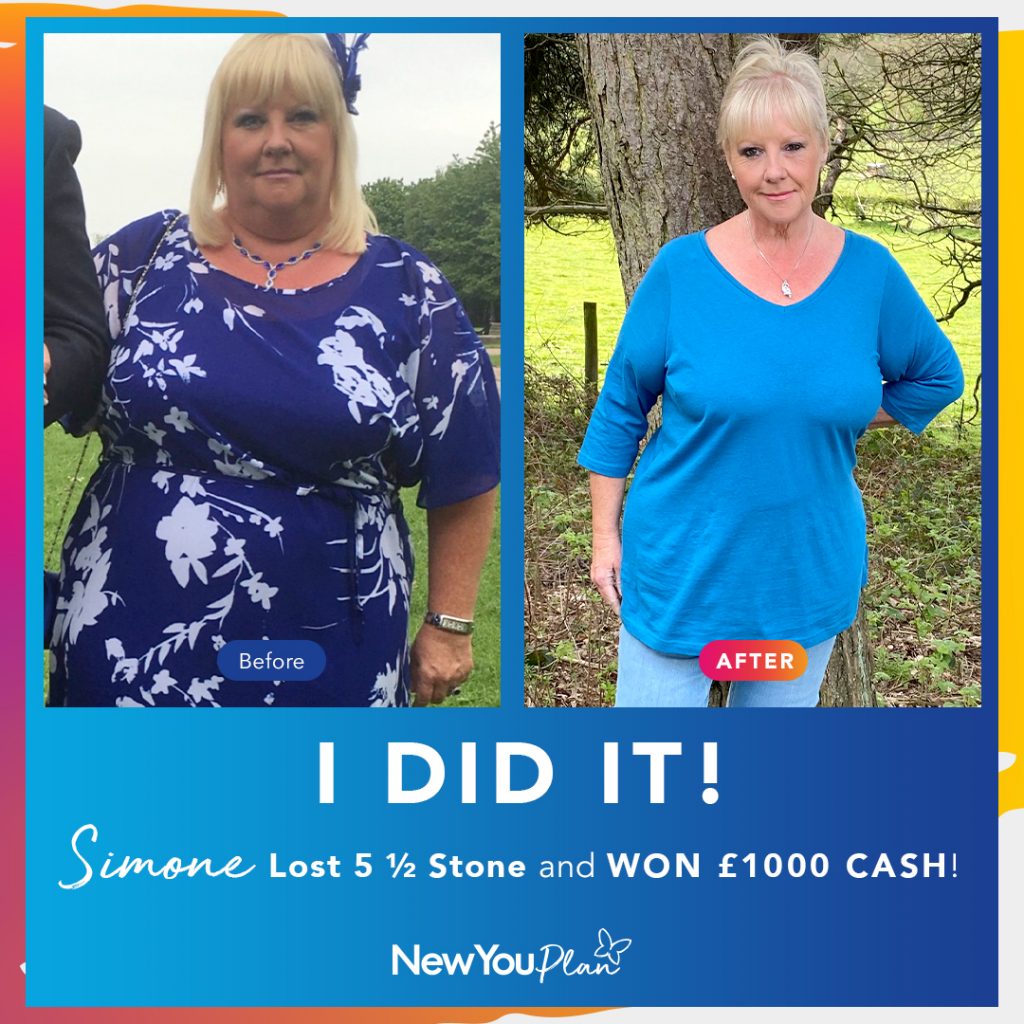 Introducing Simone, our third-place New Year New You 2021 Transformation Challenge runner-up. Still, third place is an exceptional result, with a gigantic £1000 prize to go alongside it!

After trying various different diets, Simone was ready to give up – that is until she found the New You Plan. Fed up of always being left behind when her family went on hikes in the great outdoors, Simone decided that enough was enough. And when she saw the wide range of savoury options the New You Plan had to offer, it was a no-brainer.

Read on to see how the New You Plan changed Simone's life.
What was your motivation to begin the plan and how did you feel before starting the plan?
I felt absolutely shocking before starting the plan – the arthritis in my knees was absolutely unbearable. I have tried all the other types of diet and nothing ever worked for me, until the New You Plan. It's just amazing.
I mostly wanted to lose weight due to my arthritis. As a family, we enjoy caravanning and camping, but whenever we went I always was the one left in the car as I was too big to manage the hikes. Now, I just feel free. I can walk anywhere I want now without the pain.
How did you hear about the New You Plan?
I was looking at other VLCD diets on Facebook. I happened to come across a quote from the New You Plan. I'm a big believer in fate so when I randomly came across the plan I just knew it was for me.
I then went and had a look through the website and saw the huge amount of meals to choose from. I'm really into savoury food and I loved that there were so many savoury options to choose from. Something just told me to go for it!
In taking part in the challenge did it encourage you to stick to the plan?
The challenges definitely help you to stick to it, however, being determined and not blipping is how I have got my results. When you enter something like the challenges, it gives you something to concentrate on so you don't lose focus.
What are your favourite New You Products?
It's hard to choose – I love all of them. My joint top products are the cottage pie and the ham and mushroom pasta.
I didn't think that I'd like the chocolate porridge so was pleasantly surprised to find that I love it! I also love the banana shake, caramel shake, the cafe latte shake. Oh, and I have just discovered how to turn the mint chocolate shake into ice cream!
I do not dislike any of the meals, but I choose to avoid the risotto, brownie, and salted caramel cake just because I am so strict on myself and want to avoid the higher-calorie items.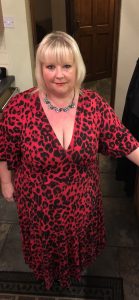 How much have you lost in this challenge and lost in total?
I've lost 1.5 stone in this challenge and 5 stone 7lbs in total so far. I've taken some breaks throughout my journey and gained 18lb back, but I've managed to lose all of this also!
Have you struggled with anything and if so, how have you overcome them?
I haven't struggled at all, just put my head down and I am so determined.
When you like something, it's so good and it works you just stick with it.
After my refeed I was scared of food, thinking what do I do? I then used New You Switch to help and then was able to get back onto the Total plan. I made a frittata and chocolate porridge biscuits with banana in. I was so happy to be able to use the products along with vegetables.
Do you feel being a member of Secret Slimmers gave you the encouragement and motivation that you needed to keep going with the challenge, if so what in particular helped you?
Yes, definitely. I love all of the moderators, as well as all of the friends that I have made along the way. I enjoy being part of the group, encouraging new members and I love that there is no judgement in the group.
How has the plan changed your life?
I have size 12-14 clothes on right now! I see my reflection in shop windows and am just so happy at how amazing I look! I feel free.
I'm taking things step by step – my next goal is 10 stone and then 9 stone after that.
I'm currently on a weekend away and I am so happy that I can do all that I want to do. I can go for a walk around the reservoir – I'm no longer stuck in the car! I would never have been able to do any of this before I found the plan.
What advice would you give to someone thinking of starting the New You Plan?
Trust the plan and trust your own determination. Oh, and join the Secret Slimmers Facebook group.
Try everything, even if you think you won't like something, try everything at least once, and then you will know for sure. Or you might be surprised.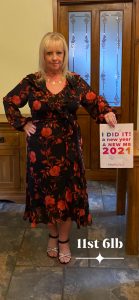 Spring 2021 Transformation Challenge
That prize will definitely help kit Simone out in some new camping gear, or maybe a new camera to snap some beautiful pictures of the views from her hikes and rambles around.

If you want to be in the running to win a thousand-pound cash prize just like Simone, or even one of the many runner-up prizes up for grabs, download your poster here.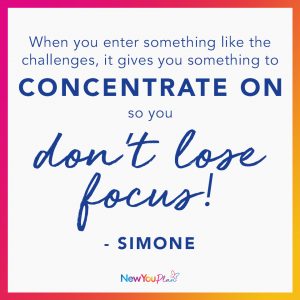 1st Place £1,000 cash
2nd Place £750 cash
3rd Place £500 cash
4th place £250 credit
5th place £250 credit
6th place £250 credit
7th place £250 credit

All of the winners will also receive a Fitbit Versa to help encourage them to get their steps in – a vital part of the transformation process.

To enter, simply download your poster above and snap a clear full body picture holding this or any previous 'I am In' poster to be in with a chance of winning.

Make sure you take your after photo with the reverse side of the poster and submit both photos by email to [email protected] to be entered into the competition by 30th June 2021.

Also a big congratulations to all our Runner-up's and weekly competition winners: Annie Coulston, Marie Plose, Mary Lisa Webb, Rachel Barry who all won £250 of New You Credit.
Thanks so much to each and every one of you who entered. Remember, you are all winners. Be proud of every pound that you have lost, look at how far you have come and celebrate those non-scale victories along the way.
And of course, our Spring Transformation Challenge is here so join in today and you can be one of our many winners, walking away with a life-changing transformation and a cash prize to spend on what you want!
Download your poster here.