Challenges

2021 New Year, New You Transformation Challenge Winners Revealed!

Drum roll please… we are delighted to reveal the WINNERS of our 2021 New Year New You Transformation Challenge! Find out who has won our £3,000 First Prize
We had such an amazing response to our New Year New You Transformation Challenge! We LOVED seeing how motivated you were to smash your goals this season.
The past year has been testing time for every one lockdown has made it harder to get motivated and stay motivated. With our lives slowing down it has become increasingly difficult to maintain a healthy diet, but this has not stopped hundreds of our slimmers from sharing their amazing transformations each week.
Our customers told us that they LOVED taking part and it definitely helped them stay on track, which is always our goal when we launch every challenge! At The New You Plan, we firmly believe in doing what we can to keep our customers motived at all times! "Especially during hard times
Now that our New Year New You has ended we are delighted to reveal the winners!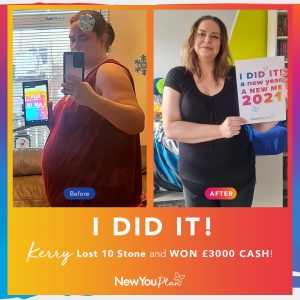 1st Place Winner: Kerry Lost 10st and Won £3000 Cash!
Kerry took 1st place in our New Year New You Transformation Challenge and has completely changed her life. "I started the plan mid-February 2020 and have lost 148.5 lbs to date and over 95 inches in total off my chest, upper arms, waist, hips, thighs and calves."
How has The New You Plan changed your life?
"It has completely changed my life;
I am no longer miserable in my body and try to make more time for me.
Prior to starting the plan I was unable to walk very far without incredible lower back pain and breathlessness, now I smash my 10K steps and do cardio and weight training at least 3 times a week."
WOW! Well done Kerry. You are definitely an inspirational winner and enjoy your first prize of £3,000.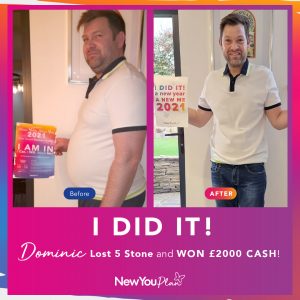 2nd Place Winner: Dominic lost 5st and won £2,000 Cash!
Dominic took 2nd place in our New Year New You Transformation Challenge and has gone from not being able to run for more than 5 minutes to playing 5 a side football, running and jogging with ease!
"Before beginning the plan I was told that I had a minor heart condition, this was my inspiration, I could not jog for more than 5 minutes without getting chest pains, I am now playing 5 a side football for 60 minutes with no problems at all, going on 30 minute jogs, back training in the gym, this plan has completely revolutionized me."
What was your motivation to begin the plan and how did you feel before starting the plan?
"Before I started the plan, I had lost all hope to be honest, I just kept gaining weight, and I thought to myself there is nothing out there that can shift this, there is just these placebos, things that say they can but nothing that could make me lose weight, I actually saw a male transformation picture and thought if he can do it I can do it!
I thought I've got to shift this, I looked at the plan, worked out how much it would cost and actually realised that it would cost less than eating actual food. I decided to do it, the results at the start were incredible. I think I lost 15lb in the first week!
This just then inspired me to keep going and I am not on social media but my own journey inspired me to continue, I am completely over the moon and I am a different person."
Well done to Dominic who has also scooped up a cool £2,000 along with a complete New Year Transformation!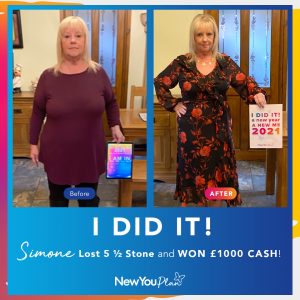 3rd Place Winner: Simone lost 5st 7lb and Won £1,00 Cash!
Simone took 3rd place in our New Year New You Transformation challenge and went from wanting to lose weight and feeling restricted to feeling free to do anything she wants. " I just feel free. I can walk everywhere I want now."
How has the plan changed your life?
"I have size 12-14 clothes on now, and look in shop windows and am just so happy at how amazing I look! I am free, my next goal is 10 stone and then 9 stone. I am so happy that I can do all that I want, go for a walk around the reservoir whenever I want, I would never have been able to do any of this before I found the plan."
Well done Simone!
Also a big congratulations to all our Runner-up's and weekly competition winners: Annie Coulston, Marie Plose, Mary Lisa Webb, Rachel Barry who all won £250 of New You Credit.
Thanks so much to each and every one of you who entered. Remember, you are all winners. Be proud of every pound that you have lost, look at how far you have come and celebrate those non-scale victories along the way.
And of course, our Spring Transformation Challenge is here so join in today and you can be one of our many winners, walking away with a life-changing transformation and a cash prize to spend on what you want!