#Mchallenge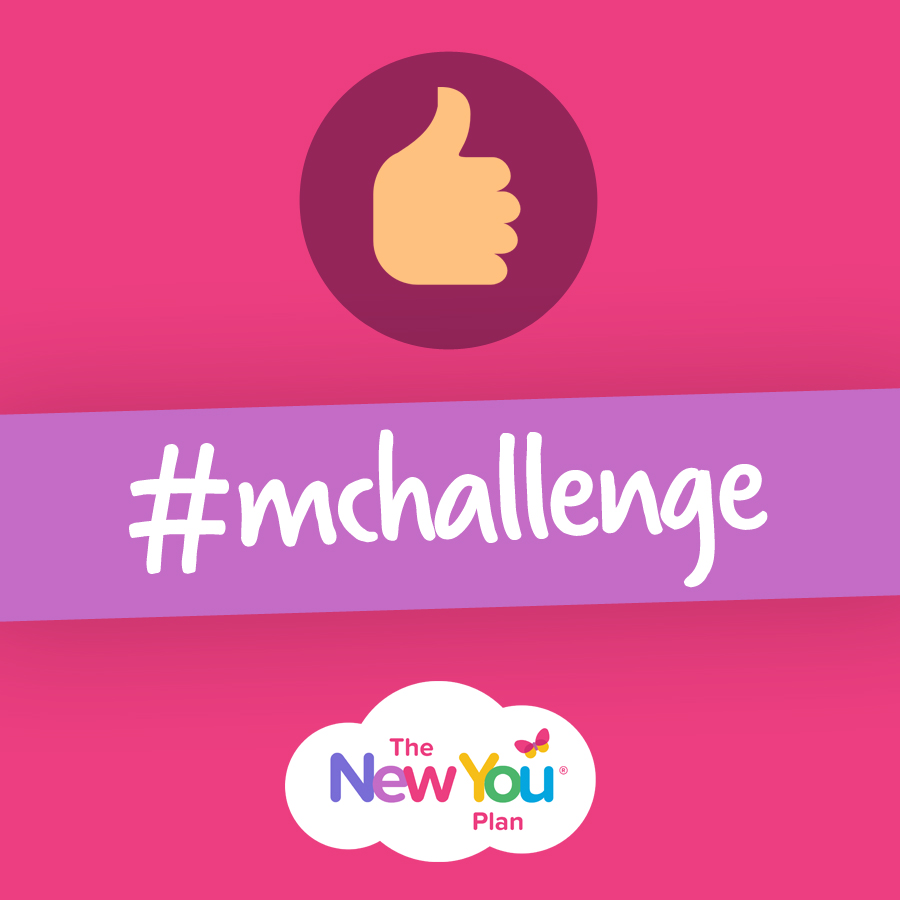 New You #Mchallenge – Mindset Week!
It is #mchallenge time again and to make it even more special it is the New You Plans 7th Birthday!! This weeks challenge was focusing on our #mindset.
Before we take a look at what our community have been up to I will tell you the in's and out's of how the #mchallenge works:
If you are new to the plan you will have already discovered that we approach weight loss in a very different way to other companies. We know that taking on the challenge is initially very hard so we like to be there for our customers every step of the way. Working together as a family we help #motivate our #members and set them on the right path to achieving their goals. This is where the #mchallenge comes into the play. Starting a plan like New You is not only just about losing those excess pounds, its about finding a healthier happier you and discovering what will make your dreams come true. The key to this is fully understanding your body and the way it works, both physically and emotionally. Inspiring yourself to do something different and push the boundaries to explore new things, before you know it you are losing weight and on a journey of self discovery all at once.
The #mchallenge allows us to explore different M's to help us do this. This could include different #motivational ideas, new #music, #making something new and picking up a new skill. We want to open our customers minds to new opportunities that will help them on their weight loss journey and allow them to have fun on the way!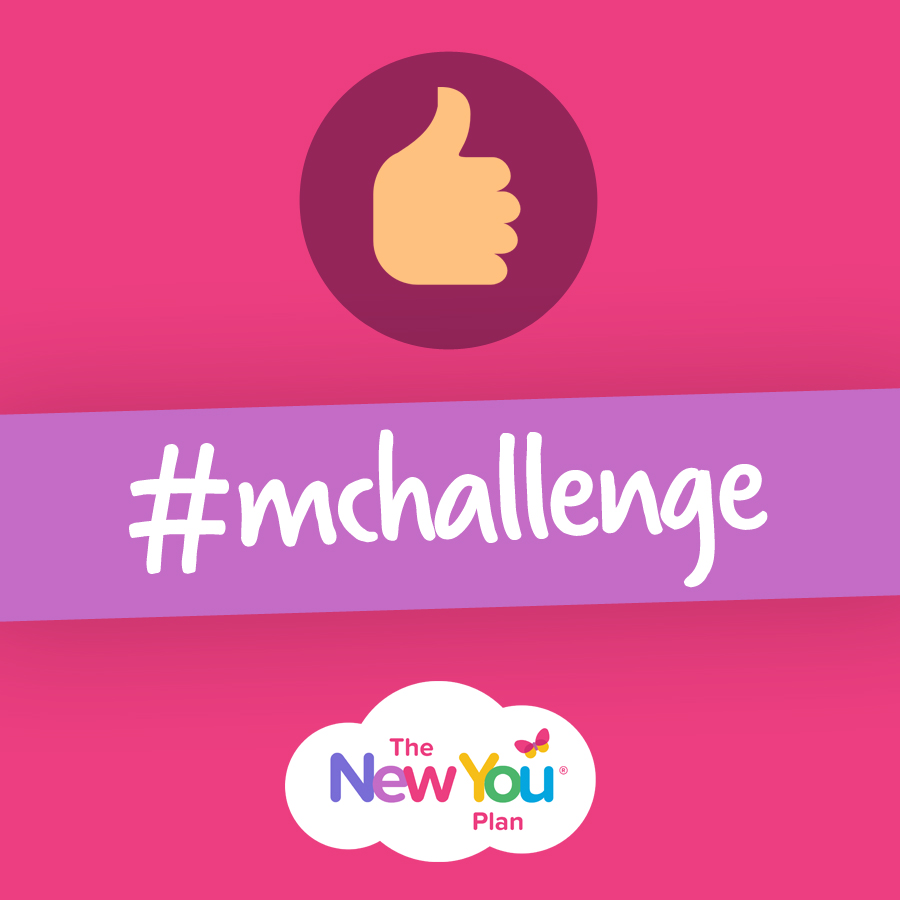 Back to this week, our theme was all about looking at our #mindset.
Whether you are starting out on the plan or have been carrying it out for the last few weeks you know how important your #mindset is to keeping you on track and focused on the task in hand. Positive thinking is so important on a journey like the New You Plan and telling yourself it is ok if you stumble, its getting back up again and carrying on is the key to success. This week we have been having a look at what different things people do for a healthy #mindset.
Starting the day off right with a #motivating word to yourself is a great way to begin. Take a #moment to look at what you have achieved so far, the obstacles you have overcome and be proud of where you are on your journey. By reminding yourself of the success you have already achieved it will set you up for the day to continue the day with a positive #mindset. Just starting the plan? This still works, think of what you want to achieve, the reasons why you are on this journey in the first place and make it the focal point to keep pushing you forward. 
Like every #mChallenge week we have had a great reaction to the theme in mind. One of our community cheerleaders, Lynn talked about her experiences after an accident and showed how her #mindset played a big role in her overcoming it and #moving on with her life. Well done Lynn! You are an inspiration for our customers to stay upbeat and on track.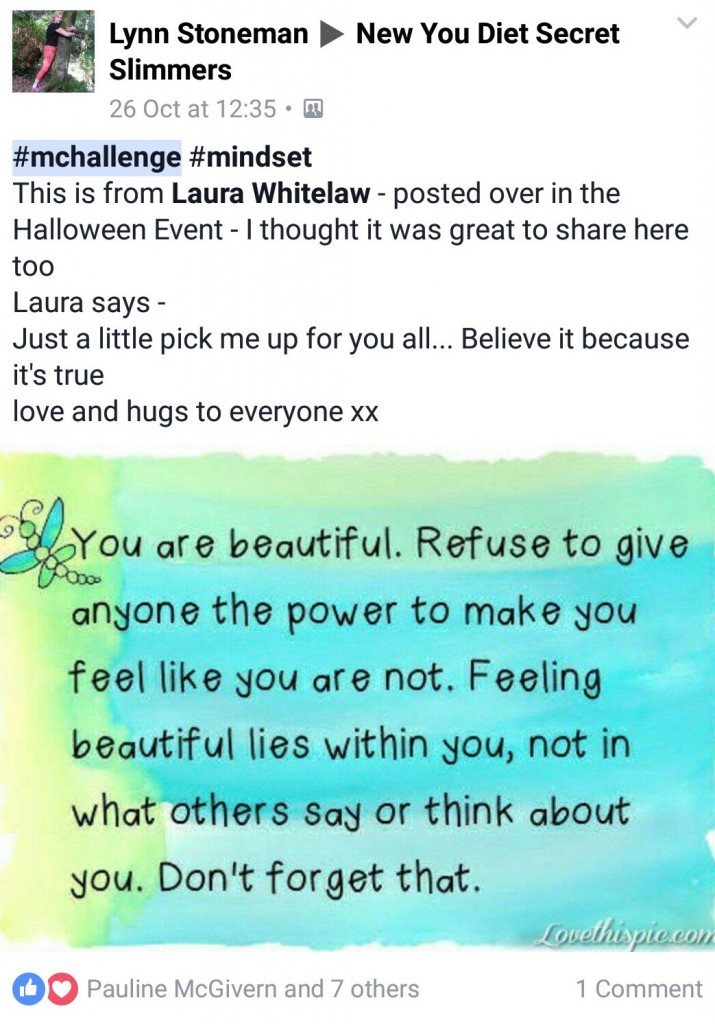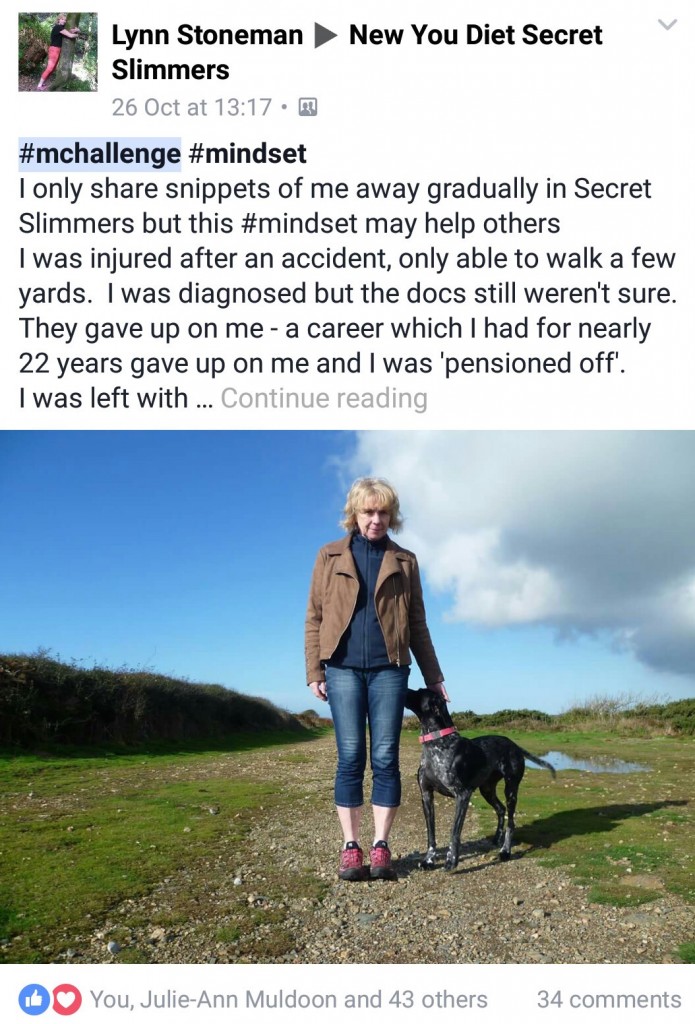 We loved all your inspiring quotes to help #motivated everyone and get everyone thinking how important self belief is on their weight loss journey. The biggest obstacle holding you back is you so don't give in, work hard and reap the benefits of achieving your goals and becoming a happier you all round.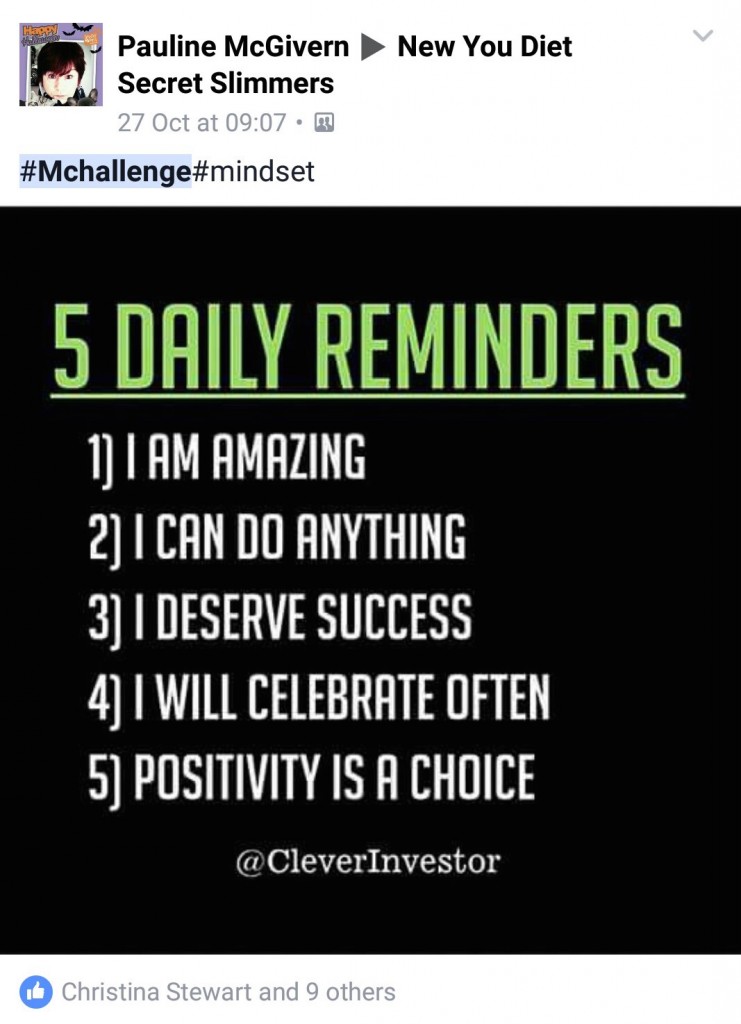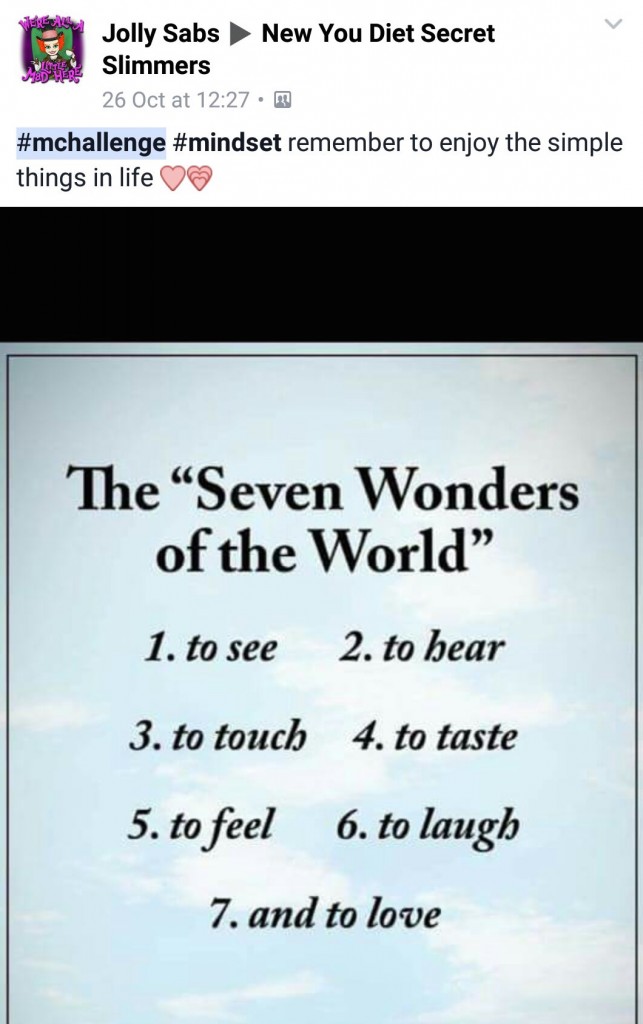 Pauline gave us a great list of daily reminders we feel we all should adapt to our lifestyle. Telling ourselves these positive points each day will boost #morale and get your #mindset geared up for whatever the day ahead will bring. 
Jolly reminded us that the simple things in life should not be overlooked. By striping back the hectic parts of your life you can truly see what #matters and this is an important factor when undergoing a weight loss journey. Discovering what these things are and why you are doing it all in the first place is so important to keep in #mind. This could simply be your family and friends. They #motivate and encourage you through your journey and in fact are there to help keep your positive #mindset and keep you on track.
This weeks winner is…
We loved the passion and drive Sara Davies has included in her #mchallenge post. She has got her #mindset on the right path and she is determined to get the results she's aiming for. Staying on plan and running after two kids must be a task in itself so we admire you Sara and love your lifestyle image welcoming us into your New You Life. 
Congratulations Sara! You have won £50 worth of cash points which will be added your account for your next purchase!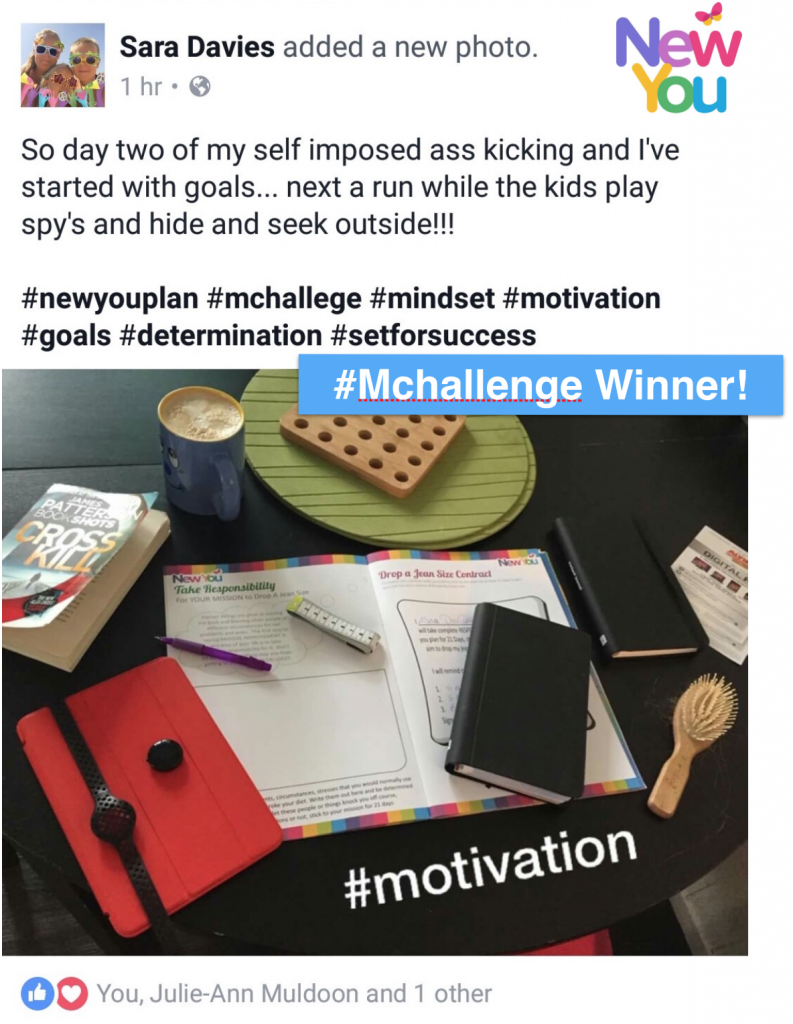 Does the #mchallenge sound like something you want to get involved with? Next weeks theme is #marriage and #mates. We think it is the perfect opportunity to shout out to the person who is inspiring you or thank someone close who is your rock through the weight loss journey. 
Get posting your entries on Facebook for the chance to win £50 work of New You cash points and don't forget to use the hashtag #mchallenge!
GOOD LUCK! 🙂