New You Awards 2016 - The Winners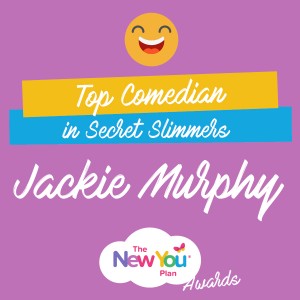 New You Awards 2016 – Top Comedian in Secret Slimmers – Jackie's Story
New You Awards 2016
---
Name Jackie Murphy 
Start Date: July 2015
Start Weight: 17 stone
Lost On Plan: 4 stone 7 lbs
Current Weight: 12 stone 7 lbs
---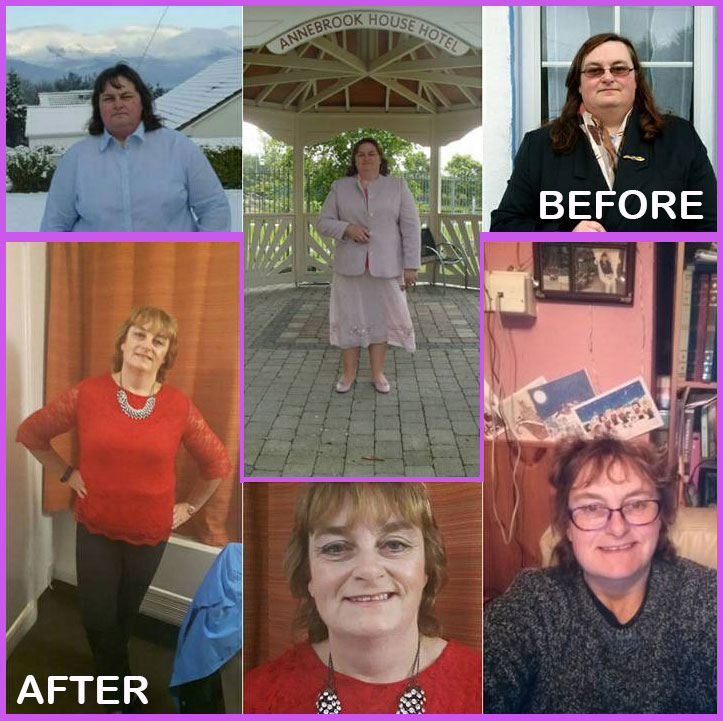 'Life is full of ups and down but laughter will always be the best medicine.' – Jackie
There is nothing better in life than a laugh, the uncontrollable kind where you know people are looking, you know you look silly but who cares! When something properly tickles you it feels great to let loose and laugh it out. Someone once said if you don't laugh you will cry, a somewhat odd approach I know but there are times in life that this can affect us all.
When starting or partaking of a weight loss journey there are times where you feel overwhelmed, unsure and scared of failure. Here at the New You Plan we like to help you through these times and try our best to prevent them when we can.
Our Secret Slimmers community was created to help encourage and motivate every slimmer who joins us. We didn't want to replicate the solely 'weigh in' idea other diet companies have, we wanted to created an oasis of positivity, encouragement, inspiration and most of all fun. Secret Slimmers has become the hub for fellow members to become friends, share tips and to express how you really feel no matter how silly you might think it is. An open rule for the community is we don't judge. We offer praise when you succeed and provide encouragement when you need it, all and all it makes your weight loss journey that little bit easier.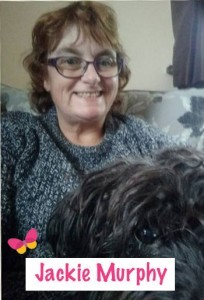 As well as all these great qualities we have a group of amazing people who help make our community even better. The Secret Slimmer Cheerleaders are a mix of current members who go above and beyond to make sure everyone is ok from day 1 until the end of their weight loss journey. They inspire, motivate, encourage and generally keep the morale positive. There is one lady who adds a special touch to her role with the power of humour, the winner of our Top Comedian in Secret Slimmers, Jackie Murphy.
Jackie has been a member since 2015 and has made her presence known since day 1. With her big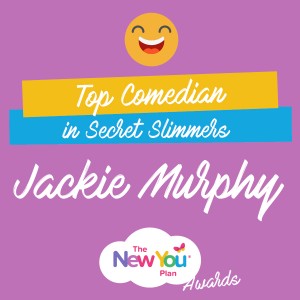 personality and witty tone it was clear from the start that she was going to provide the humour within the group. With a clear natural ability to make people laugh early on, Jackie's confidence grew and so did the amount of posts she did each week. The beauty of our community is the bond that all the members have is so special so by adding a laugh or 2 here and there it lightens the mood and can help people relax and realise it doesn't all have to be serious.
The inspiring thing about Jackie is that in the midst of keeping everyone's spirits up within the community she also managed to lose an impressive 4 stone 7 lbs. From going full force TFR from the start of her plan Jackie lost the excess pounds and now feels comfortable and confident in her own skin. By undergoing several re-feeds throughout her time with New You she has rediscovered the love for healthy cooking and has throughly enjoyed trying new recipes found on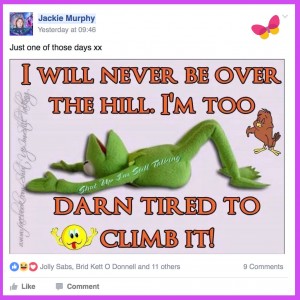 the Maintainers page.
Jackie's comic value is a renowned success throughout the community but that isn't the only quality she brings. Since becoming a cheerleader back in November 2016, Jackie has thrown herself into the role to help support all newbies and existing members throughout their journey. A truly loving a caring lady who has guided so many slimmers down the right path to their target weight. From encouraging messages to customers who feel like they are not succeeding to an inspiring quote that members can relate to, Jackie's presence within the group is so well received that it is clear she means a lot to everyone in it.
Let's hear why Jackie's fellow Secret Slimmers voted for her:
'I love this lady, she always manages to make me smile and laugh no matter how sad I feel. She just knows what to say to lighten the mood and lift the spirits. But as well as that she is the kindest most thoughtful and caring person I know. To the extent that she herself is too far down her line of priorities. She doesn't realise how amazing, important and inspirational she is and how loved she is by so many here!' – Sabrina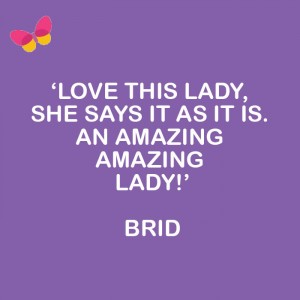 'Love Jackie, she is an amazing lady who always cheers me up, she is a real asset to Secret Slimmers' -Pauline
'Even as a relatively newbie to SS, it didn't take me long to realise Jackie's ability to bring a little laughter into everyone's day. A little ray of sunshine. Thank you Jackie' – Josephine
'Jackie and her one liners always make me laugh. One that sticks in my mind was when Jolly was talking about her windy rainbows and Jackie was straight in there asking her if they had caused her to levitate – I lost a mouthful of coffee over that one!' – Jane
Jackie's 3 favourite inspiring quotes: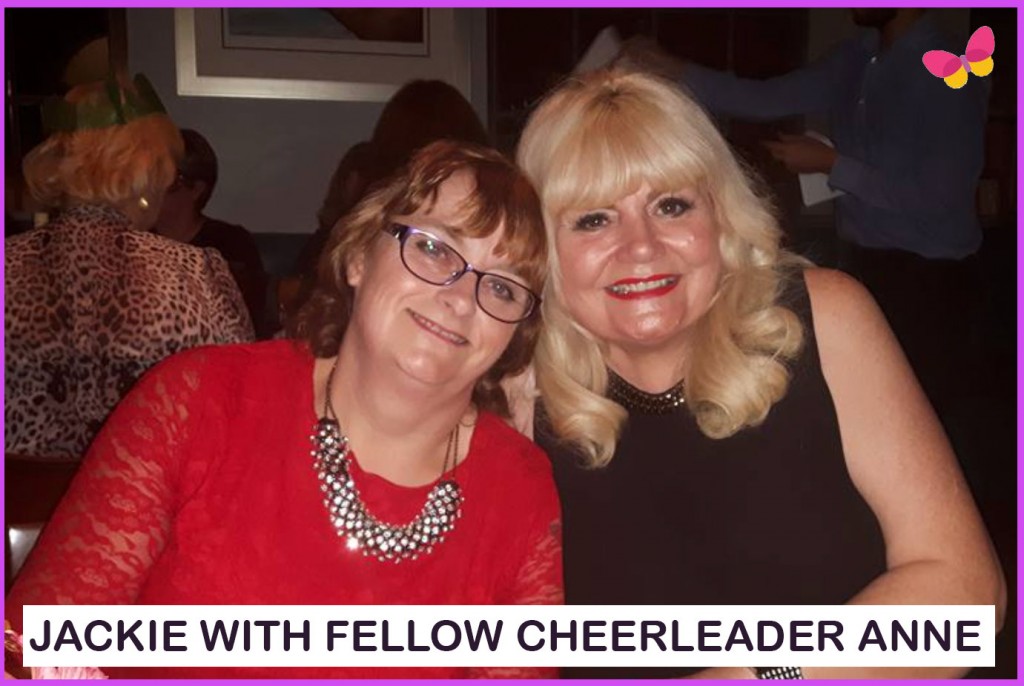 'Your best teacher is your last mistake'
'She has been feeling it for a while now – that sense of awakening. There is a gentle rage simmering inside her, and it is getting stronger by the day. She will hold it close to her, she will nurture it and let it grow. She won't let anyone take it away from her. It is her rocket fuel and finally, she is going places. She can feel it down to her very core, this is her time. She will not only climb mountains, she will move them too.' – Lang Leav
'The one person I am with forever is me. My relationship with myself is eternal, so I chose to be my own best friend. I choose to
love and accept myself and talk to myself as I would a beloved person in my life.I saturate all the calls in my body with love, and they become vibrantly healthy. I relate with love to all my life.' – Louise Hay
How did you feel when you found out you won?
I am so humble that I was chosen for doing something that I love to do, making people laugh. Laughter makes a bad day seem
 brighter and for a moment it makes problems seem smaller.What does the New You Plan mean to you? (watch Jackie's acceptance speech here >>)
For me the New You saint Plan has been life changing. When I started the plan back in July 2015, I had no idea of how much it
would change me. I was barely able to walk and doing simple tasks left me breathless. 2016 brought its own challenges but also weightless. I m one of the slower loser. I Had several health issues which included Insulin Resistance and both my doctor and consultant were onboard with me doing the plan. As a result of the weightloss I have had my medication cut back several times and some cut out completely. Its something I had dreamed of.
How has being on plan changed you?
My health has improved, my confidence has grown, the weight has come off but most of all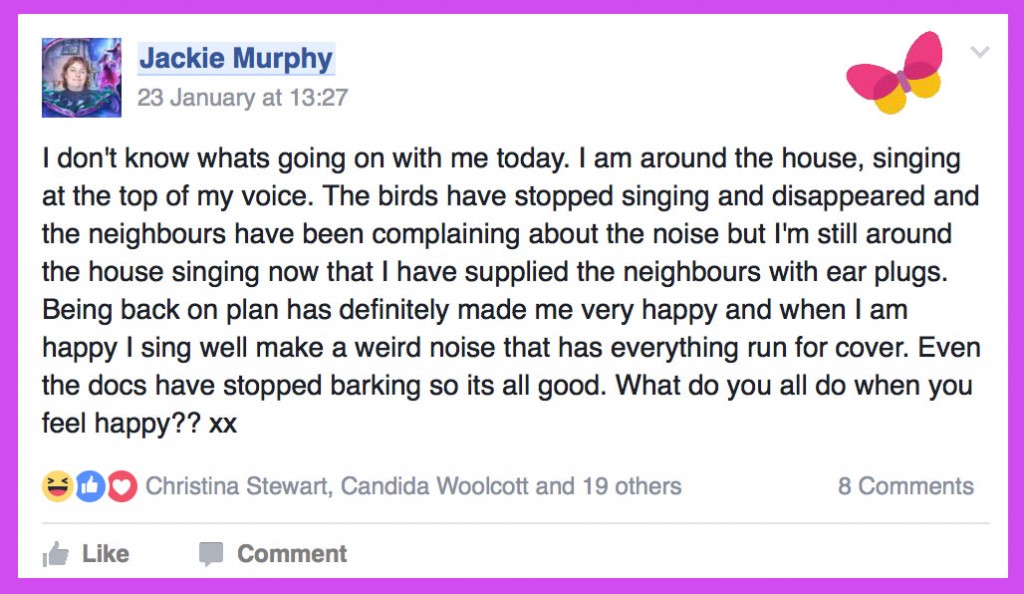 I now feel comfortable in my own skin. I am not the person I was and it because of the new you plan. None of this would have been possible without the help of the Secret Slimmers group that has supported me through the good and the bad time. The New you support are second to none and provide an amazing service. I am where I am today because of all these things. I had a mountain to climb and I am standing at the top 4st 1 lb lighter looking back at how far I have come. I'm not there yet but I am closer than I was yesterday.

How has being part of Secret Slimmers helped?
Being a part of Secret Slimmers to me has always made me feel like a winner.
I couldn't think of anyone more deserving of the Top Comedian crown, congratulations Jackie. I can't wait to see what comedy gold you come up with next 🙂
---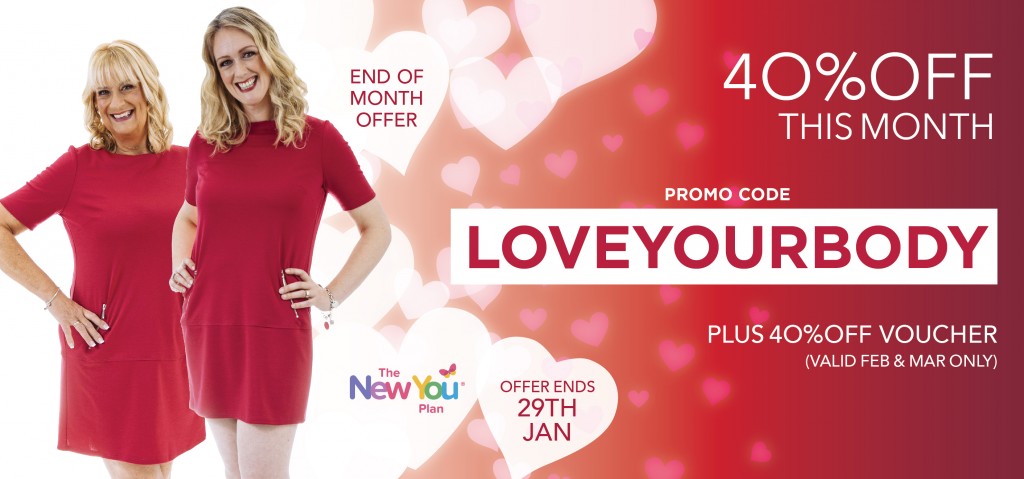 START YOUR TRANSFORMATION TODAY
Inspired by Jackie's story? Then why not take advantage of our double discount promotion to end January strong. We are offering you 40% off all individual products as well as an extra 40% to spend in Feb and Mar once you have used the LOVEYOURBODY code. What are you waiting for? This is the perfect opportunity to stock up on all your New You favourites to ensure you hit the ground running right up to the start of February.