Challenges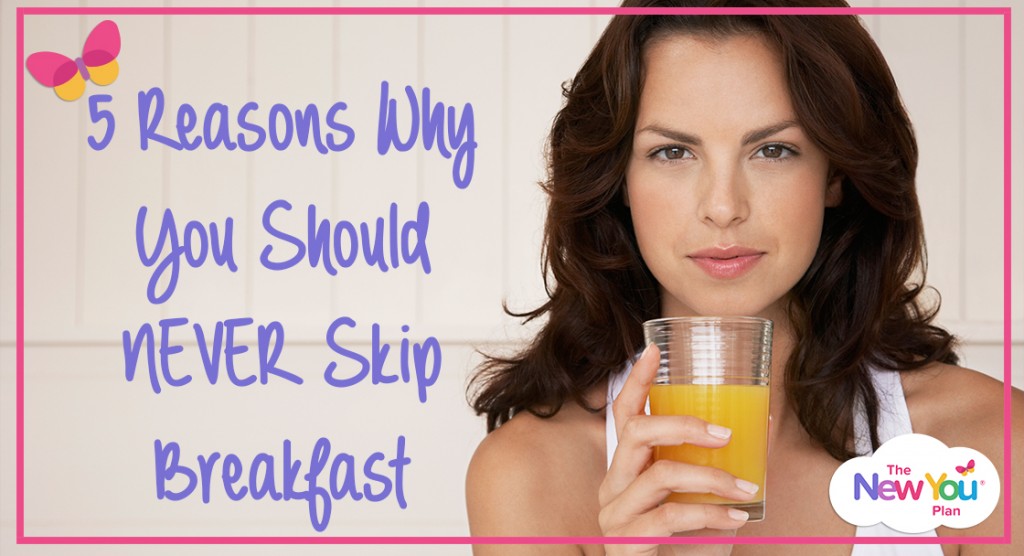 5 Reasons Why You Should NEVER Skip Breakfast
"Breakfast is the most important meal of the day. When you feed yourself what your body needs when it needs it, that's love. So give your bod some TLC and sit down and enjoy a good, substantial breakfast."      –  Kathy Freston, best selling author
"Breakfast: It's the most important meal of the day!" It's an expression that's been branded around for years, but one which is filled with tonnes of truth! Consuming a healthy breakfast every single day is important for our health and weight management and skipping it can have adverse effects. So if you're someone who heads off in the morning without fuelling first, here we share the…
5 Reasons Why You Should NEVER Skip Breakfast

1. Get your day off to the best possible start
A good, healthy breakfast really does set you up for the rest of the day! At The New You Plan, we firmly believe that a good morning routine is vital to set yourself up for a great day. Typically, the mornings can be a hectic and stressful time of the day. With kids to get ready for school, lunches to pack and a house to keep in check, it isn't surprising that half of people confess to skipping breakfast in the morning (Source: Flahavan's). But the fact is that consuming a good breakfast will keep you on track for the rest of the day. A study by the Imperial College London, has shown that starting your day with a healthy breakfast, means you are less likely to give into temptation and indulge in sugary or carbohydrate laden snacks throughout the day. Furthermore, The Food and Brand Lab at Cornell University found that the majority of people who are "effortlessly thin" tend to eat fruit, cereal or granola for breakfast.
Sitting down and having breakfast with your family is a wonderful way to start the day, and takes just 10 minutes. In order to make that happen, you may need to prepare a little. Why not try getting up 30 minutes earlier in the morning? It'll give you a little more time to get yourself ready and mentally prepare for the day ahead. Or, prepare those packed lunches the night before to afford yourself more time in the morning!

2. Boost your energy
Quite simply, the body needs fuel to function, and food is that fuel. It is unrealistic to expect your body to be able to go from dinnertime the night before to lunchtime the next day, without adequate food. "Breakfast" quite literally means "Breaking the fast" of your sleeping hours so starting your day with a nutritious breakfast means you'll have enough energy to burn, keeping energy levels high until lunchtime.

3. Reduce the risk of illness
In the UK, over 4 million people have diabetes; that's a staggering 6% of the population. Furthermore, 90% of those with diabetes are suffering from Type 2, which is mainly triggered by being overweight and physically inactive. But did you know, that studies have now revealed that irregular breakfast consumption is linked with a higher risk of type 2 diabetes in women?
As well as this, in the UK, every 7 minutes someone will have a heart attack and every 12 minutes someone will have a stroke. But what's more shocking than these statistics, is that most occurances of cardiovascular disease could be prevented through a healthy diet and lifestyle. So take the first step and start your day with a healthy breakfast, which is associated with a lower incidence of heart disease in men aged 45 to 82.

4. Enhance your memory
Eating a good breakfast really does set you up for the day! Ever skipped breakfast and wondered why your concentration wasn't the same? Evidence collated from a review of 22 studies on breakfast and congnitive function revealed that eating breakfast may improve memory, test results and school attendance in children and teens.

5. Try The New You Plan's delicious breakfast options
We know that one of the most common reasons people skip breakfast is because they just don't have time. Thankfully, we have a solution to that. Our keto-friendly, low calorie breakfast options are a popular choice with customers, who love a cooked breakfast, but don't have time to spend hours slaving over a hot stove. Our Pancakes, Omelettes and Porridges are the perfect tasty start to the day, easy to prepare and ready in just seconds. Or, if you really don't have time, grab one of our Shakes. These can be made with either hot or cold water and are as quick to make as a cup of tea. Shop our breakfast items>>> here!
So there you have it! The 5 reasons why you should NEVER skip breakfast! And to celebrate the importance of breakfast, head over to Secret Slimmers and take part in today's #photochallenge! Show us what you're having for breakfast!