Before & Afters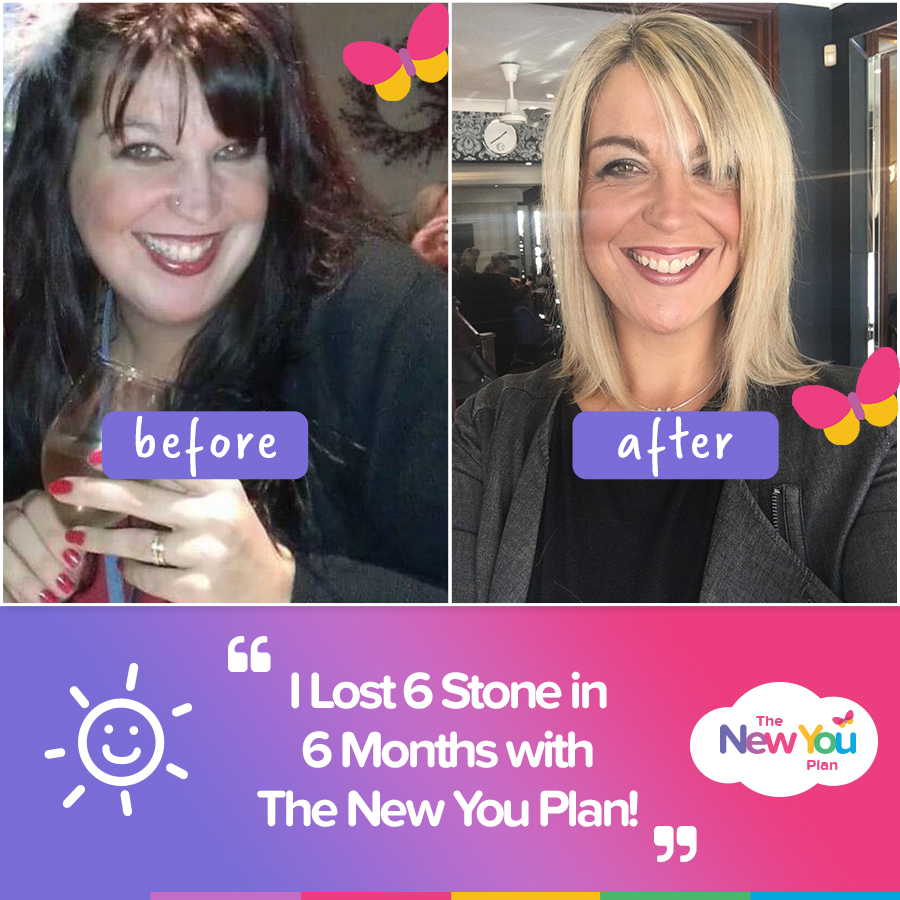 Lucy's Life Changing Weight Loss Story!

For customer Lucy, The New You Plan has given her a new lease of life. After spending months feeling miserable about her weight, she vowed to do something about it. Here, she shares how she lost a life changing 6 stone in 6 months and feels like a totally different person.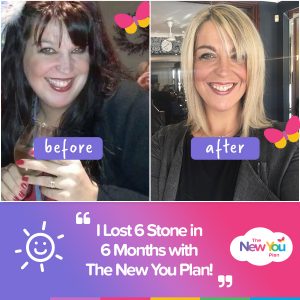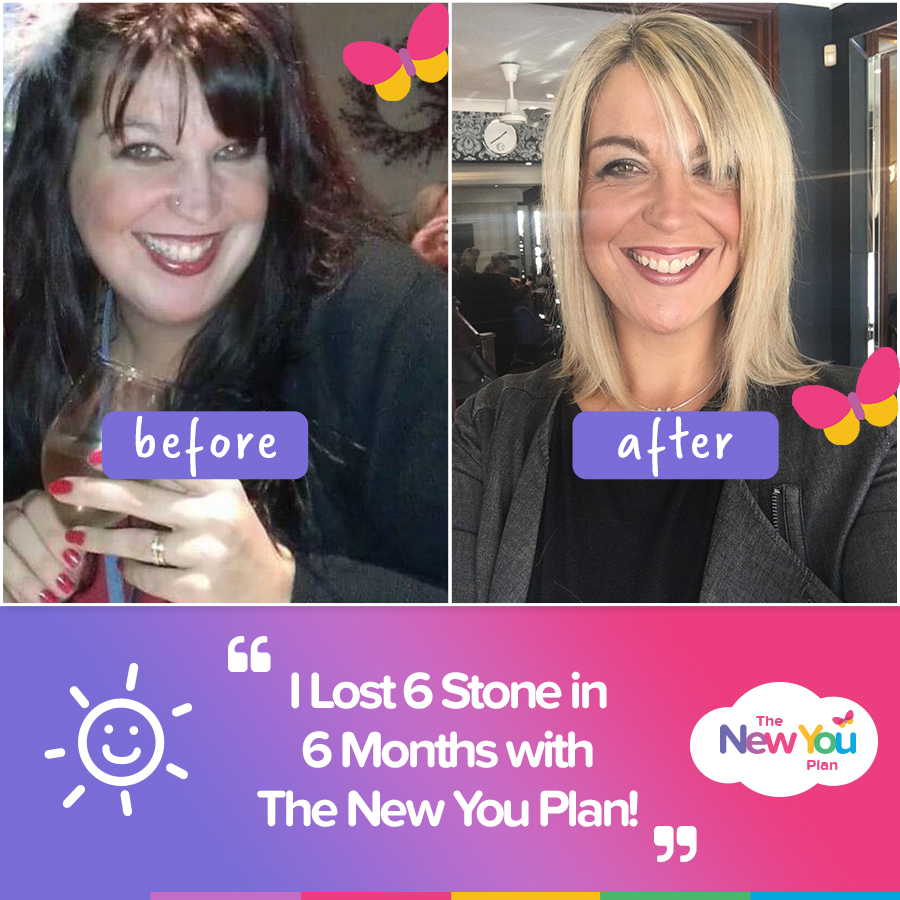 Lucy, when did you start The New You Plan?
I started in January 2017 after spending Christmas feeling miserable about my weight. I vowed then and there that it would be the last time I would feel down about my weight. January was a clean slate, the start of a new year, and therefore the perfect time to start. I was actually excited about getting on plan and changing the fate of my future.
Describe how you felt before you started the plan
Honestly, I was at absolute rock bottom. I felt so low and desperate that I was even considering gastric band surgery. In feeling defeated, I couldn't see any other way around it. I was really disappointed with myself and my self esteem and confidence were at an all time low.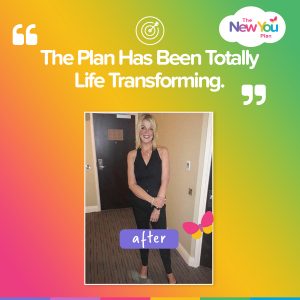 How did you discover The New You Plan?
It was while researching gastric band surgery options that I stumbled across the New You Plan. I saw it as my last resort before surgery and having tried everything else with no success, I knew I had nothing to lose. I really didn't want to have the surgery so I was determined to have one last go at losing weight myself. I'm so glad I found The New You Plan because the alternative just isn't worth thinking about.
How has the plan changed your life this year?
The plan has been totally life transforming. As I began to gain confidence I was able to make changes to other areas of my life that were contributing to my over eating. I ended up making a much needed change of direction with my career and I'm now the happiest I've ever been. This has all been possible because of New You. I know in my heart that if I hadn't lost the weight, I wouldn't have progressed. I was stuck in a rut and the only way to get myself out of it was to lose weight and feel like myself again.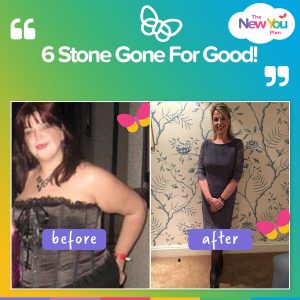 How has your health improved?
I've seen a drastic improvement to my health which is another reason why I wanted to lose weight. My BMI is now in the healthy range and I can move around without getting out of breath. My hip joint pain has also almost disappeared. It's hard to believe that I lived this way for so long, damaging my health and self esteem in the process. We take our health for granted and often it isn't until it suffers that we realise that we need to do something about it. For me, there were small warning signs there. I could have let it go on for a few more years but I knew I had to do something about it now, not just for my sake, but for my family and friends too.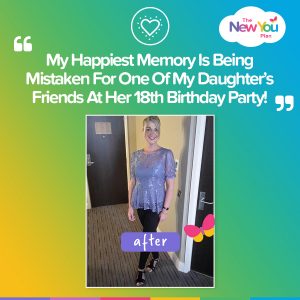 What's your biggest non-scale victory?
We all have those dresses that we hold onto with the hope that someday we'll magically fit back into them. Some of those dresses in my wardrobe that I'd been too big for, suddenly became too big for me! That's a massive achievement and something I'm immensely proud of.
Since losing weight, what is your happiest memory?
My happiest memory is being mistaken for one of my daughter's friends at her 18th birthday party! I couldn't believe it. I've looked at so many people who have lost weight in the past and marvelled at how much younger they looked. I never thought it would happen to me too.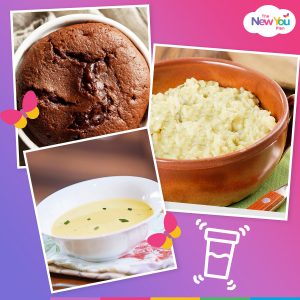 What are your favourite New You meals and snacks?
I love the asparagus soup, vegetable risotto and chocolate brownie (who doesn't?!). The range is great and I love that New You is always adding to the collection and is keen to hear from customers about their tastes and what they like. There's great variety so you never get bored, which is important. Often diet food is bland, tasteless and boring, but I'm delighted to say this isn't the case with New You.
You have taken on the role of Cheerleader, supporting others on the plan. What motivates you to help others?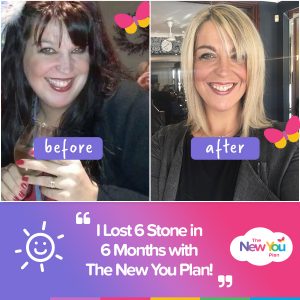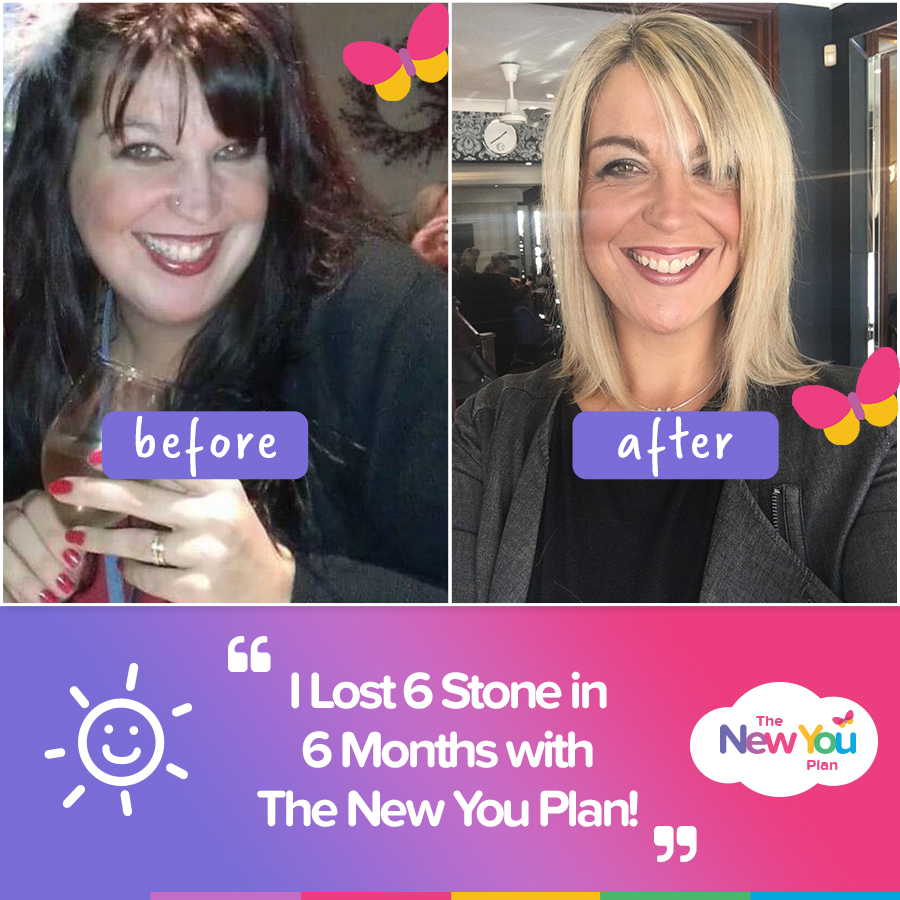 It helps me keep motivated seeing others starting out and needing support. I love to work alongside people who are on those first few weeks on plan to get them well into their stride. Once you settle into the plan, it really is a breeze!
What advice would you offer anyone thinking of starting the plan?
Don't even hesitate…you certainly won't regret it. The plan is easy, good value for money and has an amazing support group on Facebook. I can't imagine my life without The New You Plan and I can't wait to see what the future holds for me. I know it will be amazing, and it could be for you too!
____________________________________________________________________________________________________
Get started on the BEST TFR Plan TODAY!

Getting started is the first step in your journey to a brand New You! To help you understand fully how our plan works, our Get Started page with designed specifically for people new to the plan.
Head over to our site where you'll find tonnes of important information including how our plan works, the science behind it, loads of top tips, information on our meals, as well as real customer testimonials.
Click here to visit our Get Started page!
*Everyone is different, and we can't guarantee how much weight you will lose. Check out our success stories to see what our customers have lost.