Before & Afters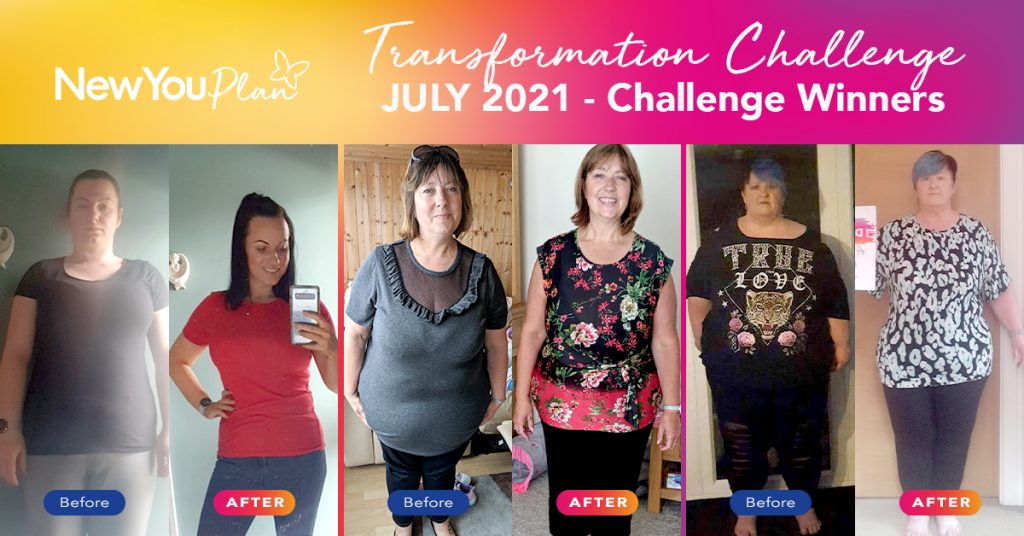 July 2021 Transformation Challenge Winners!
Drum roll please… we are delighted to reveal the WINNERS of our July 2021 Transformation Challenge! Find out who has won our £1,000 First Prize
We had such an amazing response to our July Transformation Challenge! We LOVED seeing how motivated you were to smash your goals this season!!
This has been testing time for every one lockdown has made it harder to get motivated and stay motivated. With our lives slowing down it has become increasingly difficult to maintain a healthy diet, but this has not stopped hundreds of our slimmer's from sharing their amazing transformations each week.
Our customers told us that they LOVED taking part and it definitely helped them stay on track, which is always our goal when we launch every challenge! At The New You Plan, we firmly believe in doing what we can to keep our customers motived at all times! We have now ramped things up and are now having a challenge EVERY month where one lucky person is set to win £1000!
Now that our July 2021 Transformation Challenge has ended we are delighted to reveal the winners!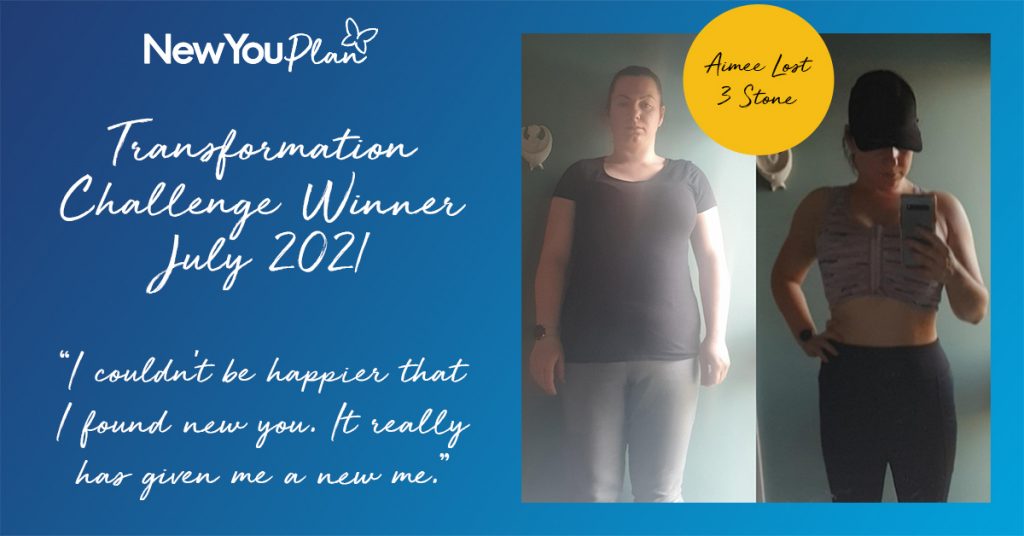 1st Place Winner: Aimee Lost 3 Stone in 12 Weeks and Won £1000 Cash!!!!
Aimee took 1st place in our July 2021 Transformation Challenge and has completely changed her life, she feels like a new woman, has went from being in the obese category of BMI to Normal and has ditched leggings and now confidently wears jeans all of the time! How Good does she look?!
"This plan has 100% changed my life . I feel like a new woman . I believe in myself so much more that I did in the beginning . I feel like I can achieve anything I put my mind to and I'm so hopeful for the future .I'm happier and healthier than I've ever been. I will forever be grateful that I found New You."
"I was trying everything to lose weight but it wasn't working because I felt like I was depriving myself and then would binge on unhealthy foods . I loved the idea of the new you products and the fact that you could still have things like chocolate and brownies and lose weight."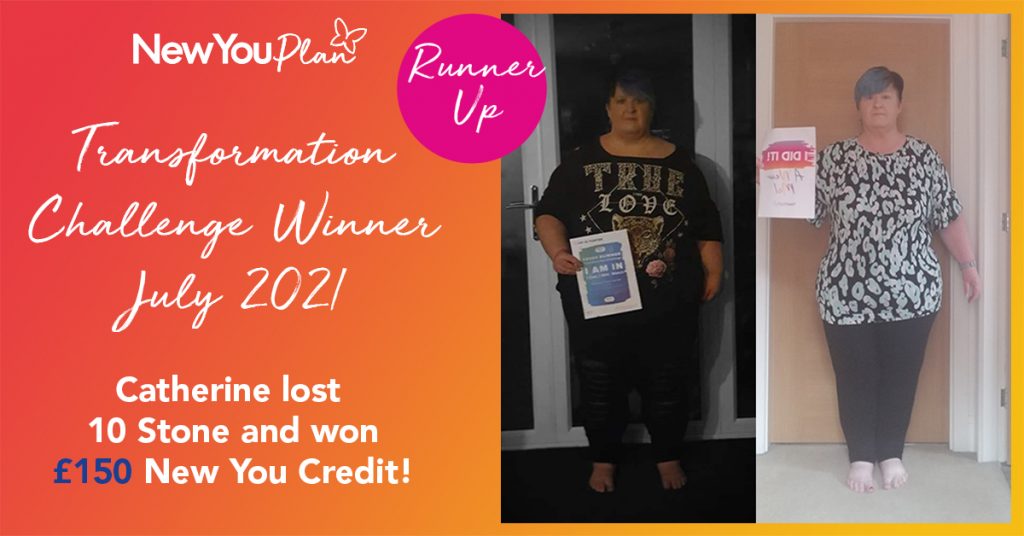 Runner Up: Catherine has lost over 10 Stone and won £150 New You Credit!
Catherine has lost over 10 Stone with New You and has lost over a third of her body weight! She has gained enough confidence through her weight loss that she done a boudoir photo shoot and looked absolutely incredible!
"I have a fur coat that was size 32 which is now way too big. I took this coat into work where one of the seamstresses has taken 16inches off the back of the coat to make it smaller and I can get in certain cars and my legs are not touching the steering wheel."
"The first week weight loss was 15.2lb I was ecstatic and was like wow how have I not heard of this before I was amazed that I lost so much!"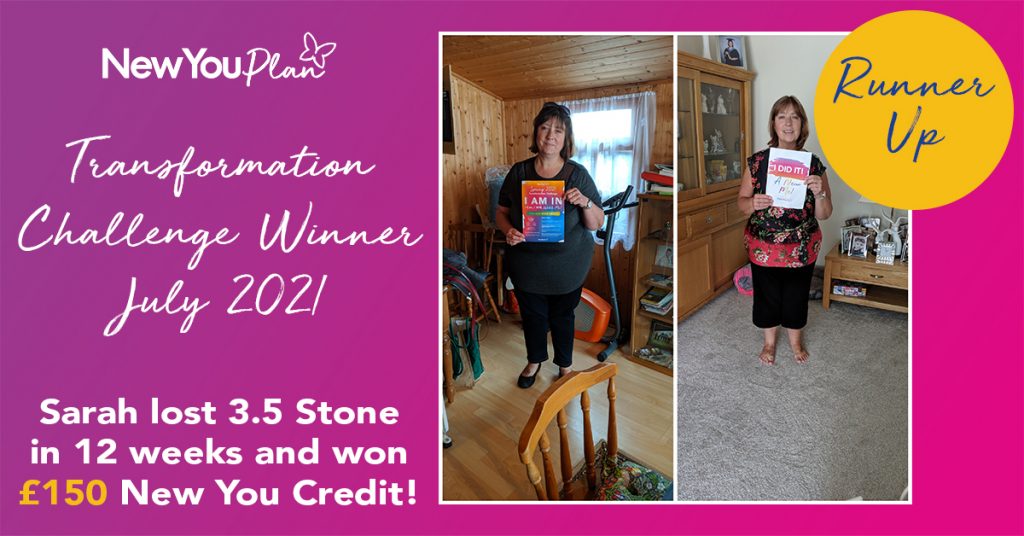 Runner Up: Sarah lost 3 and a half stone and Won £150 New You Credit!
Catherine can now lift her granddaughter with more ease and has lost over 3 and a half stone in just 12 weeks, she has found how exactly to prepare for occasions with New You products to keep her on track!
"My biggest motivator for keeping on track was my family, especially my granddaughter. I need to be able to keep up with her and also the fact that I am turning 50 next year."
"The plan has completely changed my life and mindset. I have realised that before I was an emotional eater, I would eat If I was happy, sad, worried, anxious, fed up or bored. I loved the feeling of wellness but this was short lived and doesn't help cure these emotions. I would think about food all of the time and think it would help. This was a vicious cycle: eat too much and then feel lousy."
Thanks so much to each and every one of you who entered. Remember, you are all winners. Be proud of every pound that you have lost, look at how far you have come and celebrate those non-scale victories along the way.
We have switched up our Transformation Challenges and now have one EVERY month! Where one lucky slimmer will win £1000 Cash! 2 Runner up prizes will be £150 New You Credit!