New You Plan Blog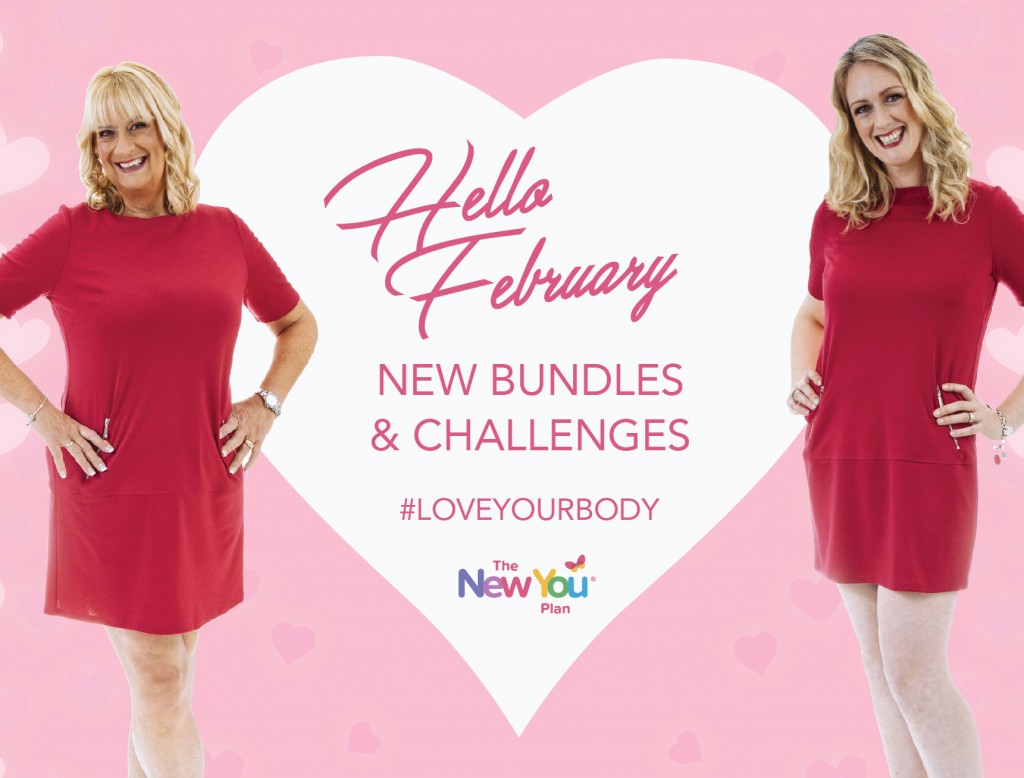 Hello February – What we have in store this month!
February has arrived and we are thinking all things LOVE! The theme for this month is 'Love Your Body'. We want you to change your mindset and create a positive attitude towards your body. Whether you are only starting out or are near your target weight, we want you to appreciate what you already have and love yourself inside and out. The thing we need to remember is we are all unique so we should embrace our different qualities and learn to love them.
As you know each month at the New You Plan we launch various different deals and challenges to help keep you focused on achieving your goals. Since February is all about the romance we have created bundles and challenges we know you are going to love!
So what have we got in store for you this February..
T0 help us all stay focused and on track throughout the month of February we have created some very special bundles and challenges. By getting involved with all our Love your body activities you will learn to love your body a little more everyday.
1. Love your Body Bundles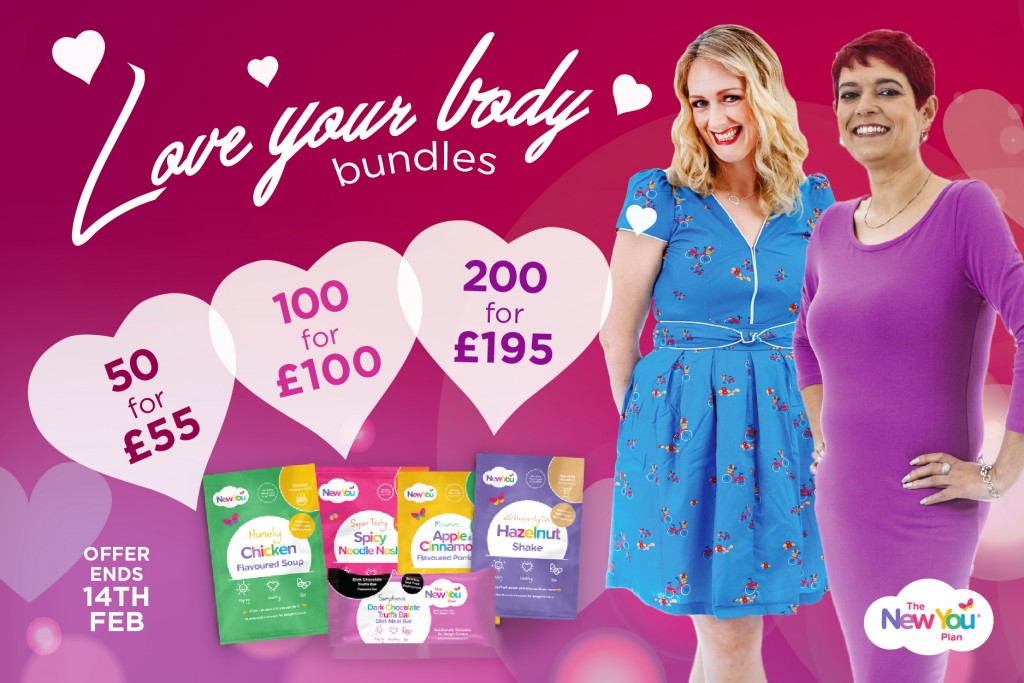 Keep your New Year momentum going with our 3 new Love Your Body Bundles for the month of February. The thought behind these 3 bundles is the more you spend the more you save, e.g. if you buy 200 your meals will only cost you 98p each!
We want to make sure you have all the products you need to keep you focused and on track throughout the month of February. Each bundle comes complete with a New Me Wall Chart. This wall chart is to help you improve your health 1 day at a time by tackling 5 major components to create a healthy lifestyle.
The Love your Body bundles are (offer ends 14th Feb 17):
50 for £55 (save 45%)
100 for £100 (save 50%)
200 for £195 (save 51%)
---
2. February Daily Theme Challenge
We have created a new daily theme this month to help keep us all motivated throughout February. The idea behind this challenge is to help us all learn to love our body more and more as the month goes on. We need to take a step back and forget how we think we are viewed but see how we actually view ourselves, by appreciating what we already have we are are building our confidence and making the overall weight loss journey that little bit easier.
Each day presents a new theme, we want you to relate each theme to your own life and think about how you can portray it. Through photographs, quotes, poems etc. this is a prime opportunity to get creative and express how you feel to the community and your friends.
---
3. February Step Challenge
This month we have decided to create a step challenge instead of a weight loss challenge. We want to get you all up and active, embracing exercise into your life for the month of February. The idea behind this challenge is we want you to set yourself an overall target of steps you want to complete and work yourself towards it as the month goes on.
To enter simply join the challenge on Secret Slimmers and add in your target step count in the spreadsheet provided. Each week update your progress and see if you are on track to reach your goal. At the end of the challenge we will pick a winner out of all the members who reached their target. We have some amazing prizes up for grabs so this is something you don't want to miss!