Before & Afters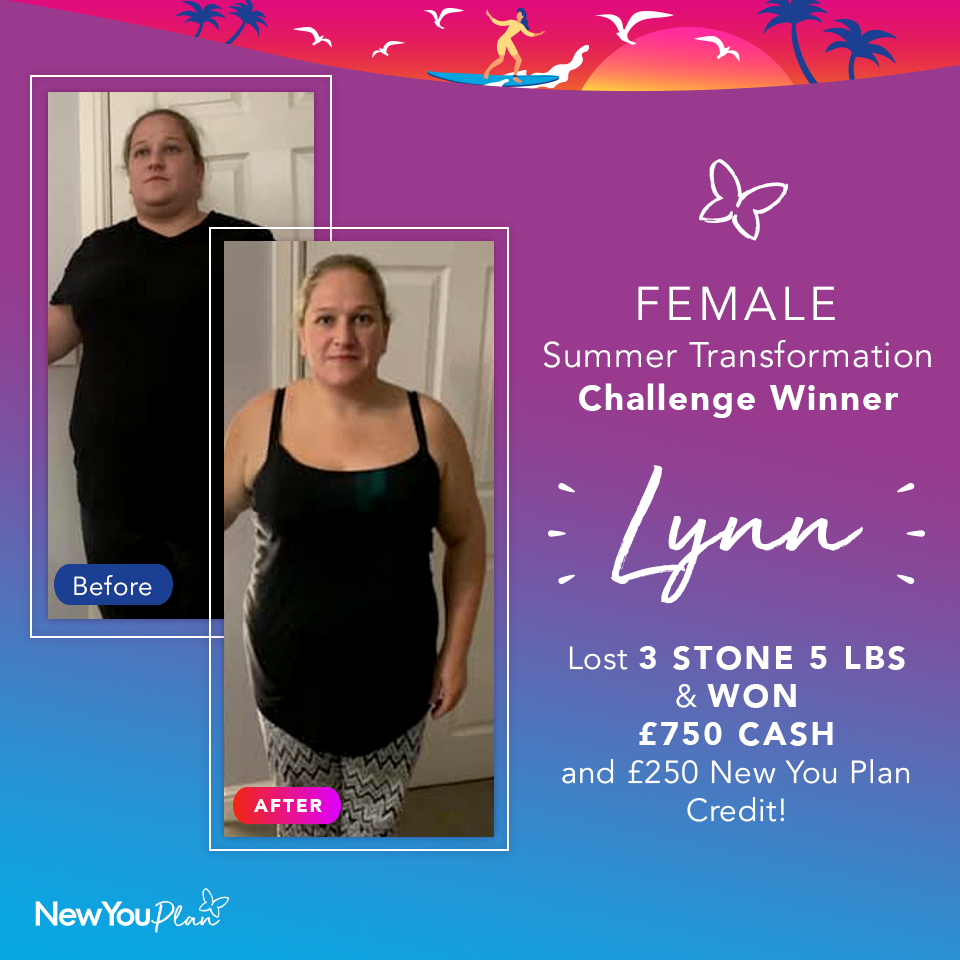 Female Summer Transformation Challenge WINNER Lynn Lost 3st 5lbs & WON £1000

In only 8 Weeks gone, Lynn has lost a MASSIVE 3st 5lbs and feels amazing
Meet Lynn our Female Summer Transformation challenge WINNER!
Lynn dropped from a size 22 to a size 14 in 8 in only weeks and picked up a whopping £1000
New You Plan founder Julie-Ann called Lynn to give her the good news. Click below to listen to her amazing reaction.
Lynn, why did you decide to take part in our Summer Transformation Challenge?
I took my photos on day one and actually had no intention of entering the competition, but after the first 3 weeks I'd already dropped 2 stone I thought I might as well enter and see what happens. Winning wasn't in my head, my main focus was improving my health.

What's the biggest lesson you've learned since taking part in the challenge?
The biggest lesson I've learnt is comfort eating is not the way forward and anytime I've felt I was going to blip I have picked up my phone and gone to the Facebook group- the support from there has been invaluable!!
I was very nervous before I started the plan as I thought " how on earth can anyone survive on that amount of calories " and once I started I felt so tired, hungry and miserable but I slept it off and punched forward . Everyone else had managed todo it so why couldn't I. I also had so much support from my work colleagues too.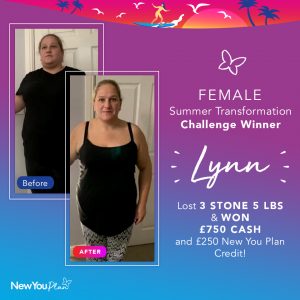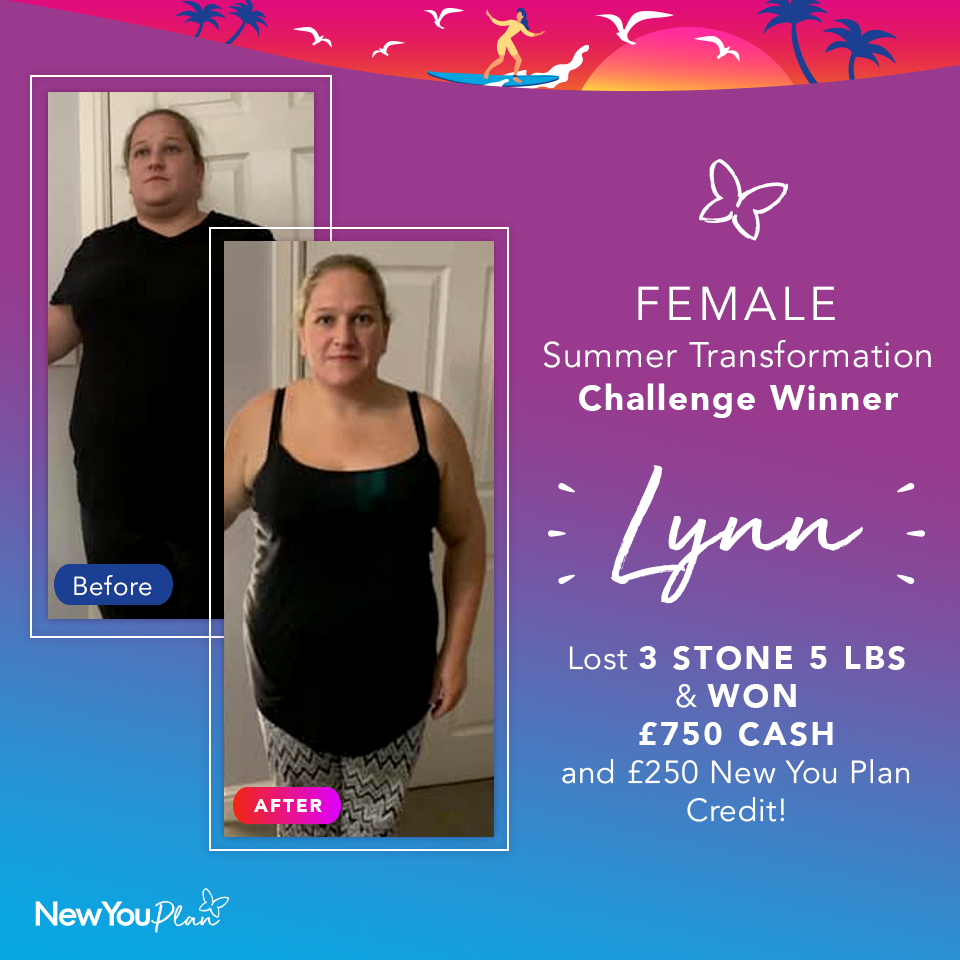 Describe how you felt before you started the plan?
I started the new you plan on the 24th July 2020. My starting weight was 18st, and my weight as of 7th October is 13st 11 lbs making a total loss of 59lbs in 11 weeks. I was a 22 dress size when I started and I'm now a size 14. Originally I only wanted to lose 98lbs taking me to 11st but I'm going to see how I feel once I achieve this then I might go to 10st. I dont want to look ill so I'll have to see how I look.
How did you discover The New You Plan?
It was actually my boss Tracey who introduced me to New You . She had been doing the plan for 4 weeks and even though she didn't have much to lose her losses were brilliant , so she referred me and the rest is history.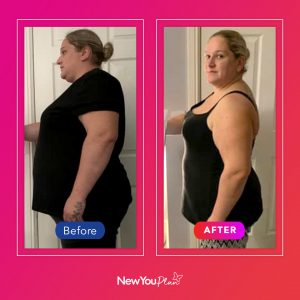 How has the plan changed your life?
Now I have so much energy I can't seem to sit still ! Before I was struggling with mild asthma, joint pains, high blood pressure ,back pain and so tired all the time and I'd been diagnosed with a fatty liver. Now I don't need my inhaler, my back doesn't hurt , ive even stopped taking my pain medication and I'm hopeful at my next blood pressure appointment that I may be able to reduce or even stop my blood pressure medication. I'm due tests on my liver in December so I'll find out then if this has reduced… fingers crossed.
What was your biggest motivator in staying on track?
Seeing the photos of the weight dropping off me and my husband actually seeing the difference for once was my biggest motivation for sticking to plan . I have no intention of going back ( plus I have no clothes now only small sizes lol )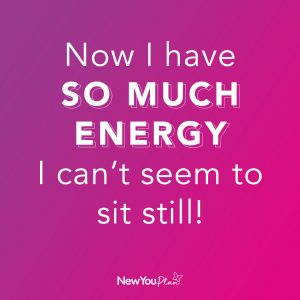 What's your biggest non-scale victory?
My biggest NSV was buying some new clothes in a size 14 – hoping I would fit into them eventually but actually discovering I already did fit in them
What is the nicest compliment you've received since losing weight?
I've had so many compliments since moving past the 3 st loss mark but I think the best one was made on my wedding anniversary photo.
" where's Lynn gone !! I literally can't see her , she's disappeared!!"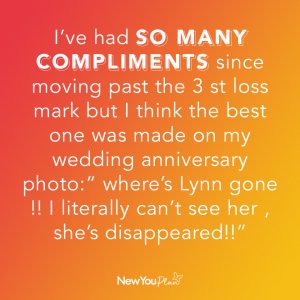 What are your favourite New You meals and snacks?
My favourite meal are the pancakes, eggs, burgers and Mexican tacos but I really need to try the cottage pie as my husband say it's lush!!
What advice would you offer anyone thinking of starting the plan?
If anyone reading this is thinking about starting , no think just do it !! The more your ponder on it the more chance you
It actually works out you save money with no impulse buying junk food or takeaways ! Act now and make your life even better !! Oh and joint the FB group !! They are amazing support!!
---
Lynn did it & you can too!
Watch out for our Transformation Challenges and you could win £1000