Before & Afters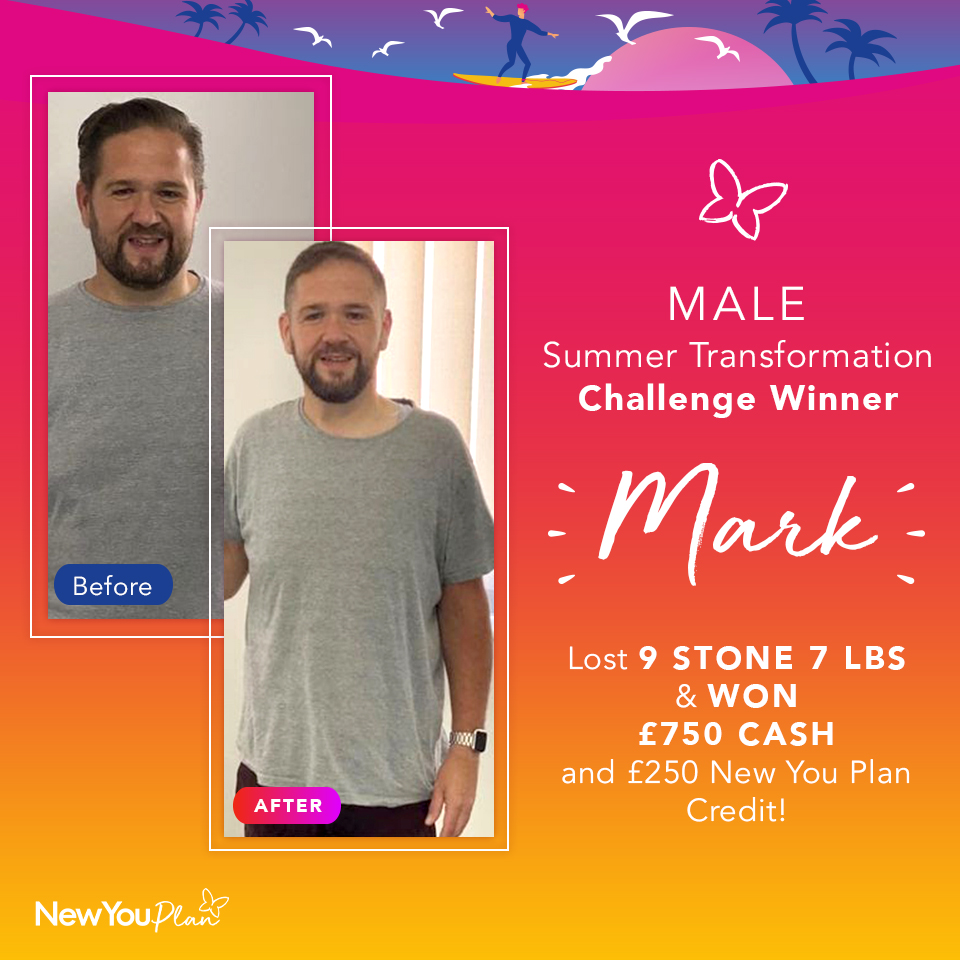 Male Summer Transformation WINNER Mark Lost 9st 7lbs & WON £1000

Mark Lost over 9 stone in 7 Months and Dropped 10 Sizes 😮
Meet Mark our Male Summer Transformation challenge WINNER! Mark went from a size 50″ to a size 30″ / 32″ in 7 Months and transformed inside and out.
New You Plan founder Julie-Ann called Mark to give him the good news. Click below and hear how Mark found out he was our winner.
Why did you decide to take part in our Summer Transformation Challenge?
A little pressure from one of my closest friends. I was struggling in my head to notice the difference, but what better way to be accountable then sharing my journey with the other secret slimmer's. it 100% helped me to stay focused and keep my mind in the game.

What's the biggest lesson you've learned since taking part in the challenge?
If you fall off the wagon, then jump straight back on. A bump in the road is by no means the end of it.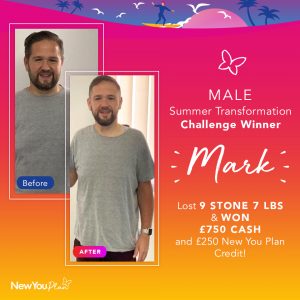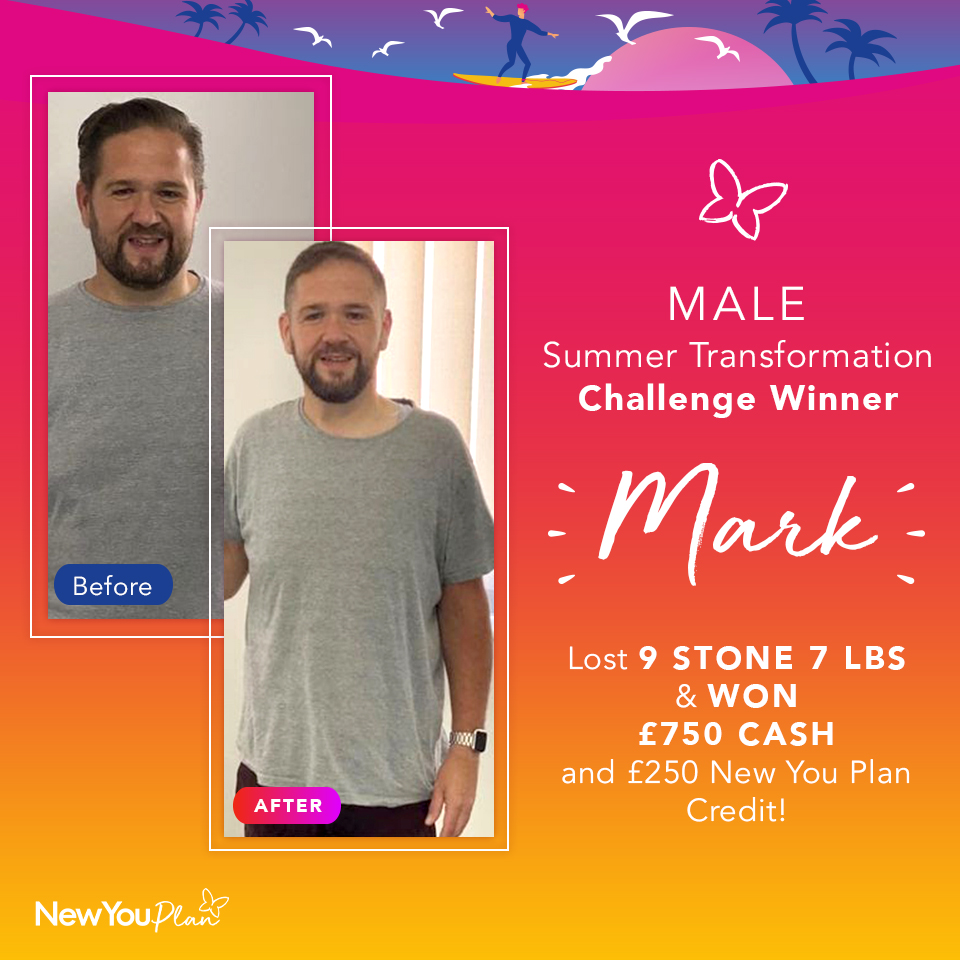 When did you start the New You Plan and what was your starting weight?
I started on 4th March 2020 and my starting weight was 22Stone (140kg) Currently I am 12stone 3lb (77.5kg) Weight loss to date is 137lb (62.1kg)
How did you discover The New You Plan?
My life had come to a halt. I felt older than my age and I knew my weight was effecting my mobility as getting up was getting more difficult.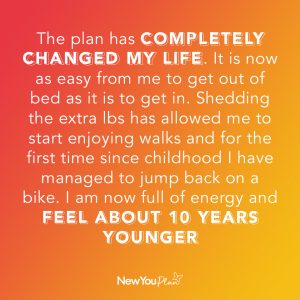 How has the plan changed your life?
The plan has completely changed my life. It is now as easy from me to get out of bed as it is to get in. Shedding the extra lbs has allowed me to start enjoying walks and for the first time since childhood I have managed to jump back on a bike. I am now full of energy and feel about 10 years younger
What was your biggest motivator in staying on track?
I know that may sound a bit strange, but its the smallest things that keep me on track now. Walking up a set of stairs and not feeling like I have run a marathon, being able to move freely. Going back to how I was is just no longer an option.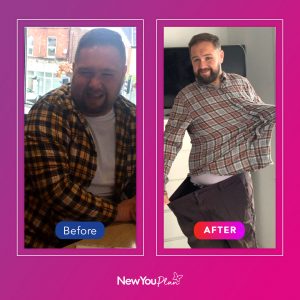 What's your biggest non-scale victory?
My biggest no-scale victory has to be being able to shop on the high street for clothes. I was in massive shock that I now fit in a small! I just can believe that I no longer have to go to a supermarket to find something that fits me.
Since losing weight, what is your happiest memory / proudest moment?
Honestly the overwhelming response and support I get from the Secret Slimmer's is 100% my happiest moments ever. The love I feel from this great bunch of people is completely awesome. Being told they see me as an inspiration just makes me so proud.
What is the nicest compliment you've received since losing weight?
You only need to look through all the fantastic and lovely words of encouragement from the Secret Slimmer's as there are far to many to list. Not being recognised after not seeing people for a while, the reaction is normally better than what they say.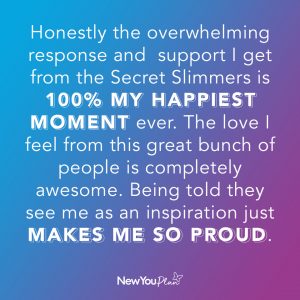 What are your favourite New You meals and snacks?
Omelette and Chilli Combo has to be my favourite duel packs or a cheeky Carbonara, Shakes and bars, you know, I actually like them all. Fave snack is the peanut crunch bar, but again, I love them all.
What advice would you offer anyone thinking of starting the plan?
It really is all about the mind. Mind over matter. You don't have to be fat. Stay focused and remember tomorrow is a new day.
---
Mark Looks and Feels Amazing, are you next?
Watch out for our Transformation Challenges and you could win £1000