Challenges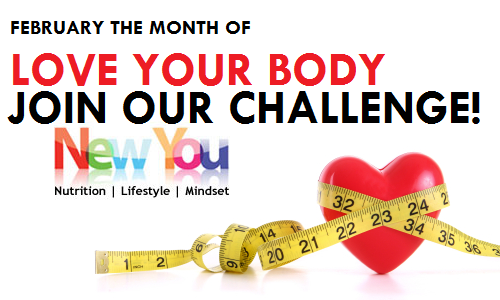 February Month of LOVE Your Body: Weight Loss Challenge*
*Weight loss results may vary. This is not a guarantee
Welcome to The New You Plan February Weight Loss Challenge!
As February is the month of love with Valentine's day on the 14th, the theme for New You this month is LOVE YOUR BODY.
We want YOU to LOVE your body THIS MONTH, by LOSING WEIGHT FAST and building healthy habits for LONG TERM SUCCESS.
WE ARE ALSO GIVING YOU A FREE BONUS GIFT for Joining our challenge! Read on to find out MORE….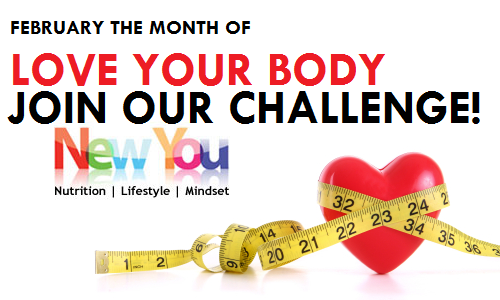 THIS MONTH WE ARE GOING TO DO SOMETHING SLIGHTLY DIFFERENT.
This month please STATE YOUR WEIGHT LOSS GOAL for the month of February AND ONE HABIT that you are going to introduce to make you healthier and improve your lifestyle.
Losing weight is one thing, but to be able to MAINTAIN your weight loss, you need to build in healthy habits.  A healthy active lifestyle is the foundation to your long term slimming success!!
Here are some examples of Healthy Habits that you could incorporate in this month.
Only PICK ONE or TWO Habits to introduce this month – focus on building these habits into your lifestyle and by the end of February you will feel confident to add in another one or two.
Samples of Healthy Habits…
Start every morning with a morning walk
Do an exercise DVD everyday
Drink a glass of water every hour
Reduce Caffeine intake
Start a new exercise class like Yoga, Zumba, Kettlebells etc.
Walk the dogs every evening
Start a home exercise routine every morning to tone up – ie. sit ups, press ups, squats & leg lunges
Get to bed early and get up early to get a good nights sleep
You can pick ANY habit you want, so you DO NOT HAVE TO PICK ONE FROM THIS LIST, YOU CAN ADD YOUR OWN.
Please STATE BELOW your WEIGHT LOSS GOAL for the month of February and the Healthy Habit that you are aiming to develop this month.
Each week when you check in and post your weight loss result please give an update on how you are going with your HEALTHY HABIT.
THE LIST OF OFFICIAL PARTICIPANTS:-
Add your name now…. leave a comment below
Add your name now…. leave a comment below
To add YOUR NAME and make YOUR COMMITMENT TO LOVE YOUR BODY THIS MONTH please leave a comment below.
Woohoo!! Let's have an AMAZING FEBRUARY… "Life is what you make it, are you ready to make your yours MAGNIFICENT?"
TAKE PART IN THE CHALLENGE AND GET A FREE BONUS GIFT!!
FREE Personalised Email Motivation Course for the month – keeping you on track with your weight loss goals and your healthy habits.  This will be sent to you EVERY MORNING, and remind you of your personal goals and personal reasons for wanting to be slim fit and healthy.  It is important to start every day off to a positive start, and this email course will set you up for success!!