New You Plan Blog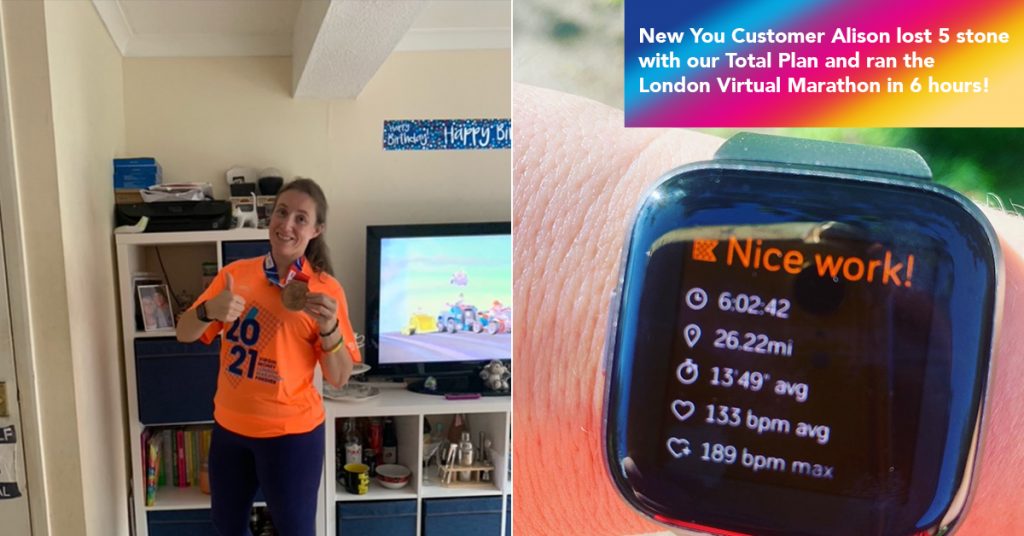 Alison Loses 5 stone and Completes a Marathon!!!
At New You, we love nothing more than to hear our customer success stories and we enjoy sharing them with you too.
Alison's journey is one we particularly couldn't wait to tell you about. She had tried every diet to shift her baby weight and broke her foot before her upcoming marathon last year. When she thought things couldn't have gotten worse she received bad news about her health. Read Alison's full story below to find out how she overcame her adversity, lost weight and went on to complete her second marathon last week!
"Well, as most of you probably know, I started the New You plan back in February 2021. I had struggled with my weight for quite a while after having my youngest child. I had tried lots of different approaches to try and lose weight. None of which worked. Last year I signed up to the virtual London marathon looking to walk it to give me an incentive to exercise and train to lose weight. Unfortunately, I broke my foot about 6 weeks before, I still did it but it took about 10 hours. Because I broke my foot, I had gained even more weight with my limited mobility. My confidence was at an all time low.
I was later diagnosed with an underactive thyroid and Addison's disease which led me to starting with the New You plan. It has been a dream of mine to actually run the London Marathon for many years however I never felt I would be able to. I signed up to do the virtual London Marathon in March to give me an incentive to train and have a goal to achieve alongside my weight loss goals.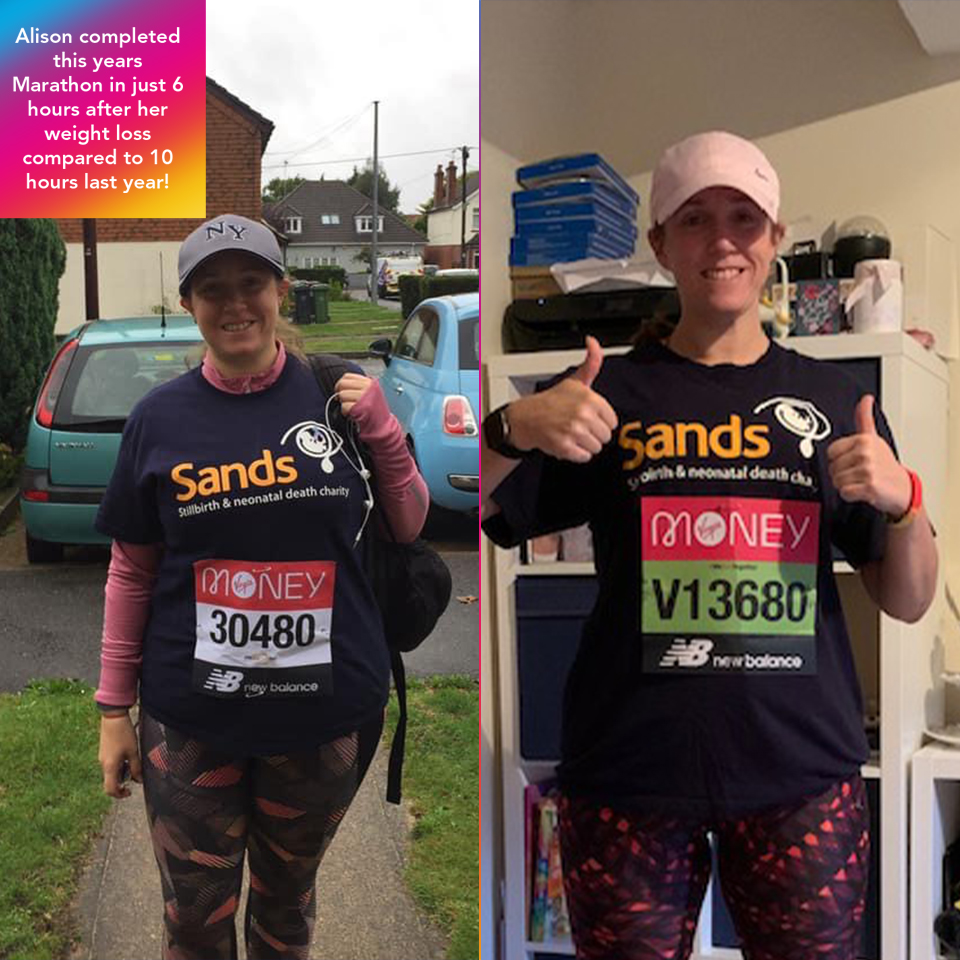 Fast forward from 15th February to 3rd October 2021, I'm delighted with my progress. Over 5 stone lost with the New You Plan plus my training, I was able to run the entire marathon in 6 hours. Sure, there were people that are faster than me but 26.2 miles is still 26.2 miles and I'm very proud of myself. It wasn't easy, I cried at mile 22 realising I still had four miles to go; at times….I didn't think I could carry on but I did. I also cried when I finished realising that I had actually done it!
I carried on to prove to myself that I can do anything I set my mind to. To remind myself of how far I have come and that I can reach my goals no matter how hard they may seem. My mindset has completely changed over the past 8 or so months with the support of New You and it's fabulous community.
I also raised Money for an amazing charity called SANDS. I ran in memory of my son Michael who was sadly born sleeping in 2010. They are amazing and helped me so much.
I can now say that I have achieved a dream, something I never thought possible and I can't Thank New you enough xXx"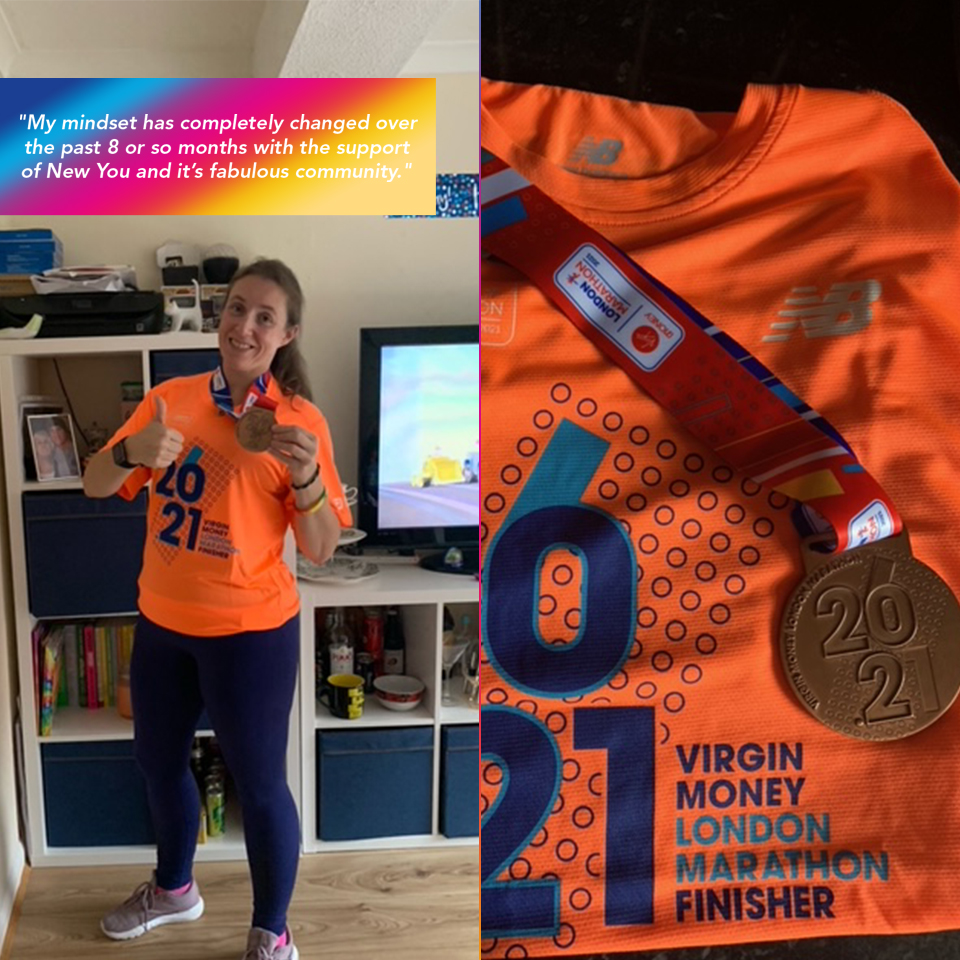 Having lost an incredible 5 stone with New You, Alison was able to run in her second marathon and complete it in 6 hours! With our support, she was able to change her mindset and fight through her health issues. Alison couldn't be more proud of herself, and neither could we.
She's such an inspiration and we are humbled that she thanks New You for part of her success. We would like to thank her in return for allowing us to be part of her journey and kindly sharing her transformation story.
To find out how we can help you with your transformation visit our website or contact our friendly customer service team by emailing [email protected]