New You Plan Blog

7 Ways to Stop Temptation From Ruining Your Plans of a Summer Slim Down
Here at the New You Plan HQ, we've found June to be a bit of a rollercoaster, to say the least. First, the sunshine coaxed us out of our winter clothes and inspired us to wear open-toed shoes-well ok, flip flops. Only to then force us back into our coats and boots-well ok, wellies. There were grumpy faces all around.
Then, just as there was hope for England as their day of freedom was approaching, the powers that be decided that they best stay locked down for another month.
Wherever you are in the UK, if you're feeling a little down about the weather (aren't we all 90% of the time!) or a bit blue because the lockdown still hasn't ended, then good news! We're here to help put a positive spin on it all.
If you had planned a summer slim down (I think that's everyone's plan) then don't worry. When you look out of the window, it's clear that the summer hasn't started yet, so you still have time. In addition, the continuing restrictions also confirm that you've not missed the opportunity to slim down for summer! So what are you waiting for?
What? Do you still have reservations? Ok, we understand that the run-up to summer can be difficult. Whilst everyone is getting ready for the hot weather, it can be easy to get swept away in the energy of it all. It can be easy to be tempted by ice-filled drinks and BBQ food. Why start now, when you would just fall off the wagon at the first hurdle?
Relax! You don't need to worry. If you still want to slim down for the summer, you can. Here at the New You Plan, we have some great tools available to help you get through those tricky days and move you along your weight loss journey as smoothly as possible.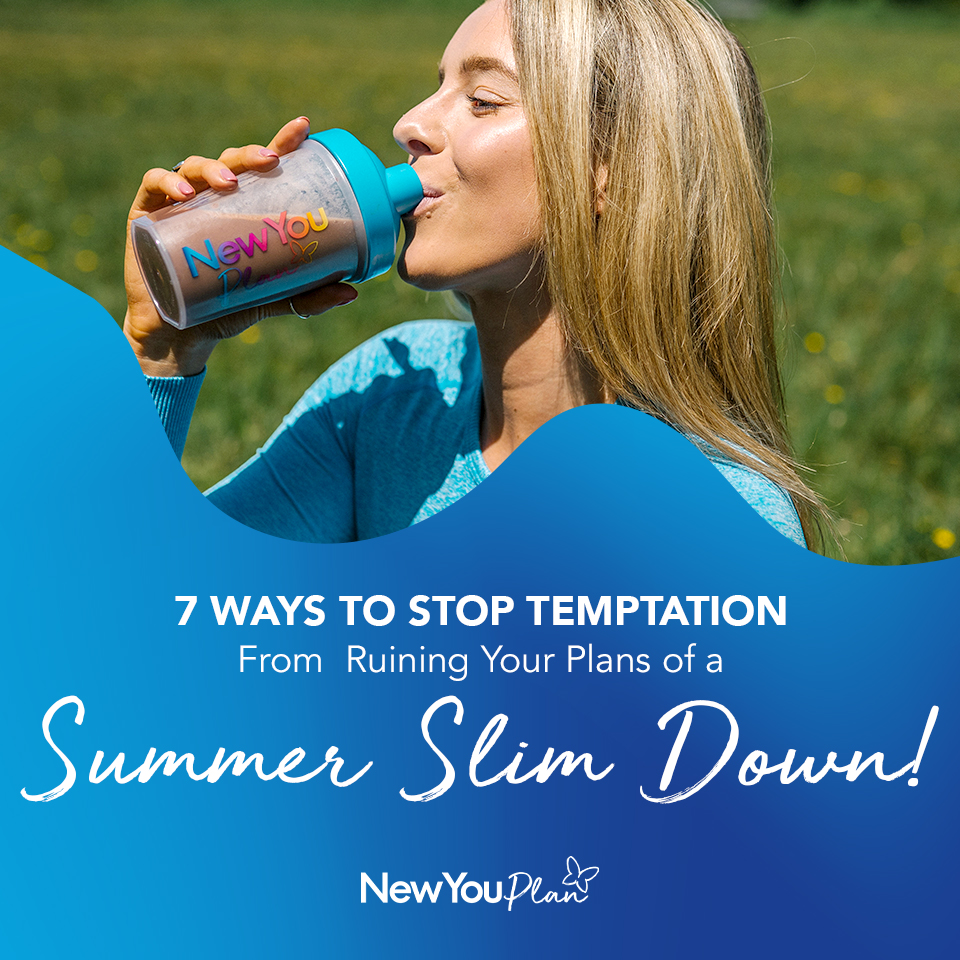 Whatever stage you're at in your weight loss journey, now is the time to re-evaluate and put your plans into action.
And if you're worried about struggling and about temptations, which can come in any shape or form, here are our 7 tips for working through and dealing with those difficult times
For instant support, reach out on our Secret Slimmer's Facebook page. It is an amazing community and the members always know the right things to say.

Text or call a loved one, friend or family member. Even if you don't explain your situation, just having a normal conversation will distract you.

Grab a pen and paper and write down how you're feeling. This will help you validate your emotions which you can then symbolically put aside, and deal with when you are in a better frame of mind.

Write a 'for' and 'against' list. In the 'for' section you can write all the reasons why you feel you need to have a blip. In the 'against' list write down all the feelings you

will

have and consequences there will be from having a blip. Comparing the two should steer you in the right direction.

Meditate to soothe your mind to better cope with your struggles.

Read a book or listen to an audiobook. This is an excellent distraction. Take yourself to another world (where there isn't talk of food-preferably).

If you have a dog, take it for a walk. They also make great confidants and never judge!
Well, hopefully, we've reassured you that there is nothing to hold you back from achieving a slimmer new you for the summer. Temptations have nothing on you. You are strong, you have the tools, you can do it!