New You Plan Blog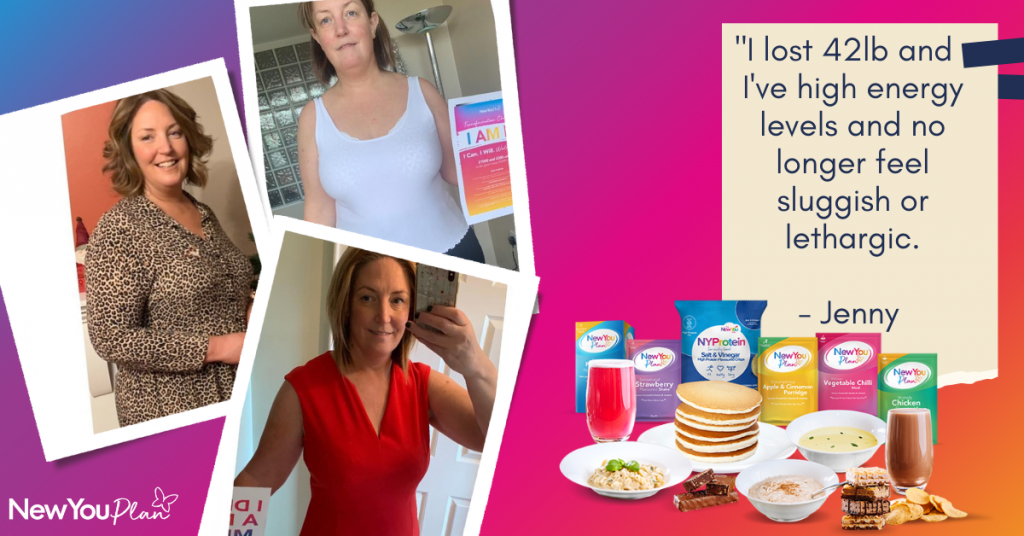 Jenny Found her Long Lost Energy With the New You Plan
Jenny was tired all the time & had no energy. That was until she found the New You Plan & the motivation to change her life for the better.
We interviewed Jenny to discover how she lost weight and increased her energy levels. She kindly shared her story with us and even gave us a few of her tips. 
NY: When did you start the New You Plan and how much have you lost so far?
JENNY: I started on the 2nd of January this year and had lost exactly two and a half stone by the end of March for the challenge. To date, I've now I've lost exactly 3 stone. 
NY: How did you discover the new You Plan?
JENNY: It came up on social media,  I think it might have been Instagram or Facebook I can't remember. It just kind of popped up and I was interested as it said it was in Northern Ireland. I read some of the reviews and transformation stories and thought it looked quite good. I didn't buy it straight away, but it kept kinda stalking me! Then a discount popped up around Halloween time, it was a decent discount too, 40% or 45% off, so I decided to give it a go. I ordered a months worth with the aim to start once Christmas and new year were out of the way. I thought if it didn't work for me then it was not the end of the world.
My neighbour Caira Burke who won one of the challenges was really successful. With the discount and my neighbour, I didn't really have an excuse not to give it a try!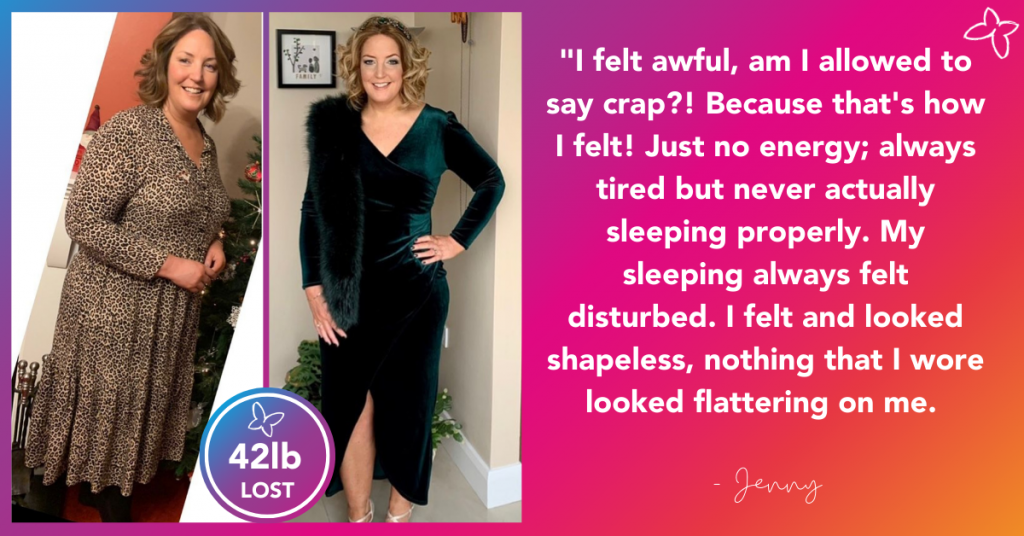 Before New You
NY: How did you feel before you started the Plan?
JENNY: I felt awful, am I allowed to say crap?! Because that's how I felt! Just no energy; always tired but never actually sleeping properly. My sleeping always felt disturbed. I felt and looked shapeless, nothing that I wore looked flattering on me. None of my clothes fit me properly but I'd try and squeeze into them anyway. I couldn't do my coat up and the wire in my bra would stick in me. But there was no way that I was buying the next size up! At my last work Christmas party, I just couldn't wait to get home as I didn't like the way I looked.
I was just really out of control with my eating and drinking and had no sort of motivation to try to get control of it. Because it just always seemed like whatever I tried in the past, the weight would fall off so slowly which was disheartening as I always felt I'd given up so much and lost so little.
NY: When you started, what was your first impression of the Plan? What was your first week like?
JENNY: I was kind of prepared for the first week because I had done a similar kind of VLCD before, about 12 years ago. As expected, I didn't feel cracking for the first few days then all of a sudden, I had loads of energy. It may sound strange but it was like a veil had been lifted and everything was brighter and I could see clearly! I didn't feel hungry anymore. Once I got through the first week, the Plan was so much easier.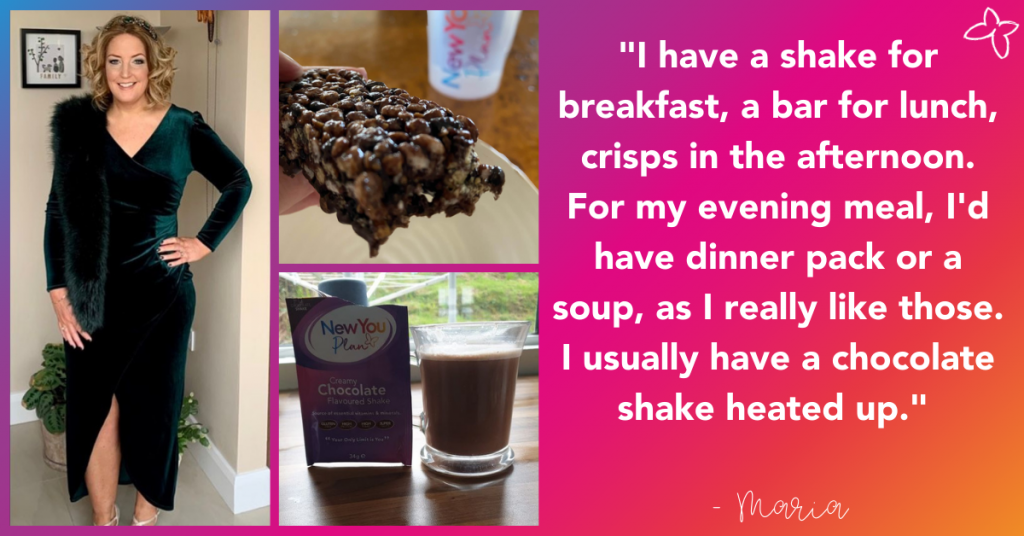 Favourite New You Products
NY: What would you say are your favourite meals and snacks? And do you have a routine? 
JENNY: I've got into the routine of having a shake for breakfast, a bar for lunch, crisps in the afternoon. For my evening meal, I'd have dinner pack or a soup, as I really like those. I usually have a shake in the later evening. Normally I have the chocolate shake heated up like a hot chocolate.
I love the caramel bars, I order those all the time. The water flavourings are great too as they really help me to drink all my water. Oh, and I also like that you can make jellies with them, so if I'm feeling a bit peckish I can have one of those without worrying.
NY: What has been your biggest non-scale victory?
JENNY: Feeling in control of myself again and finally having energy. And I also have to say that it felt a relief that my bras were fitting me again. They didn't dig in and weren't trying to cut me like a piece of cheese! One day I also noticed that I no longer spilled over the seat in my car when I sat in it. It was the small things that I started to notice and realise that the Plan was working. I remember just recently picking up my 5 ½-year-old niece for a cuddle, then putting her down because she was heavy. I thought about what weight she would be and then realised 'I've lost you' and a bit more. It's strange to think that I was lugging a little girl around me for all that time. No wonder I had no energy!
Staying Motivated
NY: What was your biggest motivator for staying on plan?
JENNY: Weighing in on Sunday mornings kept me motivated. Plus, my friend had given up alcohol so we kept in contact with each other to keep going and encourage one another. Also, my neighbour Caira Burke, who is on the Plan, would weigh in on Sundays and we'd let each other know how we'd gotten on. I also found the Secret Slimmers Facebook group so good for motivation. Seeing others before and afters gave me a boost. And not worrying that my own posts wouldn't get answered was great. I also did Pascale's mindset sessions and really enjoyed them.
NY: How has the Plan changed your health or life?
JENNY: I no longer feel like I'm having a heart attack after I've run up the stairs! I don't lag behind when I walk with friends. Plus I can actually hold a conversation at the same time as walking because I'm not out of breath. I've high energy levels and no longer feel sluggish or lethargic. I think feeling in control is the biggest thing, and it's not taken me years to get here. Oh and thinking I now look half decent when I dress up to go out!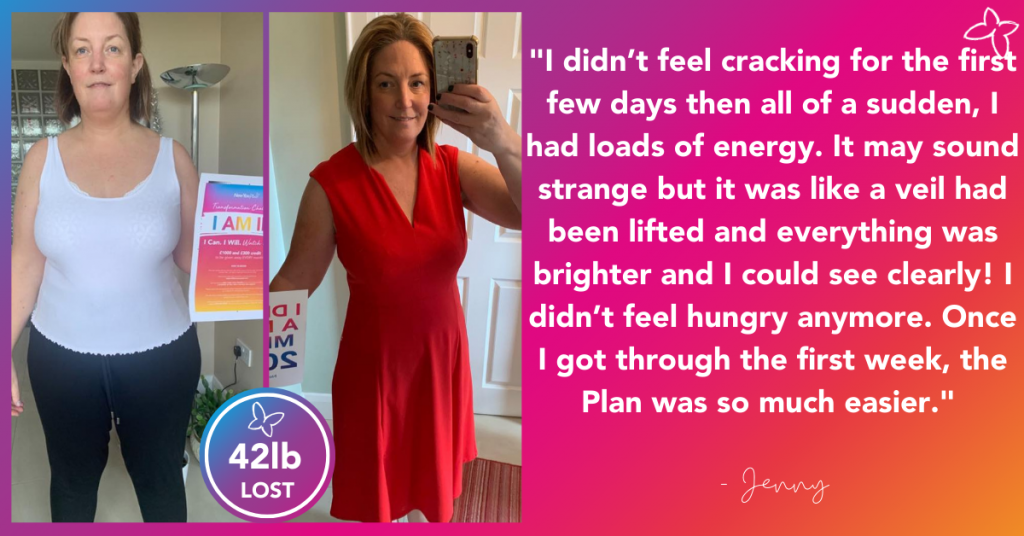 Making Memories
NY: What is your best memory since losing weight?
JENNY: Although I never stopped being in photographs, before the Plan, I didn't like how I looked in them. Now I love what I see! I can see my weight loss so much better in photos rather than in the mirror. I do remember when I first saw my before and after pictures together, I thought 'wow.' I couldn't believe the difference! Oh, and I was invited to a wedding and was told the dress to wear. At the fitting, I thought it looked hideous on me. On the day of the wedding, people were noticing all the weight I had lost and commented on how good I looked in the dress! In the end, I loved that dress and felt confident wearing it.
NY: What was the biggest compliment you've received?
JENNY: My 17-year-old son was really supportive all the way along and was careful not to bring blips into the house. He really encouraged me all throughout my journey. He told me how proud he was of me and I nearly cried. It was so lovely and unexpected, especially coming from a teenage boy!
Sage Advice
NY: What advice would you offer anyone who is thinking about starting the Plan?
JENNY: Just do it! Just try it! Pick a time when you know you have no upcoming plans that will involve food then you have no excuse to blip. I think I gave myself the best chance by starting in January as I had no plans, it was a quiet month socially. It's not hard, there's no weighing or counting, just 4 packs and 4 litres of water – simple.
For Jenny, it's been the little changes that have made a big difference to her quality of life. Better fitting and more comfortable clothes, not squashing herself into her car and being able to enjoy walks and a catchup with her friends. And of course the amount of energy that she now has to do the things she enjoys.
You don't have to have an elaborate goal or look for monumental changes to be successful in your transformation. Jenny has shown us that the little things matter just as much. So like she says, if you're on the fence about starting the New You Plan, then just do it! You've nothing to lose and so much to gain.