Before & Afters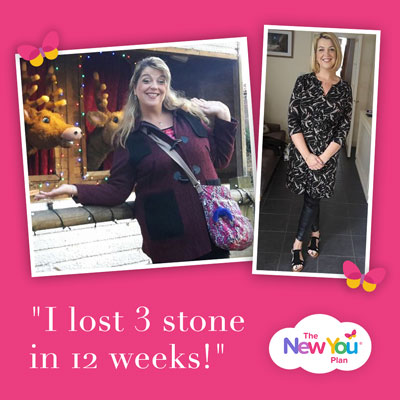 [Part 1] Lucy lost 3 stone in 12 weeks!*

Mid-way through her New You Plan journey, Lucy reflects on how she has already experienced a massive confidence boost, has loads more energy, her skin feels amazing, and the plan easily fits into her family life. Having already lost 3 stone in 12 weeks, she is now embarking on the second part of her weight loss journey. Watch her video below to hear what she has to say and read her words below.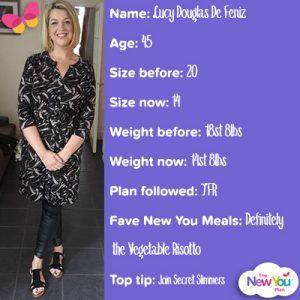 Lucy, what do you think led to your weight gain?
I've always struggled with my weight but in January 2017, I was really feeling fat and frumpy following the Christmas season's festivities. I was at a loss as to how I was going to attempt to lose some weight, having tried and failed on so many household name weight loss plans.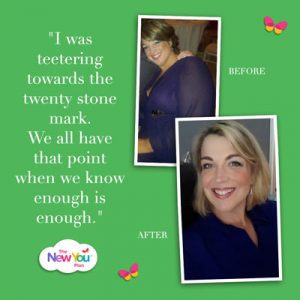 I was teetering towards the 20 stone mark. We all have that point when we know enough is enough. Well I was already 4 stone over mine!
Despite being desperate to lose weight, I just couldn't find the motivation and enthusiasm to actually stick at anything – I was even considering gastric band surgery or similar. I was not in a good place.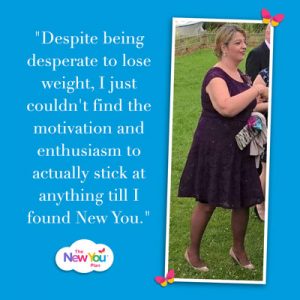 Tell us about when you started the plan
I happened to spot an advert on Facebook for The New You Plan, featuring a woman who I identified with. She was a busy, working mum, who had lost an amazing 9 stone on this plan and looked fantastic! I investigated further, read other reviews and decided to order a week's supply of products to just see how I got on. Once I had placed my order, I was then able to access the amazing support group on Facebook and daily motivational videos on the website.
It was like a lightbulb moment for me as I was welcomed into this fellowship of wonderful people, all supporting each other and sharing their hopes and dreams. I couldn't wait for my products to arrive and get started.
The first few days were tough, and colleagues and friends were quick to dismiss what I was doing as a silly fad, convinced I would put all the weight back on. I've lost weight using more conventional ways in the past and guess what? I still put it back on – so what had I got to lose?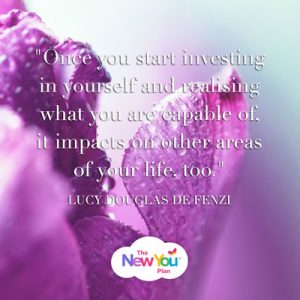 Tell us about your journey
When I started the plan I weighed 18st 8lbs and I lost 3 stone in 12 weeks*. I was a size 20 and now I'm down to a size 14. I still have another 3 stone to lose, so I am currently having a 2 week reefed and hitting Total Food Replacement again for a further 12 weeks to get to my goal weight. I still have a bit to go but now that I know what to expect, I am confident that this is possible.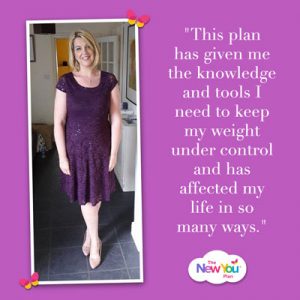 How has your mindset changed while on plan?
Your hear about this change in mindset all the time and it really does happen! For me, this plan has given me the knowledge and tools I need to keep my weight under control and has affected my life in so many ways. Once you start investing in yourself and realising what you are capable of, it impacts on other areas of life too.
My relationships have improved and my career has taken a much needed change of direction – only possible through the courage and hope The New You Plan has given me.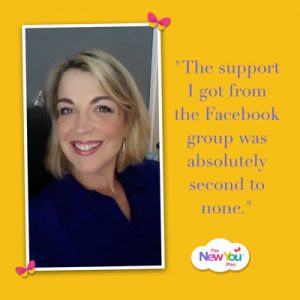 What keeps you motivated while on plan?
The support I get from the Facebook group is absolutely life changing and really keeps me focused at times of difficulty. There were times I struggled at the start, but just getting through those first few days with the support and strategies of the group saw me sticking to the plan for 12 weeks, during which time I lost 3 stone.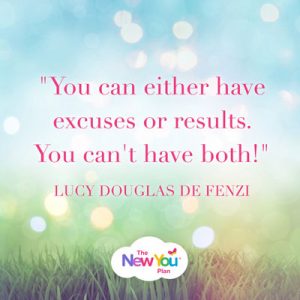 What advice would you offer anyone thinking about starting?
Do it – you definitely won't regret it. Take it from someone who has tried everything else out there, this plan works! I can't wait to come back in 12 weeks and share part 2 of my journey, when I'll definitely have reached my goal!
*Weight loss results may vary. This is not a guarantee.
_____________________________________________________________________________________
Start Your TFR Journey Today!

Getting started is the first step in your journey to a brand New You! To help you understand fully how our plan works, our Get Started page was designed specifically for people new to the plan.
Head over to our site where you'll find tonnes of important information including how our plan works, the science behind it, loads of top tips, information on our meals, as well as real customer testimonials.
Click here to visit our Get Started page!