Get your day off to the perfect start using our Magical New Me Journal. Here, we take a look at one of the exercises, which focuses on using your motivation to create your transformation…
The Magical New Me journal was created by New You Plan Founder & Owner, Julie-Ann Muldoon, who has been studying personal development for 15 years. She has helped thousands of people to create their own weight loss transformation as well as also losing almost half of her own body weight.
The process in this journal is an accumulation of many years spent practicing and fine tuning various daily habits, mindsets and goal achievement strategies to turn dreams into reality and empowering people to create their new you!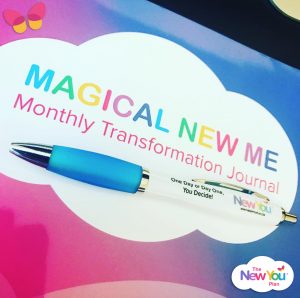 Your Motivation To Create Your Transformation
One of the most important exercises in our Magical New Me Journal is to determine your motivation for losing weight. Each and everyone of us will be motivated to to achieve our transformation by different things, and we all have unique motivations at different stages of our life. There is no right or wrong or good or bad motivation. Motivation can come in two forms; inspiration or desperation. The most important thing is that whichever form your motivation takes, you should use that energy to create your transformation in a positive and healthy way.
When using our Magical New Me Journal, we ask you to reflect on how your weight is holding you back in all the areas of your life. Take a close look at areas such as confidence, health, energy, mindset, kids, partner, family, friends, love life, social life, events, sports etc.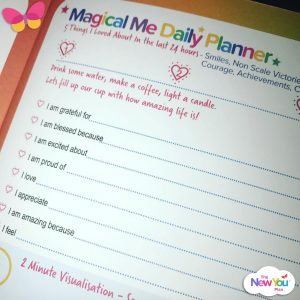 For example your motivation could be one or some of the following:
I want to look great on the beach on my honeymoon
I want to prevent / reverse type 2 diabetes
I want to attend my school reunion and feel good
I want to be a healthy weight to increase my chances of conceiving
I want to be a fun, energetic, healthy role model for my kids
I want to shine at the business networking event
I want to have a family portrait of my whole family
I want to do watersports on my next holiday
I want to feel good about my body, flaws and all
I want to wear fashionable clothes that I look great in
I want to have the confidence to start dating again
The next thing we ask you to do is choose 6 things that motivate you on your journey to a new you! Using these, go a little deeper and address HOW achieving this will be good.
This is just one of the guided exercises in our Magical Me Journal, which you should complete before you begin your Magical Me Daily Planner. Filling in these exercises at the beginning of the journal will ensure you truly get the most out of the daily journal, which can totally transform your life.
This Journal is FREE this month with our Love Your Body Bundle, which you can shop here!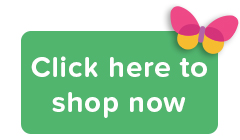 Tags:
diet mindset
,
Magical New Me
,
Mindset
,
NEW YOU PLAN
,
New You Plan Journal
,
tfr
,
TFR tips