After a summer holiday where she spent the entire time hiding her body, Barbara vowed to do something about her weight. Suffering from a thyroid condition meant losing weight was always hard… until she found The New You Plan. Here, Barbara shares how she has lost 38lbs, which has seen her health dramatically improve!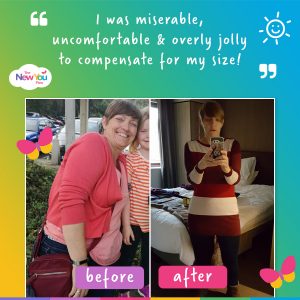 Barbara, when did you start The New You Plan?
I started the plan on the 1st of August after a particularly miserable holiday where I avoided the swimming pool like the plague, and almost got fully dressed to walk to the toilets so that no one could see how big my belly, bum and thighs were. When I started, I weighted 14 stone and was wearing a size 16, which if I'm honest, was very tight.

Describe how you felt before you started the plan
Before I started, I was  completely miserable, uncomfortable and overly jolly to compensate for my size. I'd tried numerous different ways to lose weight but I have thyroid problems so losing weight seemed so much harder and slower for me. I said before about my miserable holiday. I cannot express just how awful it was. I was mortified by just how big I had become and that was my trigger point.
How did you discover The New You Plan?
I saw an advert for a 10 day bundle and I kept thinking about it but never did anything about ordering it. But then, the minute I got home from THAT holiday, I went on the internet and ordered my first 10 days worth of packs. I was so excited. I actually felt from the start that this was going to be so different from anything I had ever done before.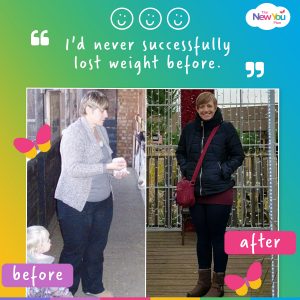 Describe your journey
My target initially was to get to 12 stone. I'd never successfully lost weight before so two stone seemed like a huge mountain to me. But when I saw how easy it was to reach 12 stone, I carried on. I enjoyed the plan, I love the food and I am inherently lazy and not a natural cook so the ease of the plan definitely suited me. So I carried on until where I am now. I am happy to stay as I am for a while, but I would like to get to 10 and a half stone, so I'll be back on plan soon.

How has the plan changed your life?
Oh WOW, where do I start? My confidence has grown so much, I feel fabulous, my uniform fits and I'm no longer the fat one in my team. I just feel like a completely different person, probably due to the fact that my ulcerative colitis has improved beyond measure. I am now no longer confined to my bathroom all the time, which was an unwelcome side effect of it before.
Since losing weight, what is your happiest memory?
Going swimming at Centre Parcs in December and moving between the pools in just a costume, with no towel wrapped around my body… just me, flesh and all!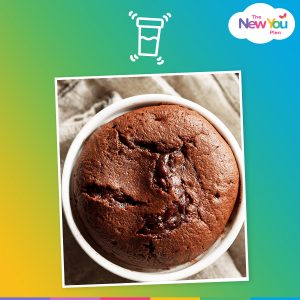 What are your favourite New You meals?
Without a doubt, the Chocolate Brownies. True decadence for a previous chocoholic! Name one other diet that you can eat chocolate everyday AND lose weight! I love the Crisps too – they're the perfect guilt-free snack.
What advice would you offer anyone thinking of starting the plan?
Just try it! And believe! If I can do it then anyone can!
____________________________________________________________________________________________________
Get started on the BEST TFR Plan TODAY!

Getting started is the first step in your journey to a brand New You! To help you understand fully how our plan works, our Get Started page with designed specifically for people new to the plan.
Head over to our site where you'll find tonnes of important information including how our plan works, the science behind it, loads of top tips, information on our meals, as well as real customer testimonials.
Click here to visit our Get Started page!
*Everyone is different, and we can't guarantee how much weight you will lose. Check out our success stories to see what our customers have lost. 
Tags:
customer interview
,
Diet
,
Health
,
NEW YOU PLAN
,
New You Plan review
,
tfr
,
Weight Loss